Graco Ultra 395 Airless Paint Sprayer Review 2023 – Pros, Cons & Verdict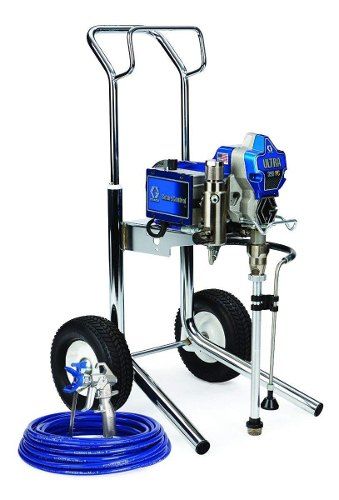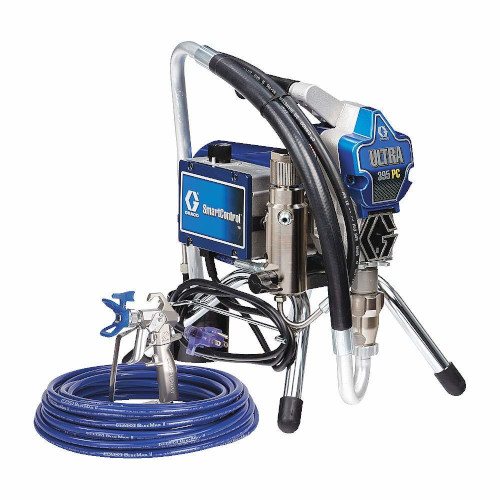 We give the Graco Ultra 395 Airless Paint Sprayer a rating of 4.6 out of 5 stars. 
Build Quality: 4.8/5
Power: 4.5/5
Features: 4.6/5
Price: 4.3/5
Editor Rating: 4.5/5
Build Quality
Power
Features
Price
Review Summary
Graco began on a cold winter day when Russell Gray thought there had to be a better way to lubricate cars than hand squeezing grease which, at typical Minnesota winter temperatures, was nearly solid. Inspired by this thought, Mr. Gray and his brother Leil founded the Gray Company to market his air-powered grease gun. It was an immediate success, and over the ensuing decades, Graco expanded into a variety of fluid-handling technologies. In 1957, they introduced their first airless paint sprayer, the progenitor of the line that includes the Graco Ultra 395 today.
The Graco Ultra 395 is aimed squarely at the professional painting contractor market, going so far as to label their products with the "For Professional Use Only" tag. When a contractor needs to cover large areas in a hurry, nothing beats an airless sprayer. Connected to a 5-gallon bucket of paint, and outfitted with the proper nozzle, a single worker can spray the entire inside of a new home in a day. A far cry from the roller and brush alternative.
Airless sprayers enable the user to apply a uniform layer of paint, regardless of surface texture and detail. It can be very precise with the proper nozzle, and it greatly reduces overspray, a real advantage over the compressor-style sprayer. This is definitely a tool for professionals who need a powerful and reliable sprayer for day-in and day-out use. Homeowners and DIYers who may paint a room or two on occasion should look at handheld alternatives or rent a sprayer.
A quick look at the Graco Ultra 395:
Pros
The Graco Endurance pump provides twice the life of competing models
Pump changes can be completed on the job site, in three easy steps
Metal gearing extends the life of the sprayer over competing models with plastic gears
Cons
On the higher end of the price spectrum
At 55 pounds, can be difficult to move all day
Rated for application of 50 gallons per week
Specifications
Brand name: Graco

Model: Graco Ultra 395

Voltage: 120 VAC or 230 VAC, single phase

Motor: 7/8 hp, TEFC DC (Totally Enclosed, Fan-Cooled)

Maximum PSI: 3300

Maximum GPM: 0.54

Maximum tip size: 0.023

Maximum hose length: 200'

Sound level: 90 dBa at 70 PSI
Out with the bad air
Paint sprayers operate in a tough environment. There is a lot of paint and other material suspended in the air that should not be allowed into the motor housing. Graco uses a fully enclosed motor and fans to keep these contaminants out and the motor cool.
Easy filter access
Forcing paints and other coatings through hoses then tiny nozzle openings requires effective filtering to keep large "chunks" and debris from gumming up the works. It's better to trap such potential obstructions away from the application tip. Graco places the filter at the top of the sprayer where the user can quickly remove and clean, or replace, it, reducing downtime.

Depending upon the spray gun used, there may be a filter in the handle where the hose connects, also easy to remove for cleaning or replacement.
Metal Gear (no, not the retro video game)
Graco uses hardened steel gears to drive their Ultra 395 to provide the longest possible life. While many companies move to different materials for cost savings, Graco puts the metal where it is needed most, the gearing that converts the motor's power to paint on the surface.
FAQ
What are the warranty details for the Graco Ultra 395?

Graco offers an impressive warranty on this product for the original owner. For the general sprayer components, it provides 3-year protection against defects in materials and workmanship. For the motor and drivetrain, it provides lifetime replacement if either fails under normal use. They also sweeten the deal with a 30-day "Just add paint" feature that allows the user to bring an unsatisfactory unit back and exchange for an identical model or trade up to a more powerful one.

How large a tip can this model use?

The Ultra 395 can accommodate a 0.23 tip.

How does the unit perform in terms of consistent spray at different PSI?

The Graco Ultra 395 is engineered to produce a consistent spray fan over the entire range of pressures the tool can provide. It also eliminates "dead band," where the spray pressure takes some time to hit the set point. Dead band can be an issue with consistent coverage as well.
What the Users Say:
Our research into the reactions of users shows almost universal satisfaction with the Graco Ultra 395, which is to be expected with an overall rating of 4.5 out of 5.0.

Quality is mentioned frequently in terms of what users like about their Graco Ultra 395. As we state above, Graco uses rugged, durable components where they matter the most. They have obvious faith in the quality of their products as demonstrated by an impressive warranty.

Performance is always the true test of any tool, and the Graco Ultra 395 earns top marks from users here as well. Consistency of material application tops the performance list which can be attributed to Graco's pressure management capabilities.

The only nits people have to pick involve cleanup and user error. A few people comment that cleanup is difficult, but they don't downrate the tool much over that. One user bemoaned the fact that, because he did not tighten the gun on the hose sufficiently, the high pressure produced dripped paint everywhere.

You might also be interested in: 10 Best Paint Sprayers – Reviews & Top Picks
---
Conclusion
If you are a professional contractor, Graco has a sprayer for your needs. The Graco Ultra 395 is at the bottom of the Graco line and is designed for lighter use, spraying 50 gallons of paint per week. This makes it an excellent choice for smaller jobs. For extended and heavier use, a different model is recommended. Graco quality and performance will please any experienced user and is worth a bit more because of it.

Related:
How does this paint sprayer compare to the Titan 440? We put it to the test!

We've also reviewed its little brother, the Graco Ultra 390 Proconnect