10 Best Milkshake Blenders in 2023 – Reviews & Top Picks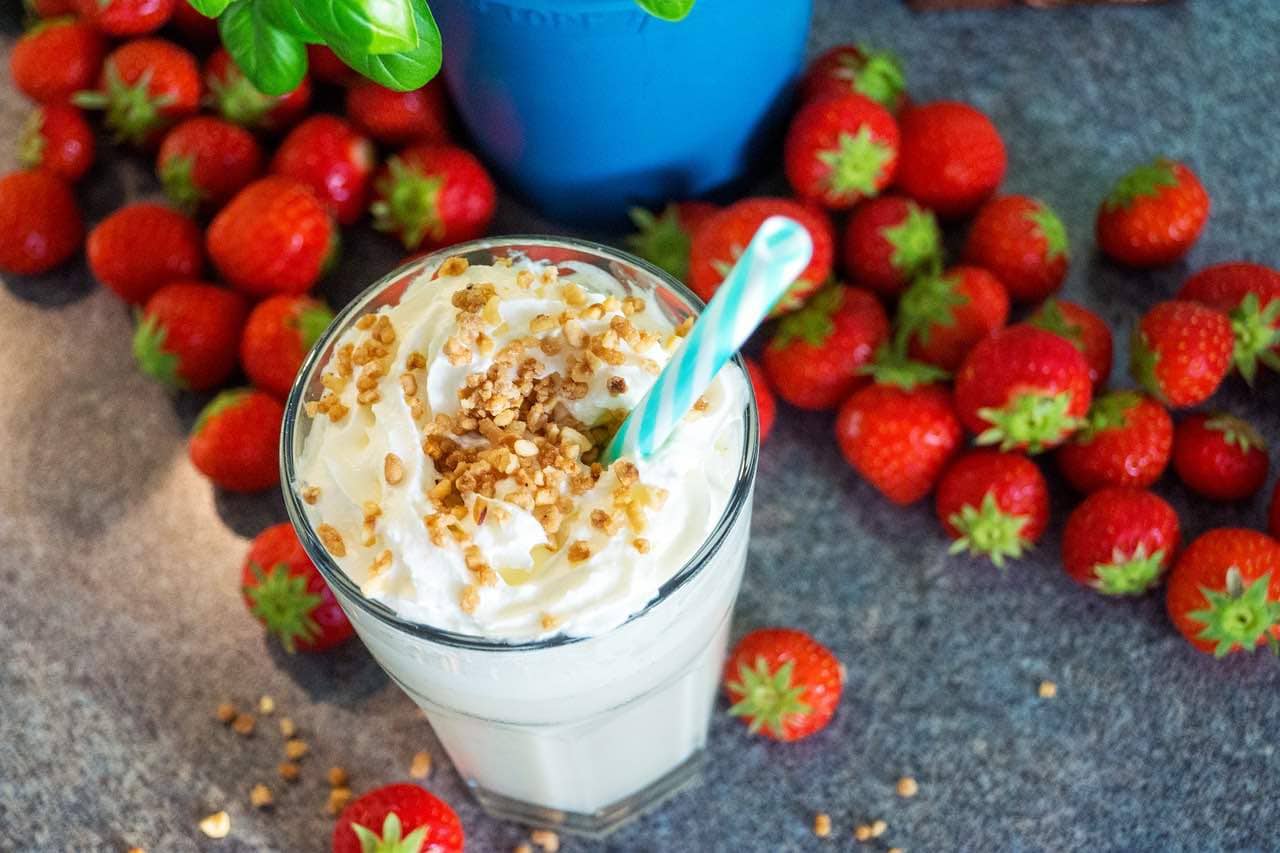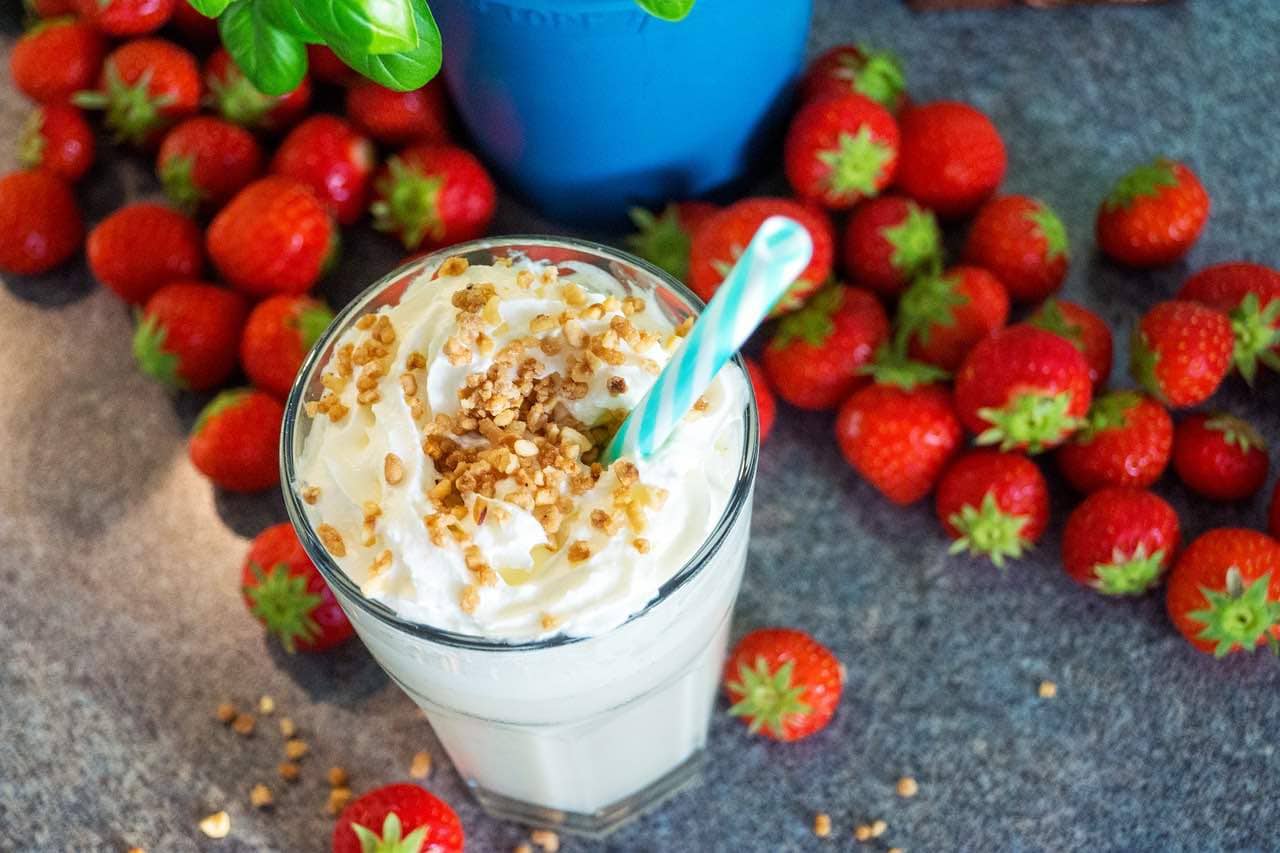 If you enjoy a tasty milkshake for dessert or a protein shake for lunch, a blender is a valuable appliance to have on your countertop. If said blender creates lumpy, half blended shakes that leave you unsatisfied, it's worth taking the time to find a new one that will accommodate all your blending needs.
That's a lot easier said than done, right? There are so many different blenders available, it can be difficult to find one that will work for you.
Not to worry, however, we have found ten of the best blenders on the market.
Not only will we review each one, but we have organized them from best to worst.
Keep reading to find out which is the best blender for your buck. You will also find tips on what to look for, plus some healthy milkshakes recipes you can try out on your new device!

A Quick Comparison of Our Favorites (Updated 2023)
Rating
Image
Product
Details

Best Overall

Ninja QB3001SS Personal Blender

Programmable speed
Stainless steel blades
Pulse technology
CHECK PRICE

Best Value

Hamilton Beach 51101RV Personal Blender

Dishwasher safe
Small and portable
Pulse feature
CHECK PRICE

Premium Choice

Blendtec Classic Fit Blender

Preprogrammed cycles
Impact resistant-34 oz jar
High and low pulse option
CHECK PRICE

Ninja Professional BL660 Countertop Blender

6 stainless steel blades
Single-serve function
Pulse technology
CHECK PRICE

Cincred Personal Countertop Blender

All-sided design
Leak-proof lids
Fast-cooling base
CHECK PRICE
The 10 Best Milkshake Blenders
1.

Ninja QB3001SS Personal Blender – Best Overall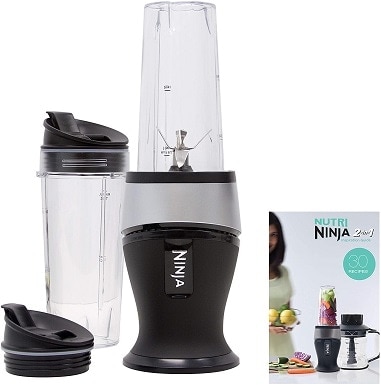 Our favorite choice is the Ninja QB3001SS Personal Blender. This slim option not only makes milkshakes, but you can also create smoothies, sauces, baby food, and much more. It can mix, blend, and chop. Not to mention, it will also pulverize ice into snow. Weighing right under five pounds, the blender is great for using at home or taking to the office.
The Ninja QB3001SS comes with two 16-ounce personal cups with sip and seal lids, so you can make a milkshake when you are on the go. Using high-powered pulse technology, you can also add nuts, seeds, and leafy greens to your blends. Even better, this blender extracts the vitamins from all your fruits and veggies, so you will get the most nutrients possible.
You will receive a 700-watt base that runs on 110 volts. You also will get the two to-go cups that are Bisphenol-B (BPA)-free, two lids, and a 30-recipe cookbook. The blender cups are dishwasher safe and have a program control and variable speeds. The stainless steel blades are tough and durable making all your milkshakes as smooth and creamy as you like.
Overall, we think this is the best milkshake blender we've reviewed.
Pros
Programmable speed
Can use with ice, nuts, seeds, etc
Two 16 oz cups
Stainless steel blades
Pulse technology
Extracts nutrients
---
2.

Hamilton Beach 51101RV Personal Blender – Best Value

Buying a new blender doesn't always have to break the bank. The Hamilton Beach 51101RV Personal Blender is a great option if you are on a budget. This 175-watt portable unit weighs less than two pounds and is less than 12 inches high. That being said, this little blender packs a punch with its mixing and blending power. You can even crush ice into a smooth ingredient for your milkshake.
Available in five colors, you get a 14-ounce travel cup with a lid. You should note, however, you only get one cup that is a bit smaller than our first pick. On the other hand, this is a BPA-free, dishwasher safe blender that has one-touch blending.
The Hamilton Beach Personal Blender has stainless steel blades that can handle all your fruits, vegetables, nuts, seeds, and even protein powders without gumming up the works. You have a pulse option, as well. Overall, this is the best Milkshake blender for the money.
Pros
Stainless steel blades
Dishwasher safe
Small and portable
Crushes ice, frozen fruit, nuts, etc
Pulse feature
Cons
Comes with only one 14 oz cup
---
3.

Blendtec Classic Fit Blender – Premium Choice
If milkshakes are only a small portion of what you use your blender to create, the Blendtec Classic Fit Blender is likely a good option for you. This is a countertop blender that weighs just under ten pounds, and it sits almost 14 inches high and almost 12 inches wide. It has 1560 watts of high-powered blending that can not only make delicious milkshakes but create smoothies, ground grains, crush ice, and chop tough vegetables. The friction in the blades even allows this little winner to blend and heat soup all at once.
The Blendtec is engineered and assembled in the USA. It comes with a BPA-free 34-ounce Go-Jar that you can take with you on the run. If 34 ounces is too big, this design fits a solo cup inside the Go-jar so you can make individual portions for everyone. Impact-resistant, the jar is dishwasher safe.
This blender is made with stainless steel blades that claim to be 80% thicker and 10 times stronger than the average product. It has pre programmed cycles including a 30-second cycle, add 10 seconds, high pulse, and low pulse. With the one-touch technology, you can set it and forget it. You will receive a sip lid, as well.
The one major drawback that keeps this blender out of the number one spot is the price. The Blendtec is more expensive than most. Nevertheless, if you use your blender regularly, this very well may be the option for you.
Pros
Preprogrammed cycles
Strong stainless steel blades
Impact resistant-34 oz jar
Fits standard solo cups
High and low pulse option
---
4.

Ninja Professional BL660 Countertop Blender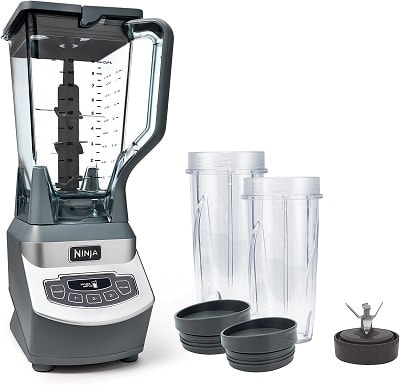 The Ninja Professional BL660 Countertop Blender is a 7.6-pound model that stands roughly 17 inches high and 6 inches wide. Though it is not a heavy or extra-large unit, it certainly packs a punch by crushing ice, blending milkshakes, mixing smoothies, and chopping leafy greens among many other functions. It comes with one 72-ounce pitcher for making larger recipes and two 16-ounce cups with to-go lids for when you want a milkshake on the go.
Running on 1100 watts, this blender has three speeds, a pulse function, plus a single-serve option. It also uses six stainless steel blades to chop, mix, and blend everything from ice to chocolate, nuts, and broccoli. This blender is also dishwasher safe and BPA-free.
The Ninja BL660 has four-speed settings you can program to control your blending. You also get an inspiration guide to help you create new recipes. One thing about this model, however, is the to-go cups have separate blades. Unfortunately, they are not as strong as the main container. What's more, this blender is louder than the average model.
Pros
3 speeds and manual programmable blends
Pulse technology
6 stainless steel blades
Has a 32 oz container and two 16 oz cups
Single-serve function
Cons
Louder than most
Blades on the single-serve cup are not as effective
---
5.

Cincred Personal Countertop Blender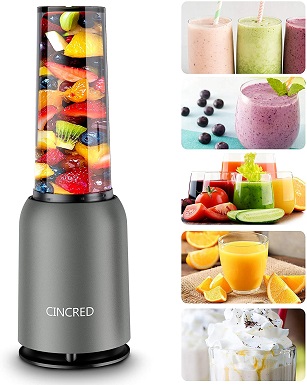 For our middle of the road option, we have the Cincred Personal Countertop Blender. This is a small portable option (despite its name) that can be used to make your favorite milkshakes, smoothies, and it can be used as a food preparation tool. It comes with one 13.5-ounce double-duty travel cup with a leak-proof lid. The lid also has a carry handle, so you can tote it around or stick it in your bag without fear of leaks.
This model has stainless steel blades that are sufficient for crushing small ice cubes, frozen fruits, and other tough ingredients. It also comes with a slag remover if you don't fancy froth on your juice on shakes. Unfortunately, this blender is not dishwasher safe. Although, cleaning it is easy with a little warm water and dish soap.
Weighing under 3 pounds, the Cincred is made of Tritan which is used on most baby products. The container also has an all-sided design, so you won't have to search for the notches to place it in the base correctly. You should note, however, the 250-watt base is prone to overheating if left on for more than 45 seconds. That being said, it does have a fast-cooling base. You should also be aware that this model only has the one-speed option available.
Pros
Stainless steel blades
All-sided design
Leak-proof lids
Fast-cooling base
Cons
Has only one speed
Motor overheats
Not dishwasher safe
---
6.

Oster BLSTMB-CBG-000 Blender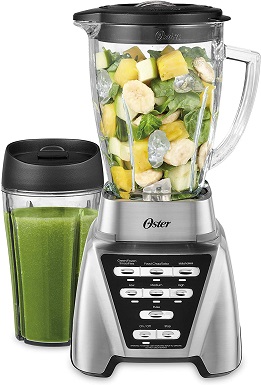 In the number six spot, we have the Oster BLSTMB-CBG-000 Blender. This is another countertop option that comes with a six-cup glass container along with a 24-ounce cup with the customary to-go lid. This is a larger model that weighs about seven pounds, and it's almost 14 inches tall and around 10 inches wide. You have seven speeds to choose from, plus three preprogrammed options.
The Oster has stainless steel, 3.5-inch, dual-direction blades that give it extra power to smooth, chop, grind, and (of course) make excellent milkshakes. It runs on either 1200 or 900 watts allowing it to crush ice and blend thicker ingredients. Be careful of overheating with this model, though.
This is another dishwasher-safe and BPA-free blender, though you should note the to-go cup is not as durable as the rest. While this blender has a pulse function, air bubbles are known to form at the bottom making blending more difficult. Finally, it's unfortunate to note that many customers have had a difficult time with this brand's customer service. Buyer beware.
Pros
Dual direction blades
Pulse function
7 speeds with 3 preprogrammed
Dishwasher safe
Cons
Creates air bubbles
Motor can overheat
Cup is not durable
Poor customer service
---
7.

Tenswall Portable Blender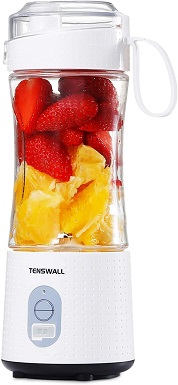 The Tenswall Portable Blender is a handheld model that is great for taking to the office, camping, hiking, or to the gym. It comes with a 13-ounce cup with a sealed lid and has a USB charge. The 4000 milliamps hour (mAh) battery runs this unit at 7.4 volts and 22000 rotations per minute (RPM) allowing it to blend and mix as needed. Keep in mind, however, this is not a blender that is capable of crushing ice or chopping denser ingredients.
The Tenswall has one-button blending that makes it possible for you to mix your milkshake in about 40 seconds. It only has one speed, keep in mind. Additionally, this model has a non-slip bottom to keep from vibrating off a ledge, plus it's made of eco-friendly, non-toxic, food-grade material. What it's not is dishwasher safe.
This blender has to be used with some type of liquid for it to be effective. Chopping is not part of its regime. What's more, though you can charge the blender on your laptop or in your car, it takes up to seven hours for it to charge. Also, you will only get a few uses out of it unlike the 20 to 30 uses the brand suggests. To end on a bright note, you will find 6 stainless steel blades to create your favorite shake.
Pros
Eco-friendly
6 stainless steel blades
Non-slip bottom
One-button blending
Cons
No chopping
Slow charge time
No pulse
Single-speed
Not dishwasher friendly
---
8.

La Reveuse Personal Blender
Our next option is the La Reveuse Personal Blender. This is a 250-watt blender that comes with one 16-ounce tall cup and a 16-ounce mug. BPA-free, both the tall cup and the mug comes with a travel lid that has a flip-top to keep you from spilling while on the go. It's important to be aware that neither the cup or mug is overly durable.
This blender can be used to make milkshakes, smoothies, sauces, and more by grinding chopping, mixing, blending, and creating puree. Unfortunately, the four stainless steel blades are not as strong or sharp as we would like them to be. Harder ingredients such as ice, nuts, and leafy greens are not recommended. Additionally, you want to steer clear of frozen fruit.
The La Reveuse operates at only one speed, though it does have a pulse function. This is also a loud blender, however, it's easy to use by just pushing down on the container. Also, you can only use it for up to one minute before the motor starts to overheat. At almost four pounds, it's also not the easiest "portable" blender to travel with due to the design.
Pros
Easy to use
Pulse technology
Comes in two containers
Cons
Overheats after one minute of use
Not effective on ice, frozen fruit, etc.
One-speed
Blades are not durable
---
9.

homgeek Professional Countertop Blender
Our second to last milkshake maker is the homgeek Professional Countertop Blender. Running on 1450 watts, this powerful model has 8 speeds with 4 presets including pulse. The 2.0 horsepower (HP) motor can make shakes, smoothies, baby food, crush ice, chop nuts, and more. The drawback is the motor will overheat after about three minutes of continuous use. What's more, you cannot use meat in this blender.
This 33000 RPM model has 8 stainless steel blades that are designed in three layers to better blend, chop, etc. Unfortunately, this is another one that is often plagued with air bubbles at the bottom. It's also important to note that there is a strong "plastic" odor to this blender that never seems to fully fade.
The homegeek is not dishwasher friendly, and it is very loud. What it does have is a 70-ounce tritan pitcher that is BPA-free. Just be careful as the pitcher can be top-heavy. On high, it's easy to tip it over. Finally, you want to stay away from anything that could potentially clog the blades. Even extra-thick milkshakes can stop the blades from turning.
Pros
8 speeds and 4 presets
8 stainless steel blades
Pulse technology
Cons
Overheats
Has air bubbles
Top-heavy
Loud
Has an odor
---
10.

Aicook Smoothie Blender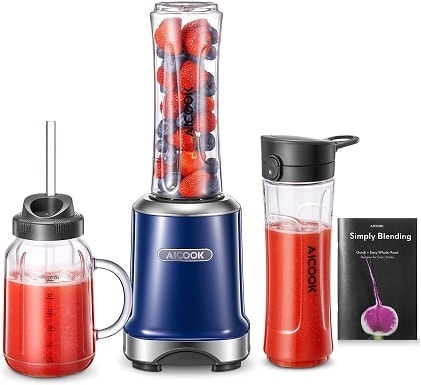 Our final option is the Aicook Smoothie Blender. This is a personal model that is portable to take to the office, hiking, or the beach. It comes with a 20-ounce mason jar plus a 20-ounce travel cup both of which have the customary lids. You will also find this blender has four-dimensional stainless steel blades that preserve 98% of the vitamins and nutrients from your ingredients. That being said, the blades are not equipped to handle anything but blending and mixing.
BPA-free, the Aicook blender has only one speed and no pulse option. With 600 watts and 24000 RPM, you will not be able to use ice, frozen fruit, nuts, or any other dense ingredients. Not only that, but the lid on both the mason jar and to-go cup does not seal correctly. It will leak. You will also find blending milkshakes is more difficult due to the air bubbles.
This model has a non-slip bottom and weighs about 4 pounds. Unfortunately, it's prone to overheating, and the entire design is not durable. Many customers find that it breaks quite easily. It is also not dishwasher safe. Finally, both containers are hard to drink out of. Overall, this is our least favorite option for a milkshake blender.
Pros
Preserves nutrients
Stainless steel blades
Cons
Has air bubbles
Overheats
Lids leak
Not durable
Mixes only
Hard to drink out of containers

Buyer's Guide – How to Choose the Best Milkshake Blender
Now that you know what is out there for blenders, there are a few things you want to consider if you are choosing one to make milkshakes. While some blenders are great for chopping veggies, others are better suited for mixing and blending. That being said, before you choose a blender, you should have an understanding of the difference between a milkshake blender and a milkshake machine.
Milkshake Blender vs Milkshake Machine
While both appliances are capable of making some tasty frozen treats, there are some differences you should be aware of when picking out the right machine for you. First and foremost, a milkshake machine has a long stem with small blades while the blender has blades situated at the bottom of the container.
Second, a milkshake machine can aerate the liquid while the blender cannot. Technically, the milkshake machine's stem is used to blend the ingredients more evenly while creating a smooth finish (aerate). Although a milkshake machine may be better suited to creating shakes, blenders have many advantages over the former.
Take a look at why many people prefer a blender to a milkshake machine:
More Power: A blender typically has a lot more power than the milkshake machine which gives you more options for your shake as it can handle tougher ingredients.
Versatile: A blender is a versatile appliance. While it can make a delicious shake, it can also create soup, bean dip, baby food, and chop up your broccoli for dinner among many other functions. A milkshake machine has only one function.
Expense: First, there is a range of blenders that will suit everyone's budget. In fact, you can get a good blender for a more affordable price versus getting a decent milkshake machine. Additionally, people who use their blenders often prefer not to buy another appliance.
Easier to Clean: Blenders, for the most part, tend to be easier to clean. They also have fewer parts that could potentially break or get damaged.
Accessories: This point not only relates to the expense but also versatility. You can buy several different accessories for a blender including a milkshake adapter. There is also juicers, food processors, and much more. Again, this is not true of a milkshake machine.
What to Look for in a Milkshake Blender
If you want to find a good blender that will produce all of your favorite milkshake recipes, there are a few things you want to consider before buying.
Motor: It's interesting to note that blenders have more power than is needed to create a milkshake. You should aim for one that has at least 800 watts to ensure all your ingredients will be blended well. Also, making a shake can take a few minutes of blending, so you need to find one that can continuously run without overheating.
Variable Speed: Another function you want to have available is the ability to change the speed. When making a shake, you want to start slowly to mix all your ingredients and finish it on high to get it as fluffy as possible.
Container: You want to consider who you are making milkshakes for? If you make them for the whole family, a pitcher-like option is best. If you make them for the road or on your way to the gym, go with a travel container with a lid.
Pulse Feature: This is a great function to have for those tasty leftovers. Using the pulse function, you can fluff up the shake back to a consistent liquid, otherwise, it will separate while sitting.
Dishwasher-Friendly: Cleaning a blender is typically an easy thing to do. Add some warm water and a few drops of dish detergent, and let it run for a few seconds. If you consistently make milkshakes, however, you will want to give it a more thorough cleaning every so often to ensure no milk residue can get you sick or create a bad odor.
Countertop or Personal: This is a personal choice depending on where you use the blender, how often, and for whom. If you are on the go, or like milkshakes at work, a personal/portable option is appropriate. Then again, if you mostly drink them at home, you will likely be better off with a countertop blender.

Healthy Milkshake Recipes
Milkshakes don't always have to be a diet's worst nightmare nor do you have to feel guilty about indulging in one of your favorite desserts. Check out these three healthy milkshake recipes.
Cookie Dough Protein Shake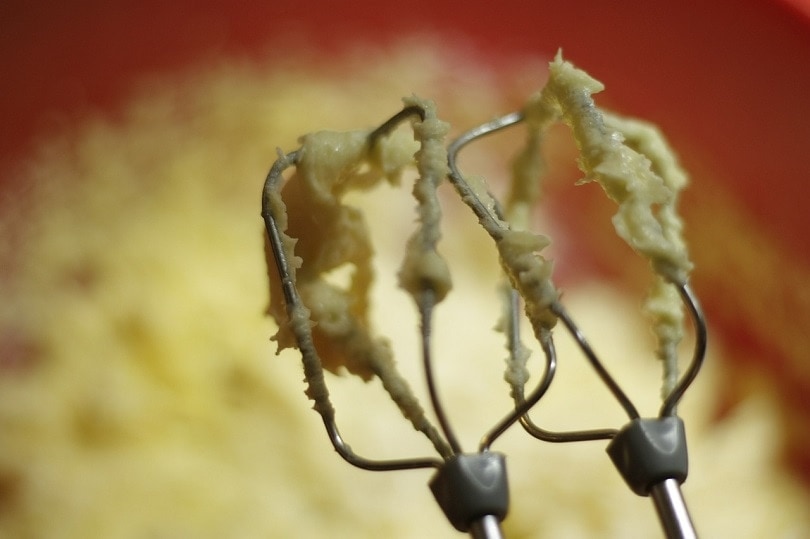 120 Calories and 20 Grams of Protein
You will need:
1 cup of milk (your choice of whole, 2%, 1%, or skim, but nut milk is not recommended.)
⅛ teaspoon of salt
⅛ teaspoon of baking soda
¼ cup of vanilla protein powder
1 teaspoon of sweetener (optional)
6 drops of maple extract
Chocolate chips, granola, or oats
Blend all together and add either chocolate chips, granola, or oats on top to finish.
Frozen Mocha Milkshake
Under 100 Calories, No Cholesterol, Low Sugars, High Fiber
You will need:
1 cup milk (same as above)
1 ½ tablespoon cocoa powder
¼ teaspoon pure vanilla extract
1 teaspoon of instant coffee
Pinch of salt
Pinch of sweetener (your choice)
Low-fat cool whip
Blend all of your ingredients. Put ¾ of the mixture into a glass to refrigerate. Add the rest to ice cube trays. Once frozen, add both together and garnish with low-fat whipped cream.
Banana Cream Protein Shake
40 Grams of Protein, Low-Calories, Low Sugar
You will need:
1 frozen banana
8 ounces cashew or almond milk
1 scoop of protein powder
½ teaspoon cinnamon (add more for taste)
6 ounces of vanilla greek yogurt
1 gram cracker or 6 vanilla wafers
Blend and garnish with gram cracker or vanilla wafers. You can also cut up a portion of a banana and add a low-fat cool whip to the top, as well.

Conclusion
We hope you have enjoyed the above reviews on the different blenders available for making your favorite milkshake. In our opinion, the Ninja QB3001SS Personal Blender is the best option available. This portable model is powerful, has variable speeds, and can also create many other tasty dishes.
If you need something more affordable, we suggest going with the Hamilton Beach 51101RV Personal Blender. This has all the pros of our first choice, but it's better for the single shaker maker.
---
Featured image credit: Pixabay