Zodiac MX6 vs Zodiac MX8: Which One's Best?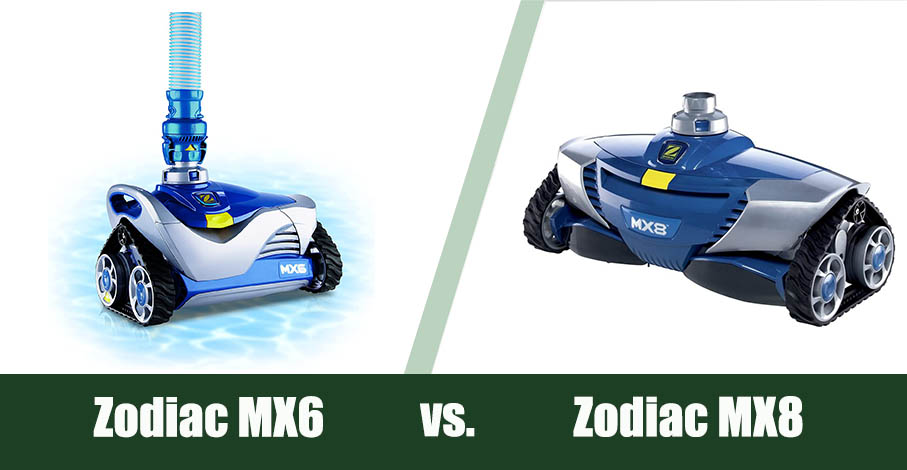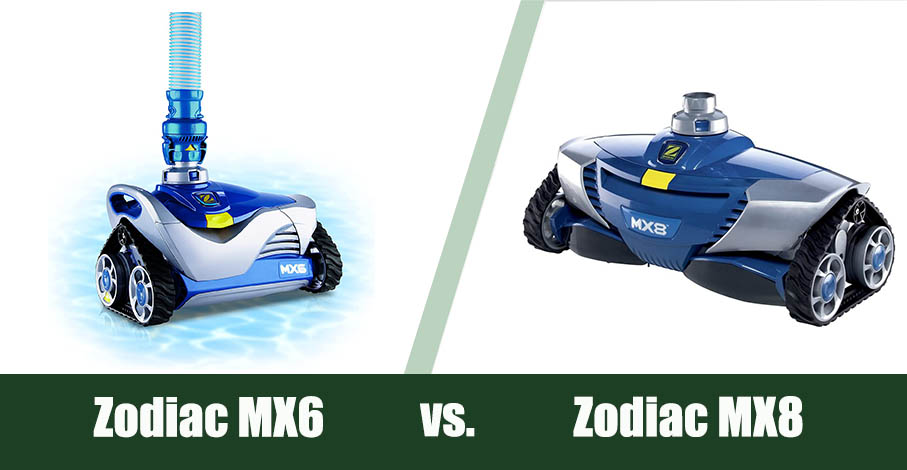 Zodiac's MX6 and MX8 pool cleaners are related models, with the MX6 being a more compact version of the MX8. Both are designed for small pools and both operate on a limited amount of suction power. Both do an adequate job of cleaning. The choice comes down to size. Do you want a smaller pool cleaner or a slightly larger one that does a more robust cleaning job?
While both have a lot going for them, the larger MX8 is a superior pool cleaner. Although the MX6 beats it on price, we feel that two really important factors—performance and design—belong to the MX8.

A Sneak Peek at the Winner: Zodiac MX8
Image
Product
Details

Best Overall

Zodiac MX8

Operates at lower suction level
Twin cleaning turbines
Two directional gears on the bottom
CHECK PRICE

Best Value

Zodiac MX6

More affordable
Compact cleaning
Easy to clean
easy to maintain
CHECK PRICE
What Are The Differences Between Them?
Performance
Edge: MX8
The MX8's dual cyclone cleaning system doesn't necessarily give it a lot more cleaning power, but you do get a much wider cleaning swatch. The MX8 has two blades on the bottom of a chassis that is only slightly larger, and they're connected on either side of the center. The MX6 has a single, center-mounted blade. Because the two pool cleaners are otherwise closely related, performance came down to this.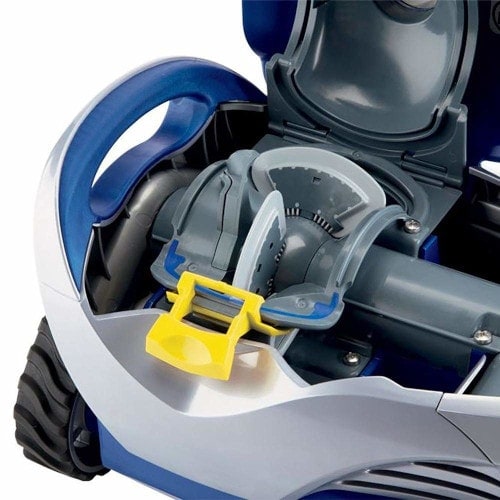 ---
Price
Edge: MX6
When two models are from the same basic line and have the same basic operation, price is invariably just a matter of looking at price tags. It's a clean, easy way to measure which one is better. In this case, the MX6 simply costs less. We were tempted to give the MX6 a bigger edge with the price differential, but you do get more by paying more for the MX8.
---
Design
Edge: MX8
As related models, they have a similar operation and some of the same problems related to design. One advantage of the MX8 is its two directional gears on the bottom, which makes it easier for it to back up and change direction if it gets into a corner. The MX6 has just one; if it gets into a tight space, it needs help getting out.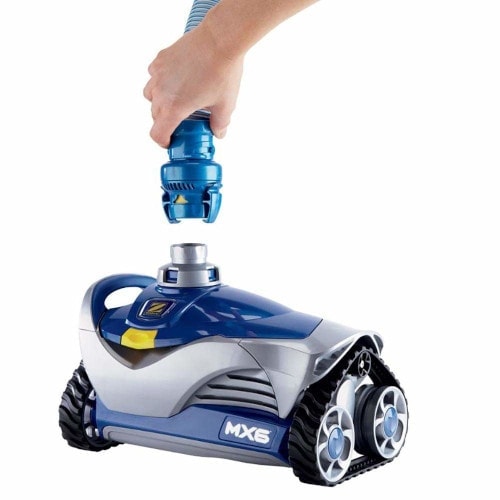 ---
Features
Edge: MX8
We feel that some of the MX8's features related to its ability to climb are mostly marketing. Both do a pretty admirable job of climbing walls and cleaning stairs. Zodiac just gave the MX8's ability to do so a tech-sounding name. At the price they ask for it, that's probably understandable. But there are two things that stand out in terms of design that give the MX8 the nod. The first is its dual cyclone cleaning system. This is actually a useful feature. The other is that it comes with longer hoses. Six feet to be exact. That might not sound like much. Yet, it's surprising how much of a difference six feet can make in cleaning a pool floor. The MX8 can also operate at a lower rate of suction than the MX6.

Quick Rundown of Zodiac MX6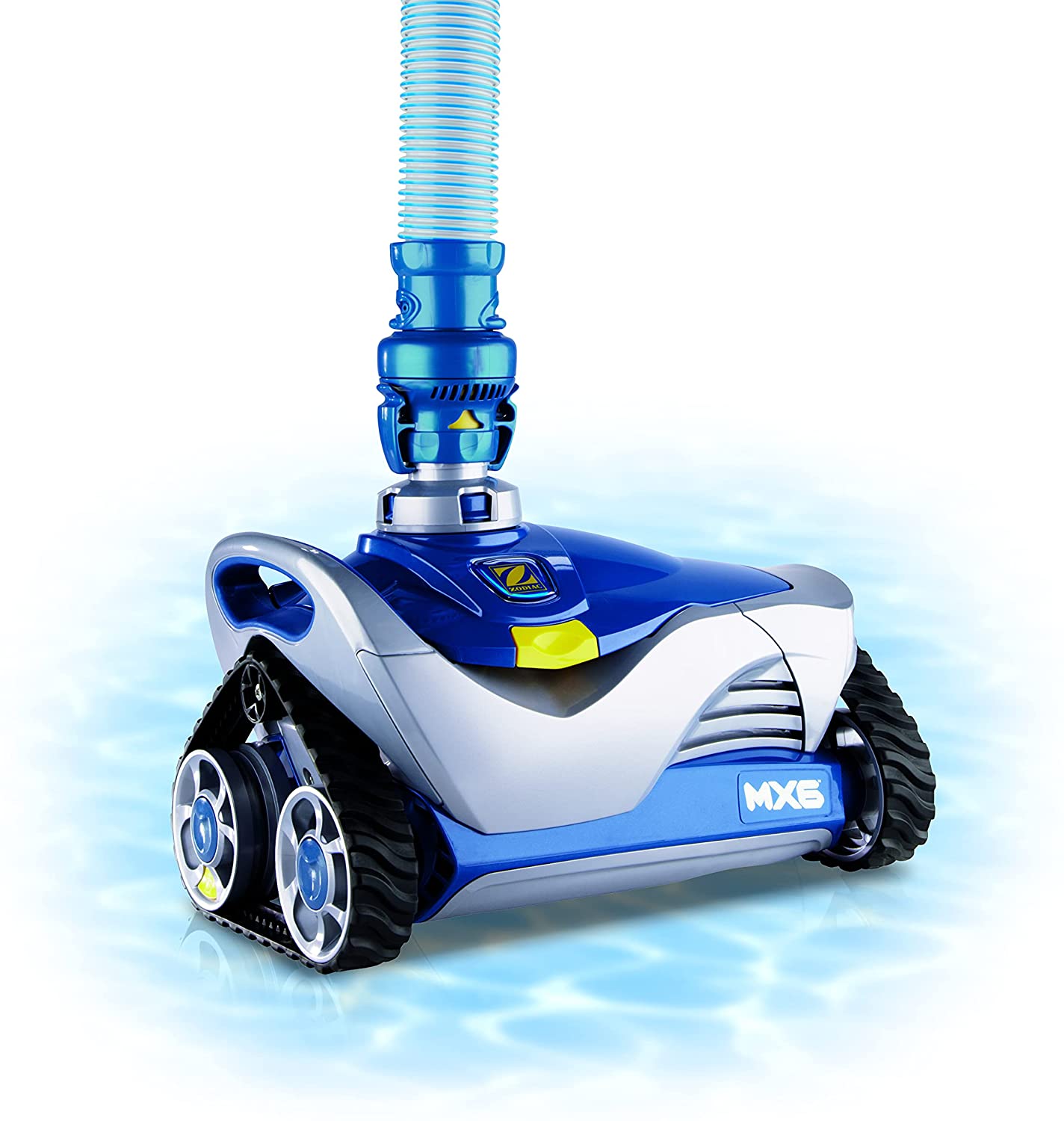 Designed to be a small, compact pool cleaner that loves to climb, the MX6 is guilty of all of the above. Its single, centrally-located blade on the bottom stirs up debris and sucks it into a central chamber that, when full, is as easily accessible as snapping it open. It climbs walls well and can get into those hard-to-reach corners and stairs. It's more affordable than the MX8, but these savings mean one less directional gear on the bottom. That, in turn, impairs its mobility a little bit. It also comes with a shorter hose. If you want more than the 30-feet standard, you'll have to buy it as an accessory. It's also advertised as having hassle-free hose connections, but that feature causes as many headaches as it prevents.
Pros
More affordable
Compact cleaning
Easy to clean, easy to maintain
Cons
One directional gear on the bottom
Comes with only 30 feet of hose

Quick Rundown of Zodiac MX8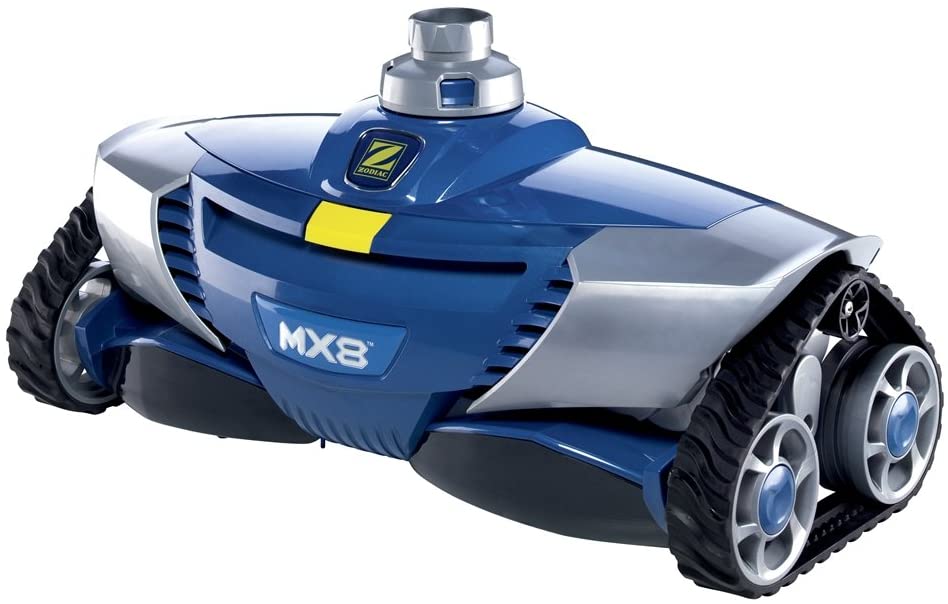 The Zodiac MX8 is the bigger brother of the MX6. Both are compact side suction pool cleaners, and the MX6 is less expensive. There's a good reason for that, however. The MX8 has two cleaning turbines on the bottom for a wider cleaning swath. It also operates at a lower suction power level than the MX6, and it comes with more hose out of the box. It also has two directional gears on the bottom so that it's more mobile and adaptable while in operation. It costs more than the MX6, but we feel that the added expense is generally worth the extras you get.
Pros
Operates at lower suction level
Twin cleaning turbines
Two directional gears on the bottom

Conclusion
To us, the Zodiac MX8 is a better pool cleaner than the MX6. They're related units and offer some significant pool cleaning power in a compact body. They both do a good job of cleaning smaller pools and both are also pretty easy to clean out and maintain. While the MX6 is a more affordable pool cleaner, we feel that this lower price comes at the expense of a lot of extras that the MX8 offers.
The chief selling point for the MX6 over the MX8 is a hassle-free hose connection, which isn't always hassle-free. On the other hand, the MX8 cleans a wider swath with its dual cyclonic blades and comes with more hose than the MX6. It does this without adding significantly to the size of the cleaning unit. It's a fair question to ask whether that extra cleaning width is worth the money? That's not the only difference, however. When you add in the extra directional gear, the six extra feet of hose, and the fact that it can operate at a lower per gallon suction level, we feel it more than makes up for it.