5 Best Wire Strippers in 2023 – Reviews & Buyer's Guide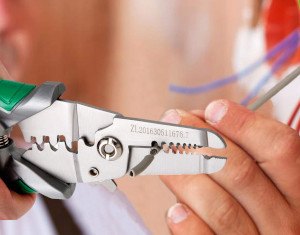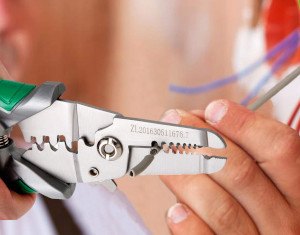 One of the most underrated tools that all home hobbyists need is a good pair of wire strippers. If you need to just cut wires, there are tools for that but you can get by with just a sharp pocket knife. Wire strippers, however, are designed to remove the insulating sheath from around a wire, which means you need to cut the sheath while leaving the wire itself intact. Considering the stakes of bad wiring, it's not hard to understand why it's a job you need to get right.
We took a look at a handful of wire strippers and wrote reviews of them. We also included a buyers' guide full of helpful tips and pointers so that you can make an informed purchase decision. If we did our job right, by the end of it you have a better understanding of what you need to look for rather than have a specific idea in mind. We can't emphasize enough that if you're working with wires that carry current, you not only want the right tools for the job but understand what makes them the right tools.
–> We've also reviewed wire-stripping machines here

Our Favorites Compared (in 2023)
Rating
Image
Product
Details

Best Overall

IRWIN VISE-GRIP

Affordable
Versatile
Accurate
CHECK PRICE

Klein Tools 11061

Good performance
Versatile
Uniform results
CHECK PRICE

Best Value

WGGE Wire Stripper & Crimper

Versatile
Affordable
Small and maneuverable
CHECK PRICE

Milwaukee 48-22-3079

Versatile
Easy to use
Durable construction
CHECK PRICE

Berrylion Electrical Wire Stripper Tool

Small
Good value
Versatile
CHECK PRICE
The 5 Best Wire Strippers
1.

IRWIN VISE-GRIP Wire Stripper – Best Overall
The IRWIN VISE-GRIP is less a hand tool and more a wire-stripping machine. It's the best wire stripper on the market for a few reasons.
We'll start with one that might be a bit of a surprise. It's affordable. It's an intuitive truth that a more complicated tool is going to cost a bit more because of the moving parts. Not so with this one. Its standard price puts it right there among manual tools. It's even cheaper than a lot of automatic wire strippers. This is a top-shelf model that doesn't have a top-shelf price.
Beyond that, its performance is second to none. You can strip wires with it all day and get the same quality of clean bared ends at the end that you did at the beginning. It can also strip wires as thick as dryers and then a second later strip leads for a lamp.
Its primary drawback is its size. it has a big head that isn't well suited for detail work or getting in close.
Pros
Affordable
Versatile
Accurate
---
2.

Klein Tools Self-Adjusting Wire Stripper & Cutter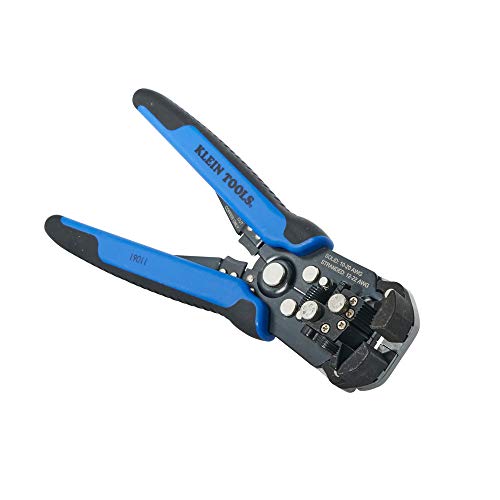 The Klein Tools 11061 is designed for people who need to strip a lot of wire. It works quickly and delivers consistent, uniform results for all kinds of wire. If you're a professional who needs to spend the day wiring boxes on a new construction job, this will let you prep your wires lickity-split so you can concentrate on that careful, slow task.
It delivers this consistency to wires of all gauge ranges and does it with very little adjustment in between. If you have multiple sizes of wire that you need to connect on the same little project, this allows you to do the work with very little downtime adjusting settings on your tool.
It's a bit pricier than it probably needs to be, however. Wire strippers don't fall into an exorbitant price range, admittedly, but these are at the top of it. You can still afford them even if you're on a tight budget, but you will want to ask if you wouldn't want to put those few bucks aren't best spent on something else. The other thing we didn't like is that it's a bit bulky to do small detail work. The automatic stripping action that makes it so great if you are working in volume makes it a bit unwieldy if you need a small, precise stripping action.
Pros
Good performance
Versatile
Uniform results
Cons
Expensive
Bulky
Doesn't always catch
---
3.

WGGE Wire Stripper & Crimper – Best Value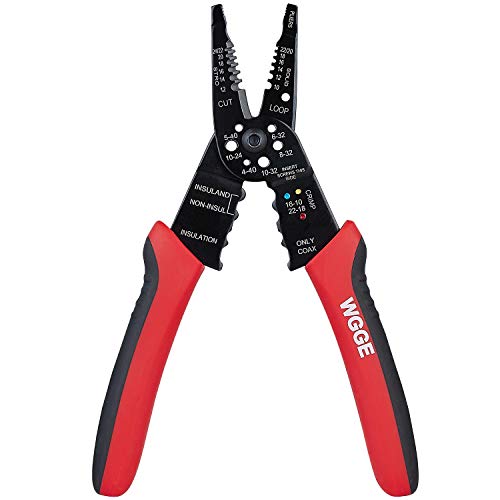 There is much to love about the WG-015. Normally, we reserve our best wire stripper for the money rank for the product we feel like an average homeowner who needs that tool for "just in case" jobs around the house. This one is definitely that. If you want a wire stripper that can do a lot of jobs for just a little money for tasks that maybe come up once or twice a year, this is a good candidate.
One thing we like about it is that it's incredibly versatile. It strips the leads off wires. It also allows you to cut them. If you're replacing the wires on that family heirloom lamp, you can cut wires and strip the leads without picking up a different tool. It's also got a crimping action so that if you need to splice two wires together you can pinch them together with this one tool.
This is where the price comes in. This is one of the most affordable wire strippers on the market of any kind. Comparing it within the tool class doesn't do its affordability justice. We'll just say that if you skip eating one meal at a fast food place that you can add this tool to your toolbox.
One note of caution: If you need to strip a lot of wires, this set of strippers is not designed for comfort. It's definitely intended for you to pull it out, work a couple of wires and put it away. If you have a lot of work to do, you'll want a set with handles designed for comfort. We also have doubts if this thing is designed for lots of work over the long haul or if tool fatigue will degrade performance.
Pros
Versatile
Affordable
Small and maneuverable
Cons
Prone to user fatigue
Not terribly durable
---
4.

Milwaukee Wire-Strippers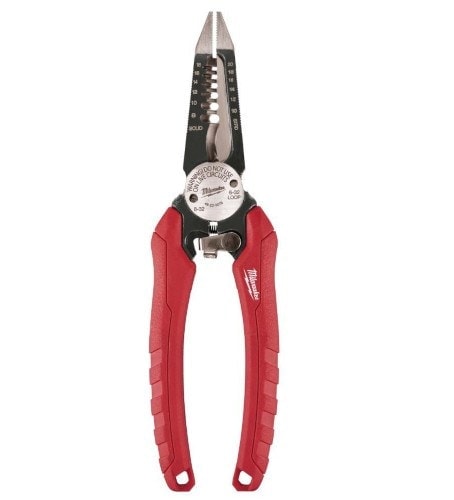 Milwaukee's 48-22-3079 is less a dedicated wire stripper and more of an electrician's multi-tool. As such it does a lot of things pretty well but doesn't excel at anything. It's also got the highest standard price of any of the specific tool models we looked at. So, keep all that mind when shopping.
We will allow that as versatile as it is, it's also pretty easy to use. It's well-marked and if you're at all familiar with the basic design of wire strippers it's very intuitive. There aren't any little hiccups in adjusting to its particulars like there are for a lot of other multi-tools. It's also got a durable frame so that it'll stay working for years.
There's a caveat to that, which is that it's built out of soft metal. It bills itself as a bolt and screw cutter, but if your screws and bolts are made out of anything hard you're likely to damage this tool. We also didn't like the grips, which are prone to loosening and coming off after only a little use.
Pros
Versatile
Easy to use
Durable construction
Cons
Expensive
Soft metal construction
Mediocre stripping
Loose grips
---
5.

Berrylion Electrical Wire Stripper Tool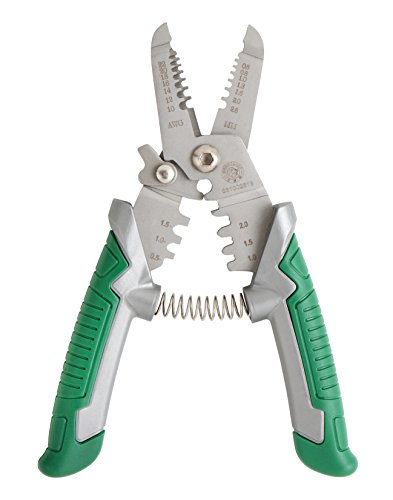 There is one big thing to like about the Berrylion Electrical Wire Stripping Tool. It's small enough to fit into the palm of your hand. That makes it super handy if you have wire stripping that needs close-in, precise work. It also lets you see where you're placing the blades to strip wire. If you are working in small numbers, that can be an important advantage.
Overall, we like the value it represents. It does a lot of things in a small frame and won't break your bank. If you need a small tool to do a handful of things and don't want to spend a lot of money, this is a good option.
It's just not a tool you'll want to buy if you have any actual work to do. It can handle the occasional wire stripping, but it's not designed for everyday use. If you have regular wire stripping work, there are models that are cheaper that will last longer.
Pros
Small
Good value
Versatile
Cons
Doesn't lock
Shoddy construction
---
Buyer's Guide – Choosing the Best Wire Stripper
Wire strippers are intended to cut through insulation sheath and leave the actual wire intact. That way you can either wrap the bare lead around a terminal or you splice two wires together. Your goal is to create a connection that will allow electricity to flow, which is specialized work.
If you find yourself in the market for a pair of wire strippers, you'll want to know what you're looking for when you start shopping. The alternative is a lot of wires that wind up cut or badly stripped.
This handy buyers' guide is intended to help you know what you're looking for when you shop for wire strippers. It describes some of the different kinds of wire strippers and features and provides some insights to help you understand exactly what you're looking for. While for a lot of tools it could just come down to a matter of finding a model that fits your budget, because working with wires is inherently dangerous because eventually, you have to turn the electricity on, buying smart is a much better approach to buying budget.
Action
The first question you need to answer is whether you want an automatic wire stripper or a manual. One tricky part of stripping wires is pulling off the insulation. Do it well, and you've got clean bare wire. Do it poorly, and you have bent leads that are maybe a bit nicked up and with shards of insulation left on them.
Automatic wire strippers separate off the insulation you want off. If you're cleaning off ends, it'll leave you with bare leads. If you need to splice in a second wire in the middle of your main, it'll create space for that. For that convenience, however, you are getting a tool that is bigger and bulkier and generally less maneuverable.
Manual wire strippers are small and thin and let you get right in where you want to work, cut the insulation and pull it off. If you aren't very experienced working with wire or have a lot of work to do and get fatigued then this enables sloppy work.
A good guide to which one you should buy is that if you have a lot of wire to strip, then a pair of automatic wire strippers is preferable. If you're looking for just one pair of wire strippers for your toolbox, probably you'll want a manual because its size makes it a bit handier.
Wire gauge
The second criterion of any wire stripper is knowing what gauge of wire you're going to strip. Gauge is a basic term to describe the diameter of the wire. In general terms, the lower the gauge the bigger the diameter and thus the bigger the wire. The higher the gauge, the smaller the wire's diameter and thus the smaller the wire. If you are working on a specific project, consult your plans to find out the specific gauge of wire you'll be working with so you know what kind of wire strippers to buy.
Basic for basic
Most wire strippers on the market are capable of managing a range of different wire gauges. That's especially true if you're looking to just augment your tool inventory with a basic wire stripper. Most basic wire strippers are outfitted to handle a range of wire gauges from pretty wide wires for things like household television cable to fine electronics work. These basic models offer a good range of gauges, but they aren't always the sharpest, most precise cuts. If you're looking for a tool for a specific job, you will probably want to look for something tailored to work in the gauges you're stripping. Otherwise, a good basic model will probably suffice.
Safety and comfort
It can't be emphasized enough that you are stripping wires to ultimately conduct live electricity. Getting the job done right is critical, not just to make sure that when you flip the switch that the juice flows freely but that it all works safely. You will want to place a premium on safety when you shop for wire strippers.
The first thing, obviously, is to make sure that you get a pair that is protective in case you screw up and work on a live line. Make sure the handles are properly insulated with rubber and maybe even look for strippers made out of non-conductive materials. They might cost a little more, but if you plan to do a lot of electronics work that little extra could be a lifesaver.
Keep comfort in mind. It's an overlooked thing that comfortable hands are hands not easily fatigued, and fatigued hands are likely to lead to mistakes. If you have a wire or two to strip here and there, comfort is less pressing a priority. If you are going to be working long hours to strip wires and splice them together, however, you'll want wire strippers with handles contoured for comfortable use.
Features
If you're stripping wires, chances are that you've got other tasks ahead of your for those bare wire ends. The right pair of wire strippers can aid you in getting those additional tasks completed without having to invest in a different tool that will take up more storage space.
Some things you might want to look for are features like needle-nosed ends to enable you to wrap bare wires around leads or crimpers to place a cap over spliced wires and squeeze them into place. A smart choice is to also find a wire stripper that has the capability of just cutting wires for maximum versatility.
Cost and durability
One final thing to keep in mind is the cost of the unit you're looking at. Based on what we've said here, it might make sense to just go out and buy the most expensive wire stripper on the market. You want to get quality, right, and quality costs.
That's a good rule of thumb, but it's a lot smarter to know what you're looking for before you know how much you need to spend. A good, basic wire stripper is usually a little cheaper than something built for specialized needs. That is, the home DIY enthusiast can get by spending less on wire strippers than someone who works with electronics professionally. Know where you fit into that and you'll know basically how much you'll legitimately need to spend.
One thing to keep in mind is that you should make sure that you aren't overpaying for a short lifespan. Some very specialized tools cost a lot of money and only last a few uses before they need significant maintenance or even replacement. One thing about wire strippers is that the longer they last, the more comfortable you become with them over the long haul, which is generally a recipe for better performance. Purchasing for durability is an important priority.

Conclusion:
We hope our reviews helped you find the best wire strippers for your needs. Removing insulation from a wire is a job you want to get right, so we encourage you to put some thought into what kind you want and which model best suits your needs.
If you didn't see a model that you thought was exactly right, we encourage you to consider the pointers we shared in our buyers' guide. Wire strippers aren't the most expensive tool you're going to buy, but we can't emphasize how much you don't want to mess around with live electricity. Make sure the pair you put money.
Related Reads: