2023 Ford Ranger vs. Toyota Tacoma: Which One's Best For Me?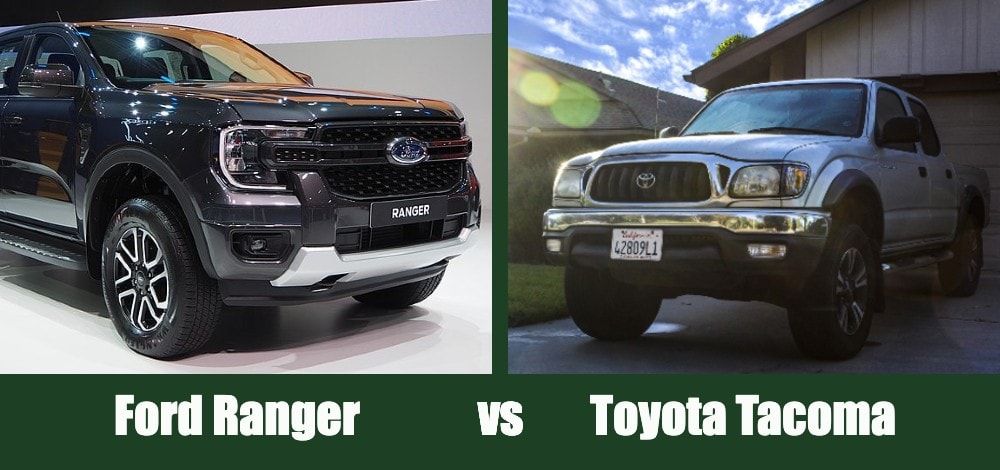 Both the 2022 Ford Ranger and Toyota Tacoma are amazing, versatile trucks that are perfect choices for carrying, off-roading, and towing. If you are thinking about getting one of these vehicles but would like to know more about them and how they compare, you've come to the right place. Here, we look at both vehicles to see their similarities and differences. We look at cost, design, engine size, power, gas mileage, and more to help you make an informed purchase.

At a Glance
Let's look at the key points of each vehicle.
Ford Ranger
Warranty: 3-year/36,000-mile
Engine Power: 270 hp
Engine Torque: 310 ft-lbs. @ 3,000 rpm
Engine Displacement: 2.31
Drivetrain: Rear-wheel drive
Transmission: 10-speed shiftable automatic
Fuel Economy: 21 city, 26 hwy, 23 combined
Toyota Tacoma
Warranty: 3-year/36,000-mile
Engine Power: 159 hp
Engine Torque: 180 ft-lbs. @ 3,800 rpm
Engine Displacement: 2.71
Drivetrain: Rear-wheel drive
Transmission: 6-speed automatic
Fuel Economy: 20 city, 23 hwy, 21 combined

Overview of the Ford Ranger
Power
Power is where the Ford Ranger excels. Its large, 270-horsepower, turbocharged engine enables the truck to have a payload of more than 1,500 pounds, and it can tow up to 7,500 pounds. It also has quick acceleration, which is great for getting on highways.
Driver Assistance Features
The Ford Ranger has several driver assistance features, like a blind-spot information system with cross-traffic alerts that cover both the truck and trailer to alert you of any traffic merging into your lane. There's also an automatic emergency braking system, a rearview camera, etc.
Cabin Size
There's plenty of room in the cabin for up to five people. It's easy to get in and out of, and the driver's seat enables you to see over the front of the truck, which can be a problem in some other vehicles. While there is plenty of legroom, there isn't much space to store things. We would have liked more side compartments and a bigger glovebox.
Appearance
The downside to the Ford Ranger is that the cabin is plain and dull and could use an update, especially when it can be difficult to use the infotainment system.
Ride
The ride on the streets is smooth and quick, but riding over rough terrain is quite bouncy compared to many similar trucks.
Pros
Plenty of power
Fast acceleration
Driver assistance features
Large size
Cons
Plain cabin design
Not much cabin storage
Rough ride

Overview of the Toyota Tacoma
Power
The Toyota Tacoma provides the user with plenty of power, but the engine isn't quite as powerful as the one in the Ford Ranger. It also lacks the high speed and acceleration available from that vehicle.
Driver Assistance
Driver-assist features include vehicle stability control, traction control, Smart Stop technology, etc. These features are standard and work well to keep you safe in various situations
Cabin Size
The cabin size of the Toyota Tacoma is roughly the same as that of the Ford Ranger, and it also seats five. However, the small back seat doesn't provide much shoulder or legroom, so it feels more cramped and is only suitable for short trips. Like with the Ford Ranger, we would have liked more easy-to-reach storage space to keep supplies.
Appearance
The Toyota Tacoma cabin has a much better design than that of the Ford Ranger. It looks more attractive, and the infotainment system is easy to use, so you won't waste time finding your favorite radio station or checking your gas mileage.
Ride
The Toyota Tacoma excels at off-roading and is perfectly at home in the dirt. The high suspension lets you clear rocky terrain without getting stuck, making it a great quarry or hunting truck.
Pros
Perfect for off-roading
Multiple driver-assist features
Easy to use infotainment system
Cons
Small back seat
High step-up

How Do They Compare?
Performance
Edge: Ford Ranger
The Ford Ranger takes the easy win in performance. Its turbocharged engine helps it achieve high speeds quickly, and it can tow more weight and has a higher payload than the Toyota Tacoma.
Price
Edge: Tie
The cost of these trucks can vary considerably depending on where you live and the current market. However, both vehicles tend to go for prices between $28,000 and $30,000, depending on additional features. The Ranger might come in a little higher, but it's still close.
Durability
Edge: Tie
The Ford Ranger and the Toyota Tacoma are both extremely durable vehicles ready for whatever type of work you have in mind. After 5 years, some reports show that both vehicles required less than $1,000 in repairs. The Tacoma is slightly higher in general maintenance, while the Ranger is somewhat higher in repairs.
Design
Edge: Toyota Tacoma
While the Ford Ranger wins in power, the Toyota Tacoma wins in appearance, especially in cabin design. It's a little tougher to get in and out of, but it looks nice, and it's easier to work the controls for the radio and the climate control.

What the Users Say
We searched the internet to find out what other people thought. Here are what people are saying about the Ford Ranger and the Toyota Tacoma:
Most people find the Ford Ranger to be extremely reliable.
Many owners are happy with their purchase of the Toyota Tacoma.
Many people are impressed with the power of the Ford Ranger.
Several people feel that the Ford Ranger is a good value.
Several people mentioned that they like the safety features of the Toyota Tacoma.
Several people commented that the Toyota Tacoma has few blind spots.
A few people complained that Tacoma lacks good interior lighting.
A few people mentioned that the Ford Ranger's constant warning signals can get annoying.

Conclusion
We selected the Ford Ranger as the winner of this comparison because it has a powerful engine that will enable you to carry equipment and tow trailers to any job site. It also seats five comfortably, so you can even take a small crew with you, and the turbocharger makes it a suitable vehicle for the highway. However, it's better suited to the pavement, so if you are looking for something to go off-roading with your friends, you might find the Toyota Tacoma a better choice. The Tacoma also has a better interior design that looks more attractive and is easier to use.
Related Read: Toyota Rav4 LE vs. XLE: Which One's Best for Me?
---
Featured Image Credit: Left: (2022 Ford Ranger Sport Double-Cab 2.0L Turbo Hi-Rider, Chanokchon, Wikimedia Commons CC SA 4.0 International) Right: magwood_photography, Pixabay