2023 Toyota Highlander vs 4Runner: Which One's Best for Me?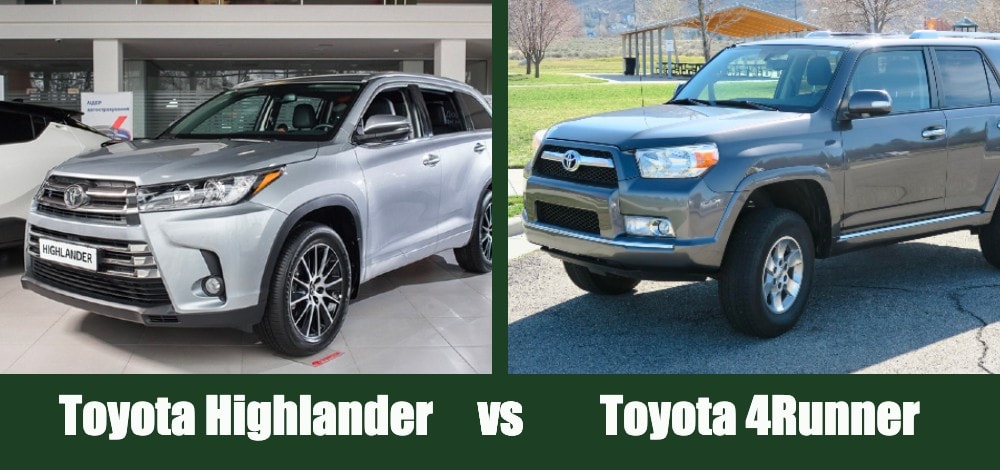 Review Summary
Two mid-size SUVs from one of the most reliable car manufacturers you can find go head-to-head in this 2022 Toyota Highlander vs 4Runner review. Size aside, these vehicles are distinctly geared towards different consumers when you break down the features.
The 2022 Highlander is the superior SUV for city and highway driving. Toyota overloaded options on base-level packages and their hybrid models offer remarkable fuel economy in a family vehicle. It's an outstanding value and smooth ride with thoughtful infotainment features for drivers and passengers.
For parents needing something to keep the whole family safe, comfortable, and content, Toyota did a marvelous job crafting the Highlander specifically for you. Saying that doesn't take away from the new 4Runner, but Toyota appears to be riding an enduring appeal of a modern-day classic with this year's iteration. The look and feel are familiar, and although the interior features can be underwhelming, it's hard to argue with Toyota's 2022 marketing approach of "Hey, it's a 4Runner."
It's not the best for families, but drivers trying to go off the beaten trail know the 4Runner wins in key areas, offering rugged performance and dependability where it counts. Let's look at where each SUV excels so you can choose the perfect fit for you.

At a Glance
Toyota Highlander
Engine: 3.5L V6; 2.5L 4-cylinder dual-electric motor in hybrid models
HP: 295
Transmission: 8-speed automatic
MPG: 21 city/29 highway FWD; 20 city/28 highway AWD; 35 combined hybrid
Tow rating: 5,000 lbs.; 3,500 hybrid
Toyota 4Runner
Engine: 4.0L V6
HP: 270
Transmission: 5-speed automatic
MPG: 16 city/19 highway
Tow rating: 5,000 lbs.
---
Toyota Highlander Overview
There's not much to complain about with the 2022 Toyota Highlander. It's comfortable, spacious, fuel-efficient, feature-packed, and safe. It's an ideal vehicle if you need to cart kids around, and the sleek exterior makes it feel much less like your standard "Mom-mobile" than some of its competitors.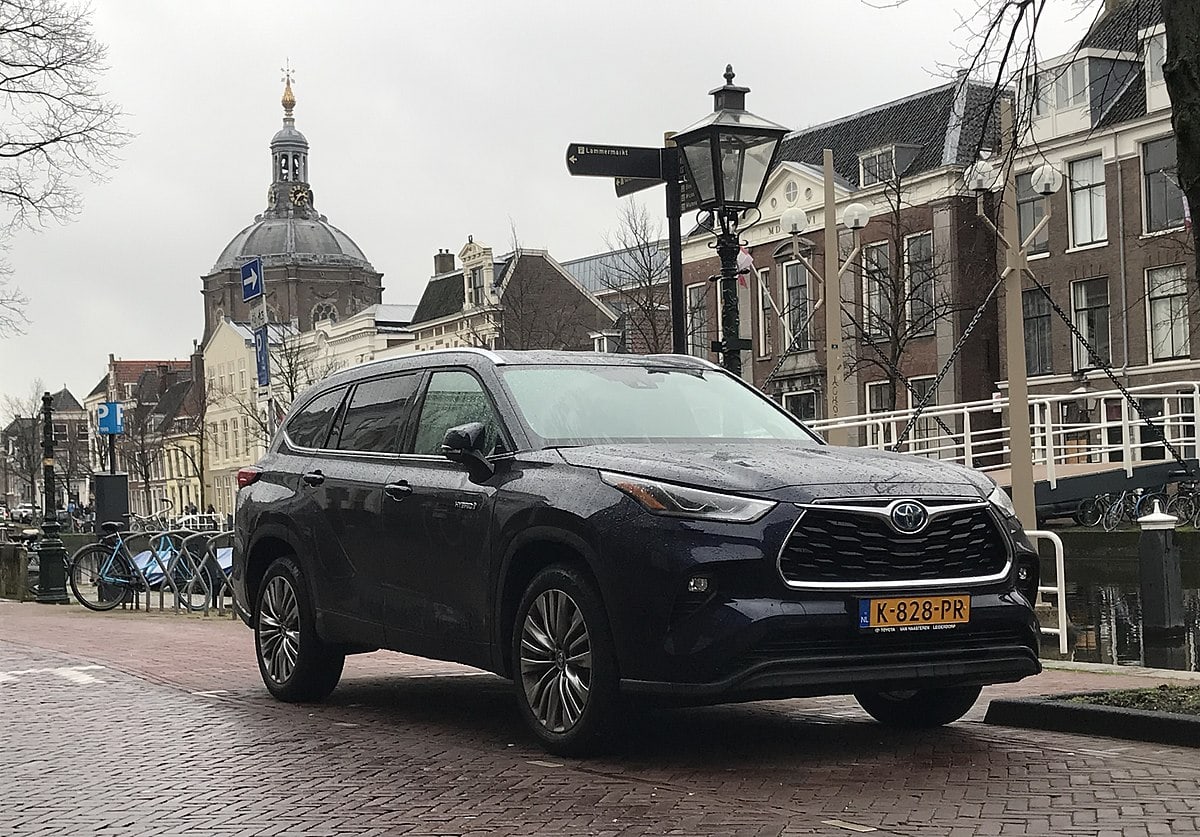 Toyota Highlander Models
L
LE
Hybrid LE
XLE
Hybrid XLE
XSE
Bronze Edition
Limited
Hybrid Limited
Platinum
Hybrid Platinum
Comfort and Entertainment
The Highlander's three rows can seat up to eight people with the bench option. Captain's chairs make up the second row in the XLE and upgraded models, giving you room for seven people.
Legroom is ample in the second row, but the third row is another story. While it might work for a child, the third row is no place for an adult. But when it's folded down, everybody gets plenty of legroom and storage space.
Cabin noise is a plus in most Highlander models, except for the hybrid models' occasionally loud 4-cylinder. Sound-dampening front glass helps keep a tranquil atmosphere, and upgraded models add sound-dampening to side glass for even better noise reduction.
Standard infotainment packages feature an 8" touchscreen, Android Auto and Apple CarPlay (wireless on LE and up), Amazon Alexa, and a 4G hotspot. Opting for the Limited and Platinum series, you gain an optional 12.3" screen and the audio upgrades to a JBL 11-speaker system.
Safety
The Highlander scores big in safety due to its standard Toyota Safety Sense 2.5+ package. In even the base-level L series, you gain critical driver-assist features, including:
Automatic high-beams
Forward collision warning with emergency braking
Lane-departure warning and lane-keep assist
Adaptive cruise control
Pedestrian and cyclist warnings
Evasive steering assist
Road sign assist
One step up from the L model gives you blind-spot monitoring. You get a complimentary subscription to safety services for the first year through SafetyConnect, which helps with roadside assistance, collision notifications, and locating a stolen vehicle. Plus, you get a 2-year, 25,000-mile maintenance package with your new Highlander.
Performance and Fuel Economy
Compared to the 4Runner, the Highlander has less torque, but it excels in horsepower. With a 0–60 speed of 7.3 seconds and an 8-speed transmission, it boasts a smooth pickup. The naturally aspirated V6 delivers reliable power without the lag common to turbocharged engines. Braking is exceptional, and the deceleration and stopping power is a notable selling point for safety-conscious family drivers.
Fuel economy is excellent for an 8-seater SUV, whether you choose the 2WD model (24 combined mpg), AWD upgrade (23 combined mpg), or hybrid (35 combined mpg). The engine also has an eco-friendly feature that shuts it off at stops and turns it back on to save on fuel consumption.
Pros
Great fuel economy
Standard Toyota Safety Sense 2.5+ features
Sleek exterior stylings
Good standard infotainment package
Versatile seating and storage options
Driver voice-projection system for every trim
Cons
Limited third-row seating space
Outdated touchscreen interface
Clunky dash controls

Toyota 4Runner Overview
While the Highlander is Toyota's versatile darling this year, suitable for children and adults alike, the 4Runner is a decidedly adult vehicle. The body-on-frame design, suspension considerations between models, and adaptive driving capabilities make it more for off-roading than dropping the kids off at school.
The 4Runner gets by on its rugged pedigree, an unchanged formula for success that continues in 2022. It's more expensive than the Highlander despite being stripped down and outdated in many facets (a temperature-control knob?), but it doesn't matter—it's a 4Runner. It still handles tough terrain better than most, and compared to the Jeep Wrangler, its transition to driving on paved city streets is more graceful.
Toyota 4Runner Models
SR5
TRD Sport
Trail Special Edition
SR5 Premium
TRD Off-Road
TRD Off-Road Premium
Limited
TRD Pro
Comfort and Entertainment
The 4Runner's less of a family vehicle, as the third row is only optional on the SR5 and the Limited. Choosing a third-row model, you'll find it provides slightly more legroom than the Highlander.
With an 8" display, 5 USBs, hotspot, Bluetooth, Apple CarPlay, Alexa, and Android Auto, the 4Runner keeps up with the Highlander's connectivity. But the 8-speaker standard system that upgrades to a 15-speaker JBL system in the Limited and TRD Pro give the entertainment side of the 4Runner an edge. The JBL's backseat bass booms, and you'll notice a nearby bonus of a 120V outlet.
Safety
The 4Runner takes a "Safety Lite" approach to its standard driver-assist features. It uses Toyota Safety Sense P, a slimmer package including a pre-collision system, lane departure alert, dynamic radar cruise control, and automatic high beams.
When you think about off-roading, the lack of automated corrective actions makes sense. But for a parent trying to drive the family around town, you'd have to upgrade to the TRD Off-Road Premium to get blind-spot monitoring, and you still won't have the features to match the Highlander's Safety Sense 2.5+ features.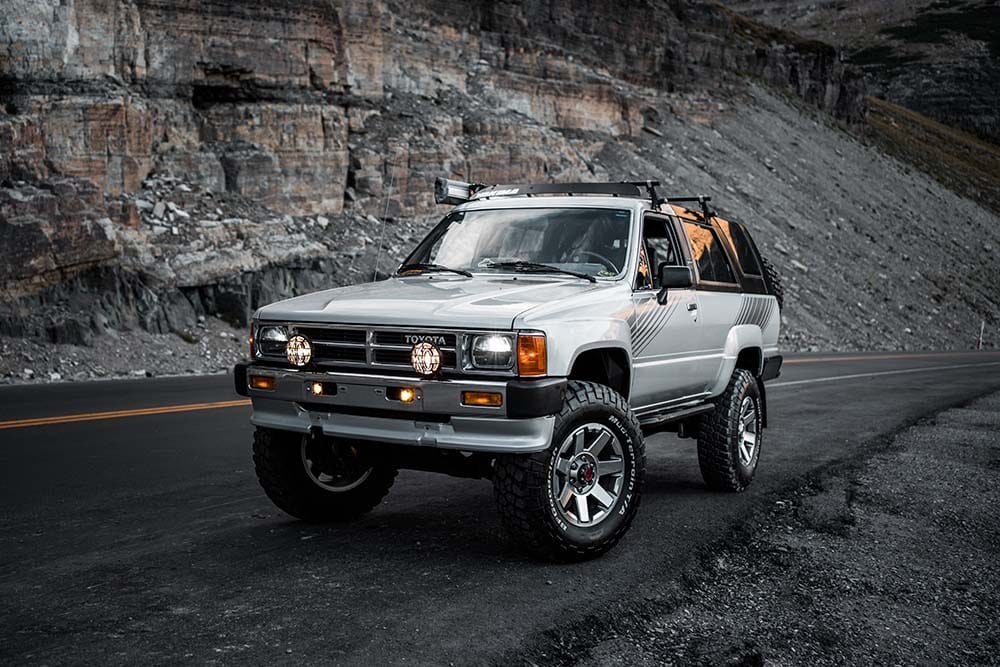 Performance and Fuel Economy
The performance of the 4Runner only matters in an off-road sense. Light handling, poor fuel economy, and a cumbersome feel can make it uncomfortable on paved roads. Various suspension options make some models more suited to those environments, but the laggy 5-speed acceleration will destroy any positive vibes when you try to get to highway speeds. At 7.7 seconds, getting from 0–60 takes slightly longer than it does with the 8-speed Highlander, and the shifts are nowhere near as seamless.
When taken off-road, the 4Runner shines. Its competent V6 and diverse terrain management features help you through all kinds of driving scenarios. The TRD Off-Road series has various traction control options to handle slippery and muddy conditions. These models, along with the Pro series, supply numerous capabilities, including:
Crawl Control feature to assist in braking and accelerating in difficult terrain
Locking rear differential to help moving over obstacles
Kinetic Dynamic Suspension System to traverse tough terrain
Multi-Terrain Select to adjust traction control in varying conditions
Adjustable front, rear, and side-view camera to stay aware of surrounding
Off-road performance is excellent, but fuel economy is not. A miserable 16 mpg city and 19 mpg highway are all you can expect from this mid-sized beast.
Pros
Rugged, 4×4 off-road capabilities
Roomy cargo areas
Quality entertainment upgrades
Quiet ride on paved roads
Power open/close rear window
Roof rack available on TRD Pro
Cons
Poor gas mileage
Outdated dash controls
The ride can be bumpy
Manual liftgate operation
---
How do they compare?
Performance
Edge: Highlander
A smooth ride and rapid acceleration come standard with the Highlander. The 4Runner might have better ground clearance and outperform it in off-road applications, but elsewhere, the unibody Highlander's superior cornering and responsiveness make it an overall more enjoyable drive. Both the Highlander and 4Runner can tow 5,000 lbs. when properly equipped with AWD, so other than running over rocks and streams, the Highlander matches or outpaces its rough-and-tumble counterpart in every category.
Price and Value
Edge: Highlander
The starting price of the Highlander is a couple of thousand dollars less than the 4Runner, and it doesn't take many upgrades to get the best features in comfort and entertainment as a driver. With a $2,000 upgrade to AWD, the Highlander becomes an excellent value, with far more features to make the ride safe and satisfying for everyone in the car.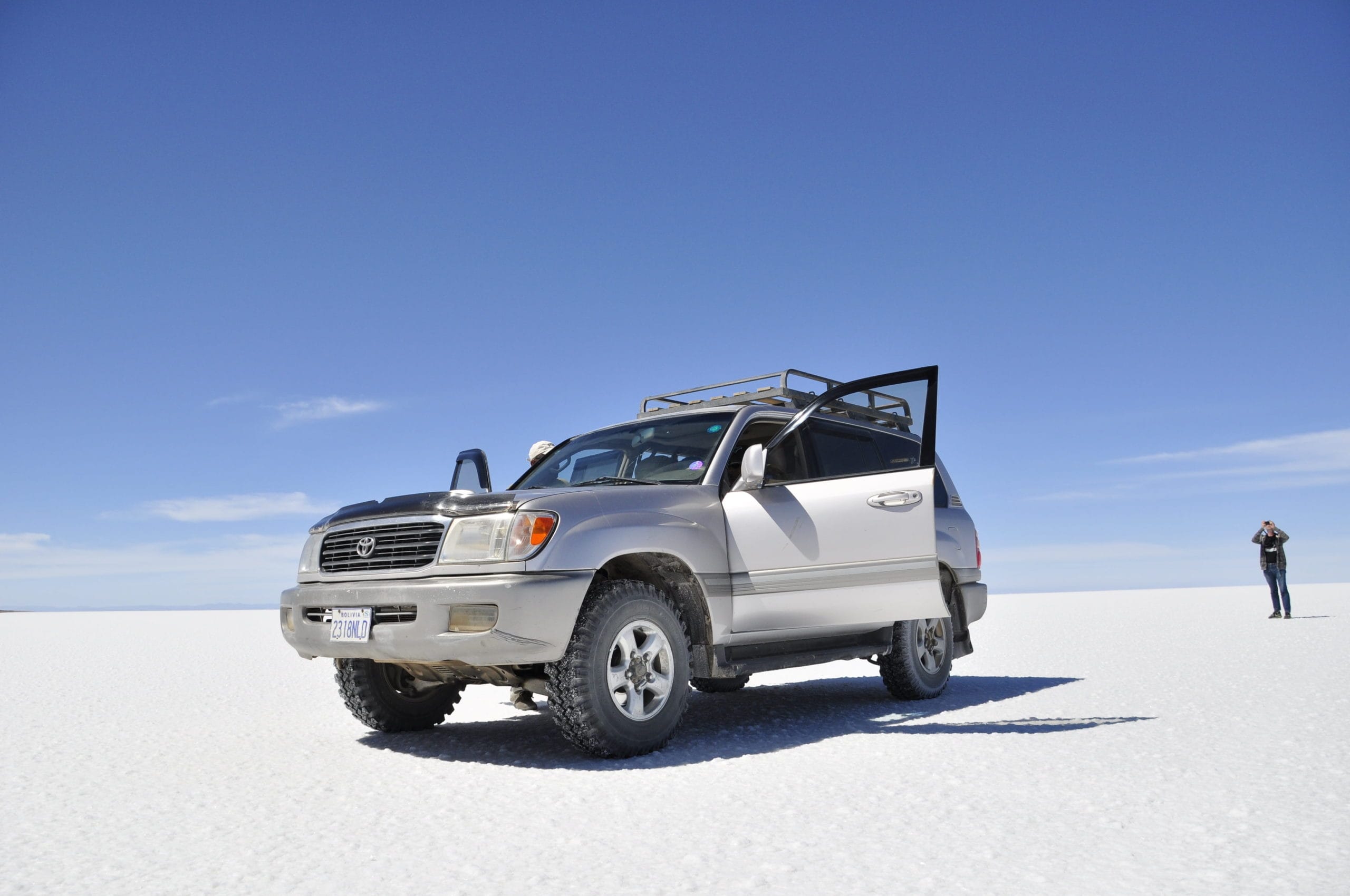 Safety
Edge: Highlander
The Toyota Highlander's Safety Sense 2.5+ package, IIHS Top Safety Pick+ rating, and NHTSA 5-star rating put it at the top of its class in keeping you and your passengers secure. The 4Runner boasts attractive safety aspects, but it's far from the Highlander's standard. A subpar safety cage limits its NHTSA rating to four stars, and it doesn't come close to sitting among the top IIHS choices.
Entertainment
Edge: Split
The 4Runner wins with the superior speaker systems, but the Highlander has unmatched qualities otherwise. A wireless phone charging station and drive voice projection are a few examples of the modern touches you can expect from the Highlander's more up-to-date features.
Comfort and Storage
Edge: Split
The Highlander wins the comfort battle when you take the third row out of consideration. More legroom in the second row with optional captain's chairs makes it a luxury to sit in the back, and they get a heated upgrade in the Platinum models. Refined details, a sharper look, and superior materials give the Highlander the edge.
The 4Runner wins out storage-wise, and for the people who would reasonably use these vehicles, the arrangement makes more sense here. If the Highlander had better third-row seating for a car full of kids, it might win overall in this category, but the 4Runner's storage is better than the Highlander's seating.
With 89.7 ft3 of cargo space with the seats down, the 4Runner provides five more cubic feet of storage space than the Highlander. The optional pullout platform and Toyota-branded cooler are nice touches to facilitate a successful camping excursion, and the boxy design lets you maximize the cargo you put inside.
What the Users Say
Highlander owners love its crisp acceleration and responsiveness, likening the ride to a higher-end luxury model. Seating throughout gets high marks, and safety is a hallmark of Toyota's premier mid-size SUV. It's an excellent family vehicle, but it can get rugged when it needs to with its competitive 8" clearance and adaptive terrain features.
The 4Runner is a 4Runner and that's good enough for many people. Toyota has made the 4Runner a remarkably versatile and dependable ride for years, so there wasn't much need to tinker with a working formula. It can feel like your dad's truck, but the technology has been upgraded to meet today's standards, so there are comfort points to be given.
Related Read: Toyota Sequoia vs. Land Cruiser: Which One's Best For Me?

Conclusion
The Highlander seems to have gotten more attention this year, and it's certainly a superior choice for a broader group of buyers seeking exceptional value. The 4Runner, meanwhile, isn't without its charms—a formidable contender if you are the type to diverge from the typical paths and encounter tougher terrain. They're at two opposite ends of the spectrum in terms of who they cater to, but with the Toyota label, you can be sure you're getting a quality vehicle that will perform for years.
---
Featured Image Credit: (Left) BONDART PHOTOGRAPHY, Shutterstock (Right) votoapp, Pixabay