10 Basement Bathroom Ideas & Design Tips (With Pictures)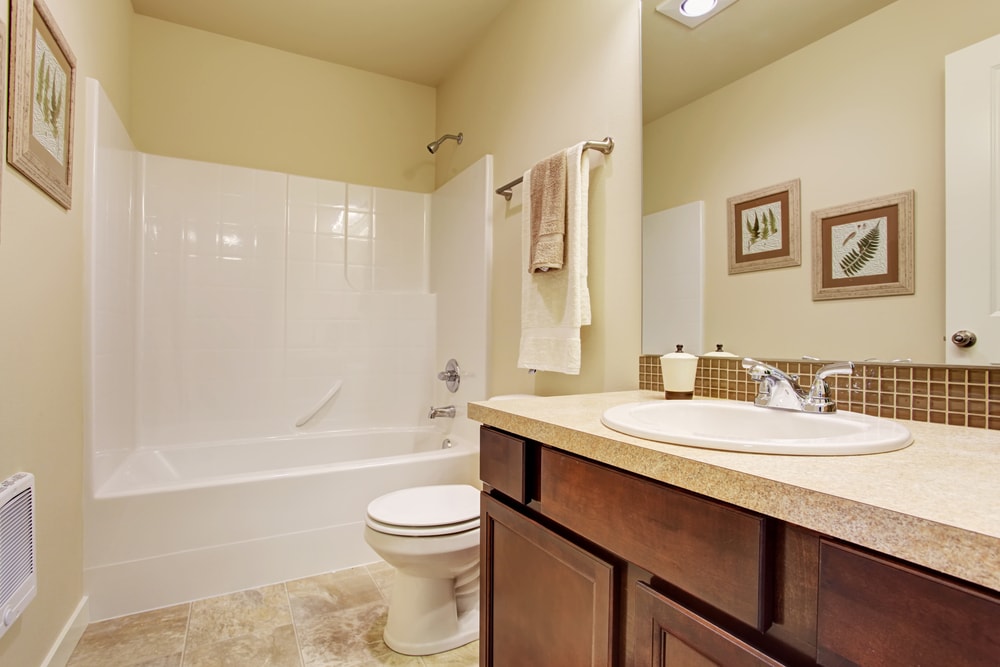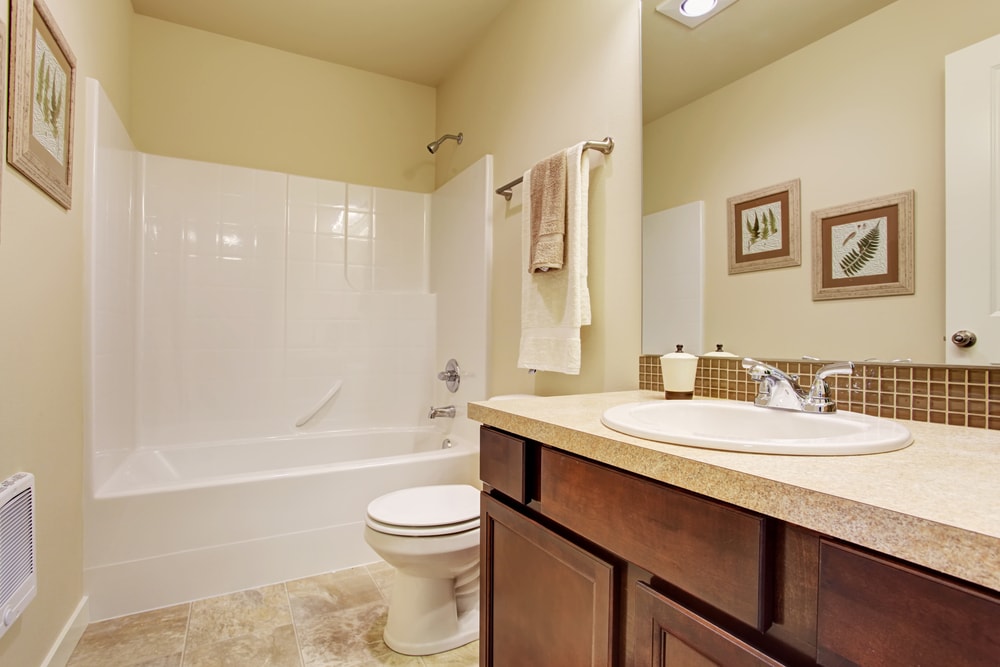 Basements are one of the most versatile spaces in your home, but many folks just leave it as a dank, dim storage room. It's not always easy or cheap to do, but with enough patience and creativity, you can transform your basement into a fully livable space. If you don't need another spare bedroom but could really use a nice private bathroom, it sounds like you might already have some idea of how to use the space.
Let's clear your path a little more with some invaluable tips on how to get started with your basement bathroom project. Read on for the details so you can get started ASAP.

Top 10 Basement Bathroom Ideas
1.

Select Tile or Vinyl for Moisture Resistance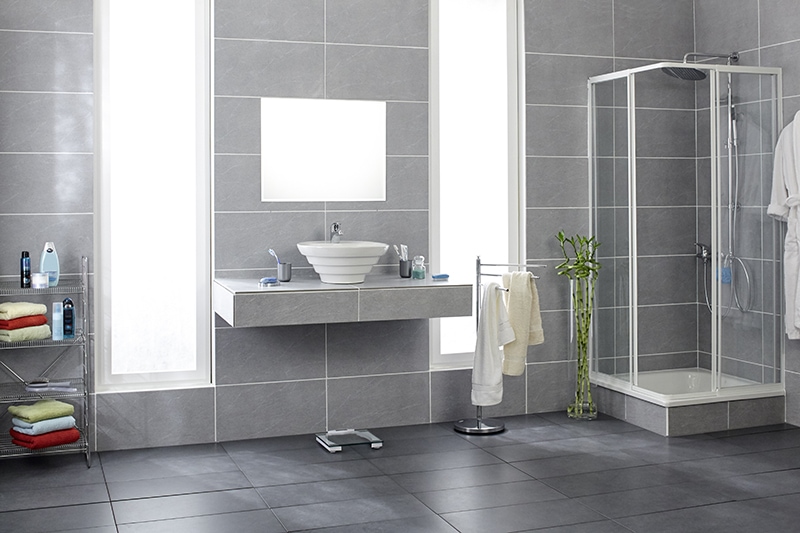 Tile is perhaps the gold standard of bathroom surfaces since it's easy to clean and has great moisture resistance. It's not the cheapest to outfit your whole bathroom with tile, but you could pinch some pennies by only tiling your floor and painting the walls a beautiful color. Tile comes in many natural stone facades, including marble, slate, granite, and more.
Vinyl is another more practical and affordable choice for remodeling your basement into a bathroom, with myriad different colors and patterns to choose from. Even better, it's virtually waterproof and won't crack like tile will. Lastly, you'll be happy to hear that vinyl is also fairly easy to clean. Vinyl comes in rollable sheets for convenient installation, but there are also vinyl floor tiles that interlock to make it even easier for beginning remodelers.
---
2.

Ventilation Is a Must for Musty Basements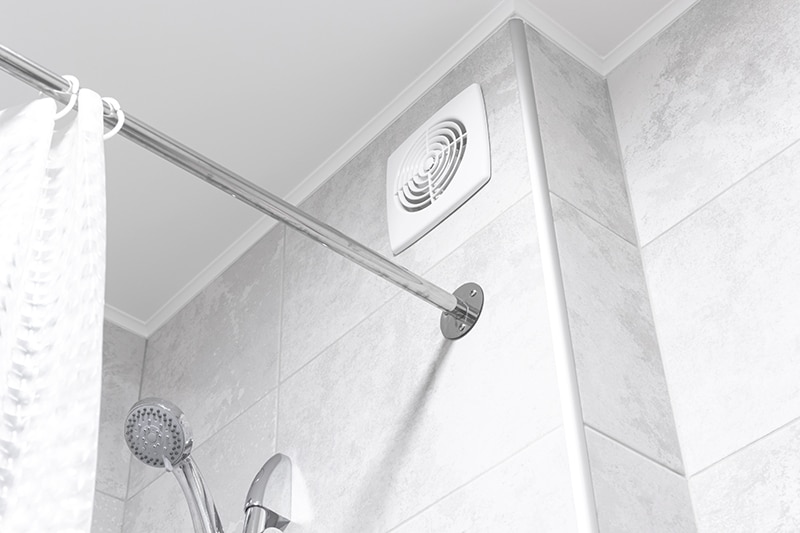 An underground bathroom will become far more humid than your above-ground bathrooms, and you'll need ventilation to vent that extra moisture. Otherwise, you risk slimy mold growing down there, and nobody wants to deal with a recently renovated moldy bathroom. Generally speaking, the more ventilation, the better.
For an enclosed bathroom space, a modest ventilation fan leading outside can do the job fine. Larger bathrooms may want to use a fan in conjunction with shallow ground-level windows, if possible. If you don't have windows in your basement, you'll have to either shell out for a fan or window to make sure the space can air out. The risk that humidity poses simply isn't worth it.
---
3.

Maximize Natural & Artificial Light
Basements get a bad rap for being dim spaces by default, but you'd be shocked at how easy it is to fix that. If you have high ceilings, recessed lighting looks spectacular and makes the space feel more expansive without taking up any actual space. You could also do pendant or chandelier lighting if you're feeling fancy. Downlights are fantastic for providing a steady ambient glow, and you can add accent and task lighting as desired where you need extra visibility. Dimmer switches give you granular control over your light level and are very useful in basements but aren't strictly required.
As far as natural light goes, you want to use as much of it as possible if your basement already has windows. Half-slope basements are great here if you can afford a sliding glass door on the ground level side, but you can use tricks to brighten up any basement. A splash of white or light-colored paint and a mirror or two can give the illusion of a bigger space, which is especially invaluable for renovating small basements.
---
4.

Add Furniture to Liven the Place Up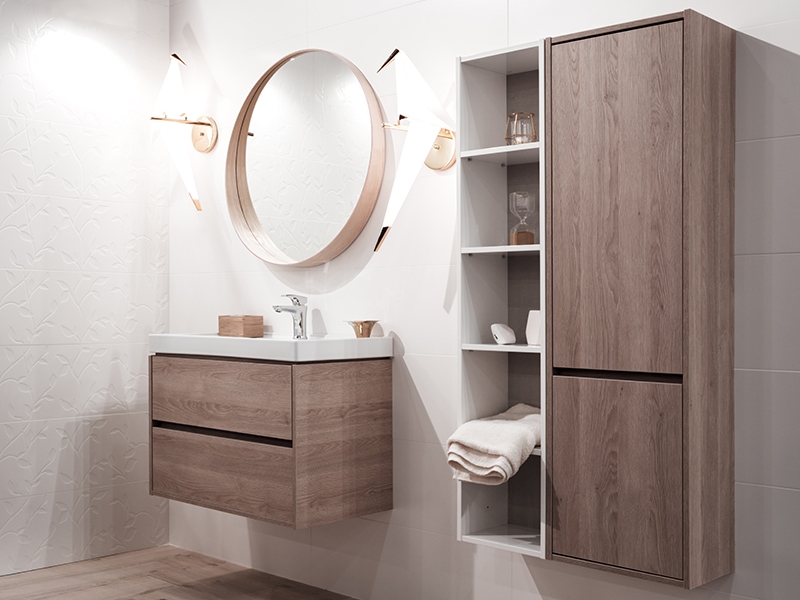 Because basements usually have limited space, the best kind of furniture you can add is that with built-in storage. Think cabinets, shelves, vanities—that sort of thing. You likely already use your basement for storage, plus you'll need bathroom supplies in there as well. Shower racks give more usable space in the shower itself, which will probably be on the small side. Don't neglect to add some plants, either. Plants love the moisture that your basement provides and add a lively accent.
---
5.

Carefully Choose Fixtures for a Personal Touch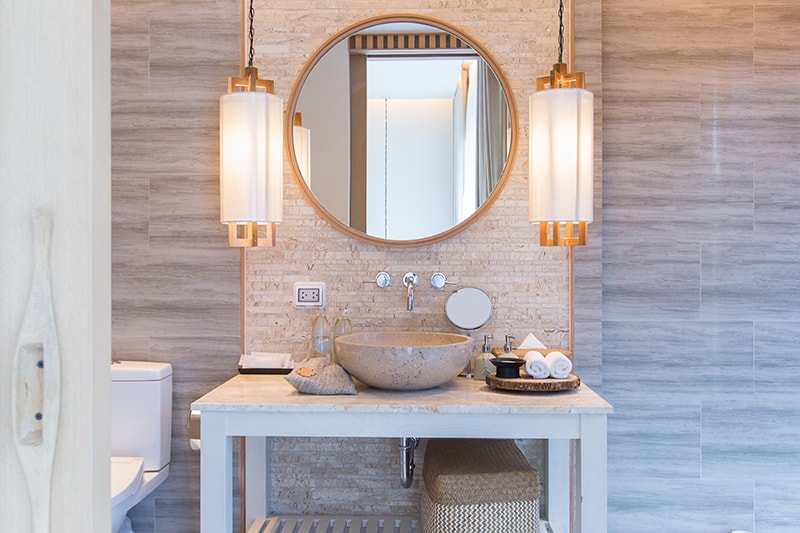 Basement bathrooms are unique in that a wide variety of styles can work, whereas your home is relatively limited. An industrial-style bathroom, for instance, might be out of place in a modern, contemporary home but is perfectly at home in your basement. Brass door, light, and shower fixtures can instantly add a retro vibe, or you can build a more natural farmhouse bathroom with rough stone and wood.
Mix and match wood, metal, stone, and other surfaces to add visual interest to the bathroom and make it pop instead of bore. Still, don't think you have to fill up all the space—there's something to be said for minimalist bathrooms too, if that's your thing. Ultimately, it's up to your personal style and vision for your basement bathroom.
---
6.

Opt for Light Colors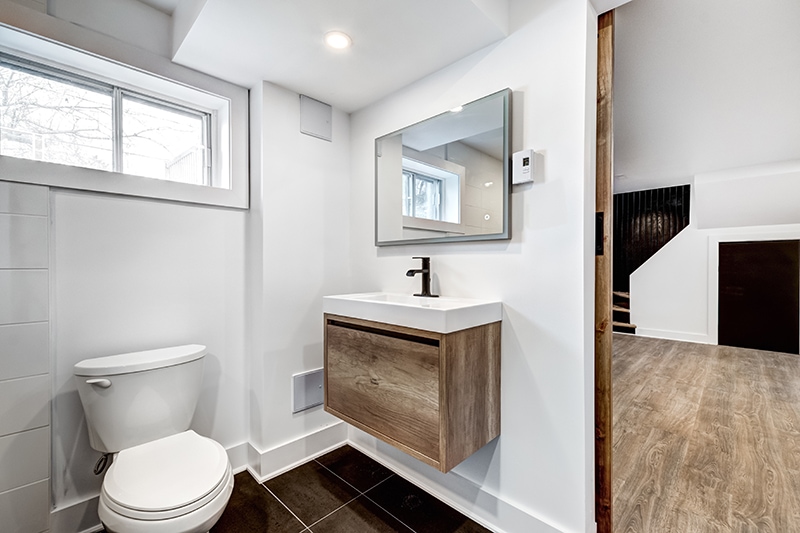 White is one of the best colors you can use to make your basement larger, cleaner, and more relaxing. That can translate to white tile in the bathroom itself, white walls all around, or white furniture. Don't stop there, though, as any light colors are fair game here. Break out the neutral light grays, whimsical pastels, earthy greens, or airy robin's egg blue to add some life. White shines best when you surround it with some color but gets a little sterile by itself, so have fun with your color scheme.
---
7.

Recheck Your Basement's Waterproofing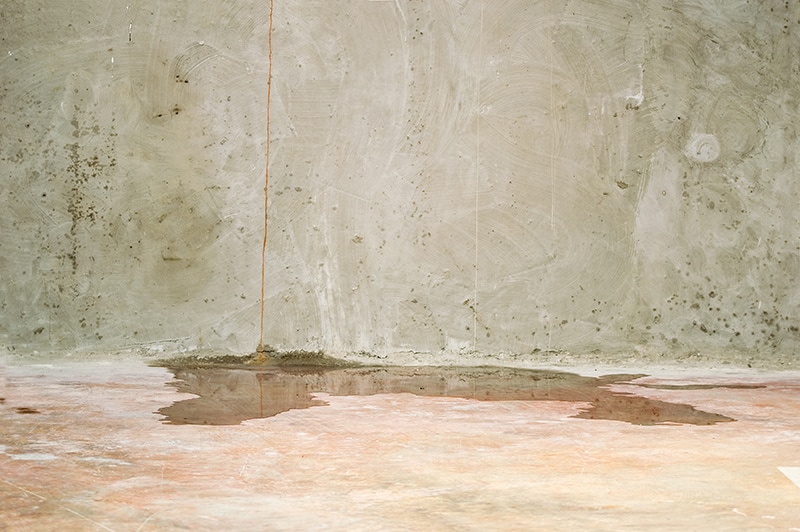 Before making any concrete plans, you should assess whether your basement is properly waterproofed. A poorly waterproofed basement is a nightmare to deal with and usually ends up with mold, so do your due diligence! Look for signs of leakage like peeling or cracked paint as well as obvious signs of mold like discoloration where moisture accumulates. Most new homes have a robust vapor barrier in the basement, but older basements might need a new vapor barrier and perhaps a new sump pump.
---
8.

Make the Space Multipurpose
Basements are one of the best rooms for doing several jobs at once, from storage to laundry to bathroom and more. Consider carving off a corner as a home office—just put in a desk and chair, maybe a couch for naps if you have the space. Your basement could also become a rec room, den, home gym, movie theater, man/woman cave, teen hangout spot, and more!
For example, some board games, a couch, a foosball table, and a pool table are really all you need for a functional game room. It helps that you don't have to head upstairs to go to the bathroom too. You could even go the extra mile and put in a minifridge or full refrigerator to stock up on your favorite beverages. Your imagination is the only limit here.
---
9.

Installing a Basement Toilet & Shower
Basement showers trend small, and glass shower stalls are a stylish, practical choice that fits in the smallest spaces. Take advantage of atypical basement layouts and look for odd nooks that could house your future basement bathroom, with the dimensions of a shower in mind. Adding a bathtub is more of a challenge, but not impossible if you want a full bathroom experience.
Gravity flush toilets are still the most popular choice for basement bathrooms, but macerating and compost toilets are viable options if you want to make things easier on your plumbing. If possible, one-piece toilets are the easiest to transport and install in basements with no outside access, as lugging a toilet down the stairs is hard!
---
10.

Draw Attention to Vaulted Ceilings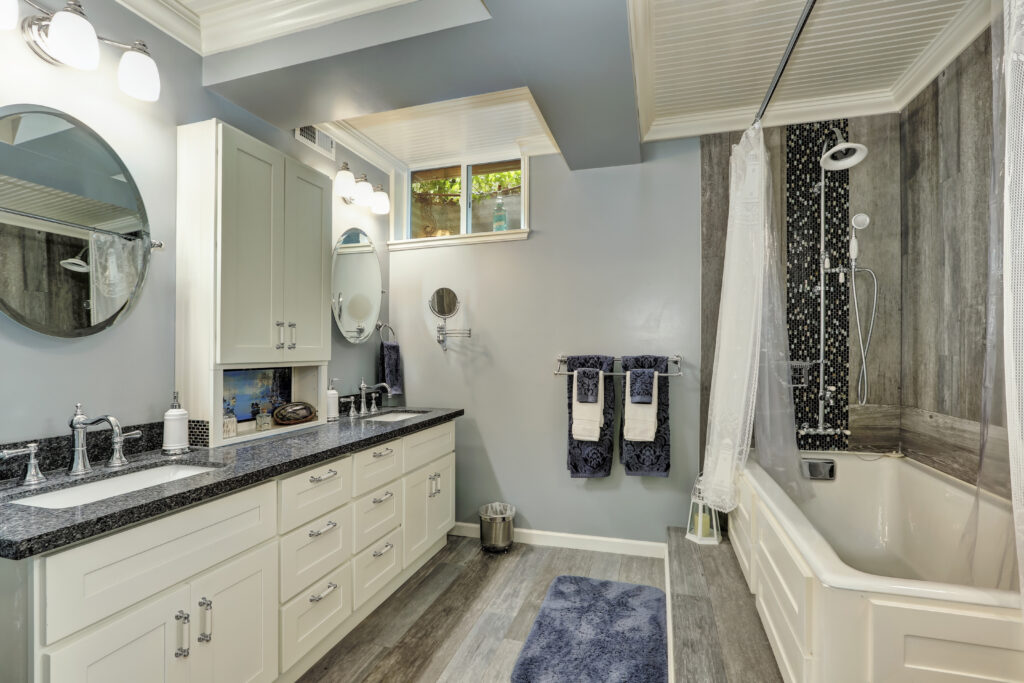 Many basements have higher and even vaulted ceilings that make them unique rooms in your home. Elevate that with light colors and mirrors, and use the extra vertical space for storage. You can put in taller furniture and fixtures than you'd typically use, or you can fill the blank space with family photos or artwork for visual interest. These are really just a few ideas of how you can use your basement's high ceiling. Take this chance to really go wild with your decor, lighting, and furniture.

Conclusion
Adding a bathroom to your basement can save space in your home, but it doesn't have to be dull. Use the power of paint and lighting to transform it into a livable space. Make it multipurpose by adding a home gym, office, or hangout room!
---
Featured Image Credit: Artazum, Shutterstock