7 Basement Laundry Room Ideas & Design Tips (with Pictures)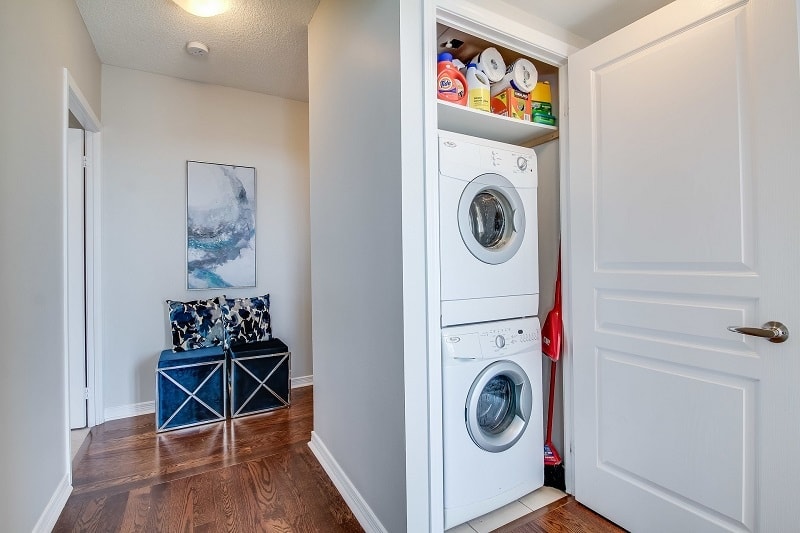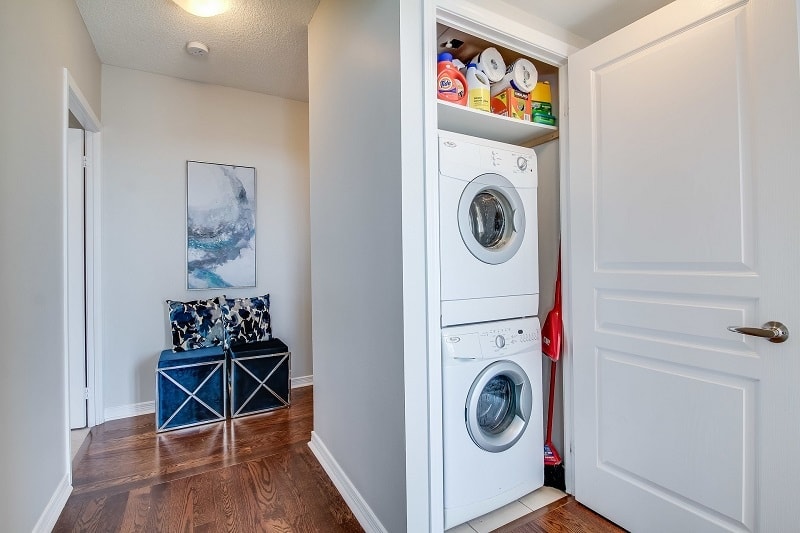 The basement is one of the best places in the house to have as your laundry room. It is spacious and often does not have many things in it. As such, converting it into a laundry room is not only good utilization of that space but also allows you to free up space on the upper floors.
Nonetheless, you do not have to be boring about it by simply installing a washing machine and calling it a laundry room. This is an opportunity to exercise your creativity and make it as beautiful as the rest of the house.
There are numerous basement laundry room styles and designs you can employ when remodeling your basement into a laundry room. In this article, we'll discuss some of the more aesthetically pleasing designs to consider.

1.

The Sleek Basement Laundry Room
This fun beach style induces a natural feel to the room. The dominant, bright background gives life and light to a room that is considered dark and gloomy, thus making your basement vibrant. You will also appreciate the effective use of space this design employs.
---
2.

Luxury Basement Laundry Room
If you have loads of space to spare and do not mind digging deeper into your pocket, you could never go wrong with a luxury design. We especially love how this style allows you lots of storage and walk-around room while not looking out of place in contemporary style homes.
---
3.

Modern Basement Laundry Room
If you are looking for a basement laundry room idea for your modern-style house, this design is worth considering. With its efficient use of space and bright colors, it makes the room look larger than it really is.
---
4.

Open Entrance and Lots of Lighting
No one wants to enter, let alone work in a dark and gloomy basement. One of the best ways of alleviating this issue is by painting the walls using bright colors. However, if you cannot or do not want to do that, you can utilize several light bulbs to brighten up the laundry room.
However, you will need to consider the size and ceiling height first, as too many bulbs in a small space can make the room too hot. Hanging or built lamps are excellent options.
Another benefit of utilizing lamps in a basement is that they eliminate dampness, thus preventing mold growth.
While you're at it, consider leaving the entrance open. Doing this will allow you to save on electricity during the day since you will not have to turn on lights during the day. Moreover, lots of fresh air also prevents dampness.
---
5.

Concealing Laundry Machines with Double Doors
For some, the basement plays the role of several rooms. For example, basements make excellent movie rooms thanks to their natural dim lighting. However, you do not want your dirty laundry to come in the way of a good movie.
Therefore, consider concealing your machines using double doors. This will allow you to use the basement as a laundry room only when necessary.
---
6.

Allow Sunshine In
If you want to keep your electricity bill low, letting in some sunshine is a great way of keeping your basement laundry room from being dark and gloomy. But you do not want everyone to see your dirty laundry so consider using Venetian blinds. Make sure that you also account for the gaps so that people cannot peak in from the outside.
---
7.

Utilize Wallpaper
Wallpaper allows you a cost-friendly way of customizing your walls without painting. The best part is that you can change them as often as you please.

Conclusion
The basement is one of the best places to have your laundry room thanks to how spacious it is. Nevertheless, basements are arguably the most unkempt space in the house. Therefore, there is some work to do when looking to convert that space into a laundry room. Use our ideas as pointers and let us know how it turns out.
---
Featured Image Credit: pkamiini, Pixabay