How Much Does a Good Air Compressor Cost?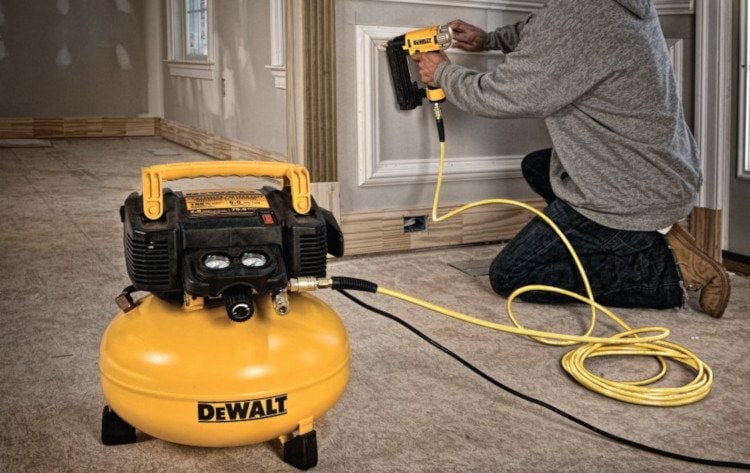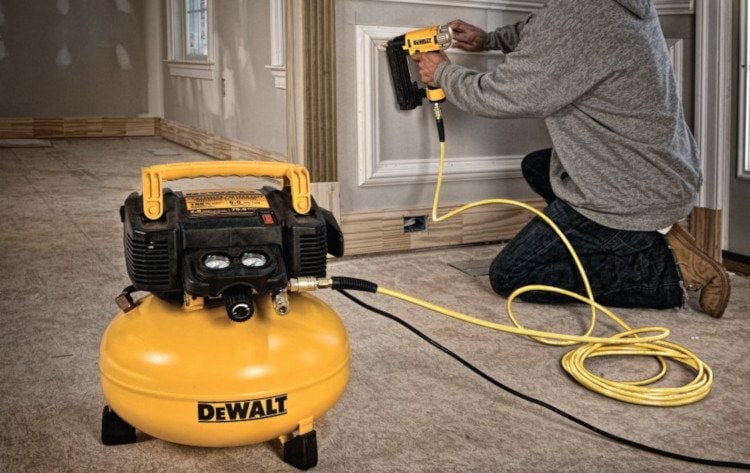 From small hot dog compressors with one-gallon air tanks that you can easily carry with one hand to big behemoths on wheels with 80-gallon tanks that can weigh 200 pounds or more, air compressors are a diverse range of tools. Some are meant for powering little airbrushes and finish nailers while others have enough pressure to adequately power pneumatic cutoff wheels, impact wrenches, and even car lifts.
With so many options, it can be daunting to start shopping. You're looking at various tanks with a wide range of pressure and airflow capabilities that vary as much as the prices do. While we can't tell you which compressor you need, we can narrow down the options and to several types of compressors, their main purposes, and the prices they go for.
There are many different categories of air compressors, so we can't just lump them all in together. First, we're going to break them down by compressors that are optimal for home use and compressors that are well-suited for professional use. From there, we'll break things down even further into categories like compressors for the garage, for basic projects, and so on.

Air Compressors For Home Use
When looking for a compressor for home use, you're not looking for a top-of-the-line model, most of the time. In general, you'll be fine with something that has a smaller air tank, generally around 5 gallons, maybe even less. Rather than the most powerful model, you'll likely be better served by something with less maintenance, as your compressor won't be seeing as much use as a professional's compressor.
Depending on your budget and needs, you could reasonably expect to spend $100-$500 on a basic compressor. If you're using more pneumatic tools and such, you'll probably want to stick closer to the top end of that price range. But if you're just filling some bike tires and occasionally firing up a finish nailer, then something on the budget-end of the spectrum will likely serve you just fine. If you never need to run a tool and all you need is the ability to inflate air mattresses, tires, sports balls, and more, then you can get away with a budget pick that costs less than $50.
Basic Projects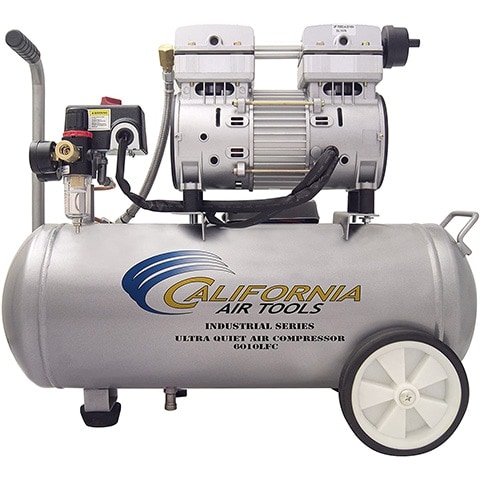 For most basic projects, something like the California Air Tools 6010LFC is a great option. It's oil-free, which means that it won't require much, if any, maintenance. Even better, this machine operates at just 60 decibels, making it one of the quietest compressors we've seen. You won't even disturb your partner in the house from the garage with this compressor, let alone the neighbors down the street.
With a 6-gallon air tank and max airflow of 4 cubic feet per minute (CFM) at 40 pounds per square inch (PSI), this compressor has more than enough functionality for most home use. It's definitely towards the top of our home use price range, and it's pretty hefty at 54 pounds, but there's not much that this compressor won't do for the average homeowner.
Pros
4 CFM airflow at 40 PSI
6-gallon air tank
Operates at just 60 decibels
Oil-free air pump requires no maintenance
Cons
54 pounds isn't light
It's at the top of the price range
---
For the Garage
When you're scoping out a compressor for your home garage, you need something with a larger tank and more airflow for powering the bigger tools that you'll often be using in the garage or workshop. But portability isn't as important since this tool is likely going to stay where it is. In this case, we recommend something like the WEN 2202.
This compressor features a 20-gallon air tank that has plenty of reserve for powering those larger pneumatic tools. You also have an improved airflow rating of 5 cubic feet per minute at 40 PSI, with a maximum pressure of 135 PSI. This compressor is at the more affordable end of the spectrum, proving that you can get exceptional functionality from an affordable compressor for home use.
Pros
20-gallon air tank
5 CFM airflow at 40 PSI
135 PSI max pressure
2-year warranty
Cons
Too large to move easily
86 pounds reduces portability
Takes up substantial space
---
Limited Space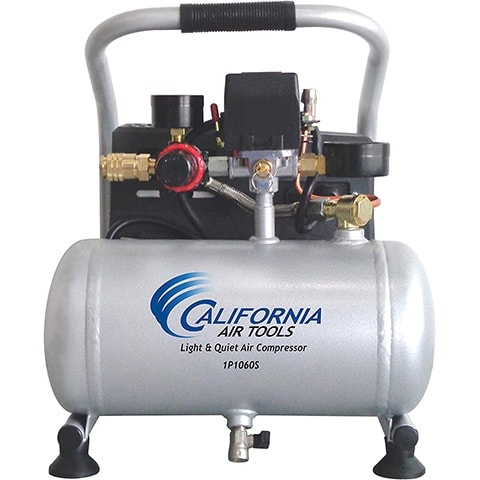 If you're limited on space, then you're looking for something much smaller than a compressor that's meant for the garage. In such cases, a compact hotdog compressor is often the best choice since they're thin and long, able to be stored in tight spaces with ease. One we would recommend is the California Air Tools CAT-1P1060S.
This compressor is very compact with a 1-gallon steel tank. It's also lightweight at a mere 29.5 pounds, making it easy to move about. It's just 12" x 15" x 15", so you can easily store this machine under an RV, in a cabinet, or just tucked into a corner. While operating, it produces just 56 decibels, making it much quieter than most similar machines. And with the oil-free pump, the maintenance this compressor needs is minimal.
However, you are sacrificing performance a bit. This machine is only rated for 1.2 cubic feet per minute of airflow at 90 PSI, so it won't be running most of the pneumatic tools that car enthusiasts have filling their garages.
Pros
Priced affordably
56-decibel operating volume
Compact footprint
Weighs less than 30 pounds
Minimal maintenance
Cons
Limited airflow of 1.2 CFM at 90 PSI
---
 On a Budget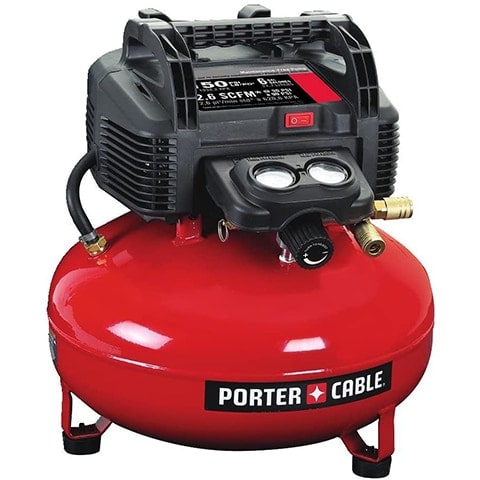 Sometimes, you just need the cheapest device that you can count on to do the job. If that sounds like you, then you're looking for something like this PORTER-CABLE air compressor.
So, what's special about this air compressor? Mostly just the price. It's one of the cheapest compressors on the market that can still run tools, fill tires, and even operate a sprayer if needed. The tank holds 6 gallons, so it's not a dinky device by any means.
It's capable of 150 PSI max pressure with airflow of 2.6 standard cubic feet per minute at 90 PSI, so small tools will have no problem operating on this compressor. It's also compact and lightweight, weighing in at just 30 pounds with dimensions of 19" x 19" x 18". Of course, it's pretty darn loud according to users, but at this price, you have to give up something!
Pros
Priced very affordably
150 PSI max pressure
6 SCFM airflow at 90 PSI
Weighs just 30 pounds
Compact footprint
Cons
Users say it's pretty loud
---
12-volt Compressor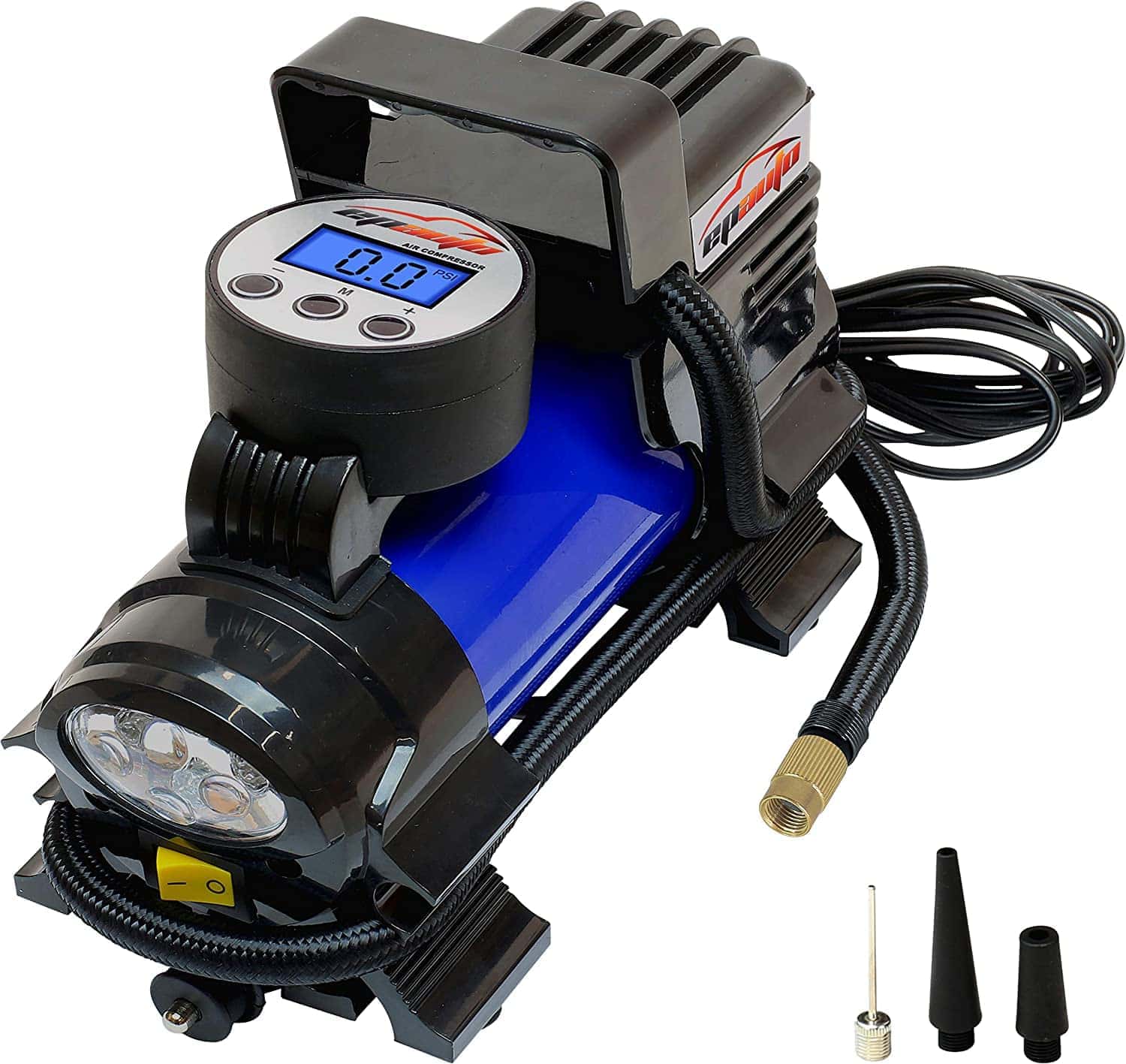 Not everyone needs to power any tools with their compressor. If you just need to fill up tires and such, then you'll be just fine with a 12-volt compressor instead, which can save you quite a bit of money and space. Our favorite is the EPAuto 12V DC Portable Air Compressor Pump.
Since it's 12-volt, you can just plug it into the lighter socket in your car. This means you can keep it in your vehicle for when it's needed most — emergencies. It's a tiny device, just 13.5" x 8.1" x 5.6". Included with it are tips for inflating sports balls, tires, and other common inflatables. You won't be powering any tools with this compressor, but you can inflate just about anything with it.
Pros
Can be powered by a car's lighter socket
Tiny form factor
Inexpensive
Can inflate just about anything
Cons
Can't be used to power tools

For Professional Use
Naturally, a compressor for professional use has to have different capabilities than a compressor just meant for home use. These machines need to be ultimately reliable with ample power for running multiple tools at once, or possibly just for running larger, more demanding tools. But each profession has different needs, so there won't be a one-size-fits-all approach that will work. Instead, we'll take a look at several different categories of compressors for different professions.
In general, when looking at compressors for professional use, you can expect to pay several times what you would pay for a home use compressor. You'll need a more capable machine, and for some professions, a much larger machine and tank. Moreover, you'll need longevity, which often costs a premium.
---
For Mechanics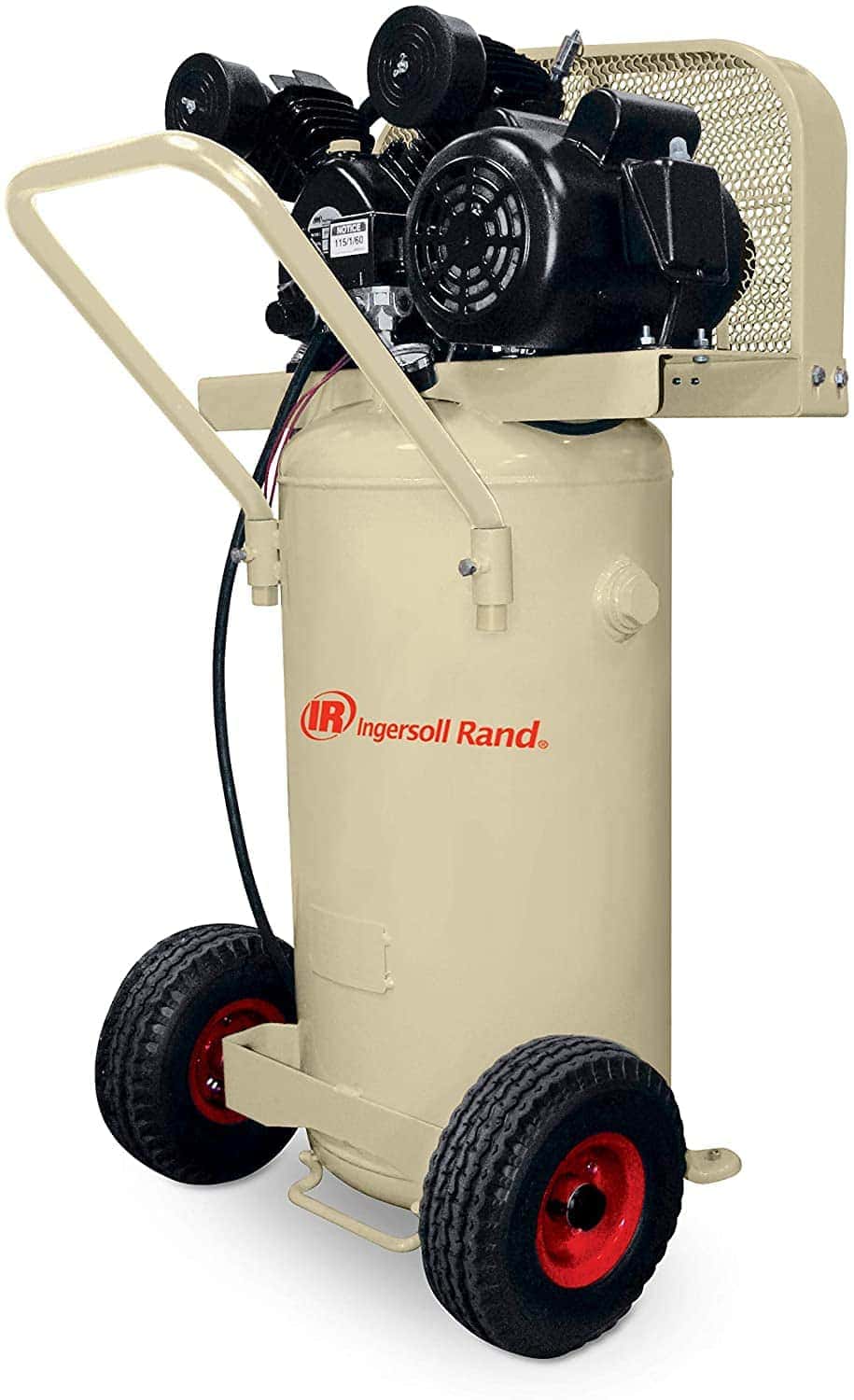 Mechanics rely heavily on pneumatic tools for a wide range of jobs. If you're working in a garage, then it's likely that you're not the only one pulling air from the compressor you're hooked into. You might even have multiple lines to yourself. This means you need powerful compressor motors and large tanks, which means you should expect to spend $500-$2,500 per unit, depending on the quality you're looking for.
At the more affordable end of that spectrum, you can get something like the Ingersoll Rand P1.5IU-A9 Single-Stage Compressor. It's got a 20-gallon air tank and a 2-horsepower (HP) single-stage motor that can run at 100% duty cycle, so it never needs to take a break. You get 2,000 hours between service changeouts, meaning more work and less maintenance. With an 80-decibel operating volume, you can hear customers, but you'll want to step out of the garage for a real conversation.
Pros
100% duty cycle
20-gallon air tank
2,000 hours of operation between services
2 HP for powering large tools
Cons
They're not cheap
Somewhat loud — 80 dB
---
For Painters
Painters who rely on an air compressor are usually working in a shop, so they don't need to move the compressor much. Instead, they rely on getting consistent pressure output for an even coat. But paint sprayers don't need the same pressure outputs as large pneumatic tools.
You could spend anywhere from $400-$1,200 on a compressor for painting, though a model at the lower end of that range will do just fine. One that we like is the California Air Tools 10020C-22060. It's got a 10-gallon tank and a 2-horsepower motor with a very consistent output. It runs on 220-volt electric though, so you'll need a 220-volt circuit to run it. Luckily, it's quiet and low maintenance with an oil-free pump and a 70-decibel operating volume.
Pros
Consistent output
2-HP motor
The oil-free pump is low-maintenance
70-dB operating volume
---
Portable Compressors for Roofers and More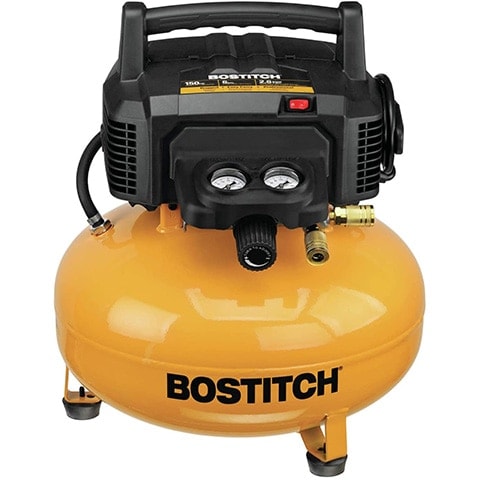 Roofers don't need very expensive compressors since roofing nailers don't require that much pressure or airflow. What a roofer needs is a very stable compressor that won't tumble off of a pitched roof, which means a short, fat, pancake compressor is usually the best bet. These are also affordably priced, so if it gets knocked off the roof, it's not a big deal to replace one.
Another key factor for a roofer's compressor is that it must be portable, so it can be easily carried up ladders. This makes these same compressors ideal for any professional who needs a portable compressor, like framers, remodelers, car detailers, and more. Suitable machines start at about $100 and go up from there, but you won't need to spend more than a few hundred for these compressors.
We like the Bostitch BTFP02012 pancake air compressor. It's got a 6-gallon tank with 2 outputs so two workers can be powered from each compressor. It operates below 80 decibels, so it won't bother the neighbors too much, especially if you use it outside. Plus, the high-efficiency motor is designed to start up easily, even in cold weather. Since it's got an oil-free pump, it doesn't need maintenance, and it works just fine on an extension cord, where some models have problems with this.
Pros
6-gallon air tank
2 outputs
Starts easily in the cold
Low maintenance
Cons
Some users complained it was loud

The Cost of Operating an Air Compressor
So far, we've only mentioned the cost of purchasing an air compressor. But that's not the end of what you'll spend when it comes to your compressor. There are some hidden costs that many forget about. These can add up to a substantial amount over the course of your compressor's life, so let's briefly discuss each.
Maintenance
Today, many compressors are oil-free and don't require maintenance. But for compressors that are in the most abusing situations, running all day long on 100% duty cycles, maintenance is still usually a must. There are several advantages to these machines in these specific situations, such as a mechanic's garage, but the cost of maintenance should be figured into the equation. Through the life of your compressor, its maintenance can make up as much as 12% of its total cost.
Electricity
Compressors use a lot of electricity, and if you're running your compressor regularly and it's got a large motor pulling a lot of power, you're going to be spending a lot on electricity over the lifetime of that compressor. In fact, according to Quincy Compressor, the electricity it takes to operate a compressor will account for 76% of that machine's total cost over its lifetime. The initial cost of the machine only makes up 12% of its overall cost through its life.

Conclusion
Depending on your needs, your compressor could cost anywhere from a few bucks to a few thousand. For a homeowner who needs nothing more than the ability to inflate tires, air mattresses, sports balls, swimming pools, and other novelties, you won't even need to spend $50. A more serious home user might spend $100-$500 depending on their needs.
Professionals in some fields can get away with purchasing compressors within the same price range as some homeowners, spending only $100-$200 on a usable tool. Other professions require a more expensive tool, ranging from $400 or $500 to $2,000 or more.