15 Basement Bedroom Ideas & Design Tips (With Pictures)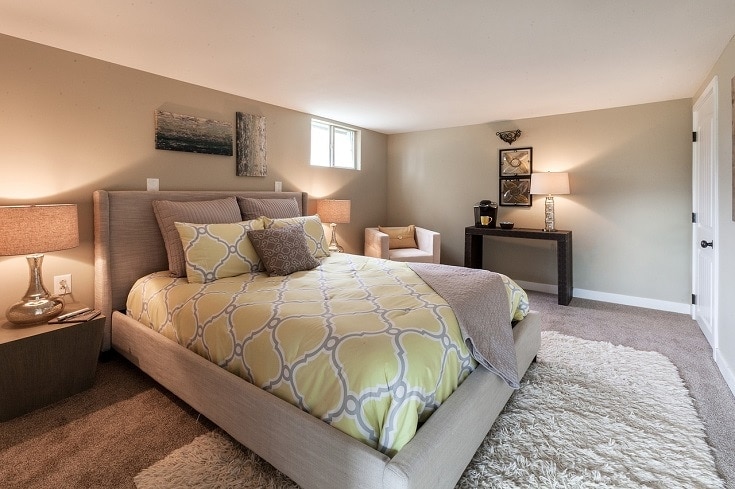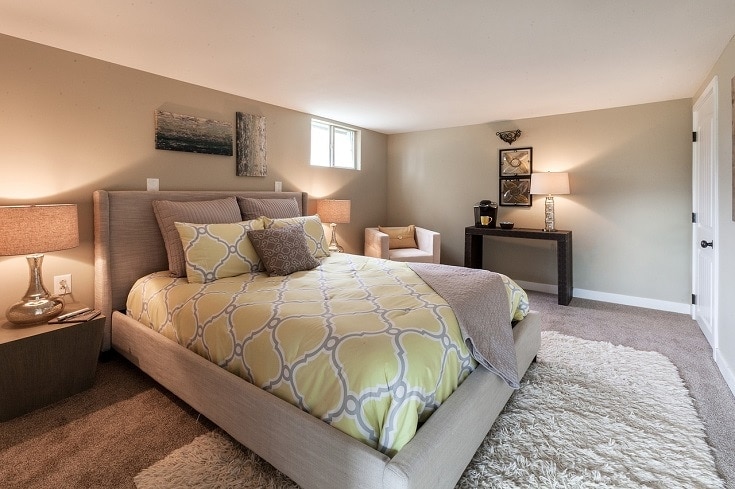 For many, the basement is essentially extra space. It's not exactly living space. Often, it's overlooked for such uses, relegated to being a storage space for Christmas decorations, summer wardrobes, and projects that you'll get around to eventually.
But this is an uninspired use of the space. A basement can be so much more than just a glorified storage unit. With a bit of vision and just a touch of DIY magic, you can completely transform your basement into a livable space that adds warmth and value to your home. Not to mention how much better use you'll get from the space.
To help get your imagination moving, we've put together 15 great ideas and tips you can use in your basement bedroom makeover. Combine your favorite components of each idea to come up with something truly unique and special. You might never look at your basement the same way again.

1. Beds on Beds on Beds
If you've got extended family, the basement bedroom is a great place to add enough beds for everyone so they can all stay comfortably when they stop over for a visit. Barring that, it makes a great kids' room. Kids love bunk beds, and with four total beds, several kids and their friends can stay in the same room. Your house will always be the first choice for sleepovers!
---
2. Coastal Oasis
You can make a drab basement seem far more inviting with the right theme or colors. This teal and white theme feels like a coastal oasis, which is guaranteed to liven up any basement. But you're not limited to this color scheme or concept. Pick your own theme or set of lively colors. Just make sure to choose bright colors that will help to brighten the basement.
---
3. Entertainment or Accommodations
You turn your basement into a multi-use room that's perfectly equipped for more than just one use. With ideas like flip-up beds, you can have a basement that's part family den or living room, but also houses the in-laws when they come for a visit.
---
4. Cozy Corner Room
Basements are often dark since there's no natural light. While often spacious, it's not uncommon for the basement to be divided into several rooms. If you're building a bedroom in a dark and cramped room of the basement, try a change of mindset, and consider it a cozy room instead. You can use neutral colors to really make a comfortable setting out of an ordinarily gloomy area.
---
5. Decorate the Ceiling
When you're setting up a basement bedroom, ceiling tiles offer a fast and inexpensive way to create a unique feeling on the ceiling. They can add a touch of elegance to an area that often feels neglected, and sometimes, industrial.
---
6. Neutral Sets the Tone
Neutral colors can be a great way to make any space feel cozier. Going with lighter neutral tones helps to open the space up as well. Plus, all the neutral tones work well together, making it much easier to find matching décor.
---
7. Underground Royal Chambers
Even without any natural light, you can easily make your bedroom basement feel as luxurious as you'd like. It doesn't even take a lot. Instead, it requires well-considered additions that are all chosen for what they add to the feeling of the room as a whole.
---
8. A Splash of Color
Basement bedrooms are often for kids and teens. So, why not let them have fun with it and make it as wild as their imagination? You can have a great time coming up with festive and exciting ways to decorate so your growing child can have a space that's truly theirs.
---
9. Secret Doorway
Your imagination is the only limit when thinking up how many fun ways you can utilize a secret doorway in a basement bedroom! You could have the entire bedroom hidden behind the bookcase door. Or, you could have the bookcase inside the bedroom, hiding a closet. Or better yet, hiding a library!
---
10. Intersecting Angles
Decorating doesn't need to be overly complicated. You can say a lot with only simple stripes and shapes; especially if you get the color selection right. Well-planned geometric layouts can make a bedroom stand out without having to do anything crazy design-wise.
---
11. Hidden Basement Bed
There are many ways that your basement can be a bedroom without being dedicated to sleeping people. Tucking a bed away inside of other furniture is a great way to sleep guests and still have your basement free for other uses.
---
12. Tucked Away
Try thinking outside the box when finding ways to slip sleeping spots into your basement. Your whole basement doesn't need to be a bedroom for it to sleep your guests.
---
13. Limited Space, Not Limited Creativity
Whether you're wrestling with limited space or limited light, the answers to your problems lay within your creativity. Use the right colors to create a mood and find the perfect lighting for the ambiance you want in your basement bedroom.
---
14. The Cupboard Under the Stairs
Harry Potter may not have liked his cupboard under the stairs, but build a bed like this that's beneath your basement staircase and all the children in your family are going to be fighting for the right to sleep in it!
---
15. Bring in The Light
If you're lucky enough to have a basement with light, utilize it any way you can. But if not, that doesn't mean you're stuck with a poorly lit basement. Install as many lights in each area as you feel are necessary to have a well-lit basement bedroom.

Conclusion
You don't have to copy any of these great ideas. After all, they're just starting points. Use them for inspiration while you come up with your own great design concepts to implement in your basement. Feel free to borrow anything that caught your attention. Change it, play with it, and think about how you can make it yours.
When your basement transformation is complete, you'll have something that's unique and entirely your own. With just a little imagination and a few weekends, you could turn your basement from extra storage space into the most eye-catching and homey level in your house!
---
Featured Image: AddiGibson, Pixabay