25 Free DIY Bunk Bed Plans You Can Build Today (with Pictures)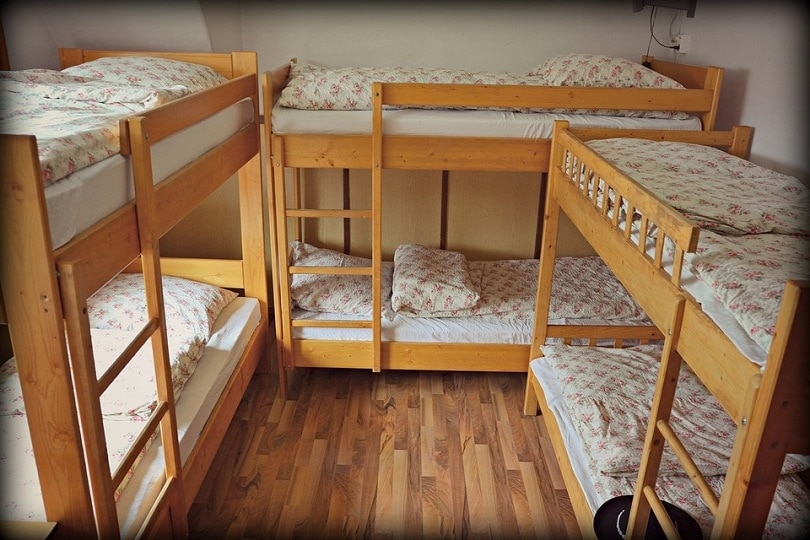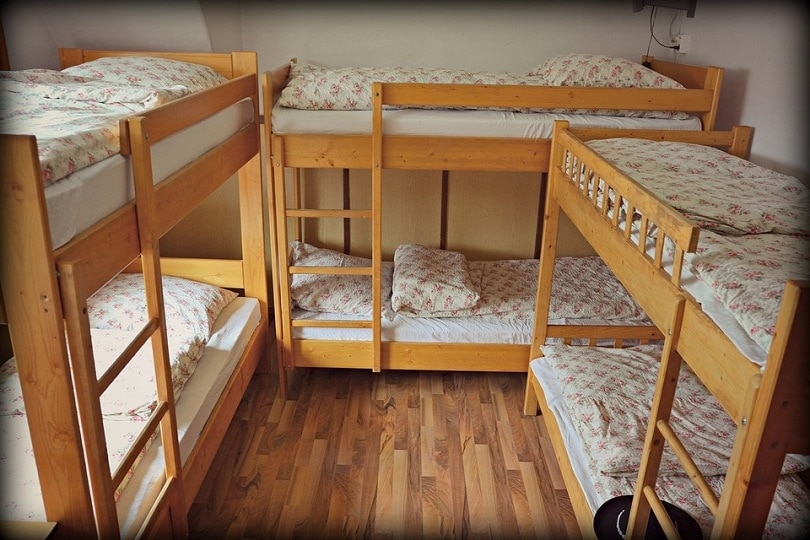 For some reason, almost every kid wants a bunk bed, whether it's practical, or necessary, or not. But the truth is, bunk beds are a great way to save space and they can be a fun project to build that will provide an immense sense of satisfaction. Don't worry, it doesn't have to be too complicated! In fact, we've already gathered 25 different free DIY bunk bed plans for you to get started with.
Browse through the following plans to learn how to build a bunk bed, and figure out which one will fit your home best. Then start gathering materials! Luckily, they won't cost too much since you're building everything yourself.

The 25 DIY Bunk Bed Plans
1.

Cabin Loft Bunk Bed by Ana White
We're starting off with this cabin loft bunk bed because it's so unique. Bunk beds are already pretty cool on their own, but this is a special take on a standard bunk bed—converting the top into a mini-cabin loft and giving the whole room a very distinctive look.
---
2.

2X4 Basic Bunk Bed Plans by Kregjig
Looking for a simple bunk bed build that's super cheap? You can build this 2×4 basic bunk bed for under $100. It's not very difficult and requires simple materials that are available at any home improvement or hardware store.
---
3.

2X6 and 2X4 Bunk Bed by jayscustomcreations
Apply a coat of stain to this 2×6 and 2×4 bunk bed and you'll have a beautiful, rustic-looking bunk bed that costs very little to make. You need only basic materials for this build, and every step is carefully laid out for you to follow.
---
4.

Build Your Own Bunk Bed Plans by ryanclaytondeco
These aren't the simplest plans, but they're very detailed. Following them will help you build your own bunk bed with a staircase leading to the top. The finished product will look great, but you'll need somewhat advanced carpentry skills to complete it.
---
5.

Modern Bunk Bed Plans by Ana White
Bunk beds are difficult to move once they're built, but this modern bunk bed is built in sections that you can easily disassemble if you need to move it. It's got a very modern look that will fit perfectly in a variety of settings, and the plans are very detailed, thorough, and easy to follow.
---
6.

Bunk Bed Designs with Dimensions by Engineering Discoveries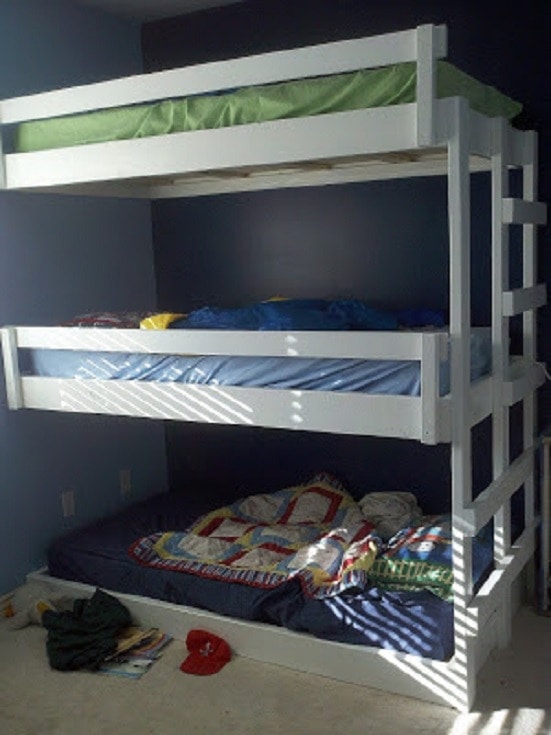 These bunk bed design plans aren't as detailed as others, but you'll get several different styles to choose from with measurements listed to help you figure out how to build them. All of them look great, but you'll need decent woodworking skills to craft them.
---
7.

Bunk Bed Construction by Oceanfrontshack
These bunk beds are built into the wall, making them a pretty permanent addition to your home. You won't want to build these plans unless you own your home. For homeowners, these plans will help you create an ornate bunk bed setup that looks like it was always meant to be there.
---
8.

Loft Triple Bunk Bed by Ana White
This loft bunk bed has room for three to sleep, though you can arrange it however you see fit. The space is there to be used as you desire, so build these plans and then feel free to arrange them to suit your needs! Build it right and this will drastically change the feeling of your room.
---
9.

Space Saving Bunk Beds by thearchitechtsdiary
One of the main reasons to build bunk beds is to save space. These space-saving bunk beds are all great options to build, though there are only plans for two of the designs. They're a great way to conserve some space while building a unique and interesting bunk bed setup.
---
10.

Classic Bunk Bed Plans by Ana White
These classic bunk bed plans feature an integrated ladder that's safe and stable, so your kids won't be at risk while using it. The bed looks awesome, especially once you give it a nice coat of stain. It's a relatively simple project and anyone with some moderate DIY skills and tools should be able to complete it.
---
11.

Free Bunk Bed Plans by shoppingmatchmaker
These free bunk bed plans will help you build a bunk bed so sturdy that it's likely to still be in use 20 years from now! It's made from simple materials that should cost less than $100 and won't take more than a weekend to build.
---
12.

Toddler Bunk Beds by Ana White
If you've got toddlers, finding a bunk bed for them can prove quite difficult. So, just make one! These toddler bunk beds are easy to build and inexpensive. Best of all, you can tailor the size to fit your children!
---
13.

Farmhouse Style Bunk Bed by hertoolbelt
This farmhouse-style bunk bed features a beautiful rustic look with a twin bed on top and a full-sized bed on the bottom. Of course, you can change the finish to look however you want, allowing this bed to work in many settings.
---
14.

Industrial Bunk Bed Plans by cherishedbliss
With the steampunk look gaining traction, these industrial bunk beds are likely to be a popular build. They use basic materials: wood and iron pipe. This makes it a cheap project to build, even if the finished product looks amazing.
---
15.

Built-in Bunk Beds by chrislovesjulia
To be fair, these built-in bunk beds are considerably more expensive to build than others on this list. But they're also meant to be a permanent feature in your home. You can almost think of it as a mini remodel of a room in your house! And truthfully, the end result is spectacular.
---
16.

DIY Bunk Beds by thecowspot
A lot of the projects on this list are weekend projects, but these DIY bunk beds will likely take quite a bit longer to build. This is a pretty serious project to take on, but the results are worth the work.
---
17.

DIY Built-in Bunk Beds by younghouselove
Built-in bunk beds have a very cool look—like they were built into the house from the start. You'll know they weren't, but no one else will. And your kids will love climbing the ladder to the top bunk! Just make sure to properly sand and finish it so they don't get splinters!
You might also be interested in: 7 Free DIY Murphy Bed & Desk Combo Plans You Can Make Today
---
18.

Twin Over Full Bunk Bed by Ana White
If you have two children of different ages, this twin over full bunk bed might be the perfect solution. With a twin bed on top of a full-sized bed, you'll have plenty of room for two kids to sleep. Even a teen or young adult can fit on the full-size on the bottom!
---
19.

Rustic Bunk Bed Plans by ourhomenotebook
A simple set of rustic bunk bed plans made from basic lumber and bolts, anyone with some confidence and basic DIY skills should be able to complete this in a weekend. It might look great, but it won't cost you much to build.
---
20.

Easy DIY Bunk Beds by tipjunkie
These easy DIY bunk beds are simple to build and won't cost you much. But looks can be deceiving. No one will know you built these yourself—they look like something you ordered online at great expense!
---
21.

Triple Bunk Beds by Ana White
It's time to get a bit creative with these triple bunk beds. Bunk beds are great, but they're not sufficient when you have three kids to bunk! But with some smart use of space, these plans offer a great solution. And it looks pretty cool too!
---
22.

RH Inspired Kenwood Bunk by thedesignconfidential
These plans for an RH inspired Kenwood bunk are very detailed and will walk you through every step of the process with helpful pictures, measurements, and even written instructions. Every measurement you need is clearly printed on the materials list, simplifying the entire build.
---
23.

Jr. Loft Bunk Bed by brightgreendoor
The perfect size for two young kids, this Jr. loft bunk bed is functional and looks great. Best of all, there's no ladder! Your kids will get stairs that are much safer and less likely to result in an accident.
---
24.

Simple Bunk Beds by Ana White
A project doesn't have to be complicated to look amazing, like these simple bunk beds. They're not difficult to build or expensive, but no one will know that from looking at the finished product! Since both beds are twin-sized, this is a great way to save a lot of space.
---
25.

DIY Bunk Bed for Kids by masse_9r
These plans for a DIY bunk bed for kids include a detailed drawing with all of the measurements you need. They're in metric, though, and the site is in Japanese, so you'll need to use Google Translate.
Figuring out how to build a bunk bed is simple overall, that almost anyone can do it with minimal experience and materials.
---
Featured Image Credit: misska420, Pixabay