12 Laundry Room Flooring Trends in 2023 – Design Ideas for a Modern Home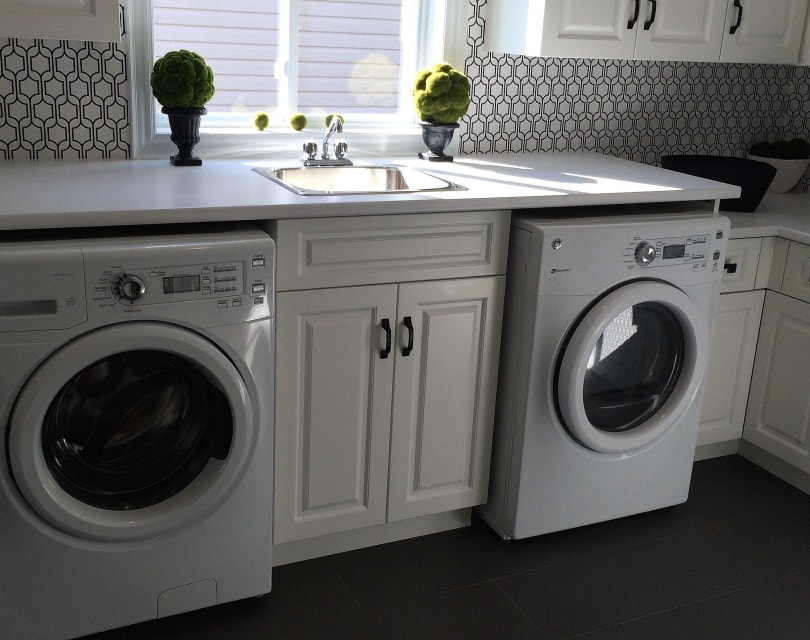 It used to be that the laundry room was someplace hidden. Its position was located far from the main living quarters, and you undoubtedly didn't invite anyone into this space. After all, there were dirty clothes here! However, things have changed. The room's purpose has evolved. It's no longer a closed-off space. Visitors are welcome!
Since guests are more likely to see your laundry room, you want to think about the floor. The laundry room flooring trends are just as much about style as they are about practicality. It is a utility room that gets lots of use with splashing water, a constant threat. The current styles reflect both demands and succeed on a grand scale, as you will see.

Top 12 Laundry Room Floor Trends in 2023
1.

Classic Patterns Like Herringbone Are Always Favorites
Herringbone is a classic on its own. However, when it's in gray, it's a keeper. We like that it elevates the style of a lowly place like the laundry room. It hides stains and watermarks well, too, which we always appreciate.
---
2.

Busy Patterns Hide A Lot
This Moroccan-style pattern has the same thing going for it as our previous entry. The busy design covers up the mess. And it is so darn pretty that we can see it in other places, such as the bathroom or entryway.
---
3.

Simple Works
The baby hex pattern is a winner! These styles work best when the rest of the laundry room is simple so that it doesn't steal the thunder from the pretty floor. It also has a nostalgic feel that we love, too.
Consult a flooring expert
Find a flooring specialist in your area, and get free, no-commitment estimates for your project.


---
4.

Make It a Star
We fell head over heels for this laundry room floor when we first saw it. It has a whimsical quality about it that makes it almost too attractive to put here. It's another one we could see in the bathroom with the right decor.
---
5.

A 3D Look Says It All
This pattern is perfect for a farmhouse. It screams country living. Even though it's tile, it has a beautiful 3D look that makes it seem expensive yet homey at the same time.
---
6.

Rustic Looks Save the Day
You've undoubtedly seen backsplash that looks like this pattern. We like it because it's an extension of that addition that ties the entire decor of the laundry room together. It can take a lot of punishment, too, which is an essential thing for a room that gets as much traffic as this one.
---
7.

Sometimes the Simple Things Say It the Best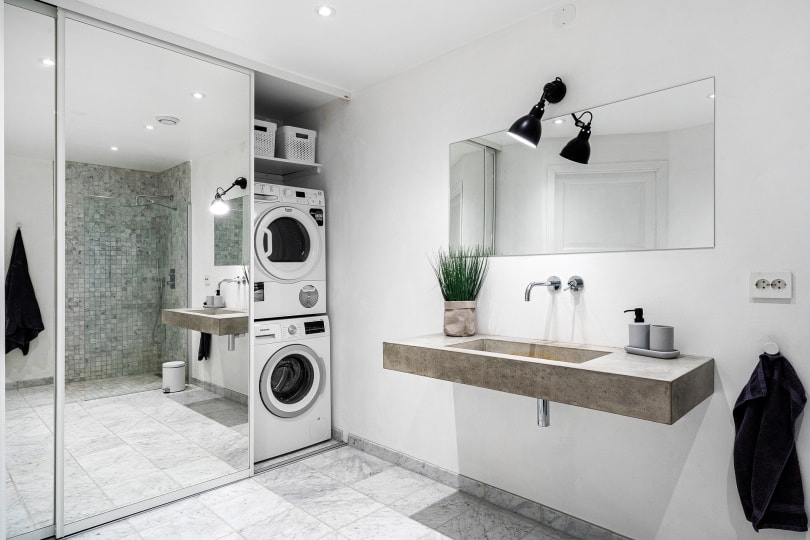 This pattern reminds us of a 1950s retro laundry room. It's simple yet classy. It's an excellent choice with white walls and appliances since it'll put the focus on the floor and its fun style. Definitely a keeper!
---
8.

Embrace Style!
Just because it's a laundry room doesn't mean that it can't have a style all its own. That's what this pattern brings to the table. The warm tones make it seem cozy and may even make the work less tedious.
---
9.

It's Repurposing at Its Best
This oak flooring is a brilliant choice for a room that will likely see a lot of spills. That makes its waterproof finish so appealing. It does the job beautifully while handling anything you throw—or drop on it—like a champ.
---
10.

It's a Modern Take on Linoleum
This laundry floor pattern takes a class take and adds a modern riff to it with muted tones that a homey feel to the room that we loved. It has a welcome charm about it that works well in traditional, country, or transitional decor.
---
11.

The Big Block Design Slays It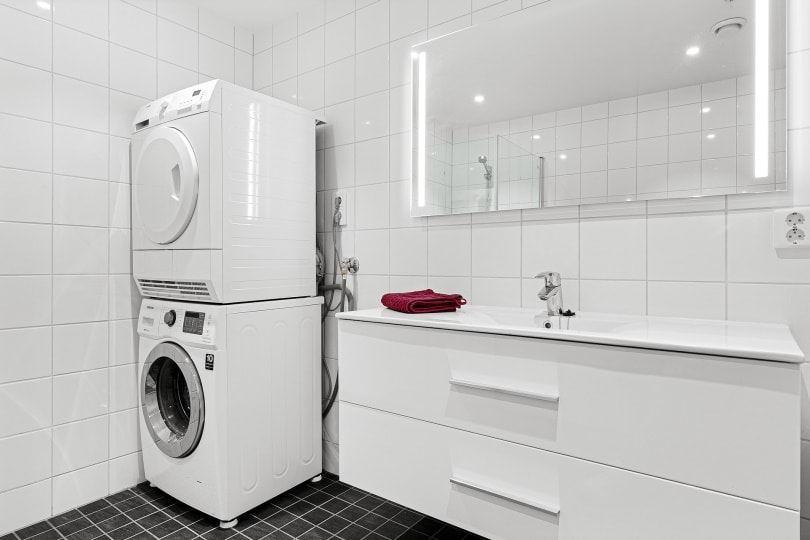 Sometimes, going bold is the way. You won't find a bigger statement than this big-block design. The stone-like surface gives it a durable look that says this laundry room can do it all. We also thought it was a lovely choice that fits the space and its purpose.
---
12.

Big and Bold Rules the Day
This pattern works because of its neutral tones. It fits so well because it follows the trending colors, too. We like it because it's unexpected for a laundry room. It surprises, and it delights with this fun style. It's the perfect choice with stainless steel appliances.

Can You Put a Washing Machine on Tiles?
Once you have decided to update your laundry room floor, you might be wondering if tiles will crack under the weight of a washing machine and dryer. After all, these are heavy machines! Some people have recommended placing a piece of plywood underneath the machines to protect the tiles. However, if the tiles have been properly installed, they should withstand the weight of a washing machine and dryer without cracking.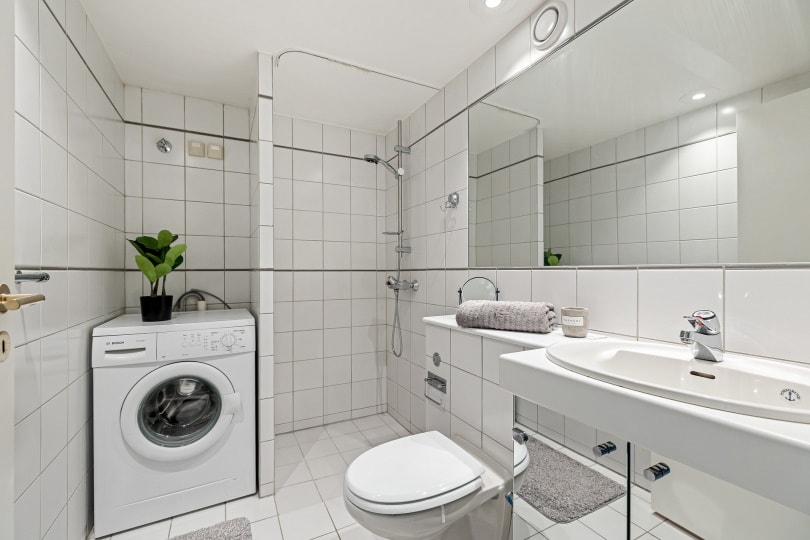 Will a Washing Machine on Tiles Be Noisy?
When deciding whether to have your laundry room floor tiled, know that ceramic tiles will cause your washing machine and dryer to reverberate more, causing more noise. If you want ceramic tiles in your laundry room, consider having feet sliders on the machines to help reduce the noise.

Conclusion
The laundry room might not be the first item on your remodeling to-do list. However, there's no reason that you can't spruce it up a bit to make it more pleasant and a part of your overall decor theme. Fortunately, the industry has listened and has provided a host of materials and designs that can up your game to the next level. Who knows? You may even enjoy doing the wash.
---
Featured Image Credit: Piqsels