10 Bathroom Mirror Trends (2023) – Design Ideas For A Modern Home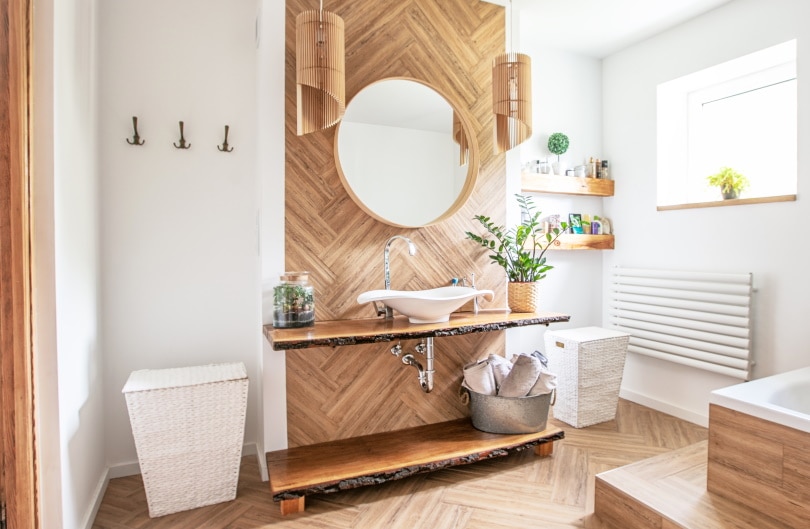 The bathroom is a practical room, and it needs to fulfil certain criteria to be functional, but that doesn't mean that your bathroom can't be made to look great too. This year, we can expect to see the Japandi trend, a combination of Japanese and Scandi designs, continue to gain in popularity.
The natural bathroom remains popular and, when it comes to mirrors, there will be plenty of round mirrors, which are absolutely everywhere at the moment, as well as those that incorporate increasingly popular LED lights and that have a natural form or shape. Below are X bathroom mirrors to provide you with some inspiration for this year's bathroom redesign.

The 10 Bathroom Mirror Design Trends For A Modern Home
1.

Round Bathroom Mirrors
Round mirrors were popular in 2021 and they continue to dominate showrooms and bathrooms everywhere. Perfect circles are an unusual shape for mirrors, with most coming in square, rectangular, or even oblong shapes, and this is why the circular design catches the eye.
The circular mirror tends to have more surface area than other shapes, which means that it reflects light naturally around the bathroom and offers a lot of reflective surface for you to benefit from. A round mirror with a clean black frame also plays into the Japandi design, which is another popular trend that we cover below.
---
2.

Multiple Bathroom Mirrors
If you have a double vanity installed in the bathroom, you need to ensure that there's plenty of mirror space for two people. Rather than having one giant mirror that stretches across the whole wall, install multiple mirrors. This also allows you to have two round mirrors and you can have them backlit with LED lights for improved visibility.
The only potential problem with multiple mirrors is that if they are slightly uneven, they will look odd and out of place, so make sure your measurements are accurate, including any tilt.
---
3.

LED Backlit Bathroom Mirrors
LED lights are not only energy-efficient and last for years, but they come in a huge variety of colors and brightnesses. There are LED lights that closely mimic sunlight, which means that when you look at your reflection in the mirror, that is what people will see when you're out of the house. The crisp light also enables better makeup application, washing, and shaving.
An LED mirror has lights around the mirror, which also means that no shadows are cast when you're using it, so there won't be any spots you miss.
You may want to choose one that connects directly to the mains to avoid having to replace batteries when they run out and to ensure that they offer full brightness all the time.
---
4.

Green Frame Bathroom Mirror
The days of having a boring and utilitarian-looking white bathroom are behind us, but even if you're left with the remnants of a white room, you can still add touches of color in other areas. And the one color that looks set to dominate this year is green. Choose a mirror with a green frame. You can opt for a bold green or something more natural, with the natural appearance also meeting the requirements for a natural bathroom design.
---
5.

Uneven Shape Bathroom Mirror
The primary purpose of a mirror is to view your reflection and for this reason, the mirror itself often goes unnoticed and blends into the background. Choose an irregular shape and this is no longer the case. You and other bathroom users will notice the mirror because of its irregularity. You can combine this trend with that of a backlit mirror for maximum effect.
---
6.

Japandi Design Bathroom Mirror
The irregular mirror is also ideal for use in a Japandi bathroom. Japandi combines the minimalism of Japanese design with Scandinavian materials, which are popular in bathroom design. Obviously, you need more than just an irregular mirror to pull off the Japandi design, but it goes a long way towards helping you achieve the look.
If the mirror also has a bit of wood, perhaps as a hanger or to hide the hanging screw, then all the better.
---
7.

More Japandi Design Bathroom Mirrors
One of the reasons that Japandi design has become so popular is because it doesn't demand the same extremes as a pure Japanese minimalist or a pure Scandi design. Japanese designs can be very stark, while Scandinavian bathrooms can end up looking like a sauna.
Combining the two means that you can still enjoy the attractive looks of both without the worry of being too minimalist or having a sauna-like bathroom in your home.
---
8.

Natural Wood Frame Bathroom Mirror
Natural themes with plenty of plants and greenery are also popular this year, but that doesn't mean you want to dispense with the functional and useful bathroom mirror. A natural wood frame goes perfectly with the green of plants, just be careful that you don't overdo it or you will end up with a bathroom that looks more like a jungle.
---
9.

Statement Wood Frame Bathroom Mirror
Having a wooden bathroom mirror frame doesn't necessarily mean that you have to go natural with your design theme. In fact, you can combine the wooden frame with virtually any other trend. Have a green wooden frame, one with LED lighting, or a round wooden frame that would work well in a Japandi bathroom décor.
---
10.

Geo Form Bathroom Mirror
Similarly, while natural themes and nature are in, especially in the bathroom, you don't have to have a driftwood mirror or something made from other natural materials. It doesn't have to look like you've dragged it in from the garden. There are mirror designs that borrow from nature, still have a natural theme, but also have a modern or artistic theme and look great.

What Is The Current Trend In Bathroom Mirrors?
By far the most common trend in bathroom mirrors is the circular or round mirror. It can vary in frame style, include or exclude LED lighting, and it can be small or giant, but the one constant is the round shape. Other trends include natural or geo designs, the color green, and functional but attractive LED lighting.
Are Bevelled Edge Mirrors In Style?
Beveled edge mirrors are in style and, as well as offering the usual benefits of a reflective surface where you can wash and shave, they also make the room look brighter and offer more reflection so make the bathroom look better, too.

Conclusion: Modern Bathroom Mirror Designs
Bathroom mirrors are functional and useful. They enable you to do your makeup, shave, and wash. They can include anti-fog features, extra lighting around the frame, and they come in a variety of shapes and sizes. Although we have shown some of the trends above, you don't have to follow recent trends and can, instead, opt for something that suits you and your existing bathroom décor.
---
Featured Image Credit: NeonShot, Shutterstock