7 Best 10-Gallon Air Compressors of 2023 – Reviews & Guide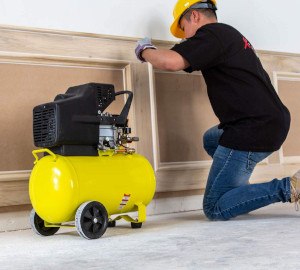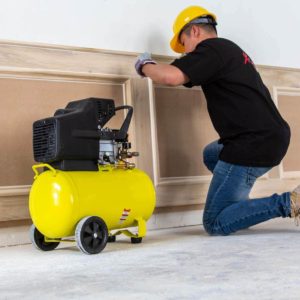 Do you enjoy using air tools? The spray guns that can cut painting time in half or the nailers that take the risk out of hammering our fingers. Or better yet, add neatness to molding projects or other fine wood projects. Air tools are efficient and useful, but only to the degree that the air compressor is.
So how do we choose the best air compressor? How do you know what compressor will provide the power you need? Or, how do I find one that is within my budget? Well, we have reviewed seven of the best 10-gallon air compressors for you. We highlight their features, list the pros and cons, and give you some customer insight so you can make a tailored made decision. Our reviews are informative and provide you with many of the air compressors specifications too so you can narrow down your choices.  Let's take a look.
A Quick Comparison of Our Favorites in 2023
Rating
Image
Product
Details

Best Overall

Stark 65151 Portable Quiet Air Compressor

50% quieter
Versatile
Low Amperage
CHECK PRICE

Best Value

WEN 2289 Oil-Free Vertical Air Compressor

Auto-shutoff valve
Oil-free design
Quick-coupler
CHECK PRICE

Premium Choice

California Air Tools 10020C Powerful Air Compressor

Quiet operation
Cast aluminum
Oil-free design
CHECK PRICE

Craftsman CMXECXA0201041 Air Compressor

Maximum PSI 175
¼-inch NPT coupler
Dual gauges
CHECK PRICE

EMAX HP02P010SS Quiet Portable Air Compressor

Quietest in its class
Oil-free design
Large wheels
CHECK PRICE
The 7 Best 10 Gallon Air Compressors
1.

Stark 65151 Portable Quiet Air Compressor – Best Overall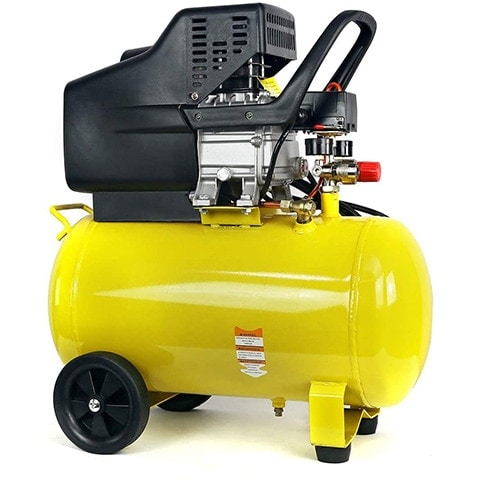 Our choice for the best overall 10-gallon air compressor is the Stark 65151 Portable Quiet Air Compressor. It is as its name says, quiet. It is rated to be 50% quieter than other compressors in its class. This makes it a nice piece of equipment to use indoors as well as in your shop. It is the perfect compressor to use for painting or nailing and it makes a nice inflator too. The auto-shutoff feature is an added safety feature that shuts the compressor off when an object is fully inflated.
The cast iron horizontal cylinder is durable and weighs just 55 pounds. It has a 3.5 peak hp motor that has a large automotive style filter to increase air capacity when using various air tools. It also provides greater efficiency. The Stark 65151 has a maximum PSI of 125, which makes it a wise choice for a variety of uses.
Because of the big bore cylinder and piston, the compressor has a faster recovery time for better performance. You will also notice that it draws less amperage so you will not be blowing any fuses when you start it up. Clearly, you can see why it is our overall choice for the best air compressor.
Pros
Reasonably priced
50% quieter
Versatile
Low Amperage
Cons
Average PSI
Horizontal design
---
2.

WEN Oil-Free Vertical Air Compressor – Best Value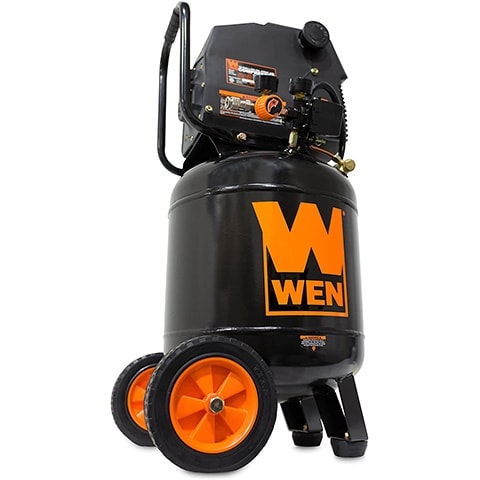 Coming in at a slightly higher price than the Stark is the WEN 2289 Oil-Free Vertical Air Compressor or our best 10-gallon air compressor for the money. It has a maximum PSI of 150 with the added protection of an auto-shutoff valve when it reaches capacity. With its oil-free design, you are not required to lubricate the compressor so it has an expanded lifespan which gives you the added value.
The steel tank has an easily accessible drain valve that releases the extra air and condensation. It has two gauges, one that measures the rate of the airflow and the other measures the internal tank pressure.  To make it easier to connect hoses, it comes with a ¼-inch NPT quick-coupler. You will have the ability to interchange various nailers or paint sprayers more quickly.
The WEN 229 has a vertical tank that can be easily moved on its 7-inch never-flat wheels. It is heavier at 71.5 pounds but has a smaller footprint than the horizontal tanks so storage is simpler. This compressor is a nice addition to your workshop or garage because it has so many user-friendly features. This is definitely the best value choice.
Pros
Auto-shutoff valve
Oil-free design
Quick-coupler
Easier to store
Cons
Heavier
Higher priced
Steel tank
---
3.

California Air Tools Powerful Air Compressor – Premium Choice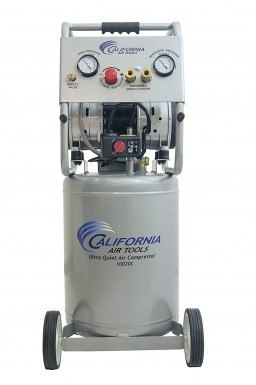 Our premium choice is the California Air Tools 1002C Powerful Air Compressor. It combines the oil-free design with an ultra-quiet motor. This compressor has durability and performance. Its dual piston pump system is designed for longevity. They even claim that it doesn't even start to wear until it reaches 3000 hours.
It has a no-load startup which allows you to have fewer amps when starting the compressor and because it comes with an oil-free design you are able to start it easier in colder climates or on uneven terrains.
The 2.0 hp motor does not seem adequate to produce the power you but still has 125 PSI. However, California Air couples the motor with lower rpm's which produces less noise and less wear, and you are able to have longer run times. All of this sits on a cast aluminum cylinder. You can move the 82.5-pound unit with the help of the solid wheels and handlebar type handle.  This compressor has it all, but a higher price. If you are needing a quality, long-lasting compressor for your home, job site or workshop that consider our premium choice.
Pros
Quiet operation
Cast aluminum
Oil-free design
Cons
Heavy to move
Higher priced
---
4.

Craftsman CMXECXA0201041 Air Compressor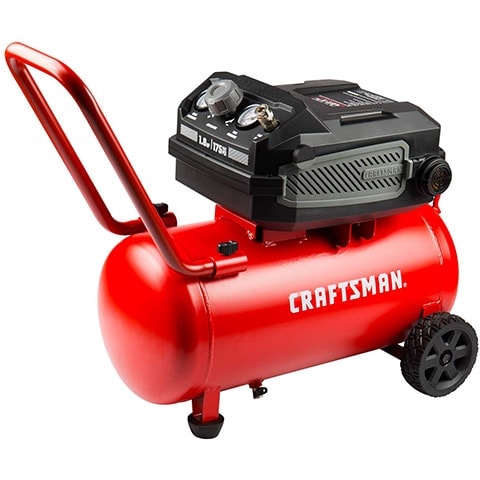 Need more PSI? This Craftsman has 175 maximum PSI with a 1.8-hp motor. Craftsman tools have always had a reputation of quality and durability. This 10-gallon, the oil-free compressor is no different. The 63.1-pound vertical steel tank design is easy to transport from one job site to another on the 6-inch wheels and durable large handle. The maintenance-free pump allows it to run for extended periods of time.
It has a ¼-inch coupler that makes it compatible with all air tools. So, if you are looking for a compressor that can be used in your garage or workshop, this is a good option. Use your nailers, bolters, or sprayers and enjoy continuous pressure for added productivity.
The UMC motor makes cold temperature starts easier and produces a strong airflow and for safety purposes, it has an automatic pressure relief valve. There are two gauges so you can keep an eye on the tank pressure as well as the tool pressure. This compressor is a bit pricier than other models but offers some of the key features you would hope to find in an air compressor.
Pros
Maximum PSI 175
¼-inch NPT coupler
Dual gauges
Cons
Higher priced
Steel tank
Only 1.8 hp
---
5.

EMAX Quiet Portable Air Compressor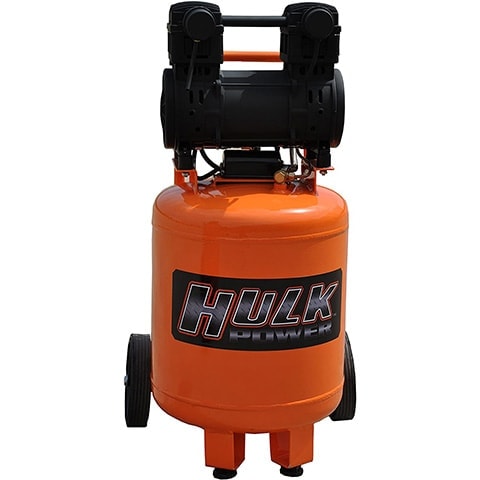 This Hulk Silent Series compressor is a workhorse. It has a 2.0-hp motor that features a commercial-grade low-amp draw for less wear and tear. EMAX uses heavy-gauge steel cylinders along with cylinder heads and valves for added reliability and durability. This particular model is a dual piston, a two-cylinder design that is extremely quiet with only a 40 dB level. This makes it a nice tool to use for the inside of homes or where less noise is appreciated
The compressor has dual-gauges to measure tank pressure and tool pressure. The drain valve is a bit awkward to get to and is considered smaller by industry standards. Since the EMAX is oil-free it does not require maintenance and has an easier time starting in cooler temperatures. It has a maximum PSI of 125, but with the highly efficient motor and pump, it is capable of pushing air consistently for productive work.
The 10-gallon steel vertical tank weighs 79.4 pounds and is supported by 8-inch oversized wheels. Because of the larger wheels, it can be transported on a variety of terrains to various work sites. You can use this compressor at your job site or at home, it's that versatile. Be aware though, it is one of the more expensive compressors in its class.
Pros
Quietest in its class
Oil-free design
Large wheels
Cons
Heavy at 79.4 pounds
Much higher priced
Max 125 PSI
---
6.

Makita MAC5501G Gas Air Compressor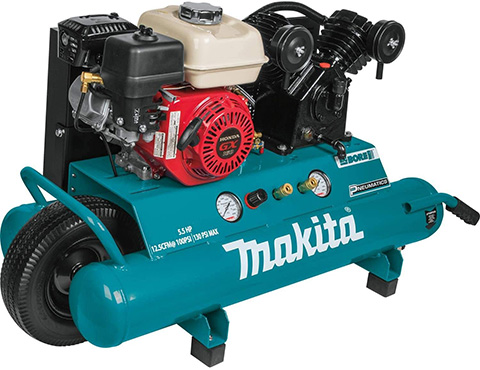 Makita is usually a contractor favorite because of its longevity and consistent performance. They are also known to be quieter than most and short recovery times, but they do come with the highest price of all the compressors we reviewed, nearly double the cost of our other compressors.
This particular model has a powerful Honda GX 160 4-stroke engine that powers a "V" twin style cast iron pump that is designed for faster recovery times. The gas-powered engine has an industrial-gauge recoil start rope for quicker starting.  This engine and pump stay cool even after running for an extended period of time
For added protection and durability, the gauges and couplers are built into the base of the motor. Two iron cylinder tanks make it easy to run more than one tool at a time. This is a really nice feature to have if you intend to use the compressor on a job site where several air tools are being operated at one time.
Don't think for a moment that this compressor is easy to transport. It weighs 235 pounds and is quite a bit larger than any of the other compressors we reviewed. The weight alone makes it much more difficult to carry around job sites and not a practical choice for home use, especially when it requires at least two strong individuals to move.
Pros
Powerful engine
135 Maximum PSI
Low noise
Cons
Expensive
Difficult to transport
Gas-powered
---
7.

Pro-Force Oil-Free Air Compressor

The Pro-Force VLF1581019 Oil-Free Air Compressor is one of the poorer quality compressors we reviewed. It has sufficient horsepower, but runs loud and runs often because the valve has a tendency to leak air. The fittings have been reported to leak air too, so overall this compressor is not your high-quality pick.
The entire housing is covered in an inexpensive plastic that cracks easily with minimal abuse. The dual-gauges are in an easy-to-read location along with the pressure release valve. One of the positive features of this compressor is that you are able to plug it into a standard 120-volt outlet without it affecting your breaker switches.
The vertical cylinder weighs 78-pounds and a bit awkward to transport because of the smaller wheels. Overall, if you are looking for a basic compressor, this may be the one. However, to get more value and quality for your money you should consider another brand.
Pros
Affordably priced
Oil-free
Cons
Air leaks
Heavy to transport
Loud to operate
Poor-quality engine
Plastic housing
---
Buyer's Guide – Choosing the Best 10 Gallon Air Compressor
Purchasing an air compressor is a big step. There are several factors to consider before taking the plunge. Take a look at what you will be using your compressor for. If you are merely going to be using the compressor around the house to inflate tires, paint fences or use a brad nailer, then a simple, electric compressor is all that may be needed. If you plan on using your compressor for commercial work, namely extensive painting or woodworking, then there are other features you may wish to consider.
Things like a quiet motor, an efficient pump for producing continuous and productive airflow. Another consideration is whether you wish to have a portable compressor that you can transport from job to job, if so, then make sure it has proportional wheels and an ergonomic handle.  Lastly, the PSI is important depending on the air tools you are considering using. Let's look a bit more in-depth at some of the specific features of the 10-gallon compressors.
PSI and CFM
PSI is pounds per square inch. Air compressors have a maximum PSI that they produce. Air tools usually require 40 to 90 PSI to operate effectively. CFM is cubic feet per minute and is actually the measurement of the airflow that the compressor is sending to the air tool. The higher the CFM the more air and the more air means that it is more practical for the larger jobs.
Electric or Gas-Powered
There are two types of compressors. One is electric, which needs to be plugged in to operate. They are also lighter in weight and can be transported by one or possibly two people. This type of compressor makes it convenient to transport to a variety of locations.
The gas-powered is just that, it operates like a lawnmower engine with a pull start. These types of compressors are usually quite large and can weigh hundreds of pounds. Because of the excessive weight, they are placed at a job site and not moved very often, if at all.
Price
Price is not always indicative of the quality of the compressor. Take for instance our best overall pick; it is affordable and offers many user-friendly features all for a great price. Then take our seventh pick and the price on that one is more than our overall pick. It does not meet the quality of any of the other compressors we reviewed.
Be careful in associating the price with overall quality or efficiency. They often do not have a direct correlation.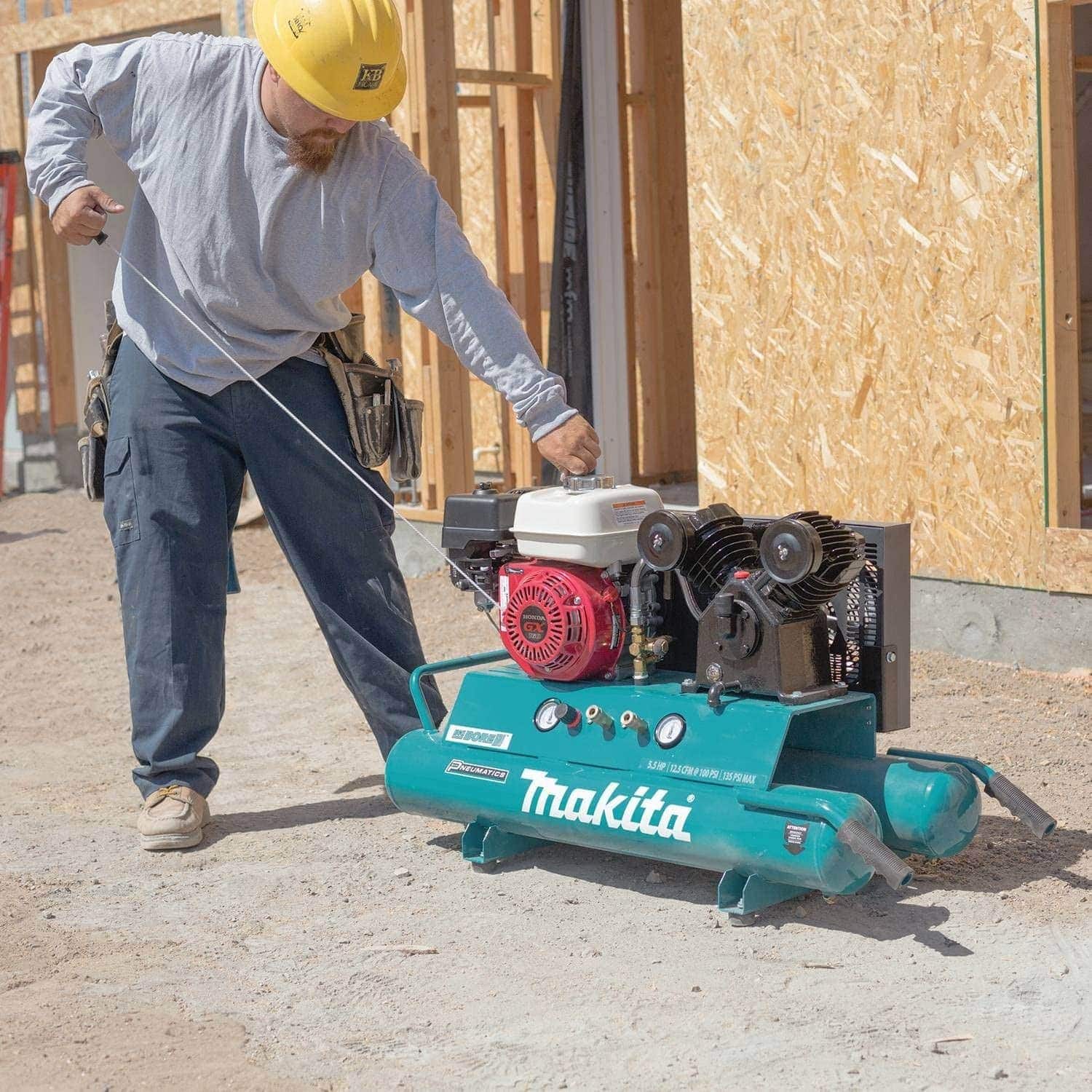 Commercial or Household Work
Knowing what you will be using the compressor will help facilitate an appropriate choice. If you are considering something for your business then you should be looking for a quieter, longer running compressor. A few of them are able to run for much longer periods of time because they operate on a lower voltage. They also hold their air well to help facilitate the continuous operation of your air tools.
If you are mainly planning on using your compressor around your home, you would prefer something that is portable, economical, and maybe on the quieter side.
Vertical or Horizontal Tank
There is no difference in the performance of these two types of cylinders. The main difference is the amount of floor space that the compressor takes up. If space is an issue and you intend on storing your compressor, then you may want to purchase a vertical tank. If you are going to be transporting the compressor then a vertical model may be easier to lug around.
Using an Electric Compressor
Easily transported
Lighter weight
Typically a vertical tank
Runs more consistently
Sometimes less power
Using a Gas-Powered Compressor
Heavier overall
Not meant to transport
Often a horizontal tank
2 and 4-stroke engines
Higher horsepower

Conclusion
Air compressors are a useful tool to use around the house or at your workplace. There are various models and sizes to suit specific needs. We reviewed the 10-gallon air compressors here because they are sufficient size for both the home and job site. The tank size is in charge of keeping a continuous flow of air to your tools. For example, if you have too small of a tank for the job you are performing, your compressor will have to refill itself often. The ones we reviewed her are ample for your home projects as well as some commercial jobs.
We reviewed seven 10-gallon air compressors to help you in making your choice. We have highlighted three that are our picks. The Stark 65151 Portable Air Compressor is our best overall pick for its affordable price, quietness, and power. We then chose the WEN 2289 Oil-Free Vertical Air Compressor as our best value. It had many of the same features as our overall choice but with the added oil-free feature. Lastly, our premium pick was the California Air Tools 10020C Powerful Air Compressor, which has the power, quietness, and maintenance-free feature at a slightly higher price. However, if you consider the overall quality, the premium choice is a good one.
Other gallon compressors we've written guides for: