6 Best 80-Gallon Air Compressors of 2023 – Reviews & Top Picks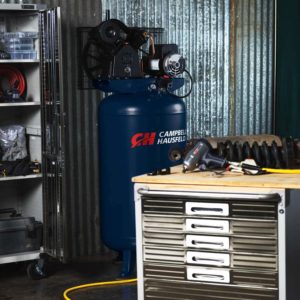 An 80 gallon air compressor possesses more power and higher airflow compared to 30 and 60-gallon models. It will allow you to perform heavy-duty applications such as grinding edge, cutting, spray painting, airbrushing, and other applications that require tremendous pressure. You can even use multiple power tools simultaneously without worrying that the pre-compressed air will run out.
Choosing the right 80 gallon air compressor is essential. You want a tool that you can rely on to provide a consistent flow of pressurized air over time. However, with so many 80-gallon air compressors competing for your attention, finding the right tool for the job can be challenging.
Luckily, we have done the heavy lifting for you and compiled reviews of the best 80-gallon air compressors on the market today. We will review each model in-depth and tell you about their features, pros, and cons. Additionally, we will also guide you on what to look out for when buying an 80-gallon air compressor.

A Quick Comparison of Our Favorites in 2023
Rating
Image
Product
Details

Best Overall

Campbell Hausfeld XC802100 Air Compressor

Cast iron pump
Lightweight
Value for money
CHECK PRICE

Best Value

Powermate Vx PLA4708065 Air Compressor

Quite
Durable and long-lasting
Value for money
CHECK PRICE

Premium Choice

DeWalt DXCMV5048055 Industrial Air Compressor

Thermal overload protection
Durable construction
Easy to operate
CHECK PRICE

Industrial Air ILA4708065 Single Stage Cast Iron Air Compressor

A lot of power
High pressure
Vertical design
CHECK PRICE

EMAX Compressor ESP10V080V1 Quiet Air Compressor

Quiet as advertised
Low RPM
Built to last
CHECK PRICE
The 6 Best 80-Gallon Air Compressors
1.

Campbell Hausfeld Air Compressor – Best Overall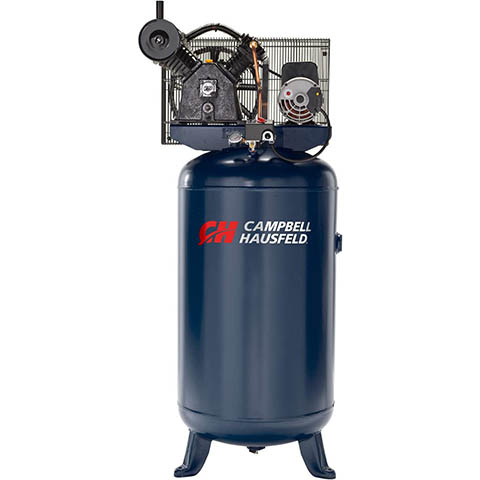 The Campbell Hausfeld Air Compressor allows you to do various jobs thanks to its high capacity and its 3.7 HP engine that allows maximum strain for longer run time. With a maximum of 175 PSI, it can accommodate a wide range of air tools for tasks such as spray painting, stapling, and sanding.
This compressor will serve you for many years. Its 2-stage pump is made from oil-lubricated cast iron designed to give you 5,000 hours of continuous pumping. And despite its heavy-duty construction that guarantees durability, it is light compared to other compressors with the same power, weighing only 255 pounds.
Additionally, its unique layout will reduce flooring footprint in a busy workshop without compromising power, giving you sufficient space to work. However, we felt that the Campbell Hausfeld Air Compressor could be a little quieter. But other than that, it easily outperforms other compressors on this list, all factors considered.
Pros
Cast iron pump
Lightweight
Value for money
2-stage pump
---
2.

Powermate Vx Air Compressor – Best Value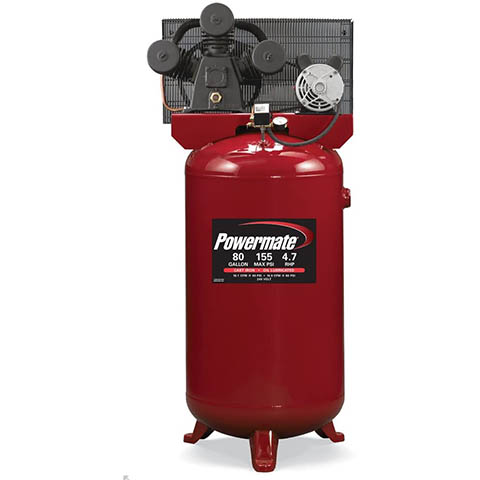 If you want an air compressor that delivers stellar performance without breaking the bank, this is it. The Powermate Vx is one of the best air compressors for the money. With an 80-gallon tank capacity, a 15-amp motor, and an output of 4.7 HP, it guarantees reliable power and performance.
This compressor is designed with durability in mind and features a pump made from 100% cast iron. Additionally, the leaf valves are made from durable stainless steel, and the moving parts are covered with a fully enclosed metal belt guard for added protection.
You will love the compressor's quiet and efficient nature. The model is fitted with silencers that enable it to operate with noise levels of under 80 dB, making it suitable for home use. Moreover, its wire formed belt guard enables more efficient cooling and prevents overheating.
The only drawback with the Powermate Vx Air Compressor is its weight which makes it susceptible to falling on its side. As a result, you should bolt the compressor to the ground to avoid movement.
Pros
Quite
Durable and long-lasting
Value for money
Cooling belt shield
Cons
Heavy and has to be bolted in position
---
3.

DeWalt Industrial Air Compressor – Premium Choice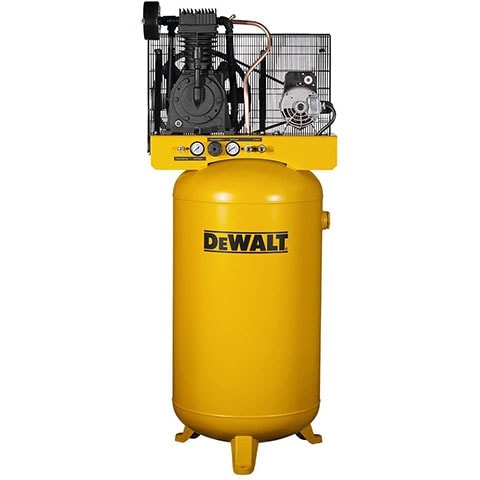 The DeWalt Industrial Air Compressor is perfect for industrial applications that require high pressure and for hardcore DIYers performing heavy-duty tasks. It features an 80-gallon tank and a 2-stage pump with air delivery of 175 PSI.
Its – HP motor runs on 230 volts and can power various air tools, including sanders, ratchets, impacts, and cutting tools. You can operate multiple air tools simultaneously and work for extended periods without any operational problems.
You will appreciate the thermal overload protection, which protects the engine from voltage fluctuations. Apart from preventing overheating and overloading, it extends the unit's lifespan, ensuring that it serves you for many years.
Although not noiseless, the air compressor's noise emissions are bearable. The only disadvantage with the DeWalt Industrial Air Compressor is its size and weight. Consequently, it will take up a lot of storage space and will be hard to move.
Pros
Thermal overload protection
Durable construction
Easy to operate
Relatively silent
Cons
Heavy
Requires too much storage space
---
4.

Industrial Air Single Stage Cast Iron Air Compressor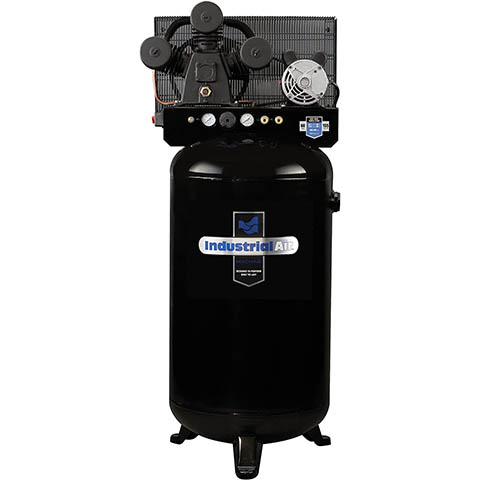 The Industrial Air air compressor is another budget-friendly option on our list. It delivers high power and is specially designed to handle heavy-duty industrial applications. With an 80-gallon tank capacity, an airflow of 14 CFM, and a maximum air pressure of 155 PSI, you can power multiple air tools simultaneously with ease and comfort.
This air compressor is built to last. It features an iron cast body, an aluminum head, and reed valves made from stainless steel. You will also love the full metal guard that provides added protection and security. Moreover, the thermal overload protection system will protect the motor from overheating and extend its lifespan.
You will have an easy time using and operating this air compressor owing to its integrated control panel. Its vertical design will also save you a lot of space in your workshop or garage. However, you may experience problems moving the compressor around because of its weight. You may also find it quite noisy.
Pros
A lot of power
High pressure
Vertical design
Affordable
---
5.

EMAX Compressor Quiet Air Compressor
The EMAX Compressor Quiet Air Compressor may not be the cheapest option on this list, but it will prove its worth once you set it up. Specially built for industrial use, the compressor is dependable, and it can give you up to 50,000 hours of use if you properly maintain it.
Its solid cast iron construction will ensure the compressor serves you for a long time. Additionally, it is designed to run at lower revolutions per minute due to its bigger bore and stroke.  The reduced friction leads to less heat build-up and extends the life of the pump.
You will also be impressed by the compressor's super quiet nature thanks to the pressure switches and the check valves with Teflon Seating. Overall, the compressor is a worthy contender if you can look past its high price.
Pros
Quiet as advertised
Low RPM
Built to last
---
6.

BelAire 218V 2 Stage Air Compressor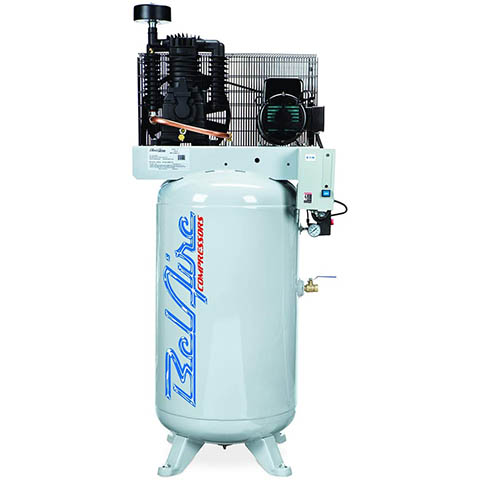 BelAire compressors have been making compressors since 1981, and their BelAire 218V 2 Stage Air Compressor is a decent option. Featuring a sturdy design and a 5-HP engine, this single phased gas-powered compressor can get the job done.
It comes fully equipped with all you require to optimize your operations and reduce downtime with a pressure rate of 100 PSI and 15.3 cubic feet per minute. Additionally, it comes with a two-year warranty to protect you from any defects in production.
Overall, the BelAire 218V 2 Stage Air Compressor is not the best option on our list, but it will power your air tools without any problems. However, it will not give you as much value as other air compressors on this list, and it would be better to spend your money on something more worthy.
Cons
Expensive
Lacks a lot of features
---
Buyer's Guide – Choosing the Best 80-Gallon Air Compressors
Choosing the right air compressor might take you a bit of time. There is a wide range of factors to consider, including your needs, budget, and personal preferences. And since you're making a considerable investment, you can't afford to get it wrong the first time. Fortunately, we have created the following guide to help you make the right choice. Here is what you need to consider before you buy.
Purpose of Application
The first important consideration is what you want the air compressor to do for you. For most people, a small tank air compressor is usually adequate. If you want a tool to assist you with small tasks around the house or garage, you may not need to buy an air compressor with an enormous capacity task. But if you want a tool for industrial applications, a small tank will not suffice.  Additionally, if you perform multiple tasks at once or want to power heavy-duty pneumatic tools such as sanders, nailers, or grinders, you need a large capacity tank.
Single-stage vs. 2- Stage Compression Systems
You have a choice between single-stage compressors and 2-stage compressors. In a single state air compressor, the air is first sucked into a cylinder, then compressed before finally been moved into a storage tank.
A 2-stage compressor follows roughly the same process with a slight variation—the air is compressed twice to produce double the pressure. Naturally, 2-stage compressors produce higher power and are the best choice for heavy-duty industrial applications. However, they also take more time to refill and cost more.
Single-stage compressors will cost you considerably less and are the best option for an independent craftsman looking to power a few pneumatic tools that don't require much air pressure. You can accomplish various tasks with the compressor, including drilling, sawing, nailing, and sanding.
Noise level
Air compressors use gasoline and have several moving parts. With so many metals banging against each other, finding a quiet air compressor can be difficult. Furthermore, the unit will continue to wear and tear as you use it, thus becoming much louder.
Sometimes some of them can become too loud, making work difficult. If you're working outside, the noise levels may not matter as much. But if you're working indoors, it is essential to buy the quietest air compressor you can get.
80 gallon air compressors are specially made to handle heavy-duty use and may not be as quiet. Your best bet is buying one with the least noise and maintaining it. One quick way to know which units emit the least noise is by reading consumer testimonials.
Horsepower
This refers to a measure of the air compressor's power. It can range from 1.5 HP to 6.5 HP for consumer-grade air compressors and higher for industrial-grade air compressors. Horsepower may not necessarily affect the delivery of air or the air tools' performance, but it is still an essential factor to consider. The higher the HP, the lesser the time it will take to fill the tank and the lesser the recovery time.
Air Pressure
Air pressure is measured in PSI (Pounds per Square Inch) and can range from 90 PSI to 150 PSI, with most compressors having roughly around 115 PSI.  A higher PSI means that more air can be compressed in the tank. The amount of air pressure you pick will depend on the air tools you will be using.
Durability
Some air compressors are more durable than others depending on the level of craftsmanship and the type of materials used in their construction. Air compressor units are either made from cast iron or aluminum. Cast iron is heavier and more durable and is the preferred choice in harsh conditions. Aluminum is preferred because of its low density, making it suitable for making lightweight compressors that are easier to move around.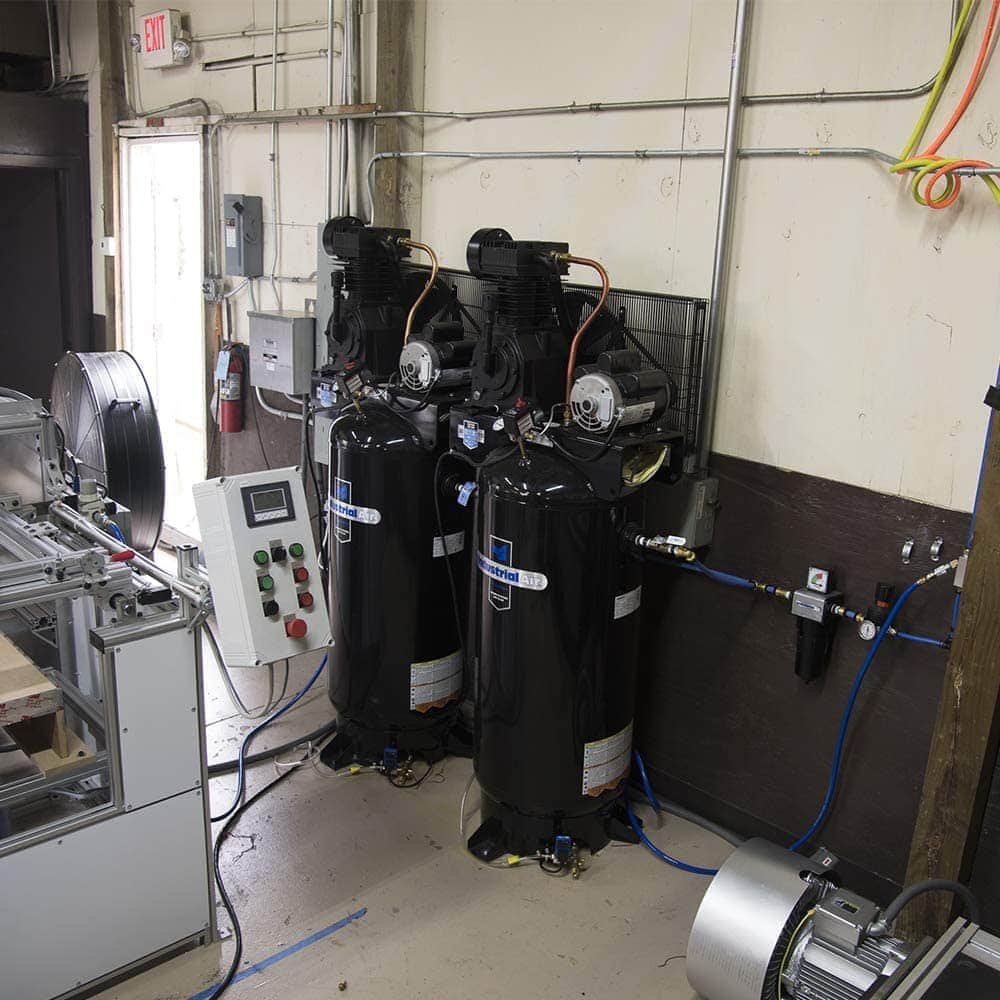 Cubic Feet per Minute (CFM)
It refers to the amount of air an air compressor can release over a while. If you're using a tool for extended periods, you may need an air compressor with a high CFM. For instance, a framing nailer may work with just 2.8 CFM, while a rotating smoother may require 8 CFM. Check your tools' CFM rating to determine which air compressor to buy.
Warranty
Buying an air compressor with an extended warranty will give you peace of mind. With a warranty, you can get free repairs for faults which may occur before the warranty period expires. You can even get the whole unit replaced in some cases.
Size of the tank
Air tools that demand continuous use, such as grinders and sanders, will require bigger tanks than tools used intermittently like nail guns and staplers. Although there is no recommended tank size for specific tools, the best option is to buy the largest tank possible, provided the compressor fulfills your PSI and CFM requirements.
Voltage source
80-gallon air compressors usually require high voltage. A compressor with more than 3HP may require more power than the standard 100V outlet can provide. When buying a compressor, ensure you have electrical outlets that can provide enough voltage.
Cold weather
Some air compressors may not be able to start in cold environments. This can be very frustrating, especially if you live in a winter prone area. Fortunately, some air compressors are cold-resistant. Consider getting one of these units if you live or work in colder areas.
Why You Should Buy an 80-gallon Compressor
They provide value for money
An 80-gallon compressor might be more expensive than other smaller models, but it accommodates a broader range of applications. It also includes unique features that warrant its high price, including overload protection, automatic drains, and security components.
They have a bigger air capacity
80-gallon air compressors have a higher air volume capacity.
The majority of 80-gallon air compressors are constructed using cast iron. The material is not only durable but also heavy. As a result, the compressors are not moved around frequently thus increasing their serviceability and durability. Therefore, they can survive for extended periods of time without needing a refill. They can also support multiple air tools simultaneously.
80-gallon compressors produce more power and higher airflow. This makes them appropriate for less demanding DIY tasks and heavy-duty industrial applications. You can use them while performing a wide range of functions, including airbrushing, spray painting, grinding edge, and cutting.
80-gallon air compressors have a sturdy build and will serve you for many years. They are also bolted to the ground, thus limiting the possibility of accidents

Conclusion
Buying an 80-gallon air compressor is a significant investment. Since it is a decision you have to live with for many years to come, consider all the factors and evaluate all your options before making a choice. Whether you're a DIY homeowner, a mechanic, or an automotive enthusiast, your pick for the best 80-gallon air compressor will depend on your intended purpose, budget, and personal preferences.
We hope our detailed guide has helped you find the perfect 80-gallon compressor for your needs or at least set you on the right path to finding one. But if your mind is still not made up, that's okay too. For the best 80 gallon compressor overall, we recommend the Campbell Hausfeld XC802100 Air Compressor. It will consistently deliver high-quality results.
But if you're budget conscious, you want something that will still deliver good results without breaking the bank. In that case, we recommend the Powermate Vx PLA4708065 Air Compressor. It is the best 80 gallon air compressor for the money.