5 Best 10-inch Miter Saws – Top Picks & Reviews 2023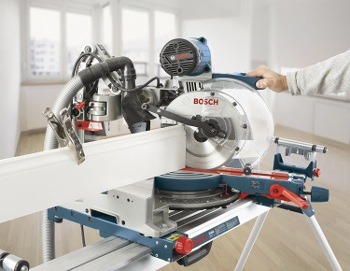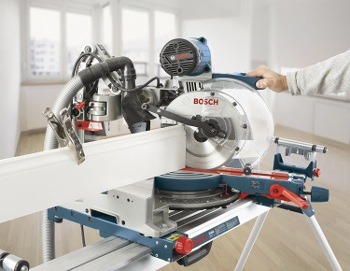 Originally nothing more than a 3-sided box with angled slits for a hand saw, miter saws have come a long way from their humble beginnings. The powered miter, also known as a "drop saw" or "chop saw", has become an indispensable tool of home DIY enthusiasts and professionals alike for making fast and accurate miter cuts and crosscuts.
Perfect for framing as well as small home improvement and construction projects, a 10-inch miter saw will quickly become your best friend for making simple cuts with maximum efficiency. We've thoroughly examined, tested, and compared the best brands on the market today to bring you this list of reviews the 6 best 10-inch miter saws around, with options for every budget and project size.
A Quick Comparison of Our Favorites
Rating
Image
Product
Details

Best Overall

DeWalt DW713 Compound Miter Saw

Excellent cutting power
Streamlined design
Durable construction
CHECK PRICE

Top Pick

Bosch CM10GD 10 Inch Miter Saw

Great torque and a powerful motor
Dual bevel system = faster
more accurate cuts
Axial-Glide arm guide
CHECK PRICE

Best Value

Hitachi C10FCG Mitre Saw

Lightweight and easy to carry
Excellent power for the price
Easily adjustable guides
CHECK PRICE

Chicago 10 Inch Sliding Compound Miter Saw

Excellent cutting power
Streamlined design
Durable construction
CHECK PRICE

Evolution RAGE3 10 Inch Miter Saw

Proprietary blade design
Large and deep cutting capacity
3-year warranty
CHECK PRICE
The 5 Best 10-inch Miter Saws 2023 – Reviews:
1.

DeWalt DW713 Compound Miter Saw – Best Overall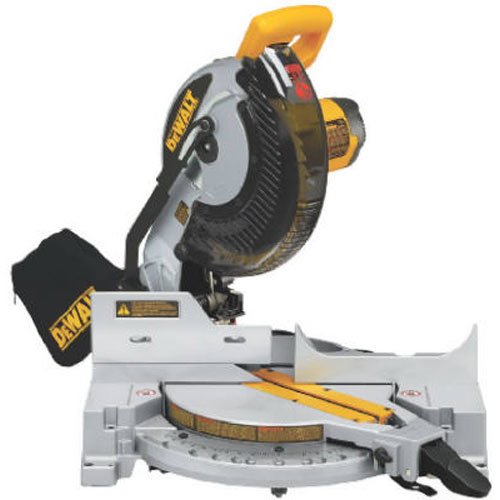 DeWalt is a respected name in power tools for good reason: They consistently deliver high-quality, long-lasting tools at competitive prices, and offer excellent customer support to back it up. All of these company qualities are on full display with the DeWalt DW713 portable compound miter saw – and we're proud to recommend it as our top pick for a 10-inch miter saw.
With a 15-amp motor producing a blade speed of 5000 RPM, as well as a deep 4½-inch cut capacity, the DW713 is equipped to handle everything from small home repairs to professional carpentry projects. It comes with everything you need – a smooth-action blade guard, easily adjustable fence, and pinpoint accuracy bevel guides – and does away with the extraneous features that drive up the price of other saws in this category.
Overall, there's no other 10-inch miter saw on the market that offers the same combination of utility and versatility at a completely reasonable price like the DeWalt DW713. Add in its recognized durability, and you have a supremely useful saw that's made to last a lifetime.
Pros
Excellent cutting power
Streamlined design
Durable construction
Accurate guides and easy adjustments for precise cuts
Cons
Vibrations get intense at high RPM
---
2.

Bosch CM10GD 10 Inch Miter Saw – Top Pick
For everything that the DeWalt in our top spot does well in simplicity and streamlined design, the Bosch CM10GD advances and one-ups. It's a significantly more expensive saw that justifies its added price with top-of-the-line features in every department – from its dual-bevel design to the proprietary Axial-Glide system that replaces the rail/slide found in other miter saws.
The 15-amp motor produces a blade speed of 4800 RPM, but with even more torque than the DeWalt. This lets it power through even the densest hardwoods with ease, making quick work of any project you set it to. Built almost entirely from metal, the heavy-duty CM10GD is a solid piece of machinery that feels like it could be passed down to your grandkids.
In short, this Bosch 10-inch miter saw offers the best of everything but requires a more substantial investment to get started with. It's perfect for the home woodworker who is advancing in their craft, or professional carpenters looking for the greatest utility available in a miter saw.
Pros
Great torque and a powerful motor
Dual bevel system = faster, more accurate cuts
Axial-Glide arm guide
Impressive 6″ depth cut capacity
Cons
Fairly expensive, especially in comparison to other 10-inch miter saws
Related Article: 
---
3.

Hitachi C10FCG Mitre Saw – Best Value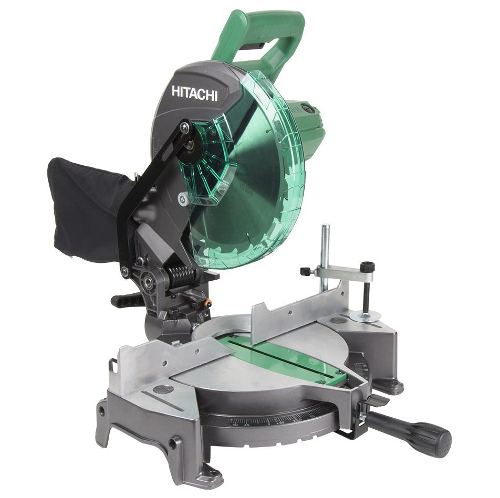 Lightweight and exceptionally portable, the Hitachi C10FCG may very well be the best 10-inch miter saw for the money if you're on a tighter budget. Offered at a fraction of the price of many of its competitors, this saw cuts down on both weight and price by swapping out quite a few metal parts for lighter and less expensive plastic. But does that affect its overall utility and durability?
In our experience the C10FCG goes against the common advice of "you get what you pay for", and still offers excellent performance even at its significantly lower price. A 15-amp, 2.57-horsepower motor produces a 5000 RPM blade speed, giving it comparable cutting power to other high-class miter saws. Add in a 5-year manufacturer's warranty, and it's clear that the Hitachi C10FCG is a safe investment to make for all your future DIY or home improvement projects.
Pros
Lightweight and easy to carry
Excellent power for the price
Easily adjustable guides make for quick, accurate cuts
Small footprint is perfect for use at home
Cons
Instruction manual is incredibly difficult to follow
Fragile body isn't rugged enough for professional jobsites
---
4.

Chicago 10 Inch Sliding Compound Miter Saw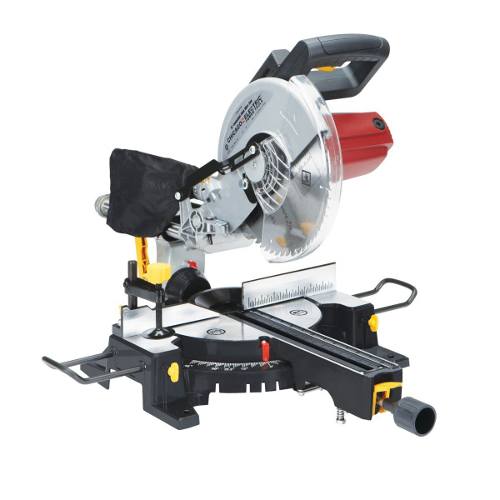 Ideally suited for home repair and DIY projects, the Chicago Electric sliding compound miter saw offers surprisingly good performance at rock-bottom prices. What it features in budget-friendly pricing, though, it loses in some of the smoothness and reliability that come with more well-appointed tools.
First of all, the motor: At 15 amps it produces plenty of power for 5000 RPM of blade speed, putting it in line with other more expensive miter saws in our review. That said, it produces this respectable speed in the loudest manner possible, and with extreme vibrations – nothing like the smooth operation of our top 2 choices.
So, while it is an accurate saw right out of the box regular use will quickly throw it out of alignment, costing you valuable time and effort in constant re-adjustments. We recommend it for anyone who needs a miter saw at absolute bottom-dollar prices.
Pros
Excellent cutting power
Streamlined design
Durable construction
Accurate guides and easy adjustments for precise cuts
Cons
Vibrations get intense at high RPM
---
5.

Evolution RAGE3 10 Inch Miter Saw
Any miter saw that comes with a specially designed, proprietary blade immediately has a lot to live up to. Especially with the Evolution Power Tools Rage 3-DB boasting an ability to handle steel, aluminum, wood with nails, or plastic – all with the same blade – we were excited to see if it could live up to the hype.
Quite honestly, the 3-DB did not disappoint in the cutting power department. The custom-built blades and high-torque gear box made it incredibly easy to cut through a variety of materials, all while producing almost nothing in the way of heat or sparks. When combined with a dual bevel and 3-inch cutting depth, it becomes clear that this saw is about as versatile as a miter saw can get.
Of course, that versatility also comes with a substantially increased price. This makes it a good option for someone looking for a multipurpose saw, as long as they're willing to make a larger investment in the increased scope of projects that the 3-DB can be used for.
Pros
Proprietary blade design makes quick work of almost any material
Large and deep cutting capacity
3-year warranty to protect your investment
Cons
Dust collection is lacking
Quite large and heavy in comparison to other 10-inch miter saws
---
Buyer's Guide – Purchasing the Best 10 in Miter Saw
Are you confused as to how to find the best miter saw for your money? Read through these guides to educate and inform yourself about everything you should expect out of a miter saw, and you'll be better prepared to make a clear decision when the time is right.
Common Uses for a 10-Inch Miter Saw
Powered miter saws of all sizes are useful for a wide variety of jobsite tasks, but the middle-of-the-road 10-inch saw is particularly excellent for the following uses:
Fast and accurate crosscuts
Perfectly angled miter cuts
More complex bevel and compound angle cuts
Cutting plastic and metal pipes to length
Precise repeated cuts
Ideal for cutting trim

What to Look for In a Miter Saw
All the best miter saws have the following features in common:
Great cutting power, as indicated by the maximum amperage.
Efficient portability, and often a lightweight design that makes them easy to carry around a jobsite as needed for different project areas.
Useful positive stops, the factory set points that allow for quick and precise cuts on specific angles. This includes looking for miter saws with a sufficiently wide degree of bevel for whatever project you're likely to be working on.
Smooth action blade guards, usually made of a transparent plastic, will keep you safe as they retract without snags after each cut.
Electric brakes, while perhaps not entirely necessary, are a powerful added safety feature that will stop your blade's spin in less than two seconds.
Dust management systems, to keep your workplace free and clear of debris that can obscure your view of cuts.
Reliable guides, either mechanical or laser-guided, that will help you to make accurate cuts every time

Types of Miter Saws
Miter saws come in three main varieties:
Standard miter saws rotate to allow cutting boards at an angle and are the basis by which all other saws are compared
Compound miter saws will also tilt, or bevel, to allow for angles to be cut horizontally or vertically. There are options for single- or dual-bevel saws in this style, with dual-bevel tools able to tilt to both sides for faster work and greater versatility.
Sliding miter saws also allow the saw to slide forward, allowing for cutting boards that are wider than the blade's fixed size.
How to Use a 10-Inch Miter Saw
Making top-down, 90-degree cuts with a miter saw is incredibly simple – but setting up your saw for continuing accuracy no matter what angle of cut you require can be a little bit trickier. For a great breakdown that's ideal for miter saw beginners, check out this video from Anika's DIY Life on Youtube. In it, she covers each of the types of cuts that your new miter saw can be set up for, as well as important safety considerations.
---
Conclusion
When it comes down to the best saw for the widest variety of jobs, no other miter in our reviews could beat the DeWalt DW713 10" Portable Compound Miter Saw. It's simply too powerful, accurate, and portable to be ignored – yet somehow still available at a reasonable price, given all of its features. Anyone looking for a rugged and heavy-duty drop saw would do well to equip themselves with this fantastic tool.
If money is tight, though, the Hitachi C10FCG 15-Amp 10″ Single Bevel Compound Miter Saw is an excellent alternative to the DeWalt. It offers many of the same features at a significantly reduced price, with the tradeoff of a lower maximum power output.