5 Best 20V Cordless Drills of 2023 – Top Picks & Reviews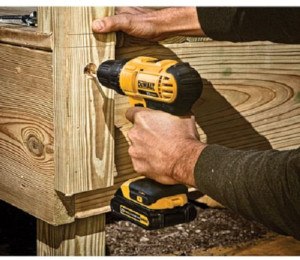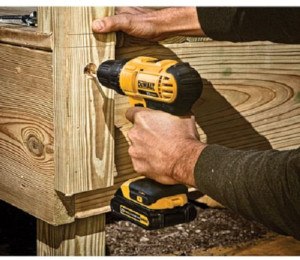 In the past, cordless drills might have been considered a novelty item, only suitable for the smallest jobs. In recent years, however, improvements to motors and batteries have resulted in powerful, lightweight cordless drills that are able to complete most jobs—and at an affordable price.
When shopping online, you want to make sure that you get a great deal. But that's not always easy to do. It isn't always clear which features make for a great buy, and which are just marketing fluff.
We believe that a well-informed customer can make great decisions. Our reviews of the best 20-volt cordless drills of the year are designed to show you the good and the bad associated with each model. That way, you can evaluate them based on your criteria, and choose the model which is right for you. We've also included a buyer's guide, so you can shop like a pro, even if you've never owned a cordless drill before.
---
A Comparison List of our 2023 Favorites
Rating
Image
Product
Details

Best Overall

Dewalt DCD771C2 20V MAX Kit

Includes two batteries
Great LED light
Lightweight
CHECK PRICE

PORTER-CABLE PCC608LB 20V MAX

Brushless motor
Lightweight
Great torque
CHECK PRICE

Best Value

BLACK+DECKER LDX120C

Great clutch
Lightweight
Surprising power
CHECK PRICE

WORX WX178L 20V Max

Very lightweight
Redesigned chuck
Pulse assist
CHECK PRICE

DEKO DARK KNIGHT 20V Lithium-Ion

Great clutch
Dual speed
LED light
CHECK PRICE
The 5 Best 20v Cordless Drills
1.

Dewalt DCD771C2 20V Cordless Drill Kit – Best Overall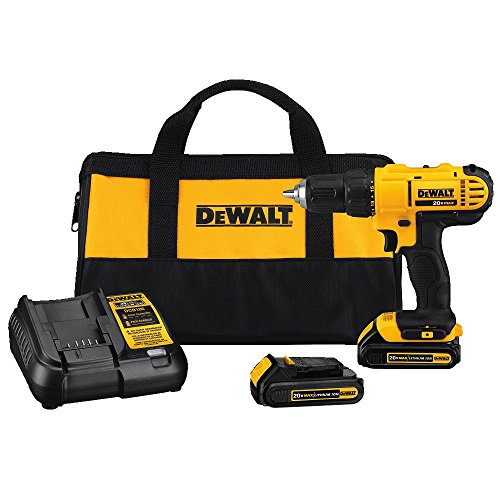 The Dewalt DCD771C2 20V MAX Kit is the best 20-volt cordless drill on the market today. It comes with plenty of power—possibly more than you'd expect from a tool of this size. This set also comes with two batteries. Since a replacement battery can cost as much as this entire kit, you're getting a great deal. It also features a very bright LED light, which does a great job of illuminating the worksite, even if you're working in substandard conditions. This model also comes with a low- and high-speed mode, letting you switch between higher torque for tougher jobs or more speed for easier ones.
Since the drill only weighs 3.4 pounds, you won't feel burdened by it, even if you have to work for hours at a time. Overall, this is a well-made tool that will make most people satisfied with their purchase. The upside to this kit is that you're getting two batteries for the price of one, but the downside is that it's one of the more expensive 20-volt cordless drills on the market. It's a premium entry, but one that will be worth the price.
Pros
Includes two batteries
Great LED light
Lightweight
Two speeds
---
2.

PORTER-CABLE 20V MAX Cordless Drill
The PORTER-CABLE PCC608LB 20V MAX is another great 20v cordless drill. Its best feature is its brushless motor. Brushless motors are more powerful, more efficient, and lighter than brushed drills, which (almost) always makes them the right choice. This model is lighter than the previous one, clocking in at just 3.2 pounds. As with the Dewalt, you won't have any trouble moving this tool around. It also comes with two batteries, making for a fantastic deal, since it's about ten percent cheaper than the top model.
Additionally, this model features incredible torque. It can achieve up to 1,700 RPM on its highest speed settings, so you'll be able to get tough jobs done easily and complete easy jobs quickly. Ultimately, what keeps this model out of first place is the fact that it won't last as long as the competition. This model tends to last around two years; you'll probably have a serious breakdown before year three. If it were more durable, we'd have no problem putting it in first place. Overall, this is still a good model, especially if you won't be using it a lot.
Pros
Brushless motor
Lightweight
Two batteries included
Great torque
---
3.

BLACK+DECKER 20v Cordless Drill – Best Value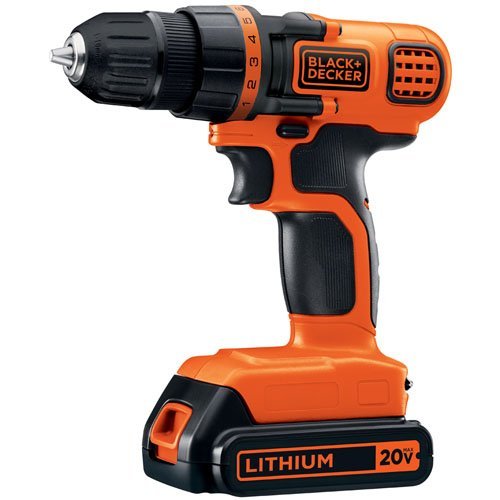 The BLACK+DECKER LDX120C is a 20v cordless drill that does it all, and at a price that can't be beat. You get similar performance from this drill as you would from the top two models on our list, but it costs half as much, making it the best model for the money. This model features a great clutch, with 11 settings, which is something you don't expect to see on a drill at this price point. It also has a surprising amount of power for a 20-volt cordless drill. Some users even report that they can drive six-inch deck screws with this model, which can be a problem for some corded drills.
This model also weighs just 3.3 pounds. While it's not the lightest on our list, it's a competitive weight. What keeps this model out of the top two is its charger. Most models come with a charger that can recharge the battery in as little as half an hour, but you may end up waiting for longer with this one. Given its low price, it's still the best deal on our list, though it won't be the right cordless drill for all people.
Pros
Great clutch
Lightweight
Surprising power
Great price
---
4.

WORX WX178L 20-volt Drill (cordless version)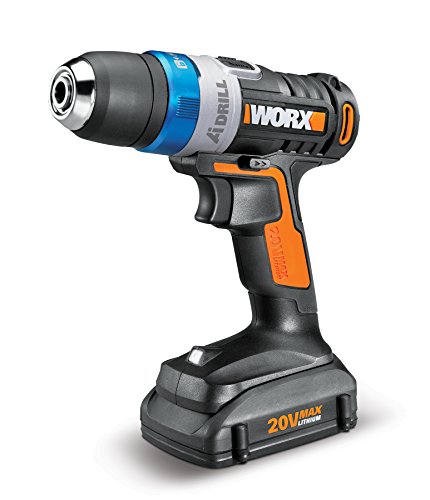 The WORX WX178L 20V Max is the most innovative drill on our list and one that you'll like if you're looking to get a toy that will make you the envy of every tool owner on your block. It's the lightest drill too, clocking in at less than 3 pounds. It also comes with a redesigned automatic chuck, which automatically tightens, saving you some time, and offering a more secure grip than most chucks provide. It also comes with three drilling modes. The first is standard drilling, which means that the tool drills for as long as you hold the trigger. The second is pulse assist mode, which helps remove soft or worn screws by providing short pulses of power to get them loose.
While these two modes work well, the automatic drilling mode leaves us with some questions. The manufacturer claims it should be able to drive a screw flush into any material. But many users report that it often only drives the screw three-quarters of the way in before stopping. Overall, this is a model with some potential. Given its relatively high price and the fact that it doesn't live up to its promises, however, we can rank it no higher than fourth place.
Pros
Very lightweight
Redesigned chuck
Pulse assist
---
5.

DEKO DARK KNIGHT 20V Lithium-Ion Drill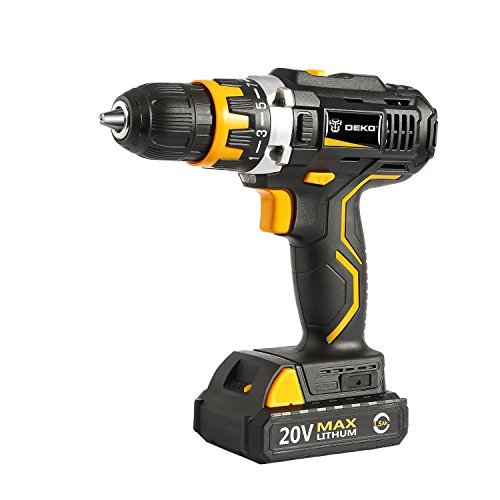 The DEKO DARK KNIGHT 20V Lithium-Ion features a fancy name, but it doesn't live up to it. This tool does come with a great clutch for the price, featuring 15+1 settings. It also comes with a dual-speed range, so you can optimize for high torque or for speed on easier jobs. This model also comes with an LED light, which is a feature missing from most models on our list. Consequently, you won't need great lighting to get the job done, and you won't have to carry a flashlight around either.
However, this model suffers from bad durability problems. That's an issue which you never want to have with your tools since it really hurts the value. Some users report that this model breaks down in as little as three months, which isn't long enough to recoup your investment. Plus, this model sometimes ships without the charger, which makes you wonder what else they're not catching at the factory. That's a bad sign, and a decent reason to avoid a tool. Overall, this model has some of the features that it needs to excel, but it lacks the overall quality that it would need to rank higher on our list.
Pros
Great clutch
Dual speed
LED light
Cons
Durability problems
Quality control problems
---
Buyer's Guide – Choosing the Best 20V Cordless Drill
After reading our reviews, you should have some idea of what makes for a great cordless drill. Of course, there's always more to learn about 20-volt cordless drills, so if you're looking to become an expert, or round out your knowledge of these great tools, then make sure you check out this buyer's guide. We've also included a section on getting great value for your money, so if you're looking for an incredible deal, this guide is something you shouldn't miss.
Motor type
Changes in motor technology have led to some of the biggest changes in drills in recent years. Old, brushed drills rely on a part known as a "brush" which circles the center of the engine at high speeds. This leads to a lot of heat due to friction, making them not very efficient, and they tend to be relatively heavy to boot. You also need to replace the brushes when they wear out, which adds to the drill's maintenance costs.
That's not to say that you shouldn't get a tool with a brushed motor. They're well understood on the secondary repair market, and you should be able to get them repaired when (and if) they break.
However, there's a ton of upside to using a brushless motor. These newer motors don't need brushes to operate and they produce much less friction. This means they're more efficient since less energy is lost to heat. They also tend to be lighter, so you don't have to exert as much energy to move them. They also tend to make use of stronger magnets, and given their lighter weight, they manage to produce more torque despite using less power. This makes them a great deal in most instances.
The lower power consumption is extra important with 20v cordless drills, since they require less power to run. As a result, they can go for longer without recharging a battery of the same size. Their lighter weight also makes them better tools for projects where you'll be carrying them around for hours at a time. In other words, they're a good choice for when you'll be far from electric outlets.
Battery
Today, you probably shouldn't get a cordless tool that doesn't make use of a lithium-ion battery. Sometimes abbreviated as Li-ion, Lithium-ion batteries have some significant advantages over the previous king, the nickel-cadmium battery. They have a higher energy density, which means a battery of the same size will be lighter and run for longer. It also means that batteries can be smaller and lighter and still provide a useful run time.
They also have a generally low self-discharge rate. You can leave them on a shelf for months at a time, and they'll only lose about two percent of their remaining charge per month. If you're an infrequent drill user, the odds are good that you'll get a lot of value out of this fact without realizing it.
Lithium-ion batteries can also be charged quickly without degrading, which is why they're the battery of choice for smartphones today. They're low maintenance too, making them a good choice for the consumer market.
When shopping for a 20v cordless drill, it's a good idea to check the battery line as a whole. Many manufacturers now make a compatible line of tools that can all use the same batteries. So, when you're buying a drill, you should check the tools you already own to see if there's a drill on the market that can take advantage of batteries you currently have.
Or, if this will be your first tool on a company's battery platform, you should check out the other tools that use the same battery. Maybe you'll see something you might like to buy in the future that can share a battery with the drill you're buying now, and save you some money in the process.
Weight
When it comes to cordless tools, weight can play a huge factor in how much you ultimately enjoy using it. Since corded tools don't have a battery, they tend to weigh less than cordless tools. However, you have to deal with an annoying cord, which is not an insignificant downside.
Generally speaking, lighter is better with cordless drills. In the 20-volt category, you should be able to get a drill that weighs less than 4 pounds and comes with plenty of power. It is possible to find models that weigh less than 3 pounds, but given the constraints of modern technology, there's a chance that lighter parts of inferior quality might be substituted in to cut the weight.
Regardless, the biggest factors with regard to weight in a 20v cordless drill are the motor and the battery. As mentioned previously, brushless motors tend to be significantly lighter than brushed motors of equivalent power. If you value both a lightweight and great power, you can't go wrong with a brushed motor.
When it comes to batteries, the bigger the battery is, the longer the drill can run. But the downside is that it gets heavier as the battery size increases. With lithium-ion batteries and efficient motors, you can get good run time without having to increase the weight too much. But if you're planning to work with a single battery for hours without stopping, you should plan on spending some extra money on a larger battery.
Torque
Torque is a measure of how much force is being applied to a rotating object. The more torque your drill has, the more powerful it is. More power means you get easy jobs done faster; it also means that your drill will be able to take on harder jobs that weaker drills can't complete.
Most people are familiar with inch-pounds as the representation of torque when it comes to 20-volt drills. In recent years, however, manufacturers have started listing torque in terms of Watt Power Out, or WPO. This is somewhat misleading, as few other kinds of tools make use of this kind of measurement, and the likely reason for the switch is that the WPO number will be higher than the equivalent inch-pound measurement, making it seem like it's more powerful than it is.
Whichever measurement is used, the bigger the number, the better. The best 20-volt models can provide more than 350 WPO of torque, giving you the power you need to quickly complete most jobs. Any less than 200 WPO should clue you into the fact that you're looking at an inferior tool. You may still be able to get most jobs done, but you'll lack the speed required to get simple jobs done fast, and you won't want to attempt harder jobs with a tool that weak.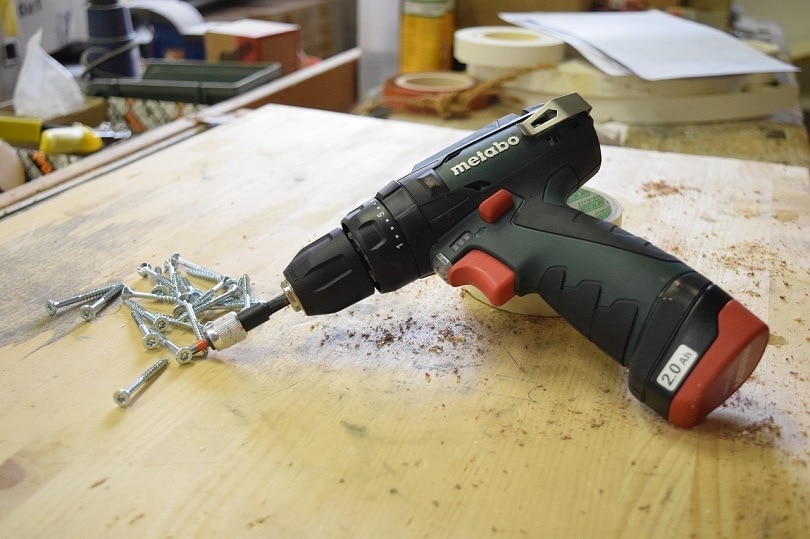 Comfort
The most important thing to consider when it comes to comfort and drills is how the tool will feel in your hand. A big part of this is the weight. The lighter it is, the less of a burden it will feel like while you work, and the better your body will feel at the end of a long day.
However, there are other factors to take into consideration. For example, some companies go out of their way to create ergonomically-shaped handles, which makes the tool feel good to use. Others add a rubberized exterior to their handles, which also makes them easier to hold. While comfort may not be a factor that transforms the value you get out of your buy, it's a good idea to get tools that emphasize it when you can, especially if you're going to be using them all day.
Which 20V cordless drill is right for you?
Sometimes it seems like you have to spend a lot of money to get good value, or that you can only get a deal when you look exclusively at the cheapest items. However, that's not a good strategy for getting great value, and in both cases, it can lead to you getting a tool that you dislike.
Instead, it's a good idea to focus on the experience you want to have, and the features a cordless drill will need to possess to get you that experience. Make a list of drills that come with those features and choose the cheapest one. The drill that comes with the features you need at the lowest price represents the best overall value for your money.
---
Conclusion
The Dewalt DCD771C2 20V MAX Kit is our pick for the best 20v cordless drill due to its great LED light, lightweight, and inclusion of two batteries. In second is the PORTER-CABLE PCC608LB 20V MAX which comes with a lightweight, efficient, and powerful brushless motor, and two batteries. Unfortunately, durability questions keep it out of first place. The BLACK+DECKER LDX120C comes with a great clutch and surprising power. Since you can get it for half of what you'd pay for our top models, this drill provides the best value for the money on our list. The WORX WX178L 20V Max is the lightest model on our list, comes with an automatic chuck, and pulse assist features, but suffers from a high price and buggy operation. The DEKO DARK KNIGHT 20V Lithium-Ion drill has a great clutch and an LED light, but its durability and quality control issues keep it from rising higher than the last place on our list.
We hope that our reviews and buyer's guide have taught you everything you need to know about 20-volt cordless drills. Armed with this information, you should be able to find the tool that makes your next job easy and at a price you'll love.