4 DIY Wine Bottle Bird Feeder Plans You Can Build Today (With Pictures)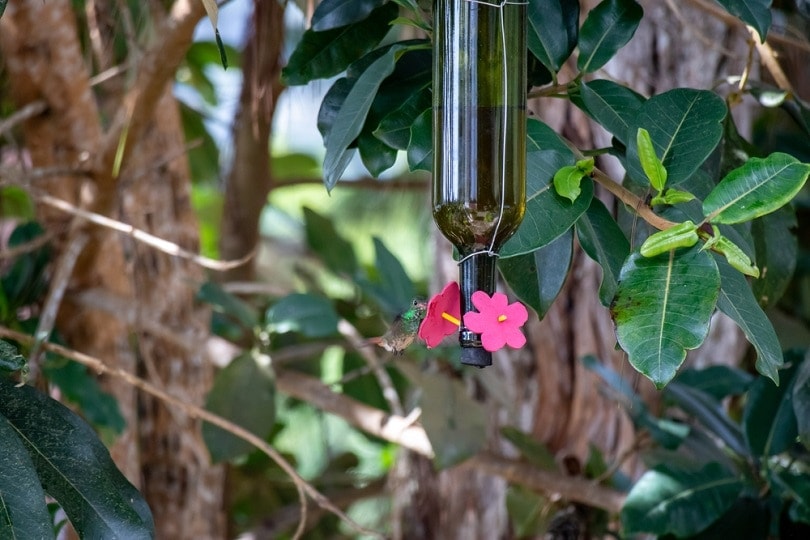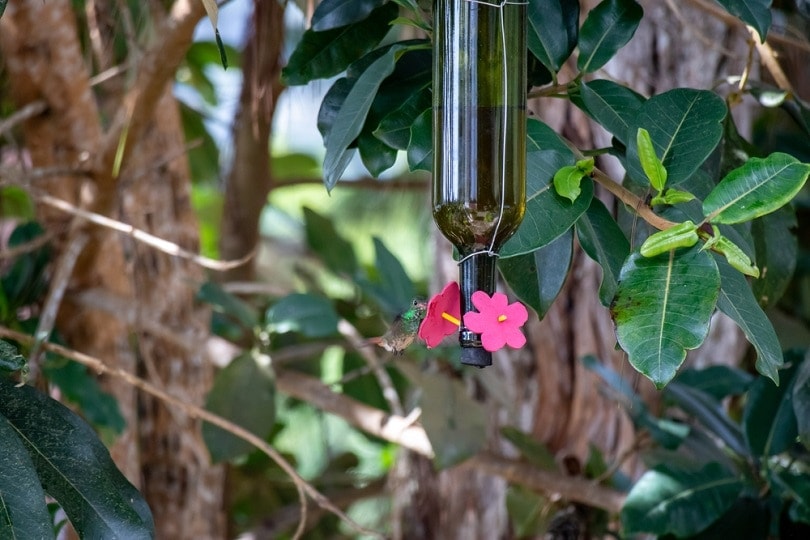 Wine bottle bird feeders are an excellent way to use up your old wine bottles, feed the local birds, and improve your yard's appearance all at the same time. If you have some old wine bottles and are looking for some plans, we've got you covered. We've scoured the internet for every bird feeder plan we could find, and we'll list them for you here. We'll provide you with pictures and a short description of each one so you can learn a little more about them and can find one right for you and your skill level.

What Is a Wine Bottle Bird Feeder?
The designs we list here will be of all different styles and shapes, but they will all function similarly. The most common style is to build a frame that keeps the bottle in place. The bottle is usually filled with seed and placed upside down, so it pours out into a small tray. When the tray is full, the seeds stop coming out, and as the birds eat them, more escape from the bottle to fill the tray. This type of feeder allows you to place a huge amount of seed in the feeder, and it will stay dry as long as it stays in the bottle. A single bottle full of seeds may last an entire season, and the less you handle the feeder, the more the birds will frequent it.

The 4 Bird Feeder Plans
1.

Sun Catcher Bottle Feeder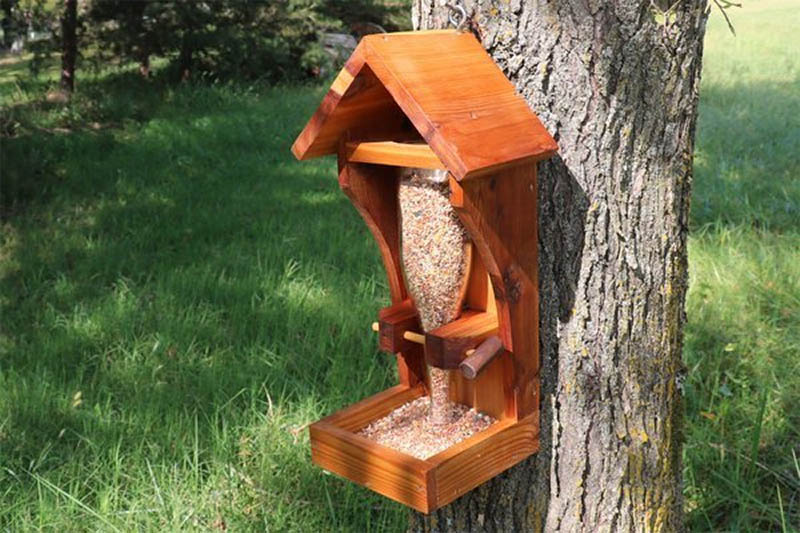 Our list's first plan is not that difficult to build and comes with detailed plans that are freely available. There are a few curved angles to cut, but the result is a durable and attractive feeder that will last several years.
---
2.

How To Specialist Bottle Feeder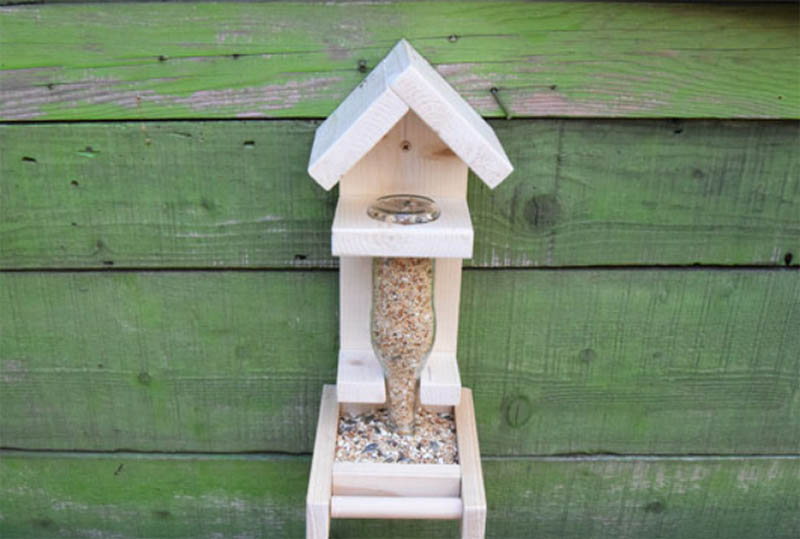 The How To Specialist bottle feeder is easy to build and only requires a few materials. There are some curved cuts, but you will make them with a small saw, a file, and some sandpaper. The feeder in this image has no finish, but you can add any finish you want.
---
3.

Better Homes and Gardens Feeder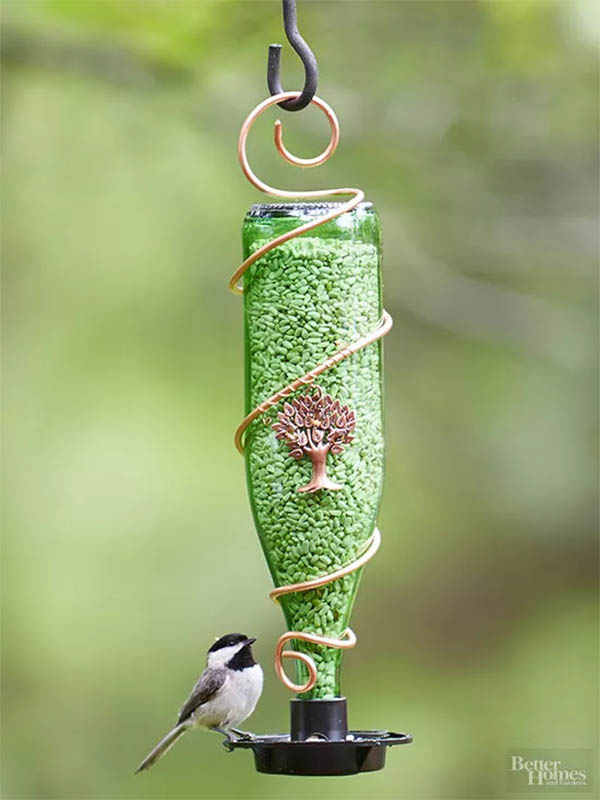 The Better Homes and Garden Feeder is similar to some of the others on this list, but it provides you with a step-by-step method for creating the decorative wire on the outside of the bottle, which can make it easier to tackle some of the other projects that don't explain each step.
---
4.

Martinelli's Glass Bottle Feeder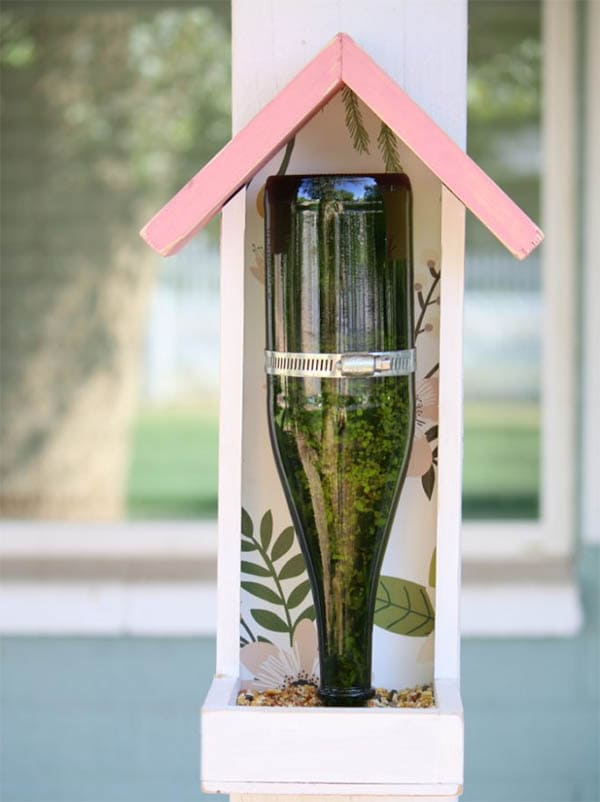 Martinelli's Glass Bottle Feeder is an easy-to-build project with all of the steps carefully explained. There are no difficult curves to cut, and you can probably finish it in a single day. The finished project looks good, but you can finish it with stain to look even better and be more resistant to the environment.

Building the Best Feeder
Many great ideas on this list can turn your old wine bottles into a useful bird feeder. Feeders will bring birds that will entertain the children and your pets, and they also make your yard a more pleasant place to be. Since a wine bottle is so large, you won't have to hover over them continuously, refilling them with food as you do with other feeders, which means less work for you and less human scent for the birds. If you are new to crafting, we recommend starting with one of the liquid feeders. You only need to put some hose through the cork or a rubber stopper and find a way to hang it from a tree with some rope or twine. If you are not afraid of working with wood, try out some of the free plans with easy-to-follow instructions, and as you gain experience, you can purchase or try to mimic the others.
We hope you have enjoyed reading over our list and have come up with some ideas for your old bottles. If you think some of the projects on here might interest a friend, please share these 15 wine bottle bird feeder plans you can build today on Facebook and Twitter.
Interested in learning about other unique birdhouse designs? Check these out!
See also:
---
Featured Image Credit: PlataRoncallo, Shutterstock