To get the best audio experience possible in your car, you'll need to bring together a few key components that depend on each other for optimal music reproduction. One of these components is a separate amplifier, which will help your speakers produce the best sound that they are capable of. A four-channel amp will give you the most flexibility, power, and seat-shaking bass potential.
One major advantage of a four-channel amplifier is the option for bridging channels. You can connect two speakers to each channel, which will give you the option of having up to eight speakers. Alternatively, two channels bridged together will give you more power for sub-woofers.
Finding the right amp to fulfill your dreams of window-shattering bass can be confusing. Terms like "high-pass crossover" and "ohms" can make you just want to stick with your standard car stereo.
Ignore the flashy terms and technical overwhelm — we've got you covered! We've put together a list of the best four-channel amplifiers available, to help you make the right decision for your needs.
A Quick Comparison of Our Favorites:
Rating
Image
Product
Details

Best Overall

Alpine 4-Channel Car Amplifier

Compact size
Quality sound for a class D amp
Efficient and will not overheat
CHECK PRICE

Best Value

BOSS Audio R1004 4 Channel Car Amplifier

High power output
Full range
High-quality audio output
CHECK PRICE

Premium Choice

Skar Audio RP 4 Channel Amplifier

High power output
Four-way circuitry protection
MOSFET power supply
CHECK PRICE

Kenwood KAC-M3004 4 Channel Digital Amplifier

Inexpensive
Compact
CHECK PRICE

Planet Audio AC800.4 4 Channel Car Amplifier

A/B class for superior volume and clarity
Variable gain control and bass boost
MOSFET power supply
CHECK PRICE
The 10 Best 4-Channel Car Amplifiers:
1.

Alpine MRV-F300 4-Channel Car Amplifier — Best Overall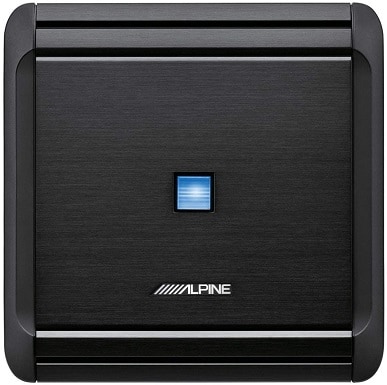 The Alpine MRV four-channel amplifier tops our chart due to its compact size, beautiful brushed metallic finish, and quality of sound that Alpine is so well known for. Not only is it a reliable and popular brand, but its price won't also empty your pockets.
This amp will give you four 75-watt RMS channels at 2 ohms and four 50-watt RMS channels. This is a ton of power packed into such a small, lightweight package.
For a class D amplifier, it runs with far less noise than you'd expect, and the audio quality is far superior to other amps out there in a similar price bracket. Class D amps offer both compactness and power efficiency, a difficult combination to pull off. But they are slowly getting better, and the Alpine is one step ahead of the competition.
Pros
Compact size
Affordable
Quality sound for a class D amp
Efficient and will not overheat
Cons
Less power output than class A/B amps
Less quality of sound than class A/B amps
---
2.

BOSS Audio R1004 4 Channel Car Amplifier – Best Value
When it comes to the best four-channel car amplifier for the money, the Boss R1004 is it. Boasting four thumping 100-watt channels at 2ohms or 50 watts at 4ohms, this amp packs a punch. It's a full-range amp, meaning that you can run both your speakers and sub-woofers with no problem.
Being a class A/B amp, it has massive current flowing through it, which equals massive power. This also means massive size — it measures in at 7.8x 9 inches, which is what keeps it from our top spot. This is a non-issue to power-hungry audiophiles, but for a smaller car, it can become a real problem; ideally, you'll want it out of sight underneath your seat.
This massive power and well-known Boss quality will not disappoint, even for the slightly higher price.
Pros
High power output
Full range
High-quality audio output
---
3.

Skar Audio RP 4 Channel Amplifier – Premium Choice
The Skar RP is a 1,000-watt, A/B class powerhouse. It has an RMS rating of a whopping 250 watts at 2ohms per channel and 125watts at 4ohms. This amp is for people who want power behind their speakers.
The Skar has a useful four-way protection circuitry design, which will protect your speakers from blowing out if they overheat. It also has a high-quality MOSFET power supply, known for its superior quality. It is rather bulky, coming in at 7×24 inches, but for a class A/B amp, you'd expect this. Its large size and high price keep just below our two top spots.
Pros
High power output
Four-way circuitry protection
MOSFET power supply
---
4.

Kenwood KAC-M3004 4 Channel Digital Amplifier
The Kenwood KAC is a class D amplifier, making it both affordable and compact. It has an RMS range of four channels at 75watts at 2ohms and 50 watts at 4ohms. It's rated at 300 watts total, which for most users, is more than sufficient. However, this won't give you the volume possible with higher-power amps. Being a class D amp, cranking the volume up too high will result in a high signal-to-noise ratio.
What this means is that you'll get a more signal noise compared to a class A/B amplifier. That said, this is an affordable option that will give you a far better sound than a standard stereo, albeit without the clarity or decibel-meter-topping volume that a higher power amp is capable of.
Cons
Low power output
High signal-to-noise ratio
---
5.

Planet Audio AC800.4 4 Channel Car Amplifier
The Planet Audio AC800 sits comfortably in the middle of our list, even though it's a class A/B, full-range, 800-watt amplifier. It has a variable gain control and bass boost and comes in with a power rating of 200 watts at 4ohms and 100 watts at 2ohms RMS. On top of all this, it has a high-quality, MOSFET power supply.
What drops it to number five is its notoriety for unreliability. It's known to cut out regularly, likely due to its built-in protection mode. This is a useful addition to prevent overheating, but users complain that it happens far more often than it should.
Pros
A/B class for superior volume and clarity
Variable gain control and bass boost
MOSFET power supply
Cons
Unreliable
Sporadically cuts out
---
6.

BOSS Audio Systems AR1600.4 4 Channel Car Amplifier
The Boss AR1600 is a class A/B 1600-watt amplifier boasting four channels of 400 watts at 2ohms or 200 watts at 4ohms. That is a ton of power for an amp this affordable. It also features a variable bass boost and a high-pass crossover for improved frequency reproduction.
Users report that the thermal-protection overload cuts out audio far sooner than it should. This is a frustrating aspect for a brand of this caliber. It is also commonly reported by users that it just doesn't have the punch you would expect from the impressive specifications.
Pros
Affordable
Variable bass boost
High-pass crossover
Cons
Unreliable
Overheats quickly
---
7.

JBL GX 435W 4-Channel GX Series Amplifier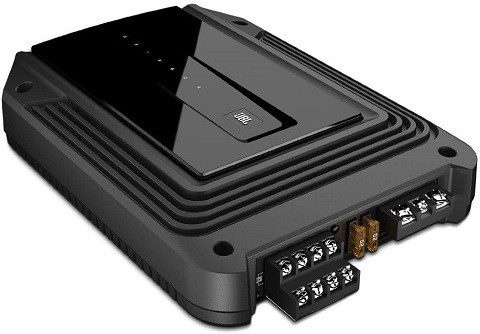 JBL is a well-known brand in the audio world for its quality products. The GX car amplifier has a sleek design,  and its RMS rating comes in at 60 watts per channel at 4ohms or 85 watts per channel at 2ohms. It also has a variable bass boost and low-pass filter.
What it lacks in power, it makes up for in quality. JBL makes top-notch audio products with crystal-clear sound. This amp is perfect for smaller but accurate sound, but you may be left wanting should you need to connect a sub-woofer or are hoping for deep bass frequencies.
Pros
Good brand reliability
Quality parts
Variable bass boost and low-pass filter
---
8.

Rockville dB45 4 Channel Car Amplifier
This Rockville dB45 is definitely not lacking in power. It's an earth-shaking A/B class amplifier pumping out 3,200 watts. Its RMS rating comes in at 270 watts per channel at 4ohms and a staggering 400 watts per channel at 2ohms. It also boasts a MOSFET power supply, adjustable 12dB crossover, and adjustable bass equalizer.
With all this power come a few caveats: The amp can difficult to set up, with low-quality screws that strip easily. It's also known to overheat quickly, with some users claiming that it gets too hot to touch. This will cause it to cut out regularly.
Pros
Affordable
High power output
MOSFET power supply
Cons
Low-quality parts
Overheating issues
---
9.

Blaupunkt AMP1504 Full-Range Amplifier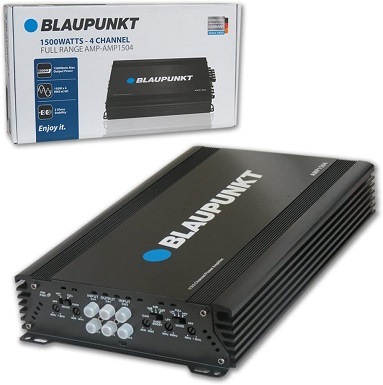 Blaupunkt is known for its decent quality yet affordable audio products. This full-range, class A/B amp has a peak power rating of 1,500 watts, with an RMS rating of 300 watts at 2ohms per channel and 150 watts at 4ohms per channel.
While these specifications seem fine on the outside, there have been issues reported. This amp overheats frequently. The brand is also known both for its unreliability and bad customer service. That said, some users have had no issues, so this is an affordable and powerful amp if you're willing to take the chance.
Cons
Overheating
Frequent cutting out
Bad customer service
Noisy
---
10.

AUDIOPIPE 120 Watt 4 Channel Car Amplifier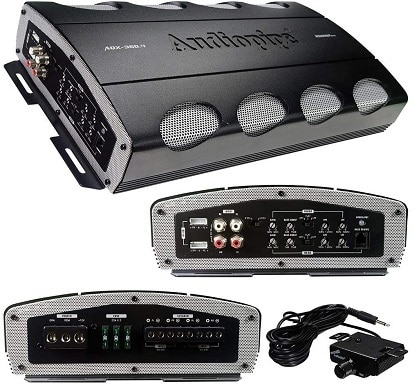 This class A/B Audiopipe amplifier has an output of 120 watts RMS per channel at 4ohms, and 170 watts per channel at 2ohms. Not being a well-trusted name in the audio world, buying this amp could be a gamble. However, its affordable price, decent power output, and MOSFET power supply may make it a worthwhile risk.
It has a reputation for overheating quickly, despite its claim of the aluminum casing helping to keep it cool. This, of course, will cause the amplifier to shut off. As the brand is a smaller player in the market, parts and warranty can quickly become an issue.
Cons
Low power
Overheats quickly
Channels prone to failing
Parts and warranty may be an issue
---
Buyers Guide
A four-channel amplifier is similar to its two- and five-channel counterparts in that it uses a single power supply to step up the 12V output and supply higher power. Standard car stereos usually rely on the 12V current directly from the car's battery, which doesn't provide enough power for sub-woofers. A four-channel amplifier gives you the versatility of adding up to four separate speakers and bridging the channels for even more power.
However, there are important considerations when buying a four-channel amplifier.
Crossovers
Ideally, you want your amplifier to have both high-pass and low-pass crossovers. It's even better if they are adjustable, but this is not essential. A high-pass crossover allows frequencies above the chosen cut-off frequencies to pass through to your speakers. A low-pass crossover allows frequencies below the chosen cut-off. Put simply, these block frequencies from getting to speakers that cannot handle them, preventing distortion or even blown speakers. It also gives you far cleaner audio quality.
A/B Class and D class
Another important consideration is your choice of amplifier class. The main difference comes down to efficiency. Class A/B amps are the least efficient but offer the best sound fidelity. Class D amps will give you far more efficiency, but less audio quality.
The class of amplifier is defined by the way the amp combines power and signal. Every amp will consume more power than it can feasibly put out. An amp's efficiency rating is in the ratio of what it can put out, divided by its power consumption. No amplifier can be 100% efficient. This means that it can never put out an equal or higher amount of power than what it draws. Power being drawn and not used for output of audio creates heat. Too much heat equals a burned-out amplifier.
A/B class amplifiers
These amplifiers are usually around 60% percent efficient, the transistors inside being on only around half the time, even when there is no audio signal present. Until recently, these amps have always been the go-to due to their high audio quality, lack of noise and distortion, and full-range application. Class D amps have yet to come close when it comes to accurate sound production.
Class D
However, class D amplifiers are catching up quickly to the audio quality produced by A/B class amplifiers. They have the benefit of fitting into a much smaller chassis, making them far more compact and giving them the ability to be stowed away conveniently under the seat. They are also almost 90% efficient in some models, resulting in less heat than A/B amps.
The one drawback of class D amps is noise. Because of the way they function, when the gain is up, there is a noticeable hiss coming from the speakers. A higher-quality class D will produce less of this signal noise, but it will cost you.
Power
How much power you need is subjective. For the average user who is not relying on massive bass output with sub-woofers, a 50-watt RMS rating will give you great volume and clarity. Although it is possible to bridge channels for a higher power output, it will leave you with fewer speaker options.
However, for more dedicated audiophiles, 50watts probably won't do it. If you want to connect an additional sub-woofer, it will be safer to go for 75 watts or above. This will mitigate the problem of overdriven and distorted speakers and give you plenty of extra power for bass response and additional tweeters.
When possible, it's a good idea to go for a well-known brand name to ensure quality and prevent overheating issues. A high-quality MOSFET (metal-oxide-semiconductor field-effect transistor) is designed to handle high power levels, giving you high efficiency at low voltage. Choosing an amplifier with a MOSFET installed will help both your power efficiency and audio quality.
---
Conclusion
Overall, the Alpine MRV-F300 is our best pick for quality, power output, and affordability. Its class D designation makes it compact and efficient, and it will give you high-quality audio fidelity.
The best four-channel amp for the money is the Boss R1004. It's an affordable and trustworthy class A/B full-range amplifier, giving you the power and audio quality you'd expect from a class A/B amp without breaking the bank.
There are many features and considerations within the world of four-channel amplifiers, from power to clarity and quality, and it can be somewhat overwhelming. Hopefully, our reviews have helped you navigate the abundance of four-channel options and choose the right amp for your needs.

Pete has been working in the trades since high school, where he first developed a passion for woodworking. Over the years, he has developed a keen interest in a wide variety of DIY projects around the home. Fascinated by all sort of tools, Pete loves reading and writing about all the latest gadgets and accessories that hit the market. His other interests include astronomy, hiking, and fishing.
As the founder of House Grail, David's primary goal is to help consumers make educated decisions about DIY projects at home, in the garage, and in the garden.