Makita BHX2500ca Engine Blower Review 2023 – Pros, Cons, & Verdict
We give the Makita BHX2500ca Engine Blower a rating of 4.6 out of 5 stars. 
Build Quality: 4.5/5
Power: 5/5
Features: 5/5
Price: 4/5
Review Summary
Today, we're talking leaf blowers—specifically, the Makita BHX2500ca. If you're familiar with the world of power tools, then you're probably already familiar with Makita. They're a juggernaut in the world of saws, drills, and other gear that do-it-yourselfers love.
They're perhaps less known for their yard work supplies. But hey, if Makita can make one great motorized tool, why not another, right?
You really aren't rolling the dice with this product. While Makita may be known for its saws and drills, they nevertheless managed to create a great tool here.
We'll take a deep dive look at this tool as the article progresses, but for now we'll mention that this gas blower features plenty to admire. It's powerful, compact (weighing in at only 9.8 pounds), and it's even designed to run quietly—a feature your neighbors will surely love.
Of course, there are also things you might not love so much. Price is one of them. The Makita is definitely on the more expensive side, but if you like what it's selling, it may be worth the extra money.
There's only one way to find out! Read on for a review of the Makita BHX2500ca!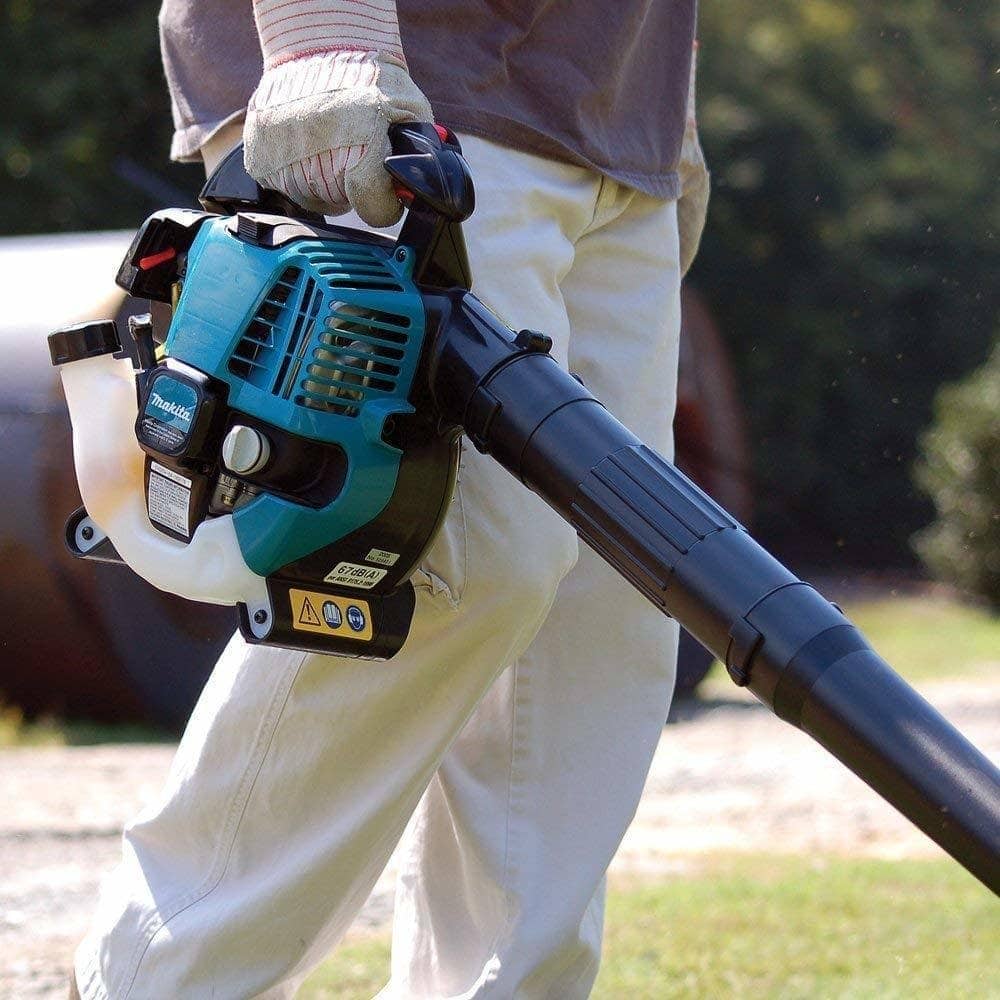 Makita BHX2500ca – a Quick Look
Pros
Very powerful
Runs quietly
Lightweight design
Specifications
Company: Makita
Model: BHX2500
Crank Case Capacity: 2.7 ounces
Power Source: Gasoline
Weight: 9.8 Pounds
Maximum Speed: 195 miles per hour
24.

5 CC Power with Improved Fuel Efficiency
24.5 CC is a number that doesn't necessarily mean anything to you. But here is one that might: 145. That's how many miles per hour this tool can blow.
With that sort of power, you aren't going to have any trouble at all clearing out your yard quickly and efficiently.
This is really a personal use motor, but with juice like that behind it, it's also pretty well-suited for commercial work if that's what you have in mind.
There are a lot of features that go into a good leaf blower, but power is quite possibly the most important one. And the power that goes into this tool is no joke.
Comfort:
Nearly as important as power is comfort. As anyone who's ever used a leaf blower knows, this is a fairly labor-intensive tool. While blowing leaves may not be physically strenuous, it certainly can be challenging to carry a heavy tool around for an hour or so at a time, right?
Right. Makita recognized this problem and did something about it. To start, this is a very lightweight tool. Weighing in at only 9.8 pounds, you shouldn't suffer from too much fatigue by the end of a day's hard work.
Makita also made sure that the tool was designed for comfort.
Ergonomic is the key word here. This unit boasts a soft grip feature which means that it reduces vibration so that it will be more comfortable to use over a much longer time period.
Durable:
While leaf blowers are not subject to the same wear and tear as other yard equipment, they're nevertheless exposed to the elements for extended periods of time. Because of this, any degree of durability that they can claim is a big plus.
Shoppers will be pleased to discover that this tool has been engineered with a rugged exterior so that it can even withstand the demands of commercial use.
FAQ
Can you use this blower as a vacuum?
You can! However, while some blowers come with a vacuuming component already built in, you will need to purchase a vacuum attachment separately.
Is the trigger variable speed?
Yes! This unit does feature a variable speed trigger, which means that you will be able to take a more customized approach for each unique task.
How long does this unit run on a full tank of gas?
According to Makita, the unit will run for about30 minutes with a full tank of gas.
What the Users Say
User response to this tool is primarily positive. People like its power and durability, and we've seen a particularly enthusiastic response to the overall comfort of the unit.
This blower is remarkably lightweight for a gas unit, which is a component that many people seem to appreciate.
In terms of negative feedback, there aren't actually many specific issues with how the tool performs. The occasional defective unit aside, most people are pretty pleased with what they get.
One less-than-positive response that we've gotten relates to the tool's value.
Some users are of the opinion that, while the tool is good at what it does, there are other similar, less expensive options out there.
Though this is a somewhat subjective interpretation of the tool, it's worth noting.
We've also seen some users mention that they've had a difficult time starting the tool. This could be a defect though, rather than something most users should expect to encounter.
All in all, the majority of people are pleased with their purchase.
Conclusion
So, what are your thoughts? While we won't go so far as to say any piece of yard equipment is perfect, there's certainly a lot to like here, isn't there?
While the BHX2500ca is pricey, it's also clear that your money buys you quite a bit. Especially in terms of power. Who doesn't love the idea of an efficient, gas-powered leaf blower that doesn't wake up the entire neighborhood, right?
But hey, this isn't us telling you to get the leaf blower. Our job is to inform, not to sell, and to this end, we hope we've been successful.