5 Best Walk Behind Leaf Blowers of 2023 – Reviews & Buying Guide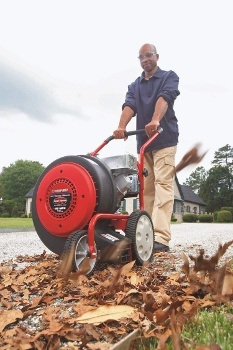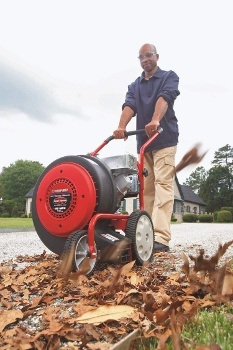 If your driveway or lawn tends to gather a lot of leaves during the fall months, then it's more than likely you need a leaf blower. Depending on the number of leaves your lawn gathers, you may need a small or large leaf blower. Walk behind leaf blowers are the big guns. They only come out when things are serious and there are simply too many leaves to blow away with a tiny hand leaf blower. If your lawn is big, or it's surrounded by plants and trees, then purchasing a leaf blower may be the best thing you ever do. These tools are so much more efficient than a rake! Walk-behind leaf blowers are typically used for heavy-duty work. That's where they're the most useful too. Having one could save you so much time and energy. You may never have to spend hours blowing your lawn or driveway again.
We've created a list of in-depth walk behind leaf blower reviews—enhanced by our own knowledge of the industry—to inform you of the top 5 leaf blowers this year. These reviews aim to help you narrow down your options to ensure that you find the best one for all your needs. We've also included a buyer's guide with tips and a section on criteria to consider before you purchase your leaf blower.
Our 5 Favorite Models of 2023
Rating
Image
Product
Details

Best Overall

Troy-Bilt TB672 Walk-Behind

Easy to Use
Quick and Efficient
Adjustable Speeds
CHECK PRICE

Merry Mac LB1100EZM

Large 250cc Motor Size
Sturdy Design
2-Year Warranty
CHECK PRICE

Best Value

Southland SWB163150E

Good Value for Money
Powerful
Lightweight
CHECK PRICE

Patriot Products CBV-2455H

Converts to a Vacuum
Powerful and Efficient
CHECK PRICE

Little Wonder 99170-03-01 C5

Moves Light Snow and Water
Adjustable throttle control
Padded grips
CHECK PRICE
The 5 Best Walk Behind Leaf Blowers – Reviews:
1.

Troy-Bilt TB672 Walk-Behind Leaf Blower – Best Overall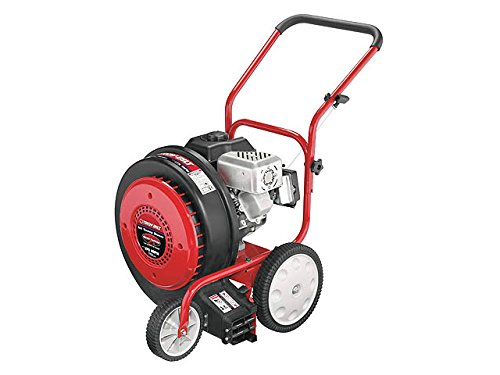 Wheeled blowers are perfect for anyone who has a lot of leaves to blow and hates having to carry a heavy tool around for hours to get rid of them. This Troy-Bilt TB672 model is designed for larger areas and will blow anything from dirt and debris to rotten leaves. It's lightweight yet still powerful, and it has a 208cc motor which is impressive for its size. The rubberized grip makes the handle comfortable and reduces vibration. Thanks to the design of the grips and wheels, it produces only low vibrations—one of the reasons we love it. It operates quickly and efficiently without struggling during the process. So, if you want to be blown away (quite literally!) by a power tool, this TB672 model is your best bet. If you look after your unit and make sure you always fill it up with the right fuel, then you shouldn't have any problems with it. It may even become your new best friend! Be wary about not inserting oil into this machine though. While some leaf blowers won't break when you put a foreign liquid in it, this one will! It's still a quality machine though and has adjustable speeds so that you can regulate the airflow however you like. For these reasons, this is the best walk behind leaf blower on the market this year.
Pros
Easy to Use
Quick and Efficient
Adjustable Speeds
Ideal for Large Surface Areas
Low Vibrations
---
2.

Merry Mac LB1100EZM Leaf Blower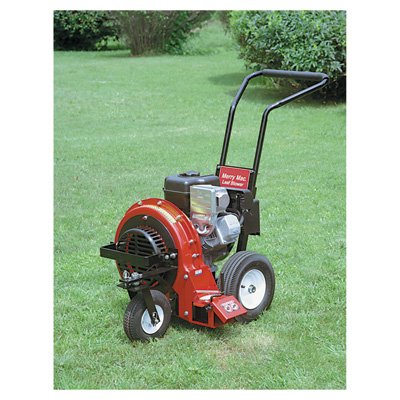 When considering larger motor sizes, the Merry Mac LB1100EZM model wins, coming in at 250cc. Since it's able to start easily and run perfectly too, we recommend this model to anyone looking for a good quality leaf blower. It's lightweight and still very powerful, so there's no need to worry about it struggling to blow away all your leaves. Ideal for anyone, the LB1100EZM is a sturdy model designed to be easily maneuvered. It's also comfortable to push for as long as you need. So many people worry about their leaf blowers breaking down after a few months of excessive use. That won't happen with this model. And if it does, there's a 2-year limited warranty included so that you can send it back to the manufacturer to fix. It is powered by gas, however, so it has a maintenance upkeep which can often come at a price. Though it's lightweight, it isn't the lightest walk behind leaf blower you can get. If you struggle with pushing heavier machines then you may want to look at something lighter in weight.
Pros
Large 250cc Motor Size
Lightweight
2-Year Warranty
Sturdy Design
Cons
Regular Maintenance Required
Lighter Options Available
---
3.

Southland SWB163150E Walk Behind Leaf Blower – Best Value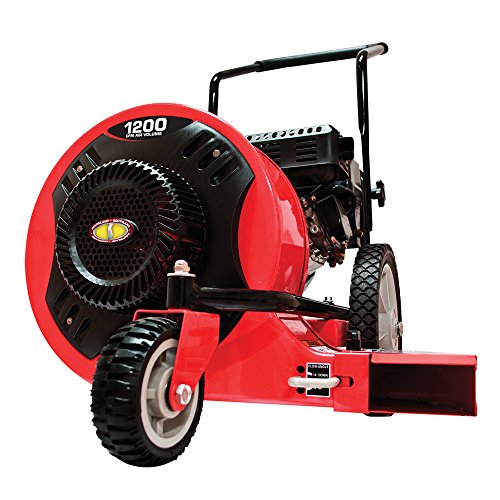 Despite being fuel-efficient and extremely powerful, this Southland SWB163150E model is the best value leaf blower for the money. It moves your leaves in no time and can quickly clean any driveway or lawn without issues. The amount of power it produces definitely beats any backpack blower. Plus you can walk it along the ground rather than lugging it on your back. It's a great cost-effective way to clean your garden that won't break your bank. For homeowners and hobbyists in the industry, it's a great starter leaf blower. It's affordable yet still does a very good job. You won't be able to tell the difference between this model and a more expensive option when your garden is sparkling clean. Since it's less expensive than other models, however, this Southland SWB163150E does have some flaws. According to users, the handles tear easily so it's important to take care when you're using them, especially if you're heavy-handed. It's also poorly designed and would work better if the wheel at the front was more stable. Despite these flaws, it's still a quality machine that any beginner would love to try out.
Pros
Good Value for Money
Powerful
Lightweight
Cons
Poorly Designed
Fragile Handles
Less Warranty Available
---
4.

Patriot Products CBV-2455H Blower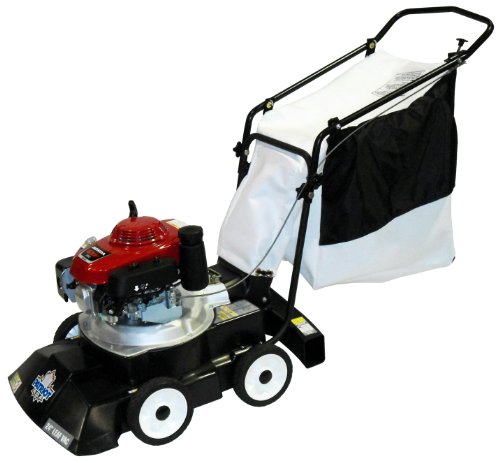 This Patriot Products CBV-2455H model can effortlessly blow away all of the leaves on your lawn, even if they're wet and don't want to go anywhere. A really good feature with this model is its ability to easily convert from a vacuum to a blower. By flipping the handle, you can chip up branches into small pieces with ease! However, it's a lot pricier than other options available. This might be due to the fact that it has extra features that other walk behind leaf blowers don't have. It's also a lot heavier than other models, weighing over 180 pounds—for something you push, this is quite burdensome. It's also gas-powered which means it requires regular maintenance to ensure long-lasting functionality. Another huge downfall to this Patriot Products CBV-2455H model is that it isn't self-propelled; you'll have to put a lot of effort into moving it. There have also been issues with the warranty—not good if you need to send it back due to manufacturing errors.
Pros
Converts to a Vacuum
Powerful and Efficient
Cons
Not Self-Propelled
Requires Regular Maintenance
Heavy
Expensive
---
5.

Little Wonder 99170-03-01 C5 Leaf-Blower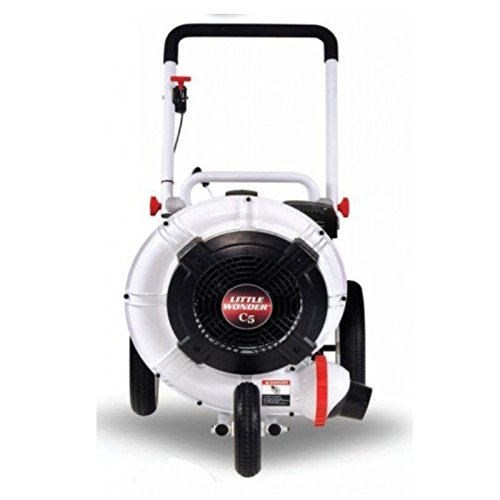 Despite having an adjustable throttle control and padded grips, this Little Wonder 99170-03-01 isn't the best model to choose from. One of the only advantages that this model boasts is that it can move light snow and water as well as leaves. This can be beneficial if you want to clean more than just leaves from your yard. But generally, it isn't a good product to buy. Its engine is only 170cc and, for the size of the product, it's heavy too. The main problem with this walk behind leaf blower is that it's not self-propelled. This can cause major problems for older people, or those with limited strength, as it's hard to push when the blower is noisy and vibrating. Also, the foam grip on this model easily breaks when you're performing hard-core jobs such as leaf blowing. Overall, we recommend trying this model if you've never had one before. But it will likely leave you with a bad impression of what leaf blowers are like.
Pros
Moves Light Snow and Water
Cons
Fragile Foam Grips
Low-Powered Engine
Heavy
Bad Quality
Not Self-Propelled
---
Buyer's Guide – How to Purchase the Best Walk Behind Leaf Blower
Before you go ahead and purchase your walk behind leaf blower you should think about several things. Researching is essential to the process of buying a leaf blower, and it's necessary you know everything you can to buy one that's best suited to your needs. We've put together a list of some tips that you might want to think about before you purchase your new toy!
•    The popular brands don't always mean the best quality product
This goes without saying for almost anything in life, but it's especially true when it comes to power tools. There are so many beginners out there who may buy a certain product because of the brand name printed on it. This is something you definitely shouldn't do. The most popular brands sometimes release tools that aren't good. Check out the customer reviews for a product before you buy it—they may change your opinion on it completely!
•    Vibrations and noise do matter
Typically, the level of noise a machine makes isn't a major problem. Leaf blowers are an exception. The vibrations should be low if you intend to use it for longer periods. Otherwise, you may hurt yourself. Noise is also important because, despite being able to use ear covers, you don't want to hear a constant loud humming noise. We recommend trying to find a leaf blower that is both quiet and has low vibrations.
•    Emission-free is the future
This isn't the most important feature for your leaf blower to have as it doesn't affect its quality, but it is good for the environment. Having a leaf blower that produces fewer emissions means you're helping to reduce pollution. If you want to reduce your carbon footprint, aim for electrical and battery-operated models.
Important Things to Consider Before Buying
Everyone wants to buy a new tool as soon as they get the idea to purchase it. Yet sometimes you need to consider certain aspects of the machinery you're buying in order to make sure that you're getting something you actually need. We're all victims of purchasing something we never use or can't work for ourselves!
•    Storage space
Some walk behind leaf blowers are huge and take up a lot of room. Before you jump straight in and buy one, think about where you're going to store it. During the summer or winter months, you probably won't use the leaf blower as much as you will in the spring and fall. We recommend making sure you have a garage or shed to put it in.
•    How often you'll use it
If you're not going to use the leaf blower more than 5 times a year, we suggest that you stick to raking up all the leaves and dirt. It's not worth your time or money to purchase a leaf blower when you won't make use out of it. Consider how often you'll use your tool and divide it by the price. How much will it cost to blow your leaves? It's worth taking the time to crunch the numbers if you want to save money and not waste it on things that aren't necessary.
•    Value and price
Why pay more for a product you can get at a cheaper or similar price? Weigh the pros and cons of each model you're thinking of buying and then also consider the price. You may not want to go for the cheapest option, but sometimes opting for the most expensive isn't the best choice either. There are plenty of great value models that will save you a lot of cash when it comes to purchasing a leaf blower. Do some research and look up customer reviews if you're excited to find out more.

Conclusion
Despite a lot of competition in the leaf blowing industry, there's a clear winner in this list of walk behinds. The Troy-Bilt TB672 model has a lot of added features and it also covers large surface areas. It's affordable and sturdy, so you won't have to worry about getting yourself a new leaf blower after a short period of use. It should last a long time! However, the Southland SWB163150E model, lightweight and powerful, represents the best value leaf blower for the money. Budget walk behind leaf blowers can sometimes be great quality and last a long time in your toolshed.
We hope this list of reviews for walk-behind leaf blowers has made it easier for you to navigate your way around the jungle of models available on the market. It can be difficult to choose a leaf blower that's perfect for your needs. Knowing what to look for makes the task a lot simpler!
Other leaf blower posts: