DeWalt DCBL720P1 XR Brushless Blower Review 2023 – Pros, Cons, & Verdict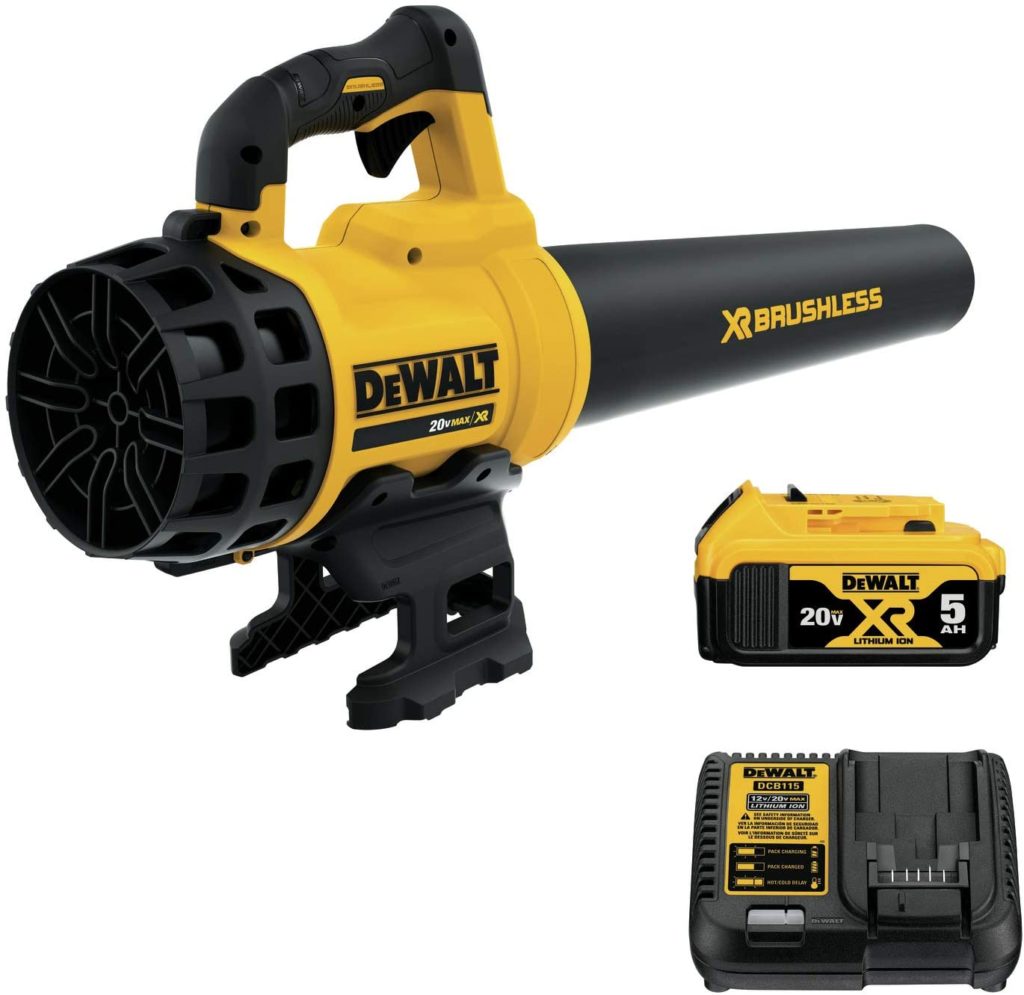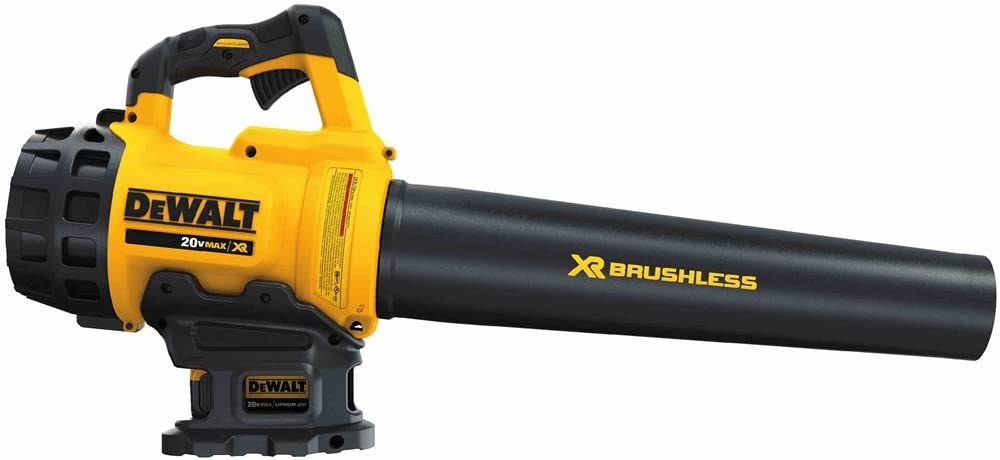 We give the DeWalt DCBL720P1 XR Brushless Blower a rating of 4.6 out of 5 stars. 
Build Quality: 4.8/5
Power: 5/5
Features: 4/5
Price: 4.5/5
Review Summary
The DeWalt company is a brand well known for making powerful and durable tools, and they are leaders in brushless motors and lithium-ion battery technology. The DCBL720P1 is a powerful leaf blower that will appeal to anyone who is tired of purchasing leaf blowers that don't live up to their claims. This machine has enough power to move large piles of leaves and clean the dirt from your driveway. It's powerful enough for commercial use but is priced for a consumer.
DeWalt DCBL720P1 – A Quick Look
Pros
Brushless motor
Axial fan
Moves 400 cubic feet per minute (CFM)
Creates 90 miles per hour wind (MPH)
Variable speed trigger with locking mechanism
20-volt battery
Environmentally friendly
Easy to start
Long battery life
Cons
Heavy — 7 pounds
No accessories
Pulls in clothing
Specifications
Specifications
Brand Name: DeWalt
Model: DCBL720P1
Weight: 9.7 pounds
Batteries Required: 1 20-volt lithium-ion battery
Maximum Speed: 90 MPH
Air Movement: 400 CFM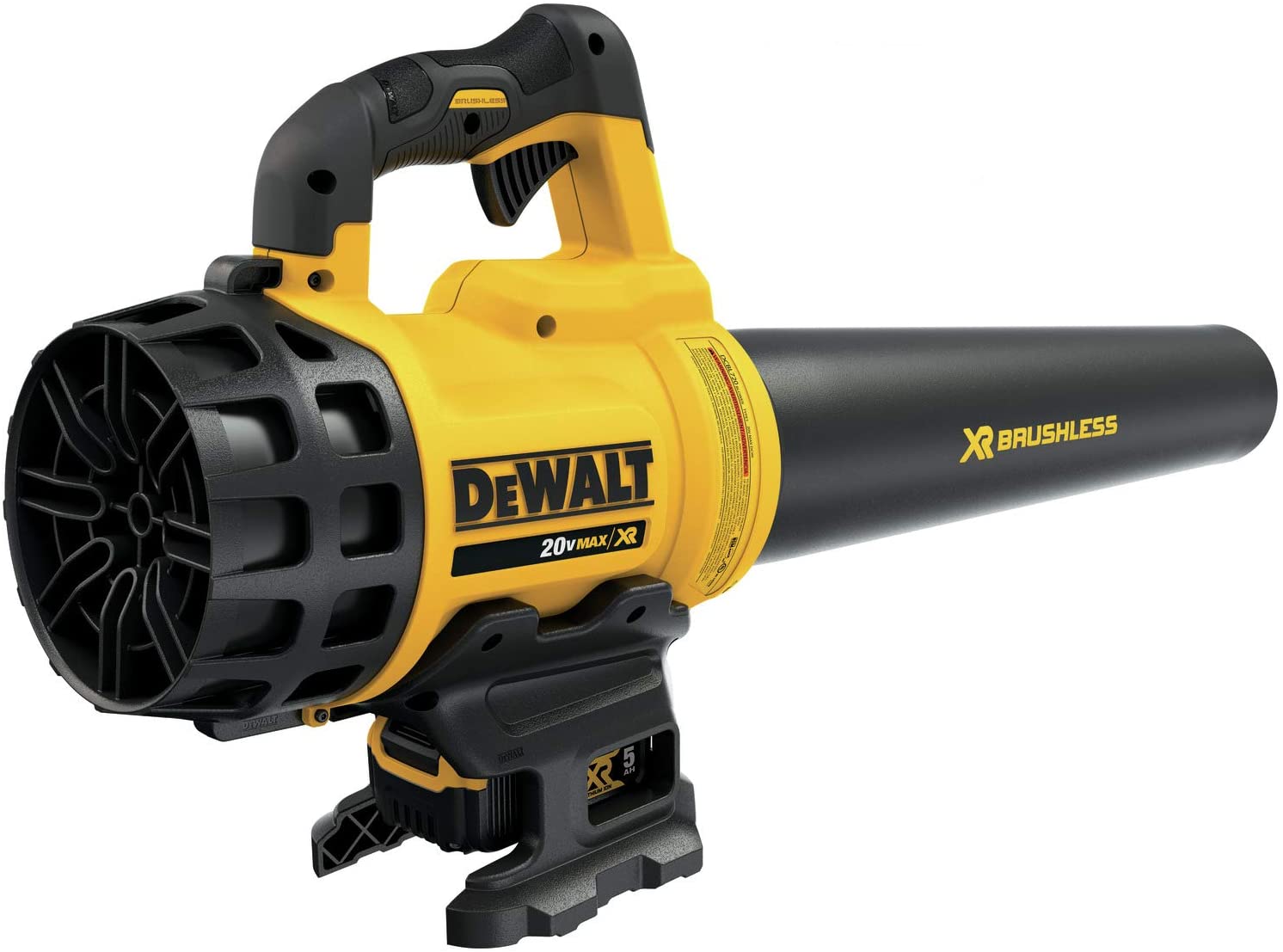 Axial Fan
The powerful axial fan is what creates 400 CFU and 90 MPH. DeWalt designed it to move more air than competing models, and the housing maximizes air throughput, so there is plenty available for the fan to use. It compresses the air slightly as it makes its way to the 3-inch opening to get the pressure required to move leaves and dirt.
Brushless Motor
A brushless motor is a special design that eliminates the brushes found in traditional electric motors. These brushes create friction, which heats the engine, and slows it down. The friction also wears down the brushes, so you will need to replace them if they get too bad and it requires more power, which will kill batteries.
Brushless motors run much cooler, and you will notice they have more torque and last much longer on a single charge.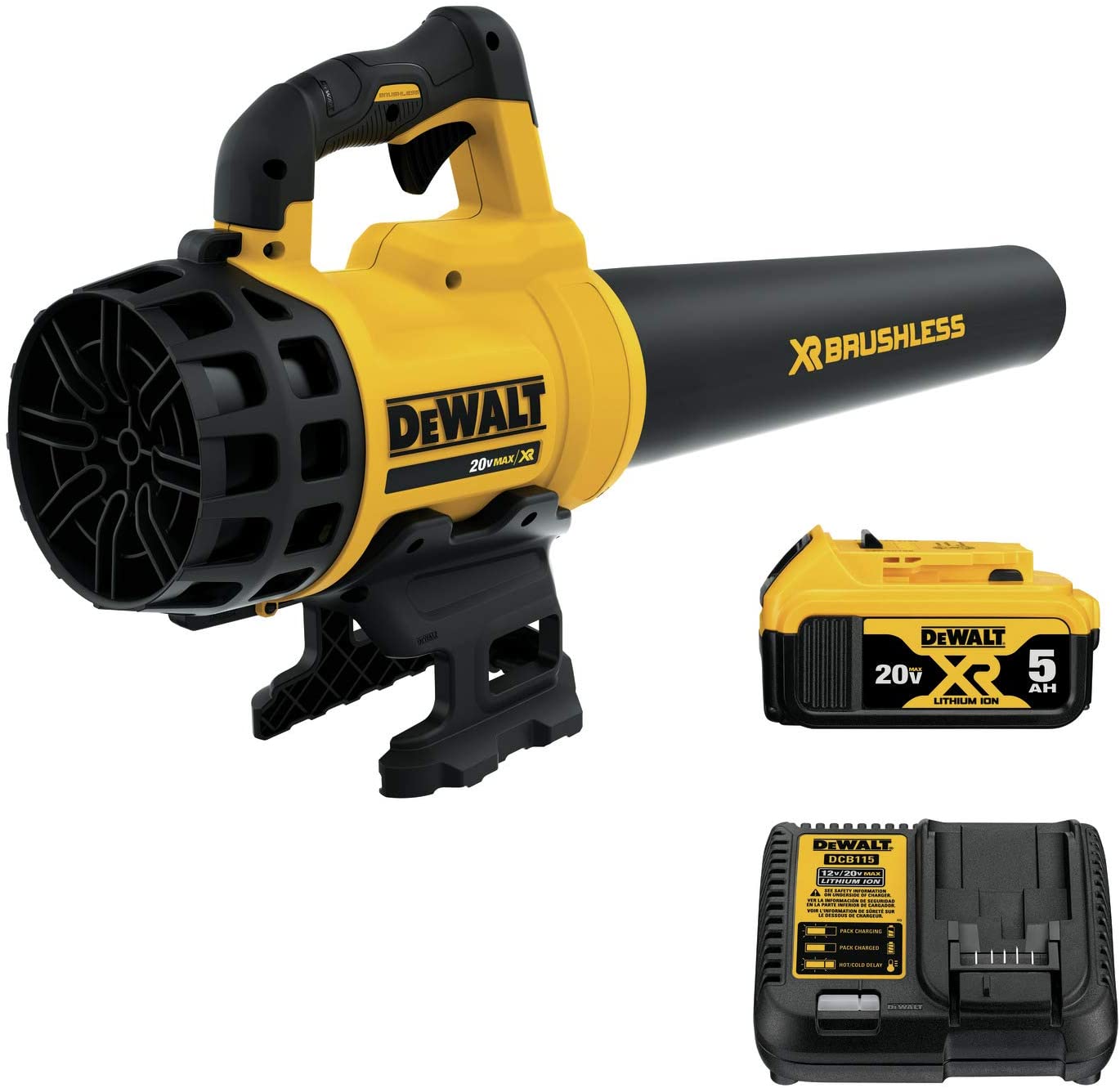 Includes the Battery and Charger
It's always important to make sure the tool you purchase comes with a battery if it requires one. These items often cost as much as the tool itself. The DeWalt DCBL720P1 includes the battery and the charger so you can get started immediately, and it also makes a great first tool for an entire battery-powered set of tools that all use the same battery.
Pulls Clothes
One thing you should know about before you purchase the DeWalt DCBL720P1 is that if you use it wearing any kind of loose-fitting clothing, the powerful fan will suck the clothes into the machine. It doesn't hurt anything, but it is annoying because you have to keep pulling it out. Getting your shirt stuck will also reduce your airflow, and the only way to prevent it from happening is to hold it away from the body, which causes the machine to get heavy quickly.

FAQ
Is the fan plastic or metal?
The axial fan is a hardened polymer.
What is the length of this tool?
It's 31.5-inches long from the exhaust fan to the tip.
Is this battery the same one used by other DeWalt tools?
Yes, you can use any 18 or 20-volt DeWalt battery to power all of DeWalt's Lithium-Ion line. All DeWalt batteries are 18-volt; the 20-volt refers to the battery's peak output.
What's the best way to store the DeWalt DCBL720P1?
You can store the DeWalt DCBL720P1 by placing it on the fan guard with the tip pointing up.
Is the tapered tube removable?
The tapered tube is not removable to maximize wind throughput.
Is the speed variable from soft to strong?
Yes, you can use the variable speed trigger to adjust the speed in real-time as you work, or you can use a convenient side slider to override the trigger to set the desired speed and lock it in place.
What the Users Say
We looked over the internet to find other people that own the DeWalt DCBL720P1 to see what they have to say, and these are some of the things we found out.
Most people are pleasantly surprised by how much power the DeWalt DCBL720P1 has.
Most people have no problem removing their yard of debris.
Most people find it easy to use.
Many people say they have battery life leftover, while a few complained the batteries died quickly.
Many people like the portability this blower provides.
Some people complained that the machine is heavy.
Some people commented that it is too loud.
A few people complained that the tube is too long.
A few people complained that the tube is too wide for precise blowing.
A few people complained there were no attachments or accessories included.

Conclusion
We hope you have enjoyed reading over our review of the DeWalt DCBL720P1 and have found it helpful. We highly recommend it because it does a great job, and it's difficult to find a more powerful blower without resorting to gasoline and harming the environment. If you think it can be helpful to others, please share our review of the DeWalt DCBL720P1 on Facebook and Twitter.
Related Reads: