6 Best 4-Person Hot Tubs in 2023 — Reviews & Top Picks
Hot tubs offer many benefits, and it is always nice to include friends and family. A 4-person hot tub is ideal for a small gathering while remaining a more affordable option that takes up less space. The first portable hydrotherapy pump was invented by the Jacuzzi brothers in 1956, and from then on, there have been great advances to the quality and features of the hot tub.
Have you thought about what type of hot tub you want? This reviews list features traditional and inflatable 4 person hot tubs that cater to different budgets and lifestyles. This list offers the advantages and disadvantages of each hot tub so you can make an informed decision about the one that is right for you.
The buyer's guide at the end of the article offers further considerations to keep in mind before you make that final decision.

A Quick Comparison of Our Favorites in 2023
Rating
Image
Product
Details

Best Overall

LIFE SMART

Deep bucket seats
RockSolid shell
Full foam insulation
CHECK PRICE

Best Value

Bestway

Portable
Durable construction
Garden hose adapter for draining
CHECK PRICE

Premium Choice

Essential Hot Tubs

Contour seating
Heavy-duty cover
Fully insulated
CHECK PRICE

Coleman

Cover with safety locks
Easy to set up
Pump included
CHECK PRICE

Hudson Bay

Insulated well
Deep bucket seats
Stainless-steel jets
CHECK PRICE
The 6 Best 4-Person Hot Tubs
1.

LIFE SMART FF-SMPLCTY Plug & Play Square Hot Tub — Best Overall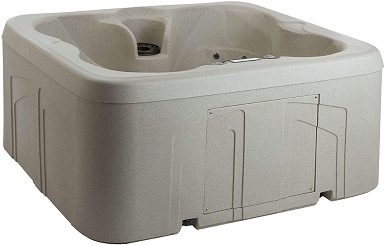 Our pick for the best 4 person hot tub, the Life Smart Hot Tub, has a 4-person seating capacity and holds up to 195 gallons of water. It is ideal for indoor or outdoor use. There are 13 jets with a digital topside thermostat to adjust the water temperature for added convenience. It features an interchangeable mood cap lens of either blue or red for the spa light.
This is a well-built hot tub made from a durable RockSolid shell with a feature called Plug & Play. This means that the tub has a 110-volt plug that can be used with a regular 120-volt outlet, which means there's no need to convert your outlet to a 240 volt. The downside to this is there is a higher chance of tripping your circuit breaker if it is not dedicated solely to the hot tub.
On the upside, the full foam insulation system, eco thermoplastic, and spa cover are designed to save energy. We like the deep bucket seats with jets at the back, and the topside comfort valves that can be adjusted for optimal comfort.
Pros
Deep bucket seats
RockSolid shell
Plug & Play
Full foam insulation
Eco thermoplastic
Lockable spa cover
Adjustable valves
Topside thermostat
Cons
Chance of overloading circuit
---
2.

Bestway 54124E Hot Tub — Best Value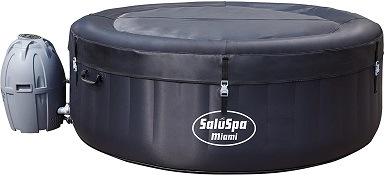 The best 4-person hot tub for the money is the Bestway because it offers many great features and is an affordable option. This tub is inflatable, which makes it an option to take the fun wherever you go, though not everyone wants an inflatable hot tub, which is why it sits at number two on the list.
The walls are made of drop stitch material that is supported by thousands of interwoven fine threads to keep the spa rigid, sturdy, and durable. Another great feature is the Freeze Shield sensors that prevent water from freezing and damaging the inner workings. The bubbles are released from the bottom of the tub and create an effervescent effect that is soothing and comfortable. The Bestway is almost six feet in diameter and 26 inches deep.
We like that you can control the temperature and the massage jets while remaining in the hot tub. Keep in mind that it can take up to 24 hours to heat the water in the pool, so you will want to plan ahead of time. Setup is easy with the included pump, and no tools are needed. The garden hose adapter makes it easy to drain the tub, and it also comes with a cover to help keep it clean and warm when not in use.
Pros
Affordable
Portable
Durable construction
Sturdy and rigid
Pump included
Able to control when in the tub
Easy setup
Garden hose adapter for draining
Cover included
Cons
Slow to heat initial water
Shallow depth
---
3.

Essential Hot Tubs 14-Jet Newport Hot Tub — Premium Choice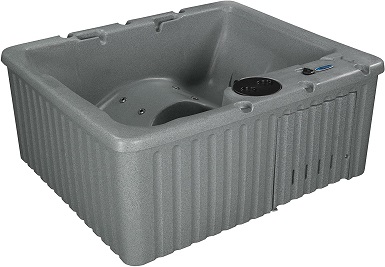 Essential Hot Tubs offers a 3- to 4-person spa that has contour-style seating with three therapy seats. It is a pricey option, which is why it is number three on our list. You control the jets, water temperature, and lighting from a digital display located on the hot tub. The jets offer a high amount of power to ease sore muscles after a long day of work or play.
When you fill it up for the first time with cold water, it will take approximately 15 hours to heat up. The insulated heavy-duty cover features locking clips that keep it secure. The plug will fit a standard 120V/15A household outlet, but make sure that you are not using anything else on that circuit. We like that it is made from granite resin that is fully insulated to help retain heat, and the stainless-steel jets are powered by a two horsepower, two-speed pump that increases the efficiency of the hot tub.
Pros
Contour seating
Heavy-duty cover
Can use a standard outlet
Fully insulated
Efficient
Cons
Pricey
Chance of overloading circuit
---
4.

Coleman Portable Spa Inflatable 4-Person Hot Tub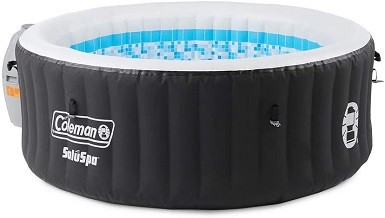 Another inflatable option on our list is the Coleman Portable Hot Tub that has TriTech three-ply inflated walls for extra durability and strength, and it is an affordable option for those who are on a budget. It comes with a cover that has safety locks so you can clip it in place. The handles on two sides make easy work of moving the tub when empty. It comes with a pump to inflate and run the air-jets, two filter cartridges, a repair patch, and one chemical floater.
This 4 person hot tub holds 192 gallons of water and measures 71 x 71 x 26 inches. It can hold up to four people, but if they are adults, two to three people are more comfortable. You can adjust the heat from 40 to 100 degrees Fahrenheit, and it will take at least a day to heat the water for use. On the downside, it doesn't maintain the water temperature that well, and many have reported that the wall bulges within three months of use. However, there is a one-year warranty.
Pros
Affordable
Durable
Cover with safety locks
Easy to set up
Pump included
Accessories included
One-year warrant
Cons
Doesn't maintain heat as well
Walls lose strength over time
---
5.

Hudson Bay Spas 4 Person 14 Jet Spa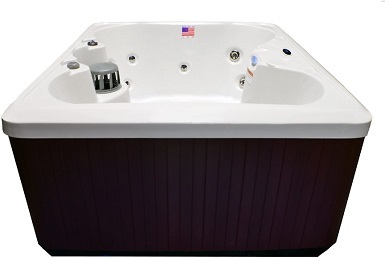 This 4 person hot tub offers many nice cosmetic features that are pleasing to the eye. It has a white acrylic interior with mocha cabinets on the outside. The high-density foam and multi-layer fiberglass help with insulation, and the seating have deep buckets with varying stainless-steel jets at each one. The cabinetry is synthetic, and the base frame is pressure treated for extra durability.
The Hudson Bay holds 195 gallons of water and can be plugged into a standard 110V/20A outlet. It has a GFCI cord, but you will want to make sure that you do not apply too much load to one circuit. The safety cover locks and the LED lights can change to seven different colors. We like that it is plumbed with anti-fungicide tubing, and the digital controls are easy to use. On the downside, some have reported problems with leaking over time, but there is a limited warranty.
Pros
Cosmetic features
Insulated well
Deep bucket seats
Stainless-steel jets
Durable frame
LED lights
Anti-fungicide tubing
Cons
Chance of overloading circuit
Concerns with leaking
---
6.

Intex PureSpa Outdoor 4 Person Hot Tub
This inflatable 4 person hot tub by Intex is somewhat more expensive than other inflatable tubs but still in the affordable range. It is powered by 120 jets and features Fiber-Tech construction for superior structural stability. Another great feature is the built-in hard water system to soften the water so your skin remains soft even after soaking for a long time.
The control panel is easy to use, and you can set up this hot tub in about 20 minutes, though you have to wait overnight to heat the water to a comfortable level. It comes with many accessories that include a filter cartridge, built-in pump, water test strips, chlorine dispenser, ground cloth, cover, thermal ground cloth, and a carry bag.
We like that it holds 210 gallons of water and is a little larger than other inflatable tubs, with a height of 28 inches and a width of 75 inches. The water temperature ranges are 68 to 104 degrees, but it doesn't maintain the 104 degrees very well. Also, many have reported that they have issues with the tub remaining inflated and having to add more air daily.
Pros
Affordable
120 jets along the bottom
Fiber-Tech construction
Built-in hard water system
Comes with many accessories
Holds 210 gallons of water
Large in size for inflatable
Cons
Issues with maintaining inflation
Will not maintain high temperatures

Buyer's Guide – Finding the Best 4-Person Hot Tub
You know that you want to buy a hot tub, but you aren't sure exactly which features are the most ideal for your situation. This buyer's guide will help you discern the differences in features so you can decide what is important for you when you make your final decision.
Considerations
Budget
The budget is listed first because you need to know how much you can spend on a hot tub. If you don't have a large budget, you may want to consider an inflatable spa. These can be a great option because some offer many great features at an affordable price. Don't skimp on quality, though, if you are opting for a traditional hot tub, as you don't want to deal with a low-budget tub that requires continuous maintenance to keep it running.
Inflatable vs. Traditional Hot Tub
The biggest difference is the cost and longevity. If you want a hot tub that will last for many years, then you may want to save for a traditional tub. The inflatable tubs are nice because they are portable and easy to set up, but they are smaller and don't have the jet and heating capabilities compared to traditional tubs.
Jets
One of the main reasons to buy a hot tub is because of the jets. They can ease the pain of achy muscles and help reduce stress even further. Not every tub will provide the same power to their jets, and some models offer jets that can be angled. Inflatable tubs provide more of an effervescent effect instead of jet power.
Ease of Use
This pertains not just to daily use but also installation and maintenance. There is a different maintenance requirement for the inflatable tub compared to a traditional one — each has advantages and disadvantages. Don't forget about your power source, since some will require a 220V outlet. Keep in mind that even if you can use a standard 110V outlet, you have to be careful not to overload that circuit, so it is recommended you not use anything else with that particular circuit.
Each system will have different filtration systems, but they all require regular cleaning and maintenance to prevent germs from becoming abundant. You may find that some also offer water softener capabilities, which is a great feature if you have hard water in your area.
Think about how easy it is to set up — and take down, if you have an inflatable tub. You may have to hire someone to install a traditional tub if it is complicated or time consuming. Inflatable tubs have the risk of getting punctured or torn, so keeping a repair kit on hand will turn a potential disaster into something that can be handled.
Capacity
This review list focuses on 4-person hot tubs, though it does depend upon how large (and tall) each person is. You want everyone to be comfortable and relaxed when sitting in your hot tub, so don't expect a 4-person tub to fit everyone if some people prefer more personal space.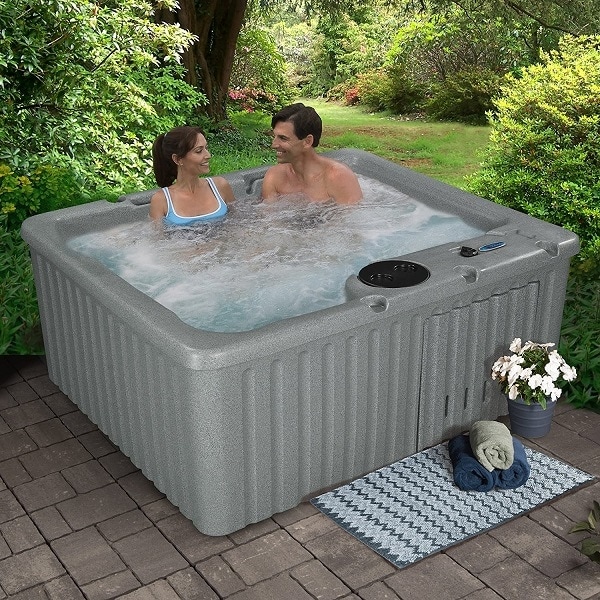 Controls
The best hot tubs have controls that are easy to access, as the last thing you want to do is get out of the warm tub to adjust the jets or temperature. There are hot tubs that have LED lights and waterfalls, so having the controls at arm's reach is a positive feature.
Accessories
A hot tub that comes with a cover will help keep the water warm and clean. With the inflatable versions, you may get filters and other accessories that make using it easier. You will definitely want one that comes with a pump that is dependable, can heat the water in a reasonable amount of time, and keep the water at the temperature you prefer.
Tips to remember before your hot tub purchase:
Make sure your flooring supports the weight and temperature of the tub.
Know if it can be used during all four seasons.
Know how easy is it to store when not in use (inflatable versions).
Know how much water it will take to fill and how easy it is to fill and drain.
Don't fill past the waterline; otherwise, it may overflow once everyone is in the tub.
If using an inflatable tub on the ground, make sure the ground is relatively flat and smooth so you don't puncture the tub or have an uncomfortable sitting area.

Conclusion
Hot tubs not only come in many sizes and shapes, but they are also made from a variety of materials. Once you realize how many are on the market, it can be overwhelming and frustrating to choose one. We created this reviews list to help you find the perfect hot tub.
Our top choice for the best 4 person hot tub is the Life Smart Hot Tub, which features 13 jets, deep bucket seats, and durable construction and is fast and easy to set up. The most affordable option is the Bestway Inflatable Hot Tub, which is made from a sturdy and puncture-proof material that won't lose its shape and is easy to use and maintain. Our premium choice on our list of the best 4 person hot tubs is the Essential Hot Tub, which is a great option if the price isn't a concern because it has many great features that make it durable and easy to maintain and use.
We hope that you find the right hot tub that fits your expectations and budget. If you take time to research and learn about the pros and cons of each tub, we know that you will find something enjoyable and relaxing.