6 Best 60-Gallon Air Compressors of 2023 – Reviews & Buyer's Guide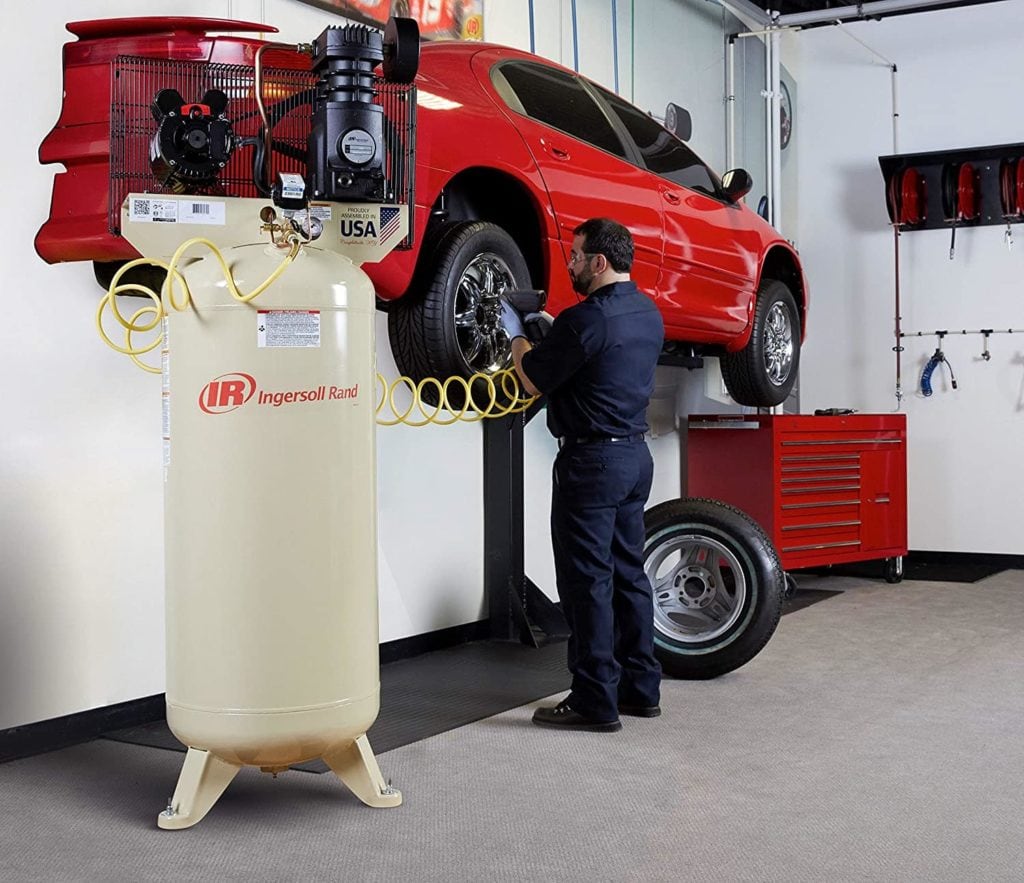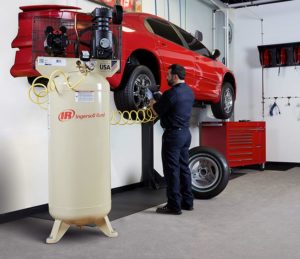 Many of our most often used tools are useless without an air compressor behind them. Although it's the tool that gets the job done, the power behind it is dependent on a well-working compressor. Like anything else, however, they don't last forever. The time will come when it needs to be replaced.
This is where you can run into an even bigger problem, though. In a simpler world, there would be one air compressor that was powerful, easy to use, and also affordable. Of course, in that world power tools would work by themselves while you watched ESPN. If you're reading this article, you get where we are going with this. Who has time to search through product listings trying to figure out which air compressor is the best?
Well, we do. We went head and reviewed countless compressors and have narrowed it down to the top six. Below, you will find details on each one in regards to performance, horsepower, voltage, and more. For those wanting more details, we also shared a buyer's guide about finding a good air compressor for your needs.
A Quick Comparison of Our Favorites
Rating
Image
Product
Details

Best Overall

Quincy QT-54 Splash Lubricated Air Compressor

One phase
Runs cool
Thermal overload and low oil warning
CHECK PRICE

Best Value

SS5 5HP 60 Gallon Single Stage Air Compressor

Single-stage
Quiet
Oil sight gauge
CHECK PRICE

Premium Choice

California Air Tools CAT-60040CAD 60-Gal Compressor

Quiet (75 dB)
Oil-free motor
Cold-start
CHECK PRICE

Industrial Air ILA3606056 60-Gallon Twin Cylinder Air Compressor

Cast iron flywheel
Easy maintenance system
Cost-efficient to run
CHECK PRICE

Campbell Hausfeld XC602100 60-gallon Air Compressor

Quick recovery time
Durable cast iron construction
Runs cool
CHECK PRICE
The 6 Best 60 Gallon Air Compressors – Reviews 2023
1.

Quincy QT-54 Splash Lubricated Air Compressor – Best Overall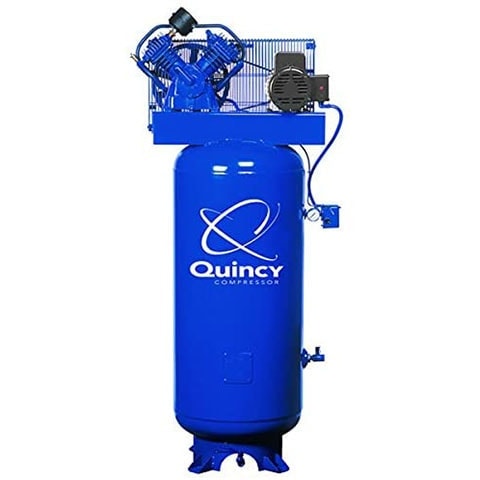 For those who prefer to cut right to the chase, our top recommendation is the Quincy QT-54 Splash Lubricated Air Compressor. This is a 5-horsepower (HP), 230-volt, 1-phase, 60-gallon option. Made in the USA, it has industrial power within a capacitor start motor with a built-in thermal overload warning system.
You will find the Quincy air compressor has less than 5 parts per million (PPM) oil carryover. It also has between 145 and 175 working pressure per square inch (PSI). This makes for a powerful and effective tool accessory. This pump has 1,310 rotations per minute (RPM) also making this option a cost-efficient compressor to run.
With a 30,000-hour lifespan, you will find the tank to be long-lasting. Using 24 amps, a manual drain system, and a vertical tank, it is easy to use. The stationary tank has low oil protection, plus a ½-inch air outlet size. Finally, this option uses a single motor phase, however, it can be a bit loud. Overall, though, this is our favorite pick for a 60-gallon air compressor.
Pros
One phase
Runs cool
Thermal overload and low oil warning
Long life span
Cost-efficient to run
Manual drain system
Cons
A little louder than others
---
2.

SS5 5HP 60 Gallon Single Stage Air Compressor – Best Value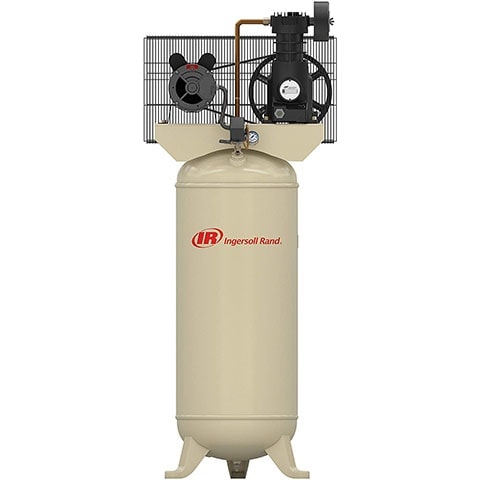 Looking for a more affordable option? The SS5 5HP 60 Gallon Single Stage Air Compressor is our favorite low-cost alternative to our first choice. As expected, this is another 60-gallon tank that is a single-stage, 230-volt system. This option is made with Industrial quality components that are safe for enclosed areas.
This tank has 18.1 cubic feet per minute (CFM) airflow, and 100% continuous duty. SS5 adjusts the air output as it runs, as well. At 90 PSI, you can use this tank for cleaning off your workbench or for heavy-duty projects. It has a ½-inch outlet, extended lifespan, and quiet operation.
This model comes with thermal overload protection and a manual reset. Using 30 amps and 230 volts you can also plug this tool into any household outlet. Unfortunately, the one aspect that keeps this option out of our top spot is that it only lasts for 5,000 hours of use. Other than that, the cast iron construction will ensure that those hours are trouble-free. With the automatic start and stop control, oil sight gauge, and easy to fill oil port, this is the best 60 gallon air compressor for the money.
Pros
Single-stage
Quiet
Oil sight gauge
Auto-start
Adjust airflow
---
3.

California Air Tools 60-Gal Compressor – Premium Choice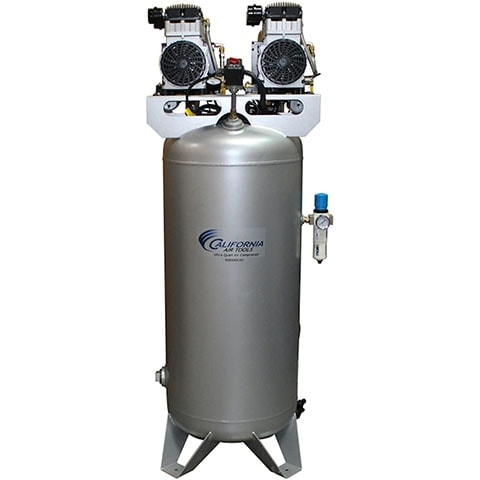 If you are a professional tradesman who relies on an air compressor daily, the California Air Tools CAT-60040CAD 60-Gal Compressor is a model you should consider. This oil-free option has 4 HP and 1680 RPM. The dual motors use 2 HP each making it a quiet option at only 75 decimals (dB). With a steel tank, this is a long-lasting compressor.
The California Air Tools is oil-free making it far less time-consuming to operate and maintain. The 60-gallon tank has 10.60 CFM at 90 PSI and 12.60 CFM at 40 PSI. You will also find this model to have a longer continuous run time, and a dual-piston pump system for great performance and durability. Designed as a vertical tank, it uses 220 volts.
One downside to this option is it's more expensive than the other units mentioned so far. What's more, you will find it only has a 3,000-hour work span. That being said, the 15-amp motor is equipped with a ½-inch connection and can be used in cold temperatures and uneven terrains.
Pros
Quiet (75 dB)
Oil-free motor
Cold-start
Longer continuous run time
Cons
Expensive
Shorter life hours
---
4.

Industrial Air 60-Gallon Twin Cylinder Air Compressor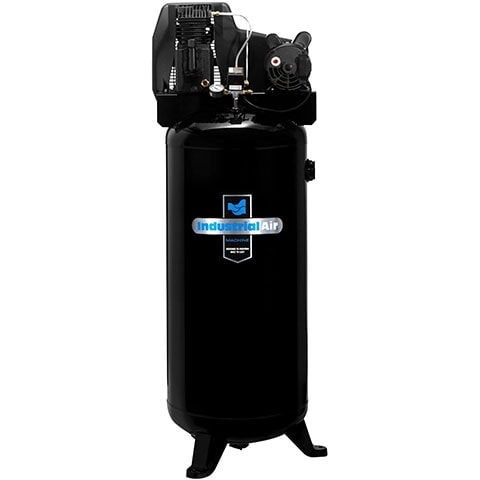 The Industrial Air ILA3606056 60-Gallon Twin Cylinder Air Compressor is a heavy-duty unit made with cast iron and an oil-lubricated pump. It has an oil sight glass with an easy maintenance system due to the accessible oil fill. The 60-gallon tank also has a pressure gauge and an on-off switch.
With 155 PSI, the industrial tank uses 240 volts. It is durable and has 3.7 running horsepower (RHP). This model also has 11.5 standard cubic feet per minute (SCFM) at 90 PSI to deliver maximum power to all of your tools. You will be able to run the compressor without large electric bills, as well.
The twin-cylinder pump has a 12-inch balanced cast iron flywheel. You can use it at either 208 or 240 volts without having to change any wires. Manufactured in the USA, you should note that this option is louder than others, though. What's more, there is no indication of the lifespan of this particular product. It's a vertical tank that has a ½-inch connector, however, you should keep in mind this compressor is more likely to have gasket issues.
Pros
Cast iron flywheel
Easy maintenance system
Cost-efficient to run
Dual voltage without wire change
Cons
Louder
Unsure of lifespan
Prone to blown gaskets
---
5.

Campbell Hausfeld 60-gallon Air Compressor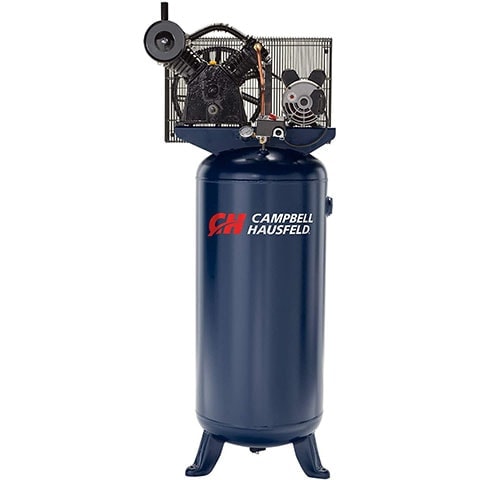 Our second to the last pick is the Campbell Hausfeld XC602100 60-Gallon Air Compressor. This model can be used with the majority of power tools from paint sprayers to grinders. Using 240 volts, you have 3.7 HP available in an induction motor. You also have a maximum of 175 PSI, and 7.6 SCFM at 90 PSI.
The Campbell has a quick recovery time to keep your projects moving along. It has approximately 5,000 hours of life, plus a durable cast iron construction. What's more, it's easy to maintain the tank. This option is also unlikely to overheat as it runs cooler than most. The two-stage pump stands up vertically as not to take up too much space in your workshop, as well. Keep in mind, however, this model can be more expensive to run.
Unfortunately, many customers found this model to be quite loud with a severe vibration. It also does not come with a power cord. At 15.7 amps, it is interesting to note that there is no information regarding the size of the connection. Lastly, while this option can be used on a wide variety of projects, it is more suited for home garages and projects versus industrial or professional use.
Pros
Quick recovery time
Durable cast iron construction
Runs cool
Cons
Expensive to run
No connection-size info
Loud and vibrates
---
6.

DeWalt 60 gallon Two-Stage Air Compressor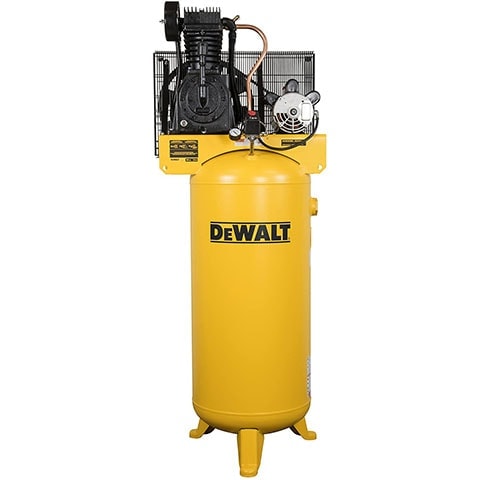 Our final choice is the DeWalt DXCMV5076055 60 Gallon Two-Stage Air Compressor. Another vertical tank, this unit runs on 230 volts with 13.5 SCFM at 175 PSI. It has a cool running pump with thermal overload protection, plus a high-flow receiver. You will also find a pressure gauge and an on-off switch.
The Dewalt compressor can be used at home or transported from job site to job site with the four tie-down holes in the platform. The 5-HP motor, unfortunately, is not the best choice for heavy-duty tools or projects, however. The single-phase motor, while quiet, is typically not strong enough to power tools that require a lot of air force. You should also note that it has a longer recovery time and a shorter life span of around 1,500 hours.
This compressor has an oil level sight glass and drains with a 4-inch extension. Be that as it may, this is not the easiest unit to maintain. It has a ¾-inch outlet that can be limiting, and at 22 amps, you should note that it is more expensive to run. Finally, although this is the only option we have reviewed that can be transported, it is also the heaviest compressor at 400 pounds.
Pros
Cool running motor
Thermal overload protection
Pressure gauge
Cons
Expensive to run
Shorter lifespan
Limiting connection
Difficult maintenance
Heavy to transport
---
Buyer's Guide – Choosing the Best 60 Gallon Air Compressor
An air compressor is a time and labor-saving machine that is useful for the professional contractor and the at-home DIYer. If you fall into the latter category, you may not know too much about the technology that makes this tool efficient. Although the concept of compressed air has been around for more than a hundred years, it has only been the last handful of decades that the technology has grown by leaps and bounds.
In the sections below, we will give you some insight as to how this machine works, why it is essential for craftsman and home project doers alike, and some pro tips on how to find the best unit for you. Not to worry, though, you don't have to be a gearhead to get the most out of the info!
Air Compressor Basics
How Does an Air Compressor Work?
Air compressors use a motor to suck in air which is then held inside a tank until it is needed. Essentially, the unit squeezes or "compresses" the air to the point that it creates a force. Take a can of soda, for example. Before the can is opened, it is very hard. This is due to the amount of pressure inside. If you were to puncture the can, the liquid inside would erupt with force; enough to send the can spinning or skipping across the ground.
An air compressor works very similarly. The pump and motor create pounds of pressure (measured by pressure per square inch PSI) that is delivered to your tool via a hose. With that pressure, it enables your tool to work whether it be to spray out paint or hammer a nail into wood.
Air Compressor Lingo
It is important to know the basic lingo for an air compressor if you want to get the most out of this machine. With a few key terms, you will know the basics of not only how it works, but what you should be looking for in a unit.
PSI: The PSI Is the maximum air pressure that the compressor can accommodate. Standing for pressure per square inch, this is what determines the amount of power you can utilize. The more pressure there is, the more force your tool will have.
Duty Cycle: The duty cycle happens when the compressor is gathering the air and squeezing it. When the tank reaches the maximum pressure (PSI), the duty cycle is complete. This is important as it pertains to how long you will have to wait for the compressor to recover. This is typically given in percentages. For example, if you have a 50% duty cycle, your unit will need 30 minutes to recover per hour.
CFM: This is where a lot of novice users can become confused. Not to be mistaken for the PSI or duty cycle, the CFM (cubic feet per minute) is the volume of air the compressor can create. This is important as it will determine how long you can use your tool.
Single Stage: To explain this term, we need to get a bit more technical. In general, the air is pressurized by a system of pumping pistons. In a single-stage (sometimes called phase) compressor, the air is compressed in a single stroke of the piston. There are also two-stage systems where the air is gathered in a double stroke which means the air will have more force.
CFM versus SCFM: This is another area that can be confusing, though it's simple when you are in the know. As mentioned, CFM is the volume of air the compressor can create. SCFM (or standard cubic feet per minute), on the other hand, is the volume of air a tool needs to work. Although you may see SCFM used to describe an air compressor, it is typically used on power tools to indicate the amount CFM the air compressor will need to have (we will discuss this more later).
What Type of Air Compressor Is Right For Me?
This is another common question we thought deserved its own section because there a few details you need to know before you can answer it. First, we will start where we left off with CFM versus SCFM.
Your Power Tools
Probably the most important question to answer when looking for an air compressor is what tools you are currently using. As we mentioned above, each tool that requires a compressor will have an SCFM recommendation. You want to compare this to the CFM on the unit to make sure it is the same or greater.
While that part is simple enough, there are a few other components you want to consider, as well. For example, we recommend going with a slightly higher CFM. This will ensure that you can upgrade your tools without having to replace your compressor. The general rule of thumb is to multiple by 1.5. So, if you have three tools that all have different SCFM, you want to locate the highest number and multiple it by 1.5.
Where it can get tricky is if you want to run more than one power tool at a time. In that case, you will need to get the total SCFM of the tools than multiple by 1.5. For example, a paint sprayer with a 9 SCFM and a grinder with a 4 SCFM will need a 19.5 CFM air compressor if you want to operate them simultaneously.
Your Projects
As you are reading this particular article, it is clear you are interested in a 60-gallon unit. As luck would have it, the 60-gallon can be used by DIYers or professional contractors depending on a few of the finer details; and as they say, the magic is in the details.
How Often Will It Be Used?
First off, you want to consider your duty cycle. If you plan to use the compressor regularly (at least a few times per week) you want to go for a model that is 50/50. If you are going to be using it more often or even daily, you should shoot for higher. Occasional use can have a lower duty-cycle.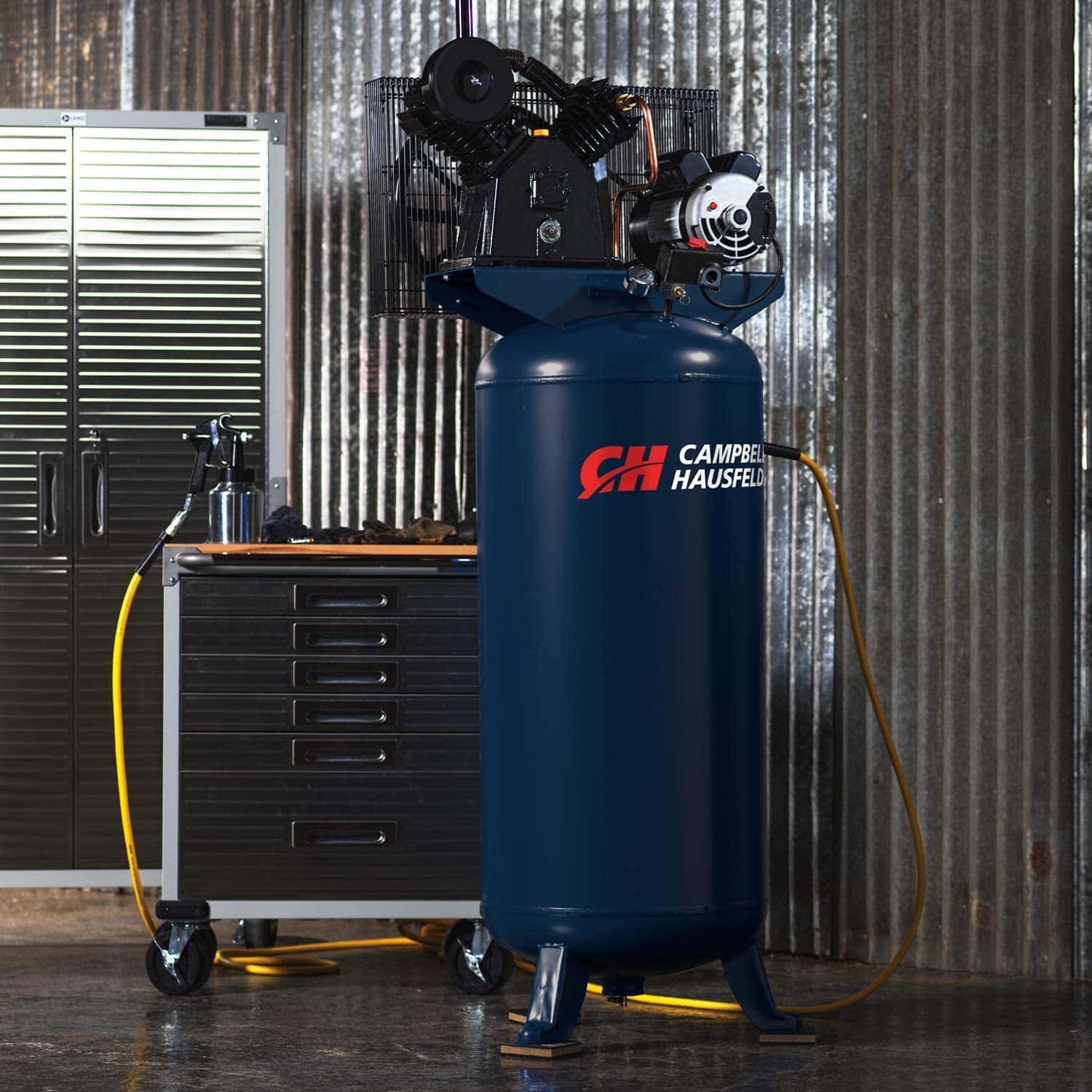 When Will It Be Used?
Secondly, you want to determine where the compressor will be used as it will help you decide on a single or two-stage unit. Typically, single-phase options are good for the occasional and "few times a week" users. They are great in workshops, for doing building maintenance, and other jobs where they are needed, but not constantly.
That being said, if you use your air compressor consistently, you want to opt for a two-stage. It will not only give you more power, but it also has a quicker recovery time and longer continuous use capacity. This is a better option for jobsites, garages, and other professional uses.
Where Will It Be Used?
This question is important for choosing aspects such as voltage, weight, and overall size. A typical 60 gallon air compressor uses 240 volts. You will need to have an outlet that can accommodate this voltage along with the amps.
As we mentioned with our final pick, some of these units can be heavy, so you need to determine whether you will be transporting it from place to place. For the most part, 60-gallon compressors are stationary, but not all. When it comes to weight, you want to ensure the location of your shop can bear the burden, as well.
Similarly, you want to consider a vertical or horizontal tank. While most tanks are vertical to take up less room, there are horizontal options available, too. Keep in mind, they are often industrial-grade models, however.
Pro Shopping Tips
Once you figure out all the details of your air compressor, you can look at some of the finer points. These are the features of the tool that the pros rely on to give them the best performance, power, and versatility in their unit.
Noise Level: The dB rating can make a big difference when you are on the job or working at home. An annoyingly loud or vibrating compressor is a nuisance you don't want to deal with. Most compressors will have a decimal rating you can check. You want to shoot for 75 dB or lower if possible. Also, oil-free options are usually on the quieter side.
Oil-Free: Speaking of oil-free…This fairly new technology allows for not only less noise but reduced maintenance, as well. What's better, they are designed to be used continuously with less recovery time.
Cost-efficient: When you are talking about a 240-volt machine, the cost of operating the unit can become steep. This is where HP, amps, and other mechanical operations come into play. While you want to have a decent HP to support the maximum PSI and CFM, you should note that some compressors split the HP between two stages making them more cost-friendly to operate.
Protection: Many of the models mentioned come with built-in warning systems like thermal overload protection and low-oil warnings. These features will alert you to issues with your compressor, so you are not stuck with costly repairs. This is also true of pressure gauges and oil windows. That being said, a cool-running motor is another feature you should look for as it will reduce the likelihood of breakdowns, blown gaskets, and early breakdowns.
Durability: A long-lasting air compressor is important for obvious reasons. They are likely to get banged up in the shop, so well-constructed housing is crucial. Be that as it may, you also want to keep their lifespan hours in mind. The more hours you have, the longer you will be able to utilize your tools.
Connections: Finally, though you want to look at the CFM and the SCFM to ensure you have the right air compressor for your tools, you don't want to neglect the connection size. A ½-inch hose connector is the most common, but some tools can have ¾-inch and so on.
–> We also have a buyer's guide for 80-gallon air compressors. Click here to go that page.

Conclusion
We hope the review above has shed some light on the air compressors available. Finding the right model for your needs can be difficult even if you are an old pro at these units. If you are new to the machine, the choice can be downright intimidating.
For our part, we recommend going with the Quincy QT-54 Splash Lubricated Air Compressor. This little beauty is designed with all the newest technology and has a great performance record. On the other hand, if you want to give a more cost-efficient model a shot, our advice is to go with the SS5 5HP 60 Gallon Single Stage Air Compressor. Not only is this model effective, but it's powerful and well built.