Single vs Two-Stage Air Compressor: What's the Difference?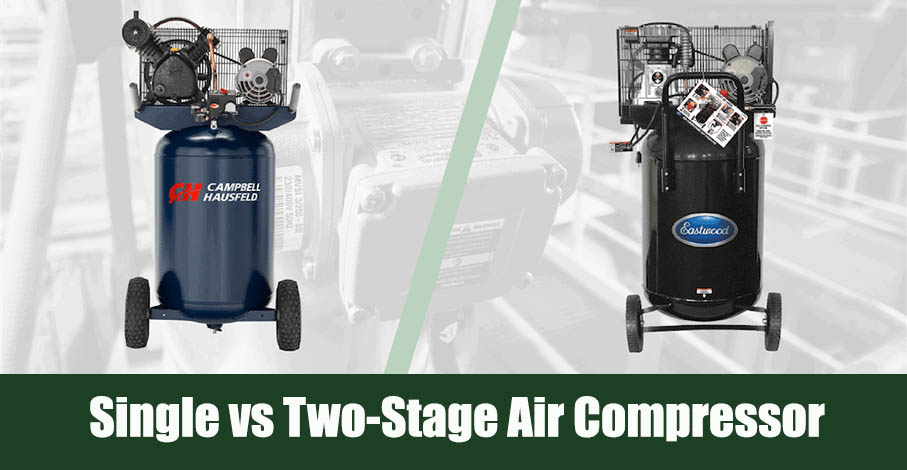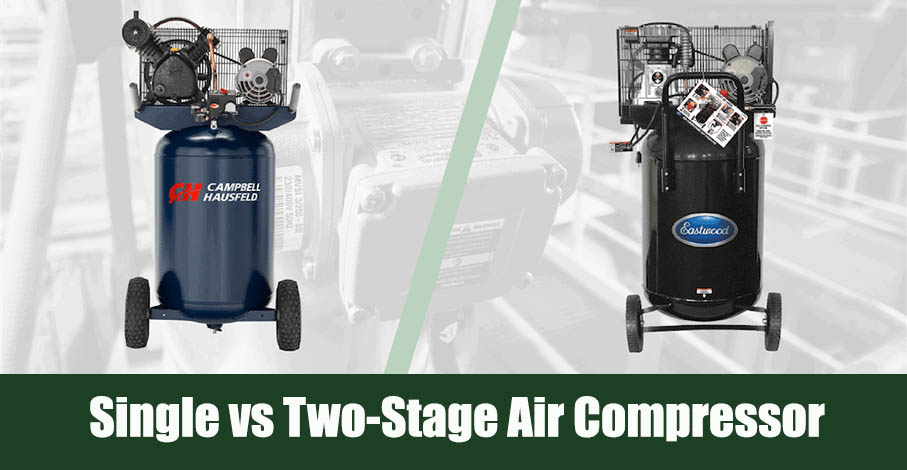 If you're looking for an air compressor, there is no shortage of compressors on the market. But making the best decision means understanding these compressors inside and out.
And making the right decision means deciding between a single-stage air compressor and a two-stage air compressor. Which one is best for your particular needs? Each has its own advantages and disadvantages, and we're about to do a deep dive into this tricky subject.

Overview of Single-Stage Air Compressors
In order to decide between these compressors, you need to know a bit more about each one. We'll start by taking a closer look at the single-stage air compressor.
Why Is It Called a "Single-Stage" Air Compressor?
At first glance, the biggest difference between these air compressors is right there in the name. Therefore, you're probably asking yourself this question: what does the "single-stage" in "single-stage air compressor" actually mean?
The answer is quite straightforward: these machines only compress the air once before they store it away. As you can imagine, a two-stage air compressor compresses the air twice before storing it.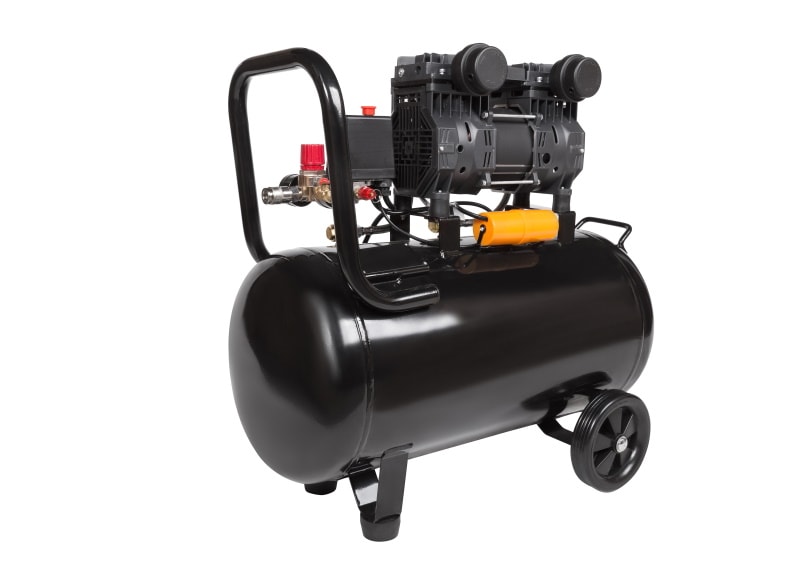 What Is the Energy Like?
How can you choose the right air compressor? To answer that, you need to answer a more fundamental question: how much power do you need?
Generally speaking, single-stage air compressors put out less energy than two-stage air compressors. This lower energy output is typically enough to run all of your hand tools, especially for short periods of time. But if you need to power bigger tools or run small tools for long periods of time, the two-stage air compressor may be the better choice.
What Do I Need to Know About Air Temperature?
Earlier, we touched on the fact that each type of air compressor ends up storing air. And one related factor you should be aware of is the relative temperature of the stored air.
Single-stage air compressors stores uncooled air in the storage tank. Why? Because having only one compression means there is no real chance to cool things down.
By comparison, two-stage air compressors cool the air down between compressions. This helps to further compress the stored air and may ultimately provide better performance for your different needs.
All About the Price
Looking to save money? As a general rule, single-stage air compressors are cheaper than two-stage compressors. This is because they are less powerful.
If you only have occasional need of an air compressor, and only for small tasks, you might as well save some money and get the cheaper model.
Pros
Better price
Easier to use
More portable
Cons
Less power
Not suited for larger tasks

Overview of Two-Stage Air Compressors
While single-stage air compressors have many advantages, there are also real benefits to using two-stage air compressors instead. Let's take a closer look at what makes these air compressors work.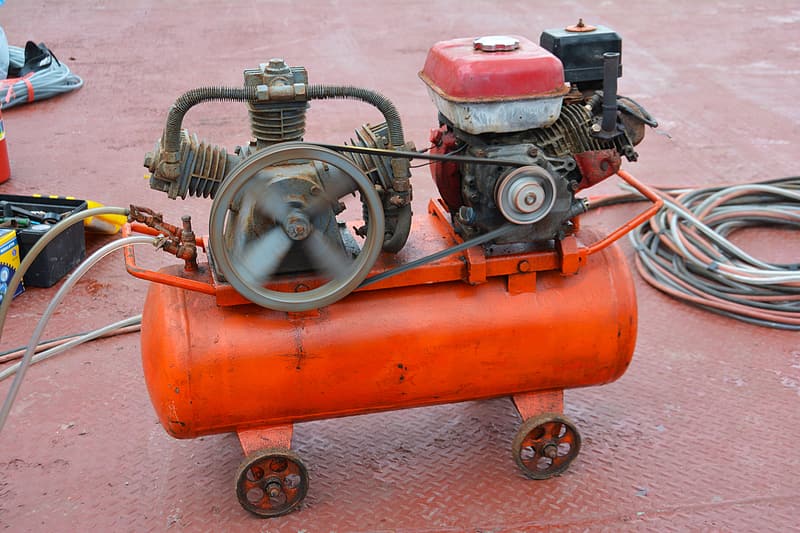 Does Size Matter?
Are you looking for a relatively light and portable compressor? In that case, you might want to focus on the single-stage air compressor instead of the two-stage one.
Two-stage compressors are more powerful but harder to move. They are good when you have plenty of space in a garage or workspace. If you need to quickly pack up and put your tools away, you may favor portability overpower.
Complex Cooling Process
As we noted before, a two-stage air compressor features a more complex compression process that cools the air before it stores it. While this can be convenient for the user, it does mean there is more potential for this tool to malfunction in the future.
Price Considerations
Long story short? Two-stage air compressors are always going to be more expensive than single-stage air compressors. But they are also always going to be more powerful. It is up to you to determine whether that added power is worth the added price.
Pros
Added power
Stores cooled air
---
Know Your Needs
Many handymen like to joke that a more powerful tool is always a better tool. When it comes to air compressors, that's not always the case.
Instead of blindly buying an air compressor, we recommend that you consider your particular needs first. What do you actually need the compressor for? And how much power will you really need?
In all honesty, most handymen can get by just fine with a single-stage air compressor because it is powerful enough to meet their needs. With this in mind, you might not need to go for the two-stage air compressor unless you have some suitably intimidating projects in your future.
Making Room
Just as more powerful tools tend to be more expensive, they tend to be heavier. And it's very important to consider the relative weight of your air compressor.
Two-stage air compressors are heavier, but that may be a non-issue if you are placing it into a semi-permanent position in your garage or another area. But if you don't have a dedicated place for your different tools, then you should consider a single-stage air compressor for the simple reason that it is easier to move and store once you are done using it.
Price vs Performance
If you're shopping on a budget, it may be tempting to buy the first cheap air compressor that you find. But the real trick is finding a compressor that balances price and performance.
In some cases, you may be better off investing in a brand name rather than a cheaper "off-brand" air compressor. While nobody likes paying extra money, these brand name compressors are likelier to last longer while giving superior performance. And if you can get a model with a good warranty, you'll know you are covered in case anything goes wrong.

Quick Look: Our Top Choices
Rating
Image
Product
Details

Our Favorite Single-Stage Air Compressor

CRAFTSMAN Air Compressor CMEC6150K

Versatile
Comes with accessory kit
CHECK PRICE

Our Favorite Two-Stage Air Compressor

California Air Tools CAT-20015HP

More expensive
Powerful
Quiet
CHECK PRICE
Our Favorite Single-Stage Air Compressor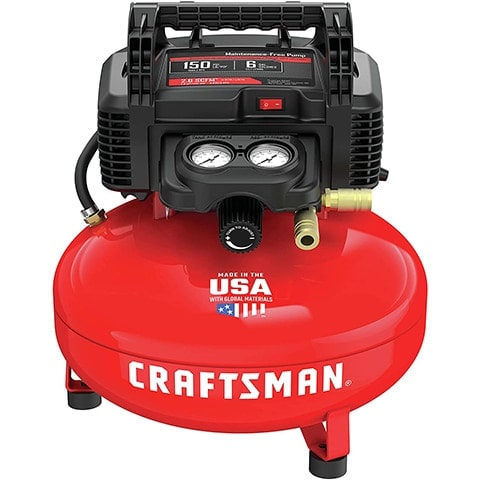 If you have your heart set on a single-stage air compressor, then our recommendation is the CRAFTSMAN Air Compressor, 6-gallon, Pancake, Oil-Free with 13 Piece Accessory Kit (CMEC6150K). It comes in at a competitive price while offering a lot of versatility and value. With the included accessory kit, you get everything you need to start enjoying your new air compressor right away.
Our Favorite Two-Stage Air Compressor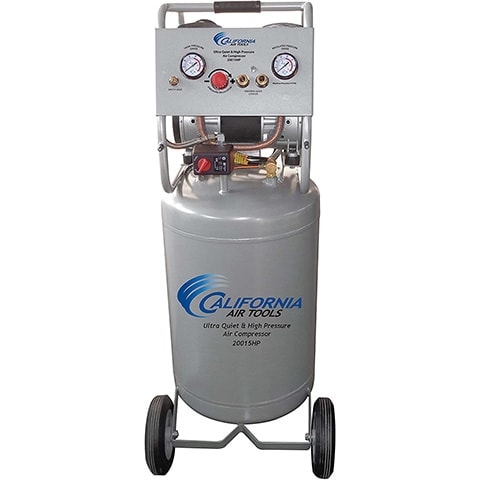 Do you need the power and performance that comes from a two-stage air compressor? In that case, we recommend the California Air Tools CAT-20015HP Ultra Quiet & Oil-Free 1.5 hp, 20 gallons 175 PSI Two-Stage Air Compressor. While it's more expensive than its single-stage counterparts, you get a lot of power and surprisingly quiet performance from this compressor.

Conclusion
Between the single-stage air compressor and the two-stage air compressor, which is right for your needs? The answer will change from handyman to handyman. But now that you know more about how these different compressors work and what their pros and cons are, you can make the decision that is best for you, your needs, and your projects.
---
Header image from: Pxhere