7 Best Air Mattress Pumps In 2023 – Reviews & Top Picks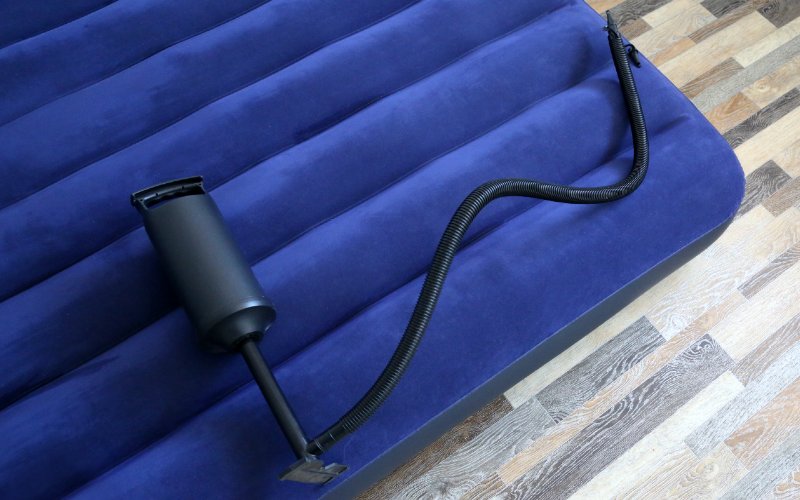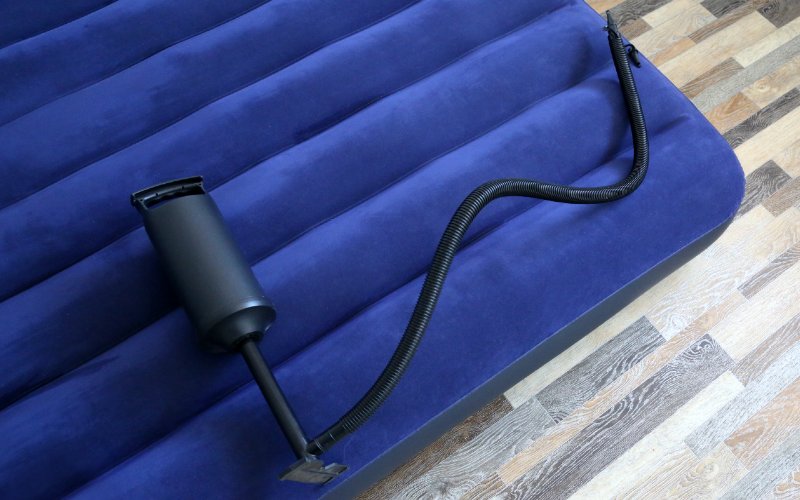 An air mattress is not the kind of product you'd want to manually inflate, even if you were being paid by the minute. Just try to get past the halfway point without feeling lightheaded!
Manufacturers understand all too well how big of an ask that is, and that's why they offer an array of quality pumps to make life easier when inflating an air mattress.
We realize that choosing the right pump might not be that easy—especially now that the market is saturated with options—so we thought we'd round up some reviews of our favorite choices.
Let's dive in!

A Quick Comparison of Our Favorites in 2023
Rating
Image
Product
Details

Best Overall

AGPtek Portable Quick-Fill Air Pump

Trusted brand
Compact
Lightweight
CHECK PRICE

Best Value

FLEXTAILGEAR MAX Pump

Durable
Has five nozzles
Compact design
CHECK PRICE

Premium Choice

Red Suricata Rechargeable Air Pump

Comes with a bag
Made of ABS material
Fast-charging system
CHECK PRICE

Coleman QuickPump

Built-in rechargeable batteries
Lightweight
Can inflate and deflate air mattresses
CHECK PRICE

Zacro Portable Electric Air Pump

Portable
Stores enough power to inflate several airbeds
Ergonomic design
CHECK PRICE
7 Best Air Mattress Pumps
1.

AGPtek Portable Quick-Fill Air Pump – Best Overall
| | |
| --- | --- |
| Color: | Black |
| Brand: | AGPtek |
| Weight: | 1.03 lbs |
| Material: | Plastic |
| Power source: | DC/AC |
AGPTEK is one of the most trusted brands on the market. So, if you're looking to buy camping products that are of premium quality—like the AGPtek Portable Quick-fill Air Pump—they should be your go-to. This model has been given everything it needs to not only inflate your air mattresses fast but to deflate them as well.
In the package, you'll find two types of adapters: one that's to be used indoors (home power adapter) and one that's designed for outdoor use (car power adapter). However, it's important to note that this is not a rechargeable pump.
Air mattresses are not the only pneumatic products designed to be inflated using this kind of electric pump. The manufacturers gave it three different-sized nozzles to make it more marketable to a wide range of consumers.
You'll first have to connect the plug to an AC or DC power supply—yes, it's compatible with both, and the cords are 5.9 and 8.2ft, respectively. Then attach the mattress' valve to the nozzle, and flip on the switch. If the connection is right, you'll instantaneously get a reaction from the mattress. But assuming your intention is to suck out all the air, just connect the inflatable head to the vent hole and give it a couple of seconds.
The fact that the AGPtek Portable Quick-fill Air Pump is small and lightweight makes it an incredible travel companion, and the best overall air mattress pump.
Pros
Trusted brand
Compact
Lightweight
Three different-sized nozzles
Designed with two types of adapters
Can inflate and deflate
---
2.

FLEXTAILGEAR MAX Pump – Best Value
| | |
| --- | --- |
| Color: | Orange |
| Brand: | Flextailgear |
| Weight: | 0.37 lbs |
| Material: | ABS, Aluminum |
| Power source: | Battery powered |
The Flextailgear Max Pump is one of the most powerful models on the market. So powerful that it can fully pump up your average-sized air mattress in less than 3 minutes. They managed to produce a pump that produces an air pressure of 2200 pa, at wind speeds of 300 L/min.
The reliable 3600mAh lithium battery can last for 45 minutes on a full charge. And if all of its juice runs out, you could charge the battery back to full capacity using the USB charging system. The system is compatible with any power adapter, car charger, PC, and power bank.
This cordless air mattress pump can comfortably fit in your backpack, as it only weighs 0.37 pounds. Its housing is made of Acrylonitrile Butadiene Styrene (ABS), which is the same material used in the production of helmets.
The Flextailgear pump has 5 nozzles to guarantee that it's compatible with most inflatable products on the market and is crafted using well-seal surface technology to make it watertight.
Just don't power it up for more than 10 minutes. It heats up so fast and thus needs time to cool down. All in all, it's the best air mattress pump for the money.
Pros
Durable
Has five nozzles
Compact design
Lightweight
Rechargeable battery
Pumps at high pressure
Great value for money
---
3.

Red Suricata Rechargeable Air Pump – Premium Choice
| | |
| --- | --- |
| Color: | Red |
| Brand: | Red Suricata |
| Weight: | 0.46 lbs |
| Material: | ABS |
| Power source: | Battery powered |
The Red Suricata Rechargeable Air Pump is the literal definition of "small but mighty." It's about half the size of a soda can but can pump up an average air mattress in less than 2 minutes.
This variant comes with rechargeable batteries as well, so you'll be able to inflate your mattresses once you get to a remote camping site. And if you connect it to a 2A-rated charging port, it will only take 3.25 hours to get back to full capacity. You can charge it using your laptop, power bank, or the typical power outlet.
Versatility was the other factor we took note of, as it comes with 5 nozzles—three of them interconnected. The smallest nozzle diameter is 0.24 inches, while the largest is 0.87.
On its own, the unit weighs approximately 0.34 pounds. But when you include everything that comes with it in the package, i.e, the cable, nozzles, and bag, it's about 0.46 lbs. The bag has drawstrings and is strong enough to keep everything safe.
We would have been happier if the product had some degree of water resistance, but it's a premium product nonetheless.
Pros
Comes with a bag
Made of ABS material
Fast-charging system
Versatile
Lightweight
Cons
Not pocket-friendly
Has zero water-resistance
---
4.

Coleman QuickPump
| | |
| --- | --- |
| Color: | Red, Black |
| Brand: | Coleman |
| Weight: | 3.3 lbs |
| Material: | Plastic |
| Power source: | AC/DC, battery powered |
You have to be very attentive while shopping for any Coleman air mattress pump. Their models look very similar in design and they have few variations. For example, we have two versions of the QuickPump iteration. There's a variant that doesn't have any rechargeable batteries, and then there's this one, which comes with built-in batteries, in addition to the 120-volt charger.
Charging this unit takes time. The batteries require significantly high amperage to get to full capacity, so to avoid any inconveniences, you're advised to charge the batteries overnight.
On the plus side, this unit is highly efficient when it comes down to inflating or deflating any type of airbed fast, and a single charge can serve you for a long period of time.
The Boston and pinch valve adapters are the kind of features that tell you that this is a versatile product. Those variations can inflate or deflate any common inflatable. It only weighs 3.3 pounds and has a compact design that supports both indoor and outdoor usage.
Pros
Built-in rechargeable batteries
Lightweight
Can inflate and deflate air mattresses
Can pump up a wide variety of inflatables
Compact design
Ideal for indoor and outdoor use
---
5.

Zacro Portable Electric Air Pump
| | |
| --- | --- |
| Color: | Black |
| Brand: | Zacro |
| Weight: | 0.84 lbs |
| Material: | Plastic |
| Power source: | DC, Battery powered |
With the Zacro Portable Air Pump, our review will be centered around remote power and portability. Courtesy of the built-in 6,000mAh lithium battery, you'll be quickly be able to inflate or deflate your mattresses, even if the lights go out.
6,000mAh is more than enough charge to pump up to 20 average-sized mattresses. And when the battery runs out of juice, you could recharge it by connecting the plug to a DC power outlet or with the USB connection.
The housing is made of plastic and has an ergonomic design. That makes it tough, lightweight, corrosion-resistant, and easy to hold. It comes with a waterproof bag that offers protection in wet conditions while you're out enjoying your camping experience.
The Zacro Portable Electric Air Pump is small and can comfortably fit in the palm of your hand. To top that off, it only weighs 0.84 pounds. Zacro designed it with three different nozzles, to give it a wide range of applications.
We'd like to see improvements in the time taken to recharge the batteries—it felt like the battery took eons to get to full charge. But hey, at least they remembered to incorporate the power indicator into the design.
Pros
Portable
Stores enough power to inflate several airbeds
Ergonomic design
Lightweight
Power charging indicator
Designed with three nozzles
---
6.

Intex Double Quick III Pump
| | |
| --- | --- |
| Color: | Black |
| Brand: | Intex |
| Weight: | 1.9 lbs |
| Material: | Plastic |
| Power source: | Manual |
Intex has always been known as one of the most underrated brands when it comes to the production of top-shelf air mattresses. The Double Quick III Pump is hand-operated, meaning, there are no electrical mechanisms or systems in its design. This could be disadvantageous if you're hoping to inflate a super large mattress, but advantageous if you don't have access to power.
It features three different-sized nozzles: the Boston, large-pinch, and small-pinch valves. The Boston valve is the largest, as it's designed to be used on large inflatables like air mattresses, rafts, and boats. You could use the small or large-pinch valve to fill up your swimming rings or floats.
This variant only weighs 1.9 pounds and is very easy to use. Just attach the nozzle to the mattress' valve and start pushing the lever up and down—the same way you would if you were inflating a bicycle tire. To make your work a little bit easier, they made it such that both stroke movements pump air into the mattress.
Pros
Popular brand
Ideal for camping
Has three nozzles
Lightweight
Pumps air with both stroke movements
---
7.

Etekcity Electric Air Pump
| | |
| --- | --- |
| Color: | Black |
| Brand: | Etekcity |
| Weight: | 1.05 lbs |
| Material: | ABS |
| Power source: | AC/DC |
The Etekcity Electric Air Pump has three interlocking nozzles. The smallest measures 0.28 inches, while the largest is 0.71 inches. That's to say, it can fit almost all the inflatable products that you could think of. To prevent air from getting lost during the pumping process, they added a locking feature.
Etekcity clearly invested a lot of resources in its R&D department, seeing as they are one of the few companies that produce pumps with premium-grade metal impellers and high-tech wheel designs. You'll never disturb the peace of those who are sleeping next to you, as these noise reduction features are on a different level.
It's certainly a versatile product that can be used on floats, swimming rings, inflatable pools, etc. Just don't use it on high-pressure pneumatic items like tires, basketballs, or balloons.
Pros
Inflates and deflates
Has three interlocking nozzles
Pumps at a high pressure
Features noise cancellation technology
Cons
Not the ideal pump for high-pressure pneumatic products

Buyer's Guide: Things to Consider When Buying an Air Mattress Pump
Noise Level
Anytime you go out shopping for an air mattress pump you have to remember to check its noise level. That information is normally included on the package, but if you can't find it, ask the store attendant. Some of those pumps are so powerful that they can run at 75 decibels. To put that into context, 75 decibels is just as loud as an electric lawn mower.
Deflation Option
Not all pumps offer a deflation option. This function might not seem important now, but it will be once you realize that you normally waste a lot of time trying to manually deflate your mattress. You should also know the deflating feature is only included in a battery-operated or electric pump.
Durability
A good-quality air mattress pump is one that's made of ABS material or aluminum. You want to go for a product that has a solid build to ensure all the internal components are well protected from the external shocks and vibrations caused by random accidental bumps.
Water resistance is something that we often forget to think about, even though it's a crucial aspect as well. What if you went out camping and it started raining? Or while you were crossing the river, it inadvertently dropped in? Does that mean you have to start budgeting for a new pump?
Size & Weight
Nobody wants to walk around with dumbbells in their backpack. Even if you're the fittest guy on the planet, it will get to a point where you'll start to feel frustrated, exhausted, and let down. There's really no excuse for going for a bulky or heavy product when we have several affordable pumps that can literally fit the palm of your hand.
Price
Lastly, we have the price factor. It goes without saying that the pump with the most advanced technological features will cost more than that which has a basic design. That being said, high price tags don't always translate to high quality.

Frequently Asked Questions (FAQs)
Is It Possible to Inflate an Air Mattress Using Your Mouth?
Yes, inflating an air mattress without a pump is very possible, but not recommended. There are so many good pumps on the market at a highly affordable price.
How Many Watts Are Consumed by an Air Mattress Pump?
This will depend on the design and model of the pump. But compared to most household items, air mattress pumps don't consume too much power. If we had to work with a range, we'd say they mostly lie somewhere between 10 to 50 watts.

Conclusion
If you're planning on using an air mattress in the near future, you have to invest in a good pump. One that will make it easier for you to maintain your air mattress' quality. Our top pick is the AGPtek Portable Quick-Fill Air Pump. But if you're going for value for money, the Flextailgear-Max Pump will check that box. The Red Suricata Rechargeable Air Pump is also a great device, but relatively pricey.
---
Featured Image Credit: Maria Studio, Shutterstock