Bestway Air Mattress Review 2023: Pros, Cons, & Verdict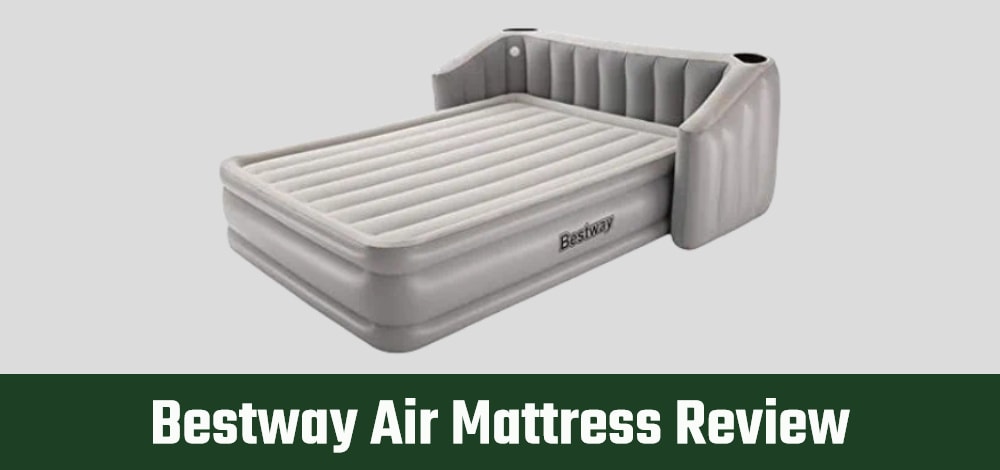 Review Summary
Our Final Verdict
We give Bestway Air Mattresses a rating of 3.5 out of 5 stars.
Bestway designs and produces air mattresses from basic to luxury models. The basic design is an excellent choice for those on a budget or just looking for a standard air mattress. They also have models with built-in pumps and unique features like wing-backed and novelty designs for children.
The Bestway Company is known for designing and producing items like air mattresses and inflatable boats, pools, and spas. For over a decade, they have been providing customers with unique, high-quality products that are relaxing, fun, and enjoyable.
The inflatable product designs are created in Chandler, Arizona, and it was voted one of the top places to work in 2022 by BestCompaniesAZ.1 Bestway prides itself in fostering a diverse company culture that creates a positive mindset and a passion for new ideas.
The Bestway inflatable mattresses and other products are produced in the United States and can be found in 110 countries worldwide.

At a Glance: The Best Bestway Air Mattresses
Rating
Image
Product
Details

Our Favorite

Bestway Wingback Queen Air Mattress w/Built-in AC Pump

Built-in-pump
LED Night Light
Storage Bag
CHECK PRICE

Bestway Aerolax Queen Raised Air Bed w/Built-in Pump

Built-in Air Pump
Built-in Pillow
Comfortable flocked surface
CHECK PRICE

Bestway Up, In and Over Air Bed for Children, 4x4 Yellow Truck

Durable PVC
Comfortable, flocked lying surface
High side rests, recessed centre
CHECK PRICE
Bestway Air Mattresses Reviewed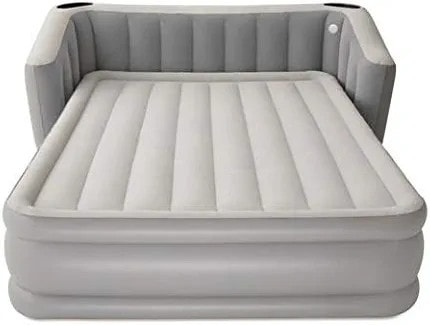 Who Makes Bestway Air Mattresses & Where Are They Produced?
The Bestway Air Mattresses are designed and manufactured in the United States. The design and manufacturing facility is dog-friendly and located in Chandler, Arizona. The company prides itself on a diverse and positive workforce that has been designing and producing air mattresses along with other inflatable products for over ten years.
To reduce their impact on the ecosystem, the company limits what materials they send to the landfill. They also have the plant partially solar-powered to reduce energy and protect the environment.
Who Are Bestway Air Mattresses Best Suited For?
Bestway has a wide range of options for consumers that have limited space. The twin sizes available include the flocked model, an excellent choice for a sleepover with the grandkids. The queen-size options include regular and wing-backed, ideal for hosting a friend from out of town. A Bestway air mattress is the way to go for campers who may prefer to be off the ground but need an air mattress that is not bulky. You can purchase the air mattress with features and accessories like built-in pumps, cup holders, and auto inflation technology. The models range in height, material, price, and quality, so be sure to get one that fits your needs. For individuals that are overweight, however, you may want to look at a heavy-duty option.
Who Might Do Better With a Different Brand?
If you are in the market for a heavy-duty air mattress that can accommodate an individual with excess weight, the King Koil Luxury California King Air Mattress may be a better option for you. The mattress is not only firm, but the coil technology helps it keep its shape and firmness when the excess weight causes it to stretch. This heavy-duty mattress has a built-in pump and a deflate knob, so an individual who may have difficulty bending and lifting will find it easier to use than other brands.
The King Koil Luxury California King air mattress has a heavy-duty quilted top and suede fabric for comfort and durability. This option may be more affordable and a quality option for heavier individuals.
Discussion of Product Quality
The product quality of the Bestway Air Mattresses will vary depending on the model. A budget-friendly option like the Aerolax Queen Raised Air Bed with Built-in Pump is lightweight, made of plastic, and inexpensive. However, the Wingback Queen Air mattress has an item weight of about 30 pounds, is made of polyester and plastic, includes unique features, and is significantly more expensive than the Aerolax design.
Although the queen-size mattress is the most popular size for most, Bestway air mattresses are also available in twin sizes.
The product's features and price also vary depending on the model you purchase. For example, the wingback model is equipped with an AC pump, so inflation is quick and easy. The backrest ensures comfort, and it includes cup holders, led lights, and storage buckets for convenience. These added features do come with a price tag, however. On the other hand, the features of the Aerolax model are limited to a built-in pump, but it is a budget-friendly design.
There have been negative customer reviews that report inferior quality, seam tears, and inability to maintain air. Keep in mind that the complaints can also result from abuse or misuse of the product. For example, if a child bounces on the mattress or the user or users exceed the weight capacity, it can affect the product performance.
It is worth mentioning, however, that the Bestway AlwayzAire is equipped with internal sensors to monitor and maintain airflow throughout the night. The mattress is designed to automatically maintain the pressure without disturbing your sleep. Adding a feature like this can certainly validate the customers' claims pertaining to an inability to maintain the air in some of the models.
One more thing to consider when you are purchasing an air mattress is the fabric or material. Some materials can make you hot or sweaty, and it will be difficult to sleep. Other materials like plastic can have an offensive odor that is sickening or unpleasant. It is something to pay attention to when making your air mattress purchase.
The Bestway Company has air mattresses that are specifically for children and toddlers. What better way to make bedtime at grandma's or a friend's house exciting and fun than with the Bestway Up, In, and Over Yellow 4×4 Truck Air Mattress or one of the other novel designs? These unique Bestway Air Mattresses are ideal whether you are going home for a holiday or on summer vacation, and they can prevent bedtime drama.

A Quick Look at Bestway Air Mattresses
Pros
Easy to inflate
Ideal for limited space
Models for children and toddlers
Flexible price range
Cons
Loss of air
Some models are low quality
Recall History
Bestway does not appear to have a history of recalls for air mattresses.

Reviews of the 3 Best Bestway Air Mattresses
1.

Bestway Wingback Queen Air Mattress w/Built-in Pump Air Mattress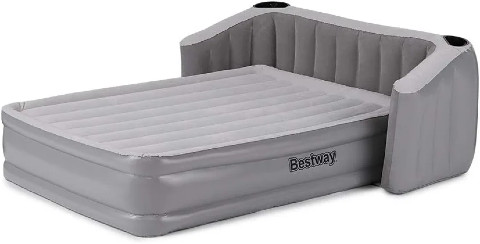 In reviewing Bestway Air Mattresses, we chose Bestway Wingback Queen Air Mattress w/Built-in Pump for one of the best air mattresses for price, comfort, and design. While it may not be the least expensive model for Bestway, it is designed to keep its shape and firmness while you sleep.
The air mattress is equipped with a built-in pump that is quiet and easy to use. With the turn of a knob, it can be fully inflated in five minutes or less. The inflated height of 31.5", along with the winged back for support, allows you to sit back, relax, and be comfortable.
The design of this air mattress is not only comfortable, but the LED lights and cup holders are also a bonus to an already useful product.
The mattress comes complete with instructions, a convenient storage bag, and one repair patch in case of an accidental tear or puncture.
---
2.

Bestway Aerolax Raised Queen Size Air Bed with Built-In Pump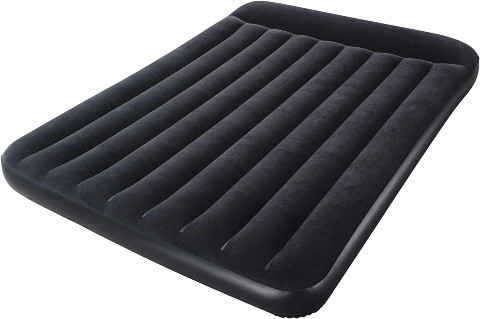 If you are looking for a budget-friendly Air Mattress, the Bestway Aerolax Raised Queen Size Air Bed with Built-In Pump is a convenient and inexpensive air mattress for things like camping and having a sleepover. The air mattress is equipped with a built-in pump, so it is quick and easy to use. The design is complete with a pillow and a flocked surface, so you will feel warm, comfortable, and cozy.
The air mattress has a height of 12 inches when inflated and can be used in or outdoors.
It comes complete with a heavy-duty patch and a transport bag.
The Bestway Aerolax model is a basic air mattress that did not have a lot of reviews. We think the price may be a bit high for a mattress that lacks features, but it does serve the purpose.
---
3.

Bestway Up, In and Over Yellow 4×4 Truck Air Bed for Children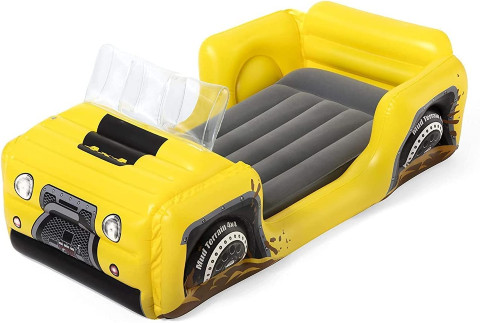 In our review of Bestway Air Mattresses, we could not overlook the Bestway Up, In and Over Yellow 4×4 Truck Air Bed for our favorite for children. Along with the truck design, the company also has other designs for kids that include dogs, unicorns, and teddy bears, among others. The mattress is lightweight, so it is easily packed and transported.
The novelty air mattress is sure to please any child or toddler and hopefully prevent bedtime commotion. The mattress does not have a built-in pump or any other distinctive features.
Most customers were pleased with the mattress and report that their children love it. There were some that reported difficulty inflating the mattress and keeping it full of air, however.

What Other Users Are Saying

Conclusion
In our review of the Bestway air mattresses, we found a wide variety of models, so you can find one that fits your needs and aligns with your budget. The Bestway Wing-Backed model is excellent for someone looking for an air mattress with special features and back support. The Aerolax is an excellent option for those on a budget and looking for a basic air mattress. There are even novelty air mattresses sure to excite and make bedtime a joyful event for children.