10 Best Angle Grinders of 2023 – Reviews & Top Picks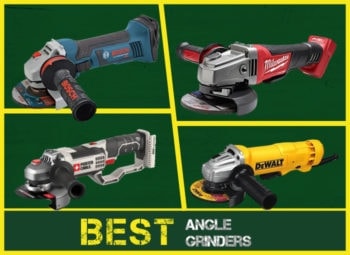 The reviews below highlight the 10 best angle grinders we've found. The products on our list are here because they have the most essential attributes for a successful angle grinder. These include power, safety, precision, durability, and versatility.
We've included brands that will satisfy budget buyers and people looking for the highest level of quality they can get. Read on to find the right tool for your needs!
---
Our Top 5 Favorites of 2023
Rating
Image
Product
Details

Best Overall

DEWALT DWE402 4.5"

Easy to transport
Dust ejection system
11 amps of power
CHECK PRICE

Best Value

BLACK+DECKER BDEG400

Affordable
Durable
Metal case
CHECK PRICE

Milwaukee 2780-20

Hard carrying case
Dust protection
Adjustable hand guard
CHECK PRICE

Makita 9557PBX1 4-1/2"

Moderate price
Extra-large wheel
Specialty seal
CHECK PRICE

Metabo WP9-115 8.5 Amp

Fast
Tool-free maintenance
Compact
CHECK PRICE
The 10 Best Angle Grinders
1.

DEWALT DWE402 4.5″ Angle Grinder – Best Overall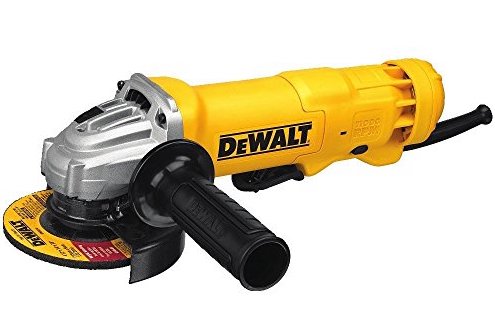 The DeWalt DWE402 is an impressively powerful 11-amp grinder that can easily navigate high-volume and precision work. This corded electric tool is compact enough to squeeze into tight spots and even includes a handy dust ejection design that will help the motor hold up over time.
Safety is a consideration as well. The handguard rotates completely around the tool to protect you from any sparks or debris kicked up while you work. You even get a hard case that will make it safe and easy to transport.
In keeping with DeWalt's pattern, the DWE402 is a pricey tool by angle grinder standards. The powerful motor might also be a little much for beginners. If you aren't well-versed with grinders, you may over-grind the workpiece. Overall, the DWE402 is this year's overall 4 1/2″ angle grinder.
Pros
Easy to transport
Dust ejection system
11 amps of power
Cons
Pricey
Beginners may experience over-grinding
---
2.

BLACK+DECKER BDEG400 Angle Grinder – Best Value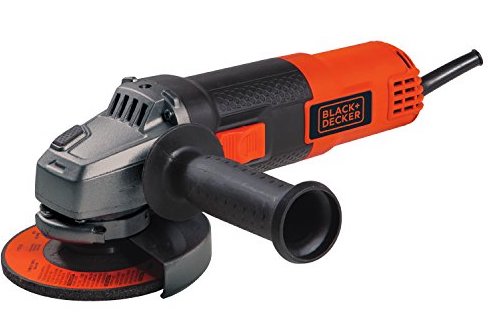 BLACK+DECKER is always good for a solid deal. The BLACK+DECKER Angle Grinder Tool is not as powerful as many of the other options on our list, but what it lacks in force, it makes up for in value and durability.
The handguard can be locked into three positions for optimal protection, and the handy metal protection case will make the tool easy to transport and store. However, it has some natural limitations.
Because the power levels are so modest, the motor can break down and stop working if you really put it to the test. It's great for small jobs, but buyers who need a heavy-duty tool should keep looking. To conclude, we think that this is the best angle grinder for the money.
Pros
Affordable
Durable
Metal case
Cons
Not very powerful
Motor won't hold up to high-volume jobs
---
3.

Milwaukee 2780-20 Angle Grinder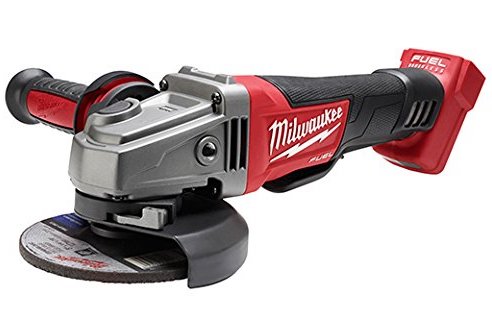 The Milwaukee 2780-20 has much in common with the DeWalt. It's powerful, with an adjustable hand guard, a hard-plated carrying case, and a special design to protect the inner workings from dust.
Our primary concern about this tool pertains to value. It's more expensive than the DeWalt, but it underperforms slightly in one key way. The components aren't quite as sturdy. The locking mechanism has a cheap feel that suggests it may break easily. It's also a little less powerful than the DeWalt. For the money, you can get another grinder with a little more versatility.
Pros
Adjustable hand guard
Hard carrying case
Dust protection
Cons
Value concerns relative to other high-end grinders
Cheap external components
---
4.

Makita 9557PBX1 4-1/2″ Angle Grinder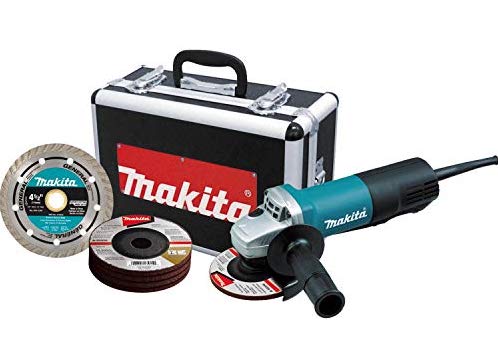 The Makita 9557PBX1 is a moderately priced grinder with an extra-large wheel that's perfect for high-volume work. We are particularly partial to the design concept, which features a specialty seal that prevents dust from ever reaching the electrical components.
It's also user-friendly. The controls are very simple, including a lock-on switch that allows you to maintain continuous operation without worrying about working the buttons.
The only real downside about this grinder is that it's fairly heavy. The weight of the tool makes it hard to use comfortably for extended periods. Still, the Makita is available at a reasonable price for occasional use.
Pros
Moderate price
Extra-large wheel
Specialty seal
---
5.

Metabo WP9-115 8.5 Amp Angle Grinder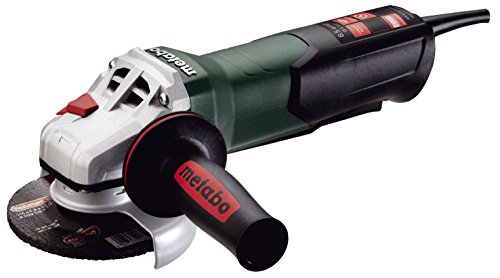 The Metabo WP9-115 is a quick, compact grinder that can produce 10,500 rotations per minute (RPM). The wheel's speed and extreme torque allow you to make quick work out of most average tasks. Metabo even prioritizes speed when it comes to maintenance. The fast, tool-free wheel change allows you to adjust the grinder with the touch of a button.
The Metabo can be pretty uncomfortable to use. The power button is difficult to hold down, which may be a safety feature to prevent accidental activation. However, it makes the tool exhausting and even painful to use for long periods.
Pros
Fast
Tool-free maintenance
Compact
Cons
Can be difficult or even painful to use
---
6.

Bosch 18V Angle-Grinder
The compact Bosch 18V Angle Grinder is made for those who use grinders for several hours daily. It's called an "all-day" grinder because its electrical components are specifically designed for long-term use. They also have warranty protection, so they should last a long time.
It's made to be comfortable; the handle is optimized to reduce vibration, and it is also very lightweight, making it easy to use for long periods. However, you'll need a pair of Bosch 18V batteries for uninterrupted use. Unfortunately, the batteries don't come with this purchase, which is why this grinder is so far down the list.
Because the Bosch 18V is a high-end tool, it's expensive. Some users have also reported experiencing problems with the hand guard being difficult to adjust.
Pros
Compact
Lightweight
Made for extended use
Comfortable
Cons
Pricey
Hand guard hard to adjust
---
7.

PORTER-CABLE 20V Angle Grinder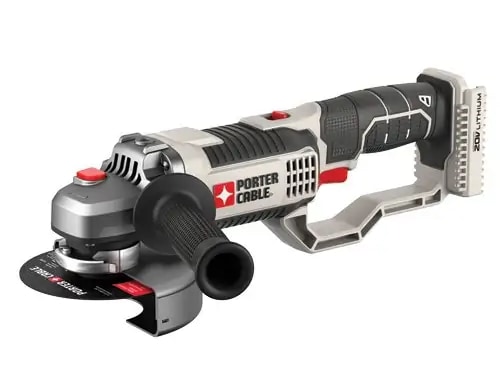 One of the most impressive aspects of the Porter Cable 20V MAX is the housing. The steel-cased tool is durable enough to withstand job site wear and tear. It has an ergonomic handle, an adjustable handguard, and a tool-free wheel change that will make it easy to maintain. Budget buyers will also appreciate the affordable price.
Unfortunately, it's somewhat lacking when it comes to power. The 20v motor doesn't have enough juice to work with harder woods or tough materials. The steel housing also makes it very heavy, which will be a drag for long-term use.
Pros
Affordable
Very durable
Adjustable hand guard
---
8.

Avid Power 7.5 Amp Angle Grinder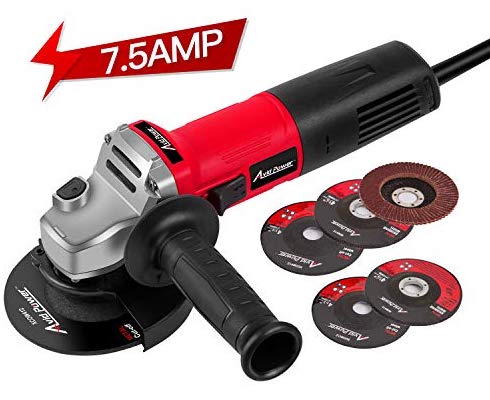 The Avid Power 7.5 Amp Angle Grinder is an affordable grinder that will be great for buyers looking for a tool they can use on small tasks. The slim, lightweight design will be comfortable to use and includes a covering that protects against sparks and splinters.
The Avid Power grinder is also extremely quick, and the 7.5 amps of power can generate an incredible 11,000 rotations per minute. However, there seem to be some fundamental design flaws that make it difficult to use for extended periods. When the motor becomes overstressed due to excessive use, it gets hot and can be difficult to hold.
The motor can get so hot that the tool will temporarily stop working. For small jobs, the Avid Power grinder will do fine. For more intense work, you'll want a better tool.
Pros
Very quick
Slim compact design
Cons
Overheats
Motor shuts down when overworked
---
9.

SKIL 9295-01 Angle Grinders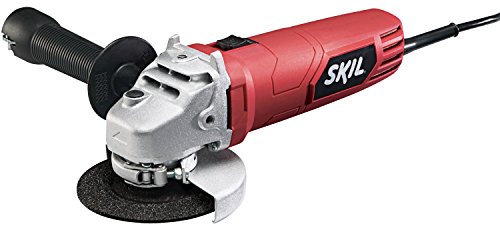 The Skil 9295-01 is an affordable light-duty grinder that will be a good fit for users who don't have a ton of experience. It generates 11,000 rotations per minute but struggles with tougher, harder workpieces. It's also very heavy, which makes it challenging to use for long periods.
The partially metal housing makes it fairly durable, but it does come at a price. It's certainly a good tool for people who don't use grinders often, but there are similarly priced options that perform a little better.
Cons
Heavy
Doesn't work well with heavy-duty workpieces
---
10.

VonHaus Cordless 4 1/2" Angle Grinder Set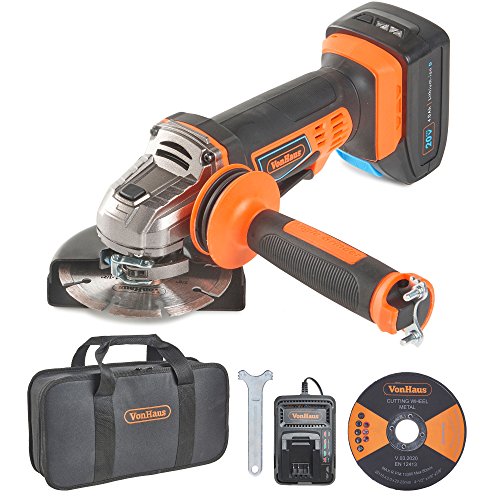 The VonHaus 20V MAX has a lightweight design and an impressive top speed of 11,000 rotations per minute. Unfortunately, it doesn't get many things right. It's among the pricier grinders on our list, but your money won't buy you very much.
It's not very powerful, it gets hot quickly, and many users reported that theirs broke down within the first few weeks of use. There is certainly the possibility that you might have a good experience with this tool, but it doesn't compare very well to the other options on our list.
Pros
Very quick
Lightweight design
Cons
Not very powerful
Overheats quickly
Some users report that theirs broke down soon after buying
---
Buyer's Guide: Selecting the Best Angle Grinder
Below are some buying considerations to help you choose the perfect angle grinder for all your projects.
Disc Size
The disc or wheel of the grinder is indicative of both the power of the device and its overall capacity. Larger discs generally signify a more powerful tool.
Smaller discs are usually more optimal for focus jobs or tasks requiring considerable precision. When selecting the size, it's important to consider the type of work you'll eventually use the grinder for.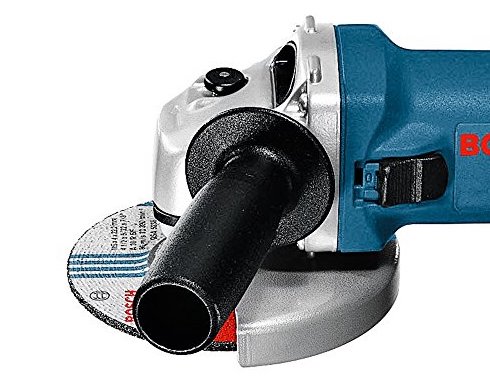 Will you be taking on lots of tight angles and smaller spaces? If so, you'll certainly be better served by a more compact angle grinder. If you have high-volume work, a large disc will help you produce a smooth finish in much less time.
There is a lot of variation in the disc size, so it is a factor to be mindful of. You can usually find discs between 4 and 9 inches.
Power Source
Most angle grinders are battery-powered. However, you may also find corded or compressed air-powered options. Pay attention to the power source before finalizing a purchase.
Cordless units are prized because they have easier access to tight spots. However, they're also limited by how much juice is in the battery. If you allow a battery to die, you may need to pause your work session for several hours while you wait for it to recharge.
Corded tools can run forever if you remain near a power source. Of course, they're limited by the cord, which can restrict your range of motion, and your ability to find a power outlet.
Neither option is necessarily better than the other. It's simply a matter of deciding how and where you will use your grinder.
Speed
The grinder's speed is also important in how it ultimately performs. The average grinder can range in speed from 5000 to 10,000 revolutions per minute. Faster speeds can rapidly produce the desired results in the hands of an experienced craftsperson.
Angle grinders with variable speed settings allow you to select between several speed ranges. If you don't want a grinder with variable speed, invest in a model with a speed range you can handle.
Wattage
Wattage is indicative of the grinder's power level. Generally speaking, higher-powered tools will also be faster, but this isn't necessarily the case. With a higher wattage, the motor should stand up well against heavy use, excessive friction, and other forms of situational stress that well-used power tools incur.
Slow Start
Even if you want a tool that can reach speeds of 10,000 rotations per minute, you probably don't want that speed level to kick in right away. A slow start mode is a handy safety feature that allows you to ease into the power of your grinder.
Ergonomics
A tool is ergonomic when specially made to fit the human hand. Ergonomic tools are more comfortable to use. More importantly, they also make it less likely that you will incur long-term stress injuries such as inflammation or carpal tunnel syndrome as you use your tools.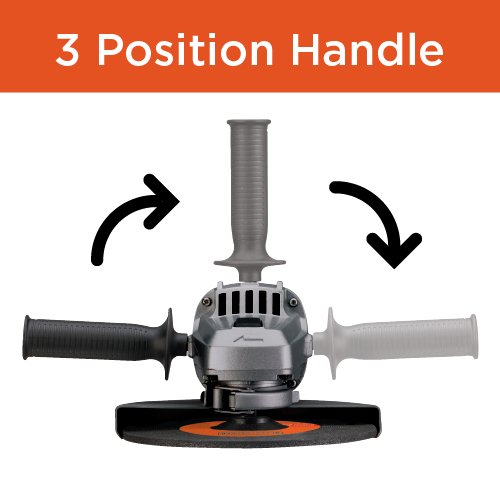 The ergonomic movement is strong in the world of power tools. Most major manufacturers proudly promote that their tools are ergonomic. Still, it's not something you can take for granted. If comfort is important to you, ensure the tool you're considering is ergonomic before finalizing your buying decision.
Dust Sealed
Every tool comes into contact with dust, but it is particularly true of the grinder. Not only do grinders kick up lots of dust, but by virtue of their design, they also often wind up covered in it. If you're unlucky, the dust can find its way into the tool's inner workings and destroy the motor.
That's why some grinders have dust protection, such as a special seal or even a unique design pattern that naturally funnels dust away from the device's sensitive electrical inner workings.
Hand Guard
Some grinders have special guards to protect your hands from splinters and sparks. It's not a necessary feature, but it can be handy. You can find adjustable handguards that can be altered to suit the needs of each unique job you're working on.
Price
You can get angle grinders for a wide range of prices. The nice thing is that at least as far as power tools go, it is a relatively inexpensive one. Because the price of a decent grinder is relatively modest, even budget buyers are in a position where they can get something substantial.
Conclusion
One thing should be clear after reading our angle grinder reviews; there are several excellent grinders available. If you want the best of the best, you'll probably want to pay special attention to our top choice, the DeWalt DWE402 4-1/2-Inch 11-Amp Paddle Switch Angle Grinder. It's an efficient, powerful tool that stands up well to heavy use and easily earns its spot as the best angle grinder this year.
Budget buyers also have some excellent options to keep in mind. Our best-for-the-money pick, the BLACK+DECKER Angle Grinder Tool, provides an incredible combination of value and performance. Of course, with ten great tools to choose from, it's hard to go wrong!
We also have a list of our favorite 7-inch angle grinders (specifically), that may be of interest to you.