Cut-Off Tool vs Angle Grinder: Which is Best for Your Needs?
Though cut-off tools and angle grinders may look similar, they have a few key differences that can significantly affect how well they perform some jobs. They aren't interchangeable. Instead, you should carefully consider which tool you need when performing your job.
However, this is often easier said than done. Below, we'll help you figure out which tool is best for your purposes. We'll go over each tool in turn and then help you figure out which one is best for your situation.

Overview of Cut-Off Tools
Cut-off tools are small, single-handed tools that are used to cut or sharpen metal pieces. They usually have around a 1 HP motor and have a cutting disc aligned at a right angle.  Because of this design, they are not made to be used on thick pieces of metal. Instead, they are best for cutting through very thin pieces.
However, its lightweight design does mean that you fatigue slower. These tools are also straightforward to control and can be used with one hand. They are also very affordable because their design is generally pretty simple. They also don't need a vast motor, which helps keep the prices down.
How a Cut-off Tool Works
Most cut-off tools come with a small disc. This disc is usually no more than 3 inches. Because of this, it is best suited for small workpieces and spaces. However, since this tool is usually only about 6 inches tall in all, you really can't fit a giant disc in it.
Its small size makes it pretty easy to use in smaller spaces, where other tools might not work.
These tools can either be powered by electricity or air pressure. It just depends on the model. Some battery-powered options are available as well. However, these are exceedingly rare and not very high-quality in most cases. Pneumatic versions will be the most powerful and are very common in automotive shops for this reason.
Electric-powered options are only best for minimal jobs. While they are bigger, they are generally not as powerful. Of course, they don't require that you use an air compressor with them, which may be a plus for some buyers.
Pros
Small and compact
Inexpensive
Precise
Can be used with a single hand
Many different options available
Cons
Only suitable for very light jobs

Overview of Angle Grinders
An angle grinder is very similar to a cut-off tool. It is designed to be very portable. However, it is still slightly more significant than a cut-off tool. Because of this, it may not be as suitable for smaller spaces. Their motor is typically more considerable as well and usually produces between 3-7 HP.
The grinding disk is also usually quite large. You can find options measuring between 4.5-9 inches. This is significantly bigger than a cut-off tool. Because of the larger design, this tool is best for heavier applications where you need to cut through decently thick metal pieces.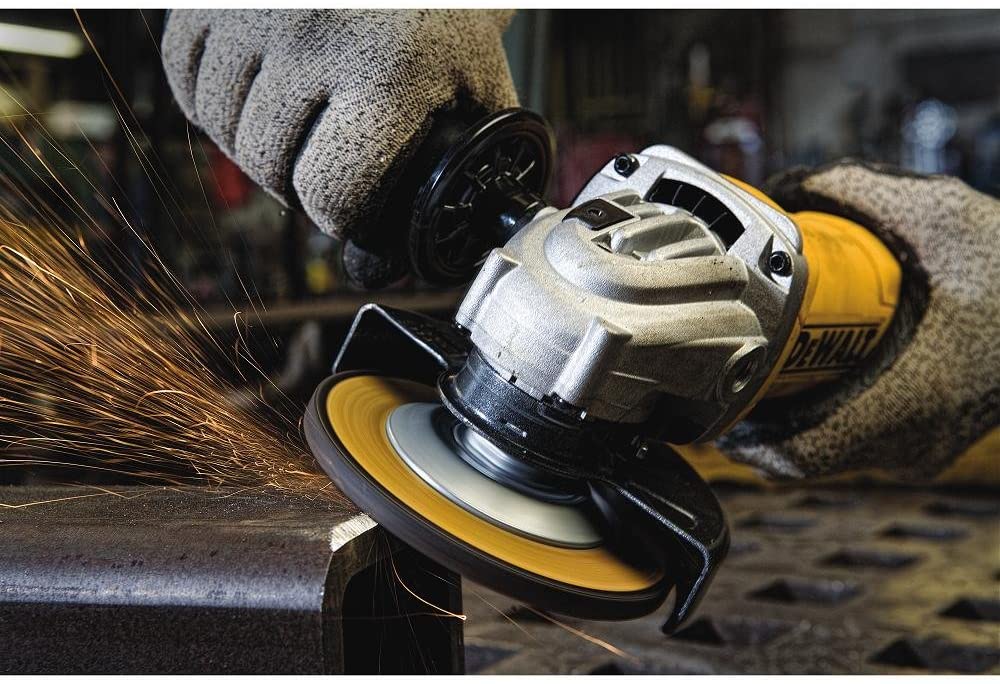 How Angle Grinders Work
Usually, the cutting disc is positioned so that it is at the same angle as the trigger. The handle and disc are parallel to each other for this reason. The blade guard is there to keep your hand safe from the rotating blade. There is almost always another handle, which allows you to have a firmer grip while using this decently powerful tool.
The ergonomic design provides for complete control and reduces fatigue. However, this machine is a bit larger than a cut-off tool, so that it will wear your arms down faster. This machine is also very versatile. It can be used for cutting on top of things like sharpening and polishing metals.
They are commonly found in automotive shops, as they can cut through the metal parts of cars very quickly. Woodworkers and plumbers may use them as well. They can cut through wood with relative ease and are great for cutting through pipes.
Because of all these design features, this tool is a bit more expensive than others. You're paying for the versatility, however. This tool can potentially save you quite a bit in the long run by taking the place of many different tools so that you may save money over time.
Pros
Versatile
Powerful
Ergonomic design
Larger discs available
---
Material Size
The main difference between these two machines is the type of metal they can cut. Cut-off tools are excellent for metal that is below 3 inches. They are perfect for detailing because of this. Plus, they're cheaper. So, if you only deal with smaller materials, you'll be saving money by choosing a cut-off tool.
On the other hand, cut-off tools can't handle larger jobs. They are not suitable for cutting through pipes or bars. If the material is more extensive than 3 inches, they won't handle it easily or safely. Instead, you need an angle grinder in these situations.
Angle grinders are also more versatile than a cut-off tool, so you can generally do more with them. If you work with various metals, you may choose an angle grinder for this reason.
Cost
Angle grinders do cost more in general than a cut-off tool. However, that does not mean you should skip on them entirely. Angle grinders can also take the place of man tools and are incredibly versatile. Therefore, they may eliminate the need for you to buy other tools, saving you money in the long run.
In this situation, the cost really shouldn't dictate what sort of tool you purchase. There isn't a huge price difference between them, and you aren't going to break the bank with either one.
Furthermore, both of these tools have electric and pneumatic options. Because of this, their prices can range quite a bit. In some cases, the type of power is going to dictate the cost more than anything else.
Portability
Cut-off tools are smaller – that is pretty easy to see. Thus, they are generally also considered the most portable and the best option for those who work in small spaces. However, it is essential to remember that angle grinders are also very small – even if they aren't as small as a cut-off tool.
Both of these tools are quite portable. So, if you need a portable option, they are both going to be a reliable option.
Versatility
Angle grinders are far more versatile than other options. They are some of the most versatile tools out there. If you do many different projects, you may choose an angle grinder simply because you could likely use it for all sorts of different things. This tool is most suitable for home DIYers, as they tend to do many different projects. An angle grinder can be an excellent tool to have at your disposal.
On the other hand, cut-off tools are only suitable for thin metal. That is all they can do. This makes them best for people who do a lot of work with thin metal.

Quick Look: Our Top Choices
Image
Product
Details

Our Favorite Cut-off Tool

Milwaukee 2522-20

20
000 RPM
Fast & Accurate
Reversible blade rotation for extra cutting control
CHECK PRICE

Our Favorite Angle Grinder

DeWalt Angle Grinder Tool

11
000 RPM-motor
Has dust ejection system
2-position side handle
CHECK PRICE
Our Favorite Cut-off Tool: Milwaukee 2522-20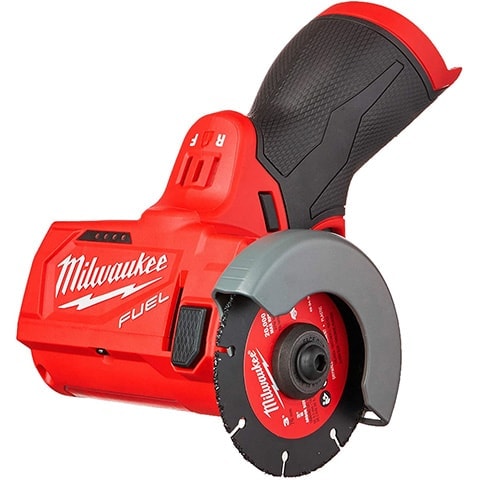 The Milwaukee 2522-20 can produce 20,000 revolutions per minute (RPM) for fast and accurate cutting performance. It has a reversible blade rotation for extra cutting control, as well as a powerful brushless motor. The Redlink Plus Intelligence ensures the machine always performs optimally. Plus, it is backed up by the Milwaukee guarantee.
---
Our Favorite Angle Grinder: DeWalt Angle Grinder Tool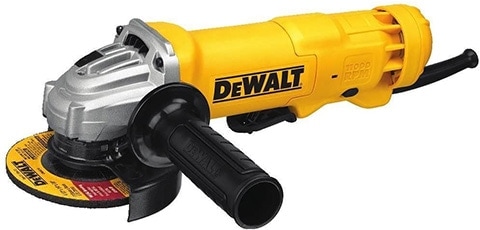 With an 11,000 RPM-motor, the DeWalt Angle Grinder Tool is an excellent solution for most users. The dust ejection system provides enhanced durability as it ejects potentially damaging dust from the motor. Simultaneously, the 2-position side handle helps ensure that you have complete control over the tool at all times.

Conclusion
For larger projects, you need an angle grinder. However, for small sheets of metal, you may be able to get away with an angle grinder. It just depends on the projects you have ahead of you! Home DIYers will usually get the most use out of an angle grinder. But, if you work with small pieces of metal a lot, you may need a cut-off tool instead.
In the end, which tool you get largely depends on the projects you need to do with it. They both cost about the same and are equally as portable.