Die Grinder vs Angle Grinder – Which is Best for Your Needs?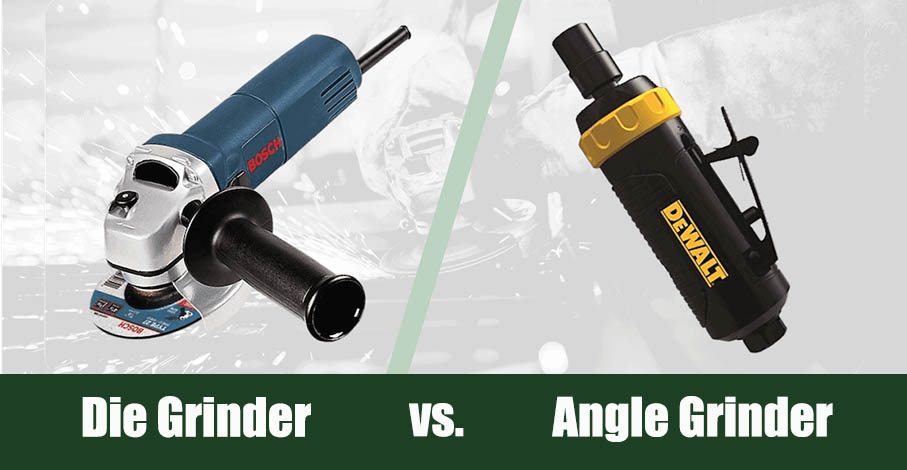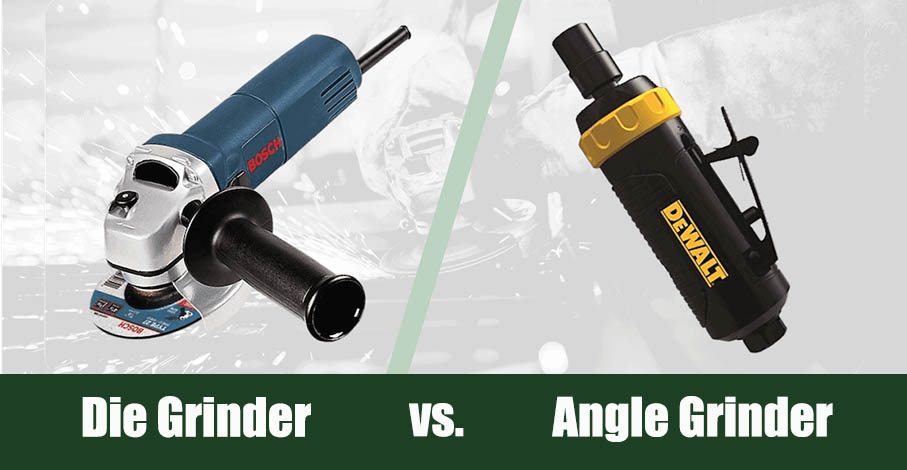 Die grinders and angle grinders are fairly similar tools, but they have different applications. If you're wondering which tool is best for you and the job, we'll break things down to help you make the informed choice.
In a nutshell, a die grinder is a small-ish rotary tool that can use a range of attachments to help you cut, sand, polish, and more. The angle grinder is a heavy-duty tool that uses a rotating wheel to grind, sand, or cut larger materials. They both have a place in your toolbag, so let's take a deep dive into the differences, uses, cost and safety factors, and look at a couple of our favorite models on the market.

Overview of Die Grinder
Let us first take a closer look at the die grinder. Your die grinder can assist you with many tasks around your house or shop. If you are not familiar with a die grinder let us give you a brief overview of some of its key features.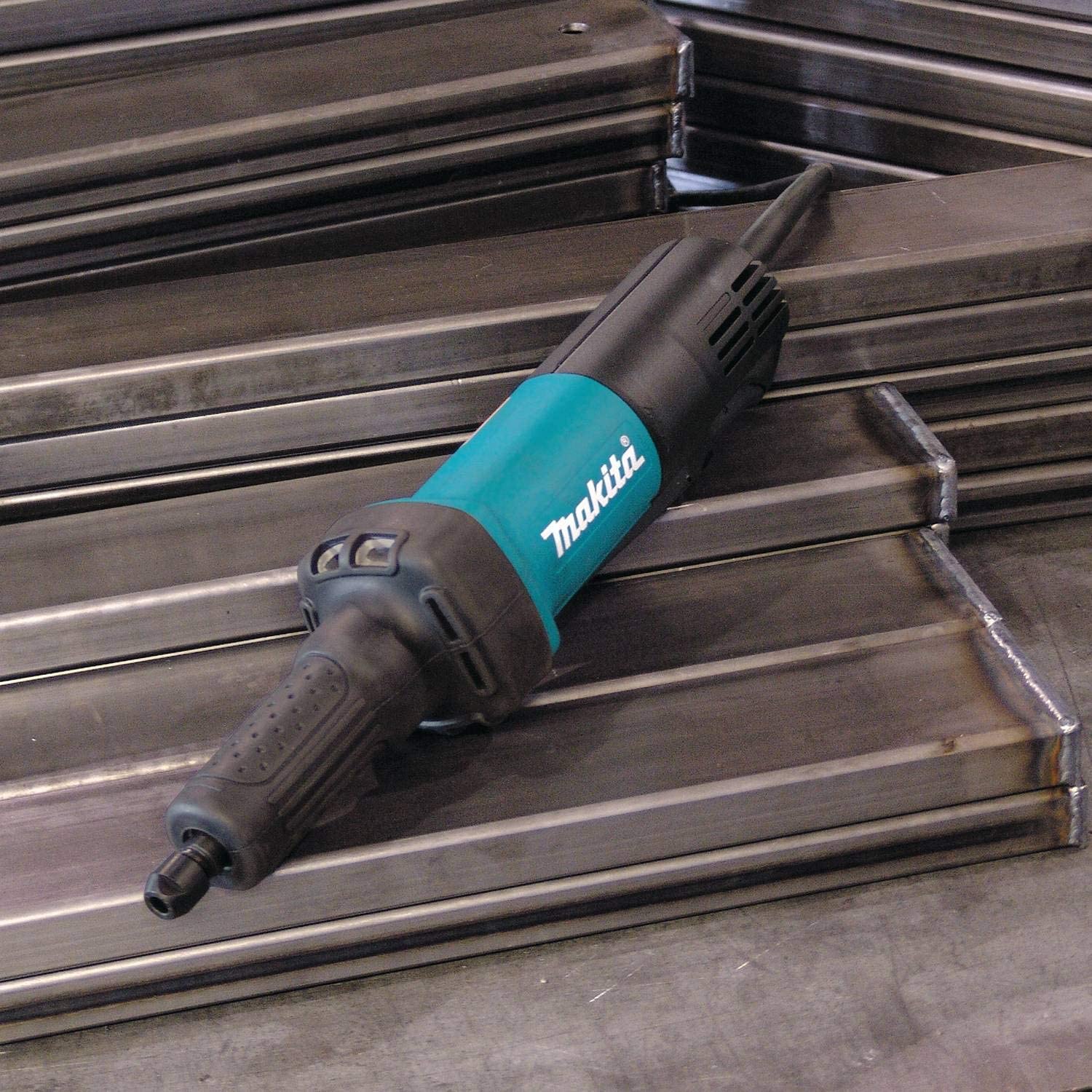 How It Works
A die grinder is a small, handheld power tool that is sometimes referred to as a rotary tool. It has a rotating spindle where a sleeve is used to tighten a bit to the end. For example, a sanding bit can be attached that will rotate at a very high speed and is used to smooth or remove material from your wood project. Now there are several different sanding bits, so the bit you use will vary depending on the need. Keep in mind too, there are many different bits, for many different purposes which we'll discuss.
Die grinders can be used with compressors or can be powered by electricity. For the average homeowner, the electric model is sufficient. Either way, they are lightweight, averaging from 1 to 3 pounds.
Uses
We mentioned one task the die grinder can handle earlier. Sanding, but a dozen or more others are depending on the bit you attach to your tool. Most often die grinders are used on metal to smooth welded joints, or polish. However, you can use your die grinder to cut small metal, wood, or even plastic items. Then after you cut, you trade your bit for a polishing one or a sanding one and you can smooth out your edges.
Machines shops use die grinders regularly to smooth out die cuts. Household uses range from cutting or notching small wood projects or crafts, to removing rust from car parts or tools. The uses are as many as the ideas that you come up with. Just find the right attachment and you will be able to correct just about any problem that you encounter.
When to Use a Die Grinder
We have seen how die grinder works and what some of its uses are but when to reach for the die grinder? Well, considering the size of the tool, and the power that it has, you can probably assume that many of the projects that you will use the die grinder for are on a smaller scale. Meaning you would not want to tackle sanding a large area with this tool, or try and cut a thick piece of metal or wood. You would find this tool helpful on smaller items, tighter spaces, or vulnerable materials.
Pros
Lightweight
Great in tighter spaces
Smaller projects
Works on a variety of materials
Large assortment of bits
Cons
Small for large hands
Lacks power for some jobs
Bits can become loose

Overview of Angle Grinder
We will now breakdown the uses and features of the angle grinder. It too has many uses and can be a valuable tool to have in your garage or at your job site. Let's discover together some of the angle grinder's unique features and how it may differ from the die grinder.
How It Works
An angle grinder is sometimes referred to as a disc sander or a side grinder. Its name describes how the tool looks; the head of the tool is at a 90-degree angle from the shaft of the tool. An angle grinder is a handheld power tool that has a rotating disc approximately 4 to 5 inches in diameter. Its main use is for grinding and polishing.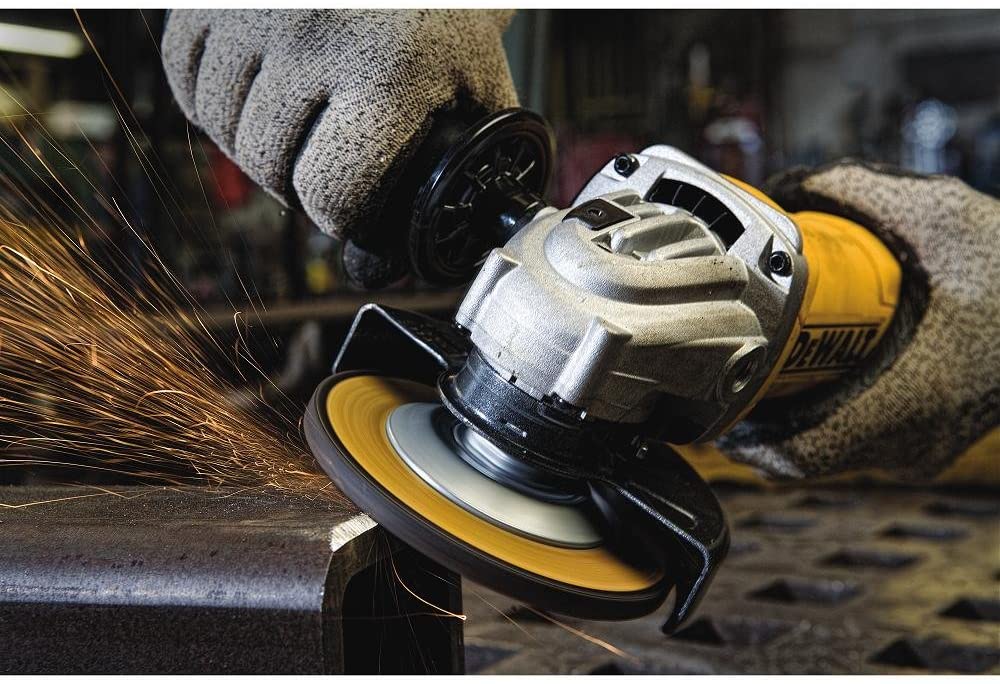 Many angle grinders are electric, either corded or cordless, but there are air tool grinders that are used with a compressor. Large scaled angle grinders can even be gas-powered. Whichever power source you consider, know that the design of the angle grinder can vary from brand to brand. One thing that many of them have in common is the size of the discs that are used, that is why you can find them at your local hardware store. However, as we will see a bit later, there are many types of discs to choose from depending on the job.
The majority of angle grinders weigh anywhere from 5 to 10 pounds, approximately double that of a die grinder. The motors range from 3 to 4 amps up to 7 or 8 amps. They can produce RPM over 10,000.
Uses
As with the die grinder, there are many uses for the angle grinder. As was stated before, its primary function is polishing and grinding, but that can be applied to a variety of materials and projects.  It also can cut and sand if you use the appropriate disc. So, depending on the material you are working with and the task you are wanting to complete, your angle grinder will be able to complete the task as long as you attach the correct disc.
For example, if you need to cut masonry, there is a diamond blade. For metal, there are metal cutoff discs. For cleaning rust off of metal there is a wire cup brush. If you have an issue, there is a disc to help with the problem. Remember too, that the angle grinder has a much more powerful drive motor than the die grinder, so it can take on larger-scale projects and more involved ones.
When to Use an Angle Grinder
Because the angle grinder can cover a much larger area than the die grinder, it can be used on larger projects. It can also be used to cut and trim bricks when building a wall or other masonry projects. Polishing metals and grinding down metal joints is one key uses of the angle grinder. Machine shops as well as home garages, use it when they are working on car repairs or bodywork. Carpenters and journeymen use the angle grinder when cutting concrete or metal strapping for homes.
Where ever there is a need for polishing, grinding, cutting, cleaning metal, sharpening tools, or sanding, you can probably use an angle grinder. An angle grinder can perform some of the same work that several tools can do. You can complete many of the jobs we discussed here provided you can keep a steady hand.
Pros
Works on a variety of materials
More powerful motor
Good on larger projects
Can use various sanding discs
More durable
Cons
Not for tighter spaces
Heavier to use
No quick-change of discs
Requires a steady hand
---
The Bottom Line
Die grinders are a very useful tool. They can be used on a variety of projects, both for the professional and the DIY'er. The die grinder is smaller and more manageable than the angle grinder and can in many cases be used with one hand. It is lightweight and easy to maneuver. The small bits allow the user to get into tight spots that would not otherwise be possible with just your fingers.
Angle grinders also have many uses and are just as versatile. They are larger than the die grinder and will require the use of both of your hands to keep it under control. They are better suited for the larger projects that you have around your house or for the professional.
What are the Similarities?
We have highlighted the features of each of the grinders and explained some of the uses for each of them. Do they share anything in common? Well, there are some similarities. One obvious one is the power source that each one of them has. They both come in an electric variety, or as an airless tool, which means it needs a compressor to operate it.
Another thing that is common to both of them is that they both are only as efficient as the amount of power they have. They both rely on rpm's, revolutions per minute. The spindle on the die grinder revolves to produce the friction between the bit and the material, just like the wheel of the angle grinder rotates at high RPMs to produce similar friction.
Cost Factor
The cost of both of these grinders, believe it or not, is relatively the same. Aside from the bits or wheel discs, the actual grinders are pretty close in price. Higher-end grinders are the ones that are made by DeWalt or Makita. Less expensive models are mostly off-brands. Quality plays a role in the cost of the grinder, the DIY'er can find an affordable tool to suit their needs, where professionals will find it necessary to pay a bit more.
Safety
One thing you need to remember is that there is a safety protocol for both of these grinders. The number one thing is to use protective eyewear. When you use these grinders, they produce a lot of dust and debris, so protect your eyes. Since these are hand tools, it is also important to wear a good quality glove to protect against debris or overheating of the tool. If you are working around concrete, tile, or masonry, you will find that there will be a lot of dust. So, in addition to safety glasses, you may consider a dust mask. Be safe, and enjoy!
When to use a Die Grinder
Sanding small wood projects
Making precision cuts
Polishing small items
Used for delicate cuts
Intricate tile cuts
When to Use an Angle Grinder
Sanding larger wood projects
Making general cuts
Polishing larger areas
Use for autobody work
Cutting cinderblock

Quick Look: Our Top Choices
Image
Product
Details

Our Favorite Die Grinder

Makita GD0600 1/4" Paddle Switch Die Grinder, with AC/DC Switch

Can be used in tighter spots
Easy to handle and operate
Accepts various bits
CHECK PRICE

Our Favorite Angle Grinder

DEWALT Angle Grinder Tool, Paddle Switch, 4-1/2-Inch, 11-Amp (DWE402)

11
000 RPM
Only weighs 1-pound
⅝-inch spindle with a quick-change release
CHECK PRICE
Our Favorite Die Grinder: Makita GD0600 1/4″ Paddle Switch Die Grinder, with AC/DC Switch

This Makita Die Grinder has a powerful 3.5-amp motor and produces 25,000 RPM. It can handle a wide variety of projects because it accepts various bits. It can be used in tighter spots because of its design and size. The smaller barrel makes it easier to handle and operate, and it weighs only 3.5 pounds. The large paddle switch allows you to use the tools for longer periods.
---
Our Favorite Angle Grinder: DEWALT Angle Grinder Tool, Paddle Switch, 4-1/2-Inch, 11-Amp (DWE402)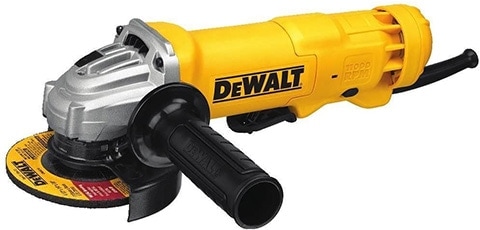 DeWalt is the maker of quality hand tools. This angle grinder packs an 11-amp AC/DC motor that produces 11,000 RPM. It has a ⅝-inch spindle with a quick-change release so you can change the wheel without a wrench. It also has a one-touch guard, two-position side handle, and it only weighs 1-pound.

Conclusion
We have compared the die grinder with the angle grinder. We have given you some of the key features of each of these hand tools and also some of their uses. Primarily, you can see that the die grinder is a smaller tool with less overall power and is made to be used on smaller more intricate projects. In contrast, the angle grinder is a somewhat larger tool, with more power and is commonly used on larger grinding and polishing projects. Don't forget, however, that it can also be used to cut and sand too.
To determine the appropriate tool to use for your specific project, take a look first at the material and size of the project. Consider the length of time it may take you to complete your task using a smaller tool or if it is possible to use the larger angle grinder. If you need to get into smaller, tighter spaces it is presumed that the die grinder will be most effective. If your task involves a larger area, then the angle grinder is your choice.
When you have decided on the tool you will use, adhere to safety protocols, and have at it! Enjoy the experience and take pride in the work you complete.