5 Best Band Saws Under $500 – Reviews, Top Picks & Buyer's Guide 2023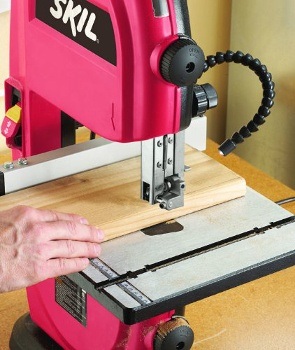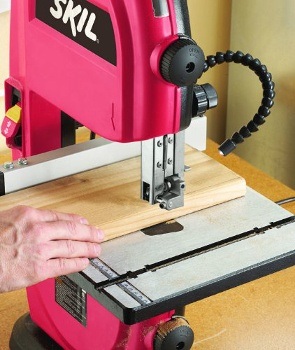 It would be great if you could pick up any band saw as cheaply as you could get a cordless circular saw or corded jigsaw, but the sad truth is that these fixtures of the workshop can go for a pretty penny. If you want the precision and convenience of a band saw, you might think you have no choice but to cough up.
But if there's one thing we stand for here at HealthyHandyman, it's that anybody can be a great carpenter with practice – and if there are two things, the other one is that more expensive doesn't always equal better. If you need to buy a band saw at a cheap price, you don't always have to settle for cheap quality.
We wrote these reviews of the best bandsaws under $500 so we could open your eyes to the wide range of reliable, budget-friendly band saws on the market. We can't 100% guarantee that you'll discover your new favorite tool here, but if you do…don't say we didn't warn you.
---
A Quick Comparison of Our Favorites in 2023
Rating
Image
Product
Details

Best Overall

WEN 3962 Two-Speed Band Saw

Spacious work table
Reasonably powerful motor
Two speed settings
CHECK PRICE

The Runner-up

Rikon 10-305 Band Saw

Compact and light
Excellent construction
Good cutting capacity
CHECK PRICE

Best Value

SKIL 3386-01 Bench Top Band Saw

Cheapest band saw available
Easy to adjust
Great extras
CHECK PRICE

Best Portable

DeWalt DWM120K Portable Band Saw

Powerful motor
Wide cutting capacity
Easy to carry around
CHECK PRICE

Premium Choice

Gryphon C-40CR 37″ AquaSaw Diamond Band Saw

Resistant to corrosion
Perfect for cutting unconventional materials
Simple design
CHECK PRICE
The 5 Best Bandsaws under $500
1.

WEN 3962 Two-Speed Band Saw – Best Overall
When the conversation turns to high-capacity band saws that regular folks can afford, we always bring up the WEN 3962 first. It's got a 6.5-amp motor with a 6-inch cutting depth and a 9¾-inch maximum width, giving it the power and capacity to handle a broad range of projects.
The extra features would be at home on a much more expensive product. The WEN 3962 has a worklight attached for seeing your cuts in detail, and a removable stand, so you can decide whether you want to use it on your workbench or the floor. Its two speed settings — 1520 or 2620 FPM — work great for lumber of all different hardnesses.
The calibration is impressive. This band saw can rip long planks while wandering less than a tenth of an inch each time. The spacious work table, at 14⅛ by 12½ inches, is another big selling point.
Even with all the reasons to recommend it, we won't claim this is a powerful or professional saw. At these speeds, it's the best bandsaw for amateur DIY. One other caveat: when running at 2620 FPM, the saw belt rubs against the motor mount, which wears through it pretty quickly.
Pros
Spacious work table
Reasonably powerful motor
Two speed settings
Cuts are always straight
Removable stand makes it more portable
Cons
Doesn't cut fast enough for professionals
Poor belt design
---
2.

Rikon 10-305 Band Saw – The Runner-up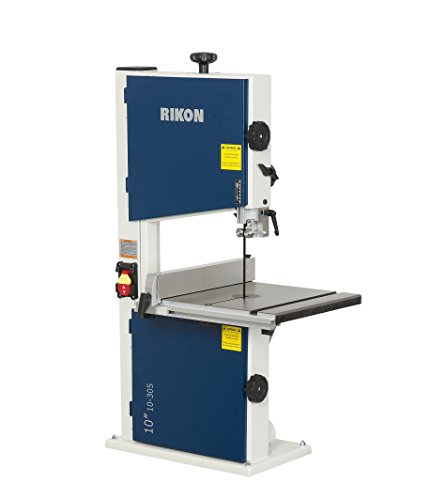 To be honest, our opinion on whether the Rikon 10-305 beats out the WEN 9632 changes almost daily. Right now, though, the 10-305 is in second place — but that doesn't mean you should count it out.
First off, the 10-305 has an extremely low shop footprint. If you're concerned about space, it's only 18 by 13 by 35½ inches, easy enough to fit onto any workbench. Yet that compact size doesn't make it any less user-friendly: it's got a cutting capacity 9 inches wide and 4½ inches tall (up to 8 if you add riser blocks), and a 13 3/4 by 12½-inch table.
To address the elephant in the room: yes, ⅓-HP is not very good for a band saw motor. But the Rikon 10-305 has things going for it other than horsepower. For one thing, it has the best-constructed steel body we've seen at this price point. It's also got a better dust collector, blade-changing system, and instruction manual than the WEN 9362.
What leaves this saw at #2 is that it's benchtop only, and doesn't come with its own stand. The factory-installed blade is also highly unimpressive; switching it out is worth the cost.
Pros
Compact and light
Excellent construction
Good cutting capacity
Efficient dust collector
Easy to change blades
Cons
Bad default blade
More expensive than our #1 pick
No stand
Weak motor
---
3.

SKIL 3386-01 Bench Top Band Saw – Best Value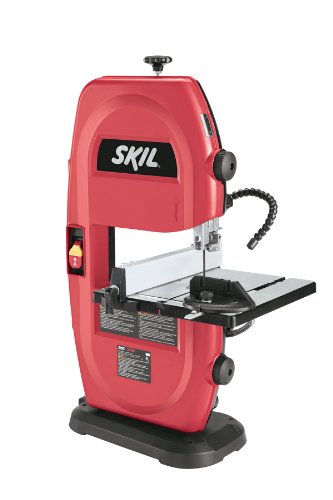 The 9-inch SKIL 3386-01 is our pick for the best band saw for the money, but we want to be clear about why. We've put it at #3 because it's, bar none, the least expensive functional band saw we've ever seen for sale. This pick is about value, and for us, anything that opens DIY and woodworking to more people has value.
It's not at #3 because it's that good of band saw. To be fair, the SKIL 3386-01 has some awesome special features — even more awesome when you consider how little you'll pay for them. The working light, rip fence, and miter gauge are more than functional.
This saw also has better cutting power than you'd expect. Its 120-volt, 2.5-amp engine has an unloaded speed of 2,800 FPM, just about comparable to an average handheld jigsaw. Again, not amazing, but perfectly usable.
The main thing that makes the 3386-01 feel cheap is its shaky construction. This is true of both the body and the smaller components: the drive belt and blade guide, in particular, deteriorate fast. Also, you can't install riser blocks, which means you're stuck with a squat 3½ inches of cutting capacity.
Pros
Cheapest band saw available
Easy to adjust
Great extras
Cons
Flimsy
Too light
Small dust port
---
4.

DeWalt DWM120K Portable Band Saw – Best Portable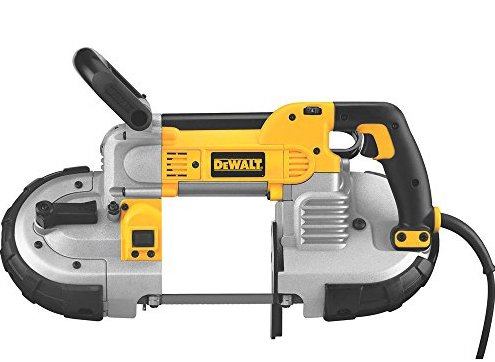 The DeWalt DWM120K throws around the words "industry-best" an awful lot. Let's see if it deserves them. It's a portable horizontal band saw, which means that instead of a table and a base, the blade is attached to a handle and designed to be operated with two hands. Weighing only 15 pounds, it's easy enough to carry from job to job.
This saw is in the middle of the price range on this list: squarely affordable, but definitely not cheap. Compared to some of the motors on this list, its 10-amp engine is shockingly powerful, and with a 5-inch cutting capacity, it's able to crosscut almost any board you'll encounter.
Extra features include a powerful worklight, and rubber bumpers that help it withstand hits. After testing it, we think its durability and ergonomic build make it an ideal jobsite tool, though that's limited somewhat by its need to be plugged in.
Mostly, this horizontal band saw deserves its "industry-best" boasting. However, we've left it at #4, since it's not what the majority of amateurs are looking for in a band saw. This list is all about lowering woodworking's entry barriers, and the DWM120K isn't the best tool for that.
Pros
Powerful motor
Wide cutting capacity
Easy to carry around
Great at absorbing shocks
Relatively low price
Cons
Bad choice for beginners
Needs to be plugged in
Substandard factory blade
---
5.

Gryphon C-40CR 37″ AquaSaw Diamond Band Saw – Premium Choice
"Hold on," you might be asking. "A premium choice? On an article about budget band saws?" Well, yeah. Some people have $400 to $500 as a price range. We want them to feel included.
In all seriousness, the Gryphon AquaSaw is a strong option for those of you willing to pay mid-range prices for a band saw. The "AquaSaw" name comes from its corrosion-resistant construction: Gryphon used stainless steel and anodized aluminum to ensure the saw won't rust or degrade in saltwater.
While it's intended specifically to cut corals and other materials for reef tanks, it's more than prepared to cut other materials, including wood, tile, glass, and stone. To make it even more resistant to wear and tear, the AquaSaw has fewer moving parts than almost any band saw on the market. Its motor is strong enough that it powers through ceramic as though it's wood, and wood as though it's paper.
On the whole, however, the rather narrow intended use of the Gryphon AquaSaw makes it hard to recommend above #5. And there are other drawbacks: the blade calibration is way off, and the blade guides are placed such that larger workpieces hide them from view entirely.
Pros
Resistant to corrosion
Perfect for cutting unconventional materials
Simple design
Cons
Relatively expensive
Wonky blade calibration
Guides are useless
Meant for coral, not wood
---
Buyer's Guide – Picking the Best Band Saws
We understand that not everybody will resonate with one of the five band saws on this list. That's fine. We want to be absolutely sure, though, that you leave this article with the knowledge you need to buy the perfect budget-friendly band saw.
That's why we've put together this buyer's guide. Here, you'll learn about the different things you should be aware of when shopping for a band saw. Read it over, then keep it on hand!
Throat capacity
This is the first thing you should think about. Reference (or draw up) materials lists for all your planned projects, along with any pipe-dream projects you might take on in the future. Look for the biggest workpiece on each one that you'll use the bandsaw on, and get a bandsaw with a cutting capacity at least an inch larger than that.
This is where carpenters shopping for band saws on a budget run into the most trouble since less expensive band saws often have small, restrictive cutting capacities. If you find one that's perfect in every way except for how much wood you can fit inside it, consider installing riser blocks, which can double the throat capacity of some band saws. Be warned that you can't add riser blocks to every band saw.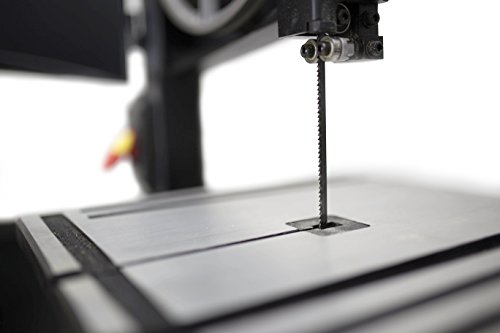 Frame
Band saws are constantly under stress. They hold their blades straight by balancing tension between the saw and its frame. Both the body of the saw and the saw itself have to be made of superior materials in order to take that weight.
The best way to find out if a band saw will fracture in the first six months is to talk to people who have used it, or read online reviews. However, the material used to make the body is a good indicator of quality — or an early warning sign.
Frame Types
Cast iron frames are great at standing up to a lot of pressure over a long period of time. The trade-off is that iron frames are both heavier and more expensive.
Rolled steel frames can also be good-quality, and often support higher throat capacities.
Aluminum is cheaper than iron or steel, but not as durable.
Plastic band saws will wear out so fast your head will spin. Run the other way.
Blade replacement
You'll need to change your band saw blade frequently. Not only does the aforementioned pressure wear them out fast, but different tooth counts and blade materials are best for cutting different things.
The best band saws make it as easy as possible to change your blade out. Don't believe every ad that claims blade replacement can be done "tool-free" – it's crucial to learn how much of a pain real people found that task with the saw you want to buy.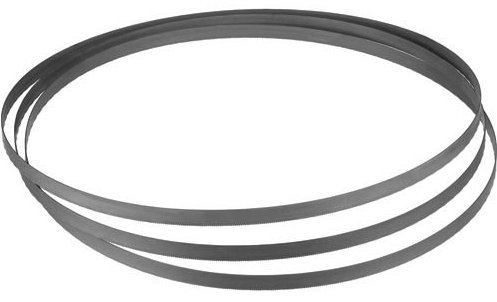 Power and speed
It's easy to get stars in your eyes when you see a high horsepower or RPM number, but top speed isn't the best way to decide what saw to get. Here's our basic rule: look for a band saw with more speeds, not higher speeds.
What does the number of speed settings affect? Versatility. You'll need different speeds for different materials and types of cuts — generally, faster speeds for harder materials. The more speeds you can set your band saw to, the more you'll be able to experiment and find the perfect setting for crosscutting, resawing, etc.
As for horsepower: as an amateur working with basic lumber, look for HP between 1 and 1½. A lot of budget saws go below 1, so don't feel that spells doom for your project. Even a ⅓HP engine like the Rikon 10-305's isn't useless, just slow.

Conclusion
With these reviews, we wanted to show you that no matter what your budget, projects requiring band saws aren't out of reach for you. We believe more woodworkers make the world a better place, and band saws under $500 are the perfect way to get started in DIY and crafts.
It is clear that our winner for the best band saw under $500 is the Wen 3962, due to its great features and price combined. As well as the fact that it's a perfect addition to your tool shed. Runner-up the Rikon 10-305 is a decent saw that will get the job done at a decent price. We hope that this article has helped you along your journey in buying the perfect band saw and that you find one that suits all your needs.