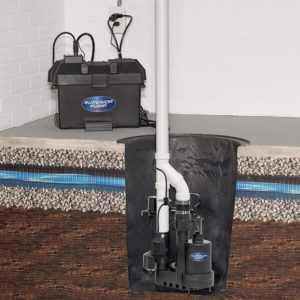 Walking into a flooded basement can be a heartbreaking experience. It's not just the inconvenience and potential for loss, but it costs money to get the water out, and takes a lot of time. To avoid that mess, getting your hands on a backup sump pump could make your life a lot easier.
With so many backup sump pumps on the market, it's difficult to determine which one is suitable for your needs. Then, there's the research that you have to conduct, which might not even lead you to the right pump. To help you avoid time-wasting, our reviews feature six sump pumps that you should consider. We've listed their features, how they're going to help you, and where they could potentially hold you back.
To solidify your decision of which pump to choose, we've included a buyer's guide to inform your choice.
A Quick Comparison of Our Favorites
Rating
Image
Product
Details

Best Overall

Wayne ESP25 Upgraded Battery Backup System

Operates quietly
Pre-assembled
Good charging technology
CHECK PRICE

Best Value

Superior Pump 92900 1Battery Back Up Sump Pump

Corrosion-resistant
Reverse polarity alarm
Affordable
CHECK PRICE

Premium Choice

Zoeller 508-0006 Aquanot 508 Sump Pump System

Powerful pump
LCD screen
Connectable to house alarm system
CHECK PRICE

PumpSpy PS2000 WiFi Battery Backup Sump Pump System

Mobile alerts
Powerful pump
Tests that system is operational
CHECK PRICE

Liberty Pumps 441 Battery Back-Up Emergency Sump Pump System

Pre-assembled
CHECK PRICE
The 6 Best Battery Backup Sump Pumps – Reviews 2021
1.

Wayne Upgraded Battery Backup System – Best Overall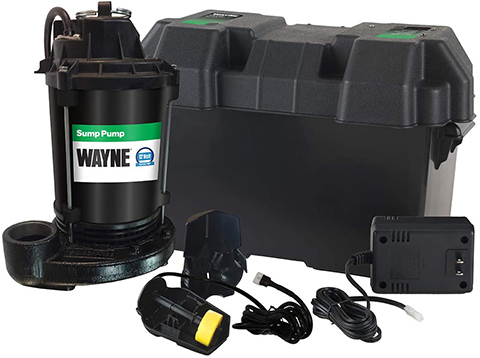 No need to worry about assembling this pump because the Wayne ESP25 has done the hard work for you. They've used epoxy coated steel and cast iron to make this pump so that it lasts for the long-haul while ensuring that it does up to 2,900 gallons per hour (GPH) at 0 feet of head. This pump is actually fairly quiet and it operates on a 12-volt backup system with Smart Charging technology that charges the battery to optimal levels. The battery backup is good for 10,000 gallons on a single charge, providing pumping power for hours after the electricity has gone out.
When the backup system is active, an alarm will sound to notify you, and you can see the system readiness thanks to the LED display. This pump will require a 75-amp hour (Ah) battery, which is not included. This pump is supposed to last for years, but the nice thing is that Wayne has provided a 2-year warranty.
An issue with this pump is that the check valves are located higher than most people prefer. Otherwise, after looking at its features and comparing them to the rest on the list, we found that this pump was the best overall.
Pros
Operates quietly
Pre-assembled
Good charging technology
Cons
Check valves irregular positioning
---
2.

Superior Pump 1Battery Back Up Sump Pump – Best Value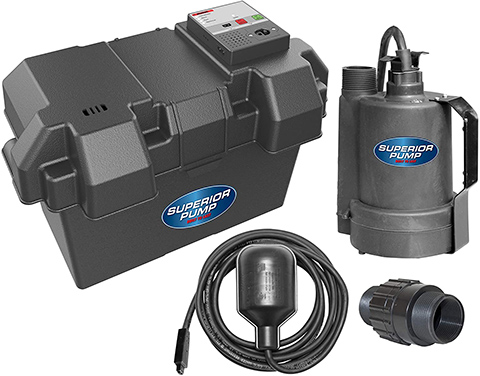 This is a submersible pump that moves up to 1,380 GPH and lifts water up to 25 inches in vertical height. It comes with a tethered switch to automatically switch the pump on or off, and the 1¼-inch NPT discharge provides high-capacity pumping. The Superior Pump is made from thermoplastic, which should last since it's corrosion-resistant, and includes a 1-year warranty.
They've designed the box to fit deep-cycle absorbent glass mat (AGM) marine batteries, and the control panel has an 87dB alarm that will sound off is there is a loss of power. If the voltage drops below 10.8 amps, the low battery alarm will go off. This pump comes with a stainless-steel mounting clamp so that you can mount the float switch to the discharge pipe. Superior Pump has included a reverse polarity alarm, which will go off if you've hooked up the battery backward.
The manufacturer sells all accessories separately, and the alarm will sound off until you manually reset the button. After we compared the product's features to the price, it was evident that Superior Pump was the best battery backup sump pump for the money.
Pros
Corrosion-resistant
Reverse polarity alarm
Affordable
Cons
Manual reset alarm button
---
3.

Zoeller Aquanot Sump Pump System –  Premium Choice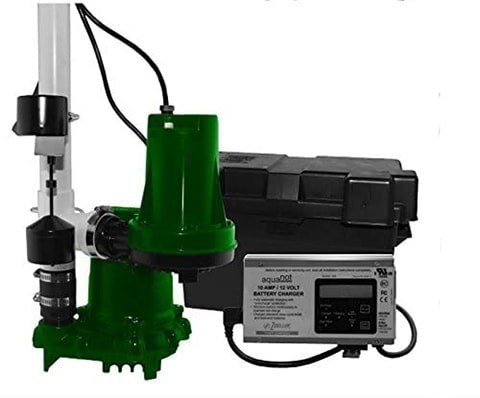 Zoeller is another manufacturer that has pre-assembled its pump, so it's ready for you to install in a water sump. It comes with a powerful 115-volt pump, and it provides extra protection if the AC pump fails because of power outages. Zoeller has included a 10-amp charger with an alarm to notify you when the backup system is active, as well as a light indicator. The charger and the battery will work when the power goes out.
You can see the battery voltage on the LED screen, and you can even attach dry contacts to your home security alarm. The charger is efficient and the manufacturer has included a battery case for protection, but you're going to have to buy a 12-volt battery.
The manufacturer has included a DC pump discharge check valve and an additional AC pump check valve, as well as a float switch and piping. The only drawback of this model is that it's quite pricey. You get a lot of features from the product, but it doesn't come cheap.
Pros
Powerful pump
LCD screen
Connectable to house alarm system
---
4.

PumpSpy WiFi Battery Backup Sump Pump System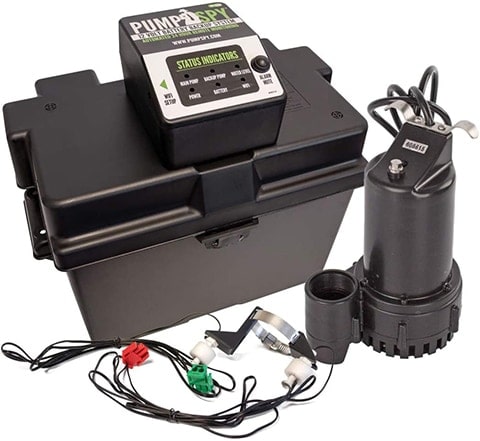 Technology has evolved and resulted in the improvement of how sump pumps work. PumpSpy's monitoring service checks the pump and battery for issues, then automatically generates an alert. Otherwise, you can check if everything is fine via PumpSpy app, so you'll need WiFi to install this pump system. The monitoring service is free and doesn't require a subscription.
It works with a 120-volt primary sump pump, and the backup pump automatically activates if there's a power outage or an issue with the main sump pump. PumpSpy has also included a test system, which analyses your system three times a week to ensure that it's working. Some of the alerts include: high water level, power outage, main pump failure, main pump running excessively, and blocked discharge line.
The battery can fill up 13,000 gallons and produce 2,000 cycles in a single charge. One of the reasons the PumpSpy's battery is appealing is that it can drain a 20-gallon basin in 30 seconds, and it's got a flow rate of 3,000 GPH.
Pros
Mobile alerts
Powerful pump
Tests that system is operational
---
5.

Liberty Pumps Battery Back-Up Sump Pump System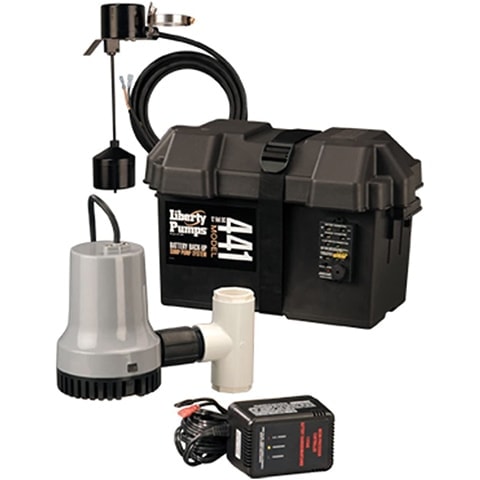 Liberty Pumps 441 is another system that works on a 12-volt pump but has a 5-stage charging system. With this package, you'll get a terminal block that's easy to connect, a battery box with a strap, and plumbing connections. They've designed this back-up system to work with a primary 120-volt sump pump, but the battery isn't included.
The supplier has made the product from thermoplastic and has included a check valve, tee and bushings for 1½ -inch connections. On the control panel, they've fitted a mercury-free switch. This pre-assembled pump weight 13 pounds, so it's easy to install you don't have to incur any frustration from putting it together.
This pump might not be as powerful as the other pumps, and durability is also an issue.
Cons
Lackluster pump
Lack of durability
---
6.

BURCAM Battery Back Up Sump Pump System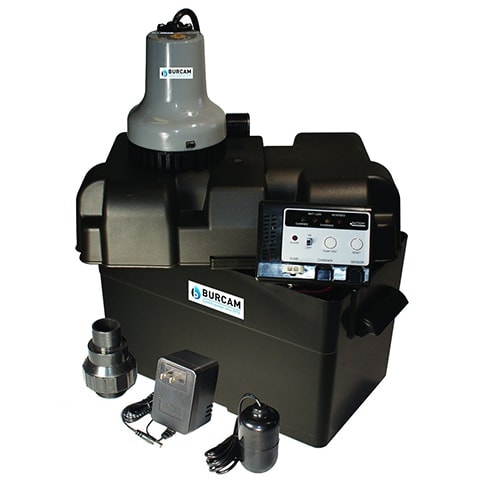 This is one of the lightest pump systems since it weighs only four pounds. It's a submersible pump that you can use as an auxiliary pump in your residence. With this system, you'll get a 12-volt sump pump, a battery case, a tethered float switch, a trickle charger, and a check valve. You can use the tethered float switch in a 14-inch diameter basin or one that's bigger to get automatic pump operation.
Burcam has designed this pump system to be compatible with most electric sump pump brands, and you can install it on existing or separate discharge pipes. It can fill up to 1,600 gallons per hour, and its maximum head is 10 feet. Since it can do only 1,600 GPH, it doesn't have a great capacity, making it one of the weakest pumps on the list. Burcam 300403 comes with an alarm to notify you when the backup system is activated.
Pros
Compatible with most sump pump brands

Buyer's Guide
Knowing the features of the backup pumps from our reviews is important, but you also need to look out for so that you buy a sump pump that meets your needs. Our buyer's guide will reveal to you the features that you should look out for when purchasing a sump pump.
Different Types of Sump Pumps
Battery-powered
A battery backup sump pump is installed to your primary electric pump in the sump basin. In most cases, it runs on a 12-volt with its own discharge pipe, or you can plumb it into the main discharge pipe.
It comes with a switch that raises the float to activate the backup pump when the water rises in the sump. That helps you in two instances. When there's a power disruption, the backup pump will assume the role of the primary pump. It works for a few hours, providing time for the power to restore. Also, the backup pump will assist the primary pump if it cannot accommodate an excessive inflow of water.
Many battery-powered sump pumps come with a monitoring system that notifies the homeowner once the backup system is active. It's usually an alarm that goes off, and in some cases, a homeowner may receive some kind of visual like a flashing light.
You'll also find that good battery-powered sump pumps come with an export terminal, enabling the owner to connect the system to the home's security system. When the backup system is active, it notifies several phone numbers.
Water-powered
These types of pumps mostly come in handy in places where pressurized municipal water supply is available. It works with the energy of flowing water through a venturi, and you install a water-based pump in a sump pit. This is where the float will activate a valve that works with controlling the municipal water pressure. The valve opens after the water has reached a certain level, and the valve will close once the water has lowered.
You will require municipal water to operate a water-powered sump pump. It has to use a separate discharge from your primary pump. This type of pump works well with an alarm that's going to notify you of high water levels or pump activity.
Size
The size is one of the main aspects people look at when deciding on a backup sump pump. Consumers need to determine how much water a backup pump can remove in an hour at a specific height. Generally, you'll install a pump in a sump pit lower than floor level, so that means a pump will need to operate at 10 feet high to get the water out. A pump's capacity to pump out water is measured by gallons per hour (GPH). In regions that receive a lot of downpours, you'll need a pump with a high GPH.
You'll also need to factor in that certain pumps require a specific configuration to operate. That means you'll need sufficient space. Otherwise, go for sumps that can handle the main pump and a battery backup pump in the same unit.
It's important to find a backup sump pump that pumps out the same amount of water as the primary pump, not half. In most cases, a primary pump has an output of 35 to 60 gallons per minute. That translates into 2,100 to 3,600 gallons per hour. Make sure that the backup pump you get can handle more or less the same capacity.
Quality
Choosing a powerful sump pump is important, but you also have to ensure that it's going to last you a long time. Backup sump pumps aren't cheap, and you don't want the hassle of replacing one every few months. You might find that most manufacturers produce their pumps from thermoplastics. While those pumps are generally durable, you should go for something even stronger.
The most durable pumps tend to be made from cast iron. They're most likely to last for several years due to their sturdy construction, and most of them tend to be resistant to corrosion. Even if it ends up corroding over time, it won't affect the structural integrity significantly. Although plastic shell pumps are lighter than cast iron pumps, they're also weaker.
Alert
Having a sump pump is important to avoid flooding, but you also need a notification when the backup pump is active. It should provide an audible cue or work through an app to tell you that the pump is working.
Also, the pump should notify you of any irregularities such as when the battery is defective or pump failure detection. Some systems even work to test that everything is in working order.
Battery Charging
Although most manufacturers don't supply the battery with the backup pump, the package usually includes a battery charger. That's important to note because you need to know the voltage to determine the period needed for the battery to charge. This is extremely important to know if you're in an area that has frequent power outages or significant downpour. Perhaps, you've got a large battery that needs a long time to charge.
Prolonged charging times can affect the use of the battery pump, especially if you need to use it often. What use it is to have a backup sump pump when you can't use it because it needs to charge for a while?

Conclusion
The six reviews have indicated exactly what features each sump pump has and how they can help you. The reviews also contain drawbacks of the pumps and how they will prevent you from accomplishing the job you want. After comparing all of the sump pumps to each other and looking at their respective features, we found that the Wayne ESP25 Upgraded Battery Backup System was the best overall. It was pretty much an all-in-one package that will help consumers tremendously.
Then, we wanted to find a product that had great features and a justifiable price that made sense. When it came to great value, we found that Superior Pump 92900 1Battery Back Up Sump Pump was the best battery backup sump pump for the money. Consumers who don't mind paying extra to get great quality can choose a premium product such as Zoeller 508-0006 Aquanot 508 Sump Pump System. These reviews combined with the buyer's guide has provided sufficient information for consumers to know exactly what they should look out for when purchasing a backup sump pump.

Pete has been working in the trades since high school, where he first developed a passion for woodworking. Over the years, he has developed a keen interest in a wide variety of DIY projects around the home. Fascinated by all sort of tools, Pete loves reading and writing about all the latest gadgets and accessories that hit the market. His other interests include astronomy, hiking, and fishing.
As the founder of House Grail, David's primary goal is to help consumers make educated decisions about DIY projects at home, in the garage, and in the garden.