30 Automotive Tools Every Mechanic Should Own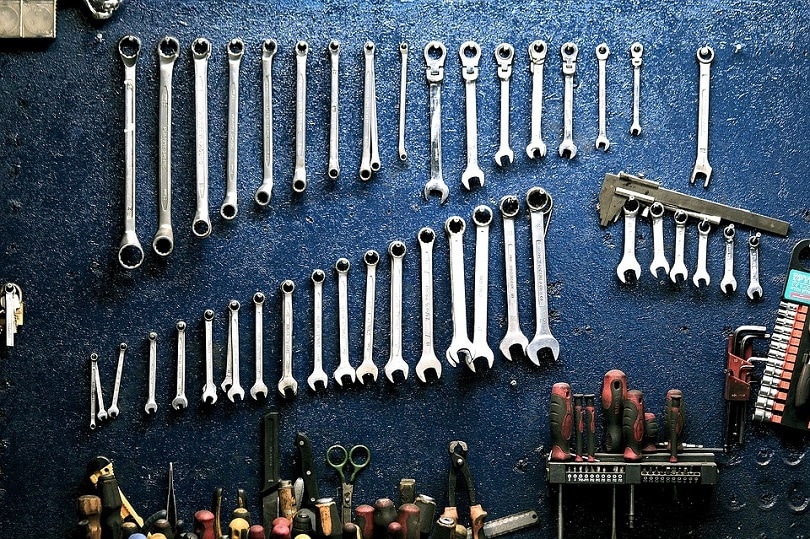 Whether you are a car enthusiast, a DIY home mechanic or a professional, you need a good set of tools. There is nothing worse than getting partway through a job and realizing that you don't have the right tools on hand to finish the job.
That's why we've put together this list of essential tools that every mechanic should own.

The 30 Automotive Tools Every Mechanic Should Own
1.

Wrench Set
Without doubt, one of the most useful tools in every mechanics' toolkit is a quality wrench set.
Almost every mechanical job you do will require at least one or two wrenches, and as such, you should purchase the best quality set you can afford.
Wrenches come in both metric and standard (Imperial) sizes, and you should buy both; however, if you have to choose, buy a metric set first. We recommend that you buy a set that ranges from 6mm to 24mm in size.
---
2.

Ratchet and Socket Sets
Ratchets and sockets are another of the essential items that you'll need for your mechanic's tool kit.
Ratchets come in three different sizes: ¼" (small), ⅜" (medium) and ½" (large), and you will need all three. It is possible to buy ratchet and socket kits that will come with all three ratchet sizes and all of the basic socket sizes that you'll need.
You should buy sockets that range in size from 6mm to 32mm in size.
---
3.

Jack
Not a tool that you will require for every job, it is none-the-less an essential item that every mechanic should own. Whenever you need to gain access to the underside of a car, you'll appreciate a good hydraulic jack.
You should note, though, that jacks are lifting tools only. They are not designed to secure a car in a raised position, and for that, you'll also need a set a jack stands.
---
4.

Jack Stands
Once you've lifted your car with a hydraulic jack you'll need some jack stands to keep it secured in place. These stands are an important tool for your safety, and as such, not something to skimp on. Every mechanic needs at least one pair of jack stands, and you should ensure they are rated to hold at least 2-3 tons.
---
5.

Screwdrivers with Hex Bolsters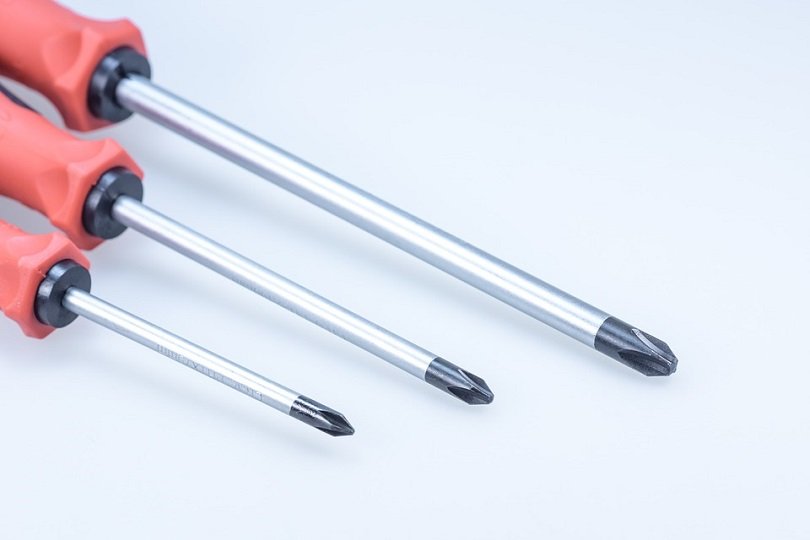 A good set of screwdrivers is another must for any mechanic. They are a basic hand tool that you will use over and over and like your wrench set you should buy the best quality screwdriver set that you can afford.
While not essential, we strongly recommend that the screwdrivers you buy have hex bolsters. These are a heavy-duty type of screwdriver that will allow you to slide a wrench over the shaft and use it to provide more torque on tough hard to move screws.
---
6.

Torque Wrench
A torque wrench looks very similar to a standard wrench but, unlike standard wrenches, a torque wrench allows you to tighten bolts to an exact specification. Something particularly useful when installing sparkplugs or working on a car's engine or transmission.
---
7.

Hex Wrench / Allen Key Set
You will have no shortage of jobs that require the use of a hex wrench as car manufacturers Allen head bolts to secure all sorts of vehicle components.
These simple wrenches are designed to fit into the tightest of spaces and are a necessity in any toolkit.
---
8.

Flex-Head Ratchet
A good flex-head ratchet allows you to squeeze your ratchet head into almost any space, and then pivot the handle for maximum leverage. It is a great tool for removing sparkplugs and hard to reach fasteners, they may also save from having to unnecessarily disassemble other parts just to gain access to one or two tricky bolts.
---
9.

Oil Filter Wrench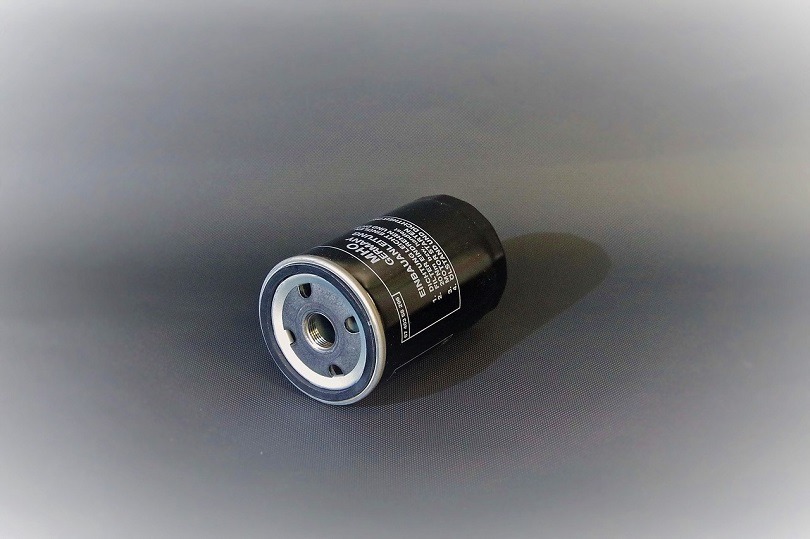 An oil filter wrench allows you to remove spin-on style oil filters easily. These filters are smooth cylindrical canisters and can be very slippery when covered in oil, so you will need a tool that can slip over the canister and hold it fast while it's removed.
---
10.

Oil Dripping Pan
Changing the oil of a car is one of the most basic maintenance jobs that you can do, but unless you want oil all over the floor of your workshop, you need a good oil pan.
An oil dripping pan is a simple but essential tool, and as they're quite cheap, we recommend that you get a couple of them, each with a capacity of at least 10 liters.
---
11.

Cable Ties / Zip Ties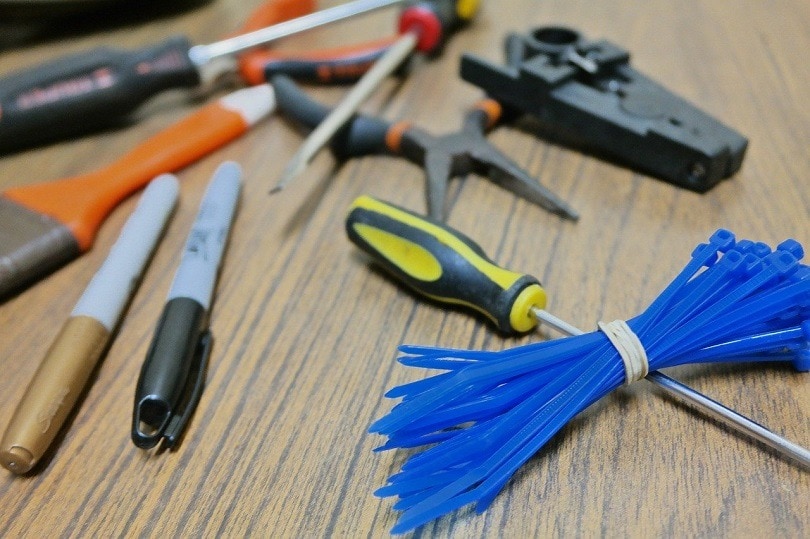 Cable ties are a simple and useful addition to any mechanics toolbox. They come in various sizes and colors, and you should purchase a range of them as they are a great way to fasten parts and cables and to mark components for later identification.
---
12.

Battery Carrier
A battery carrier is a simple tool that does what its name suggests.
Old car batteries can be quite heavy, and they always end up being wedged in tight, making them difficult to remove. With a battery carrier, you can safely and easily lift a battery straight out of the tightest sport, carry it away.
---
13.

Flexible Funnel
A flexible funnel is another simple and inexpensive tool that will prevent you from spilling fluids all over your workshop. With a long hose that the bottom of the funnel that can bend and flex, you can be sure that oil and other fluids will only flow to exactly where they need to go and nowhere else.
---
14.

Screw Pitch Gauge
It is essential that whenever you replace a lost or damaged bolt, the replacement has the correct thread pitch. Unfortunately, this isn't something that is easy to do by sight. That's where a screw pitch gauge comes in handy as it allows you to check that you're not about to insert a bolt that has an incorrect thread.
---
15.

Finger Ratchet
A finger ratchet is a handy little tool that allows you to reach in under dashboards, as well as into other tight-fitting places, to undo hex-head bolts that you would never be able to reach with a larger tool. With a finger ratchet, if you can get your hand to the bolt, you can undo it as the fine-tooth ratchet mechanism allows you to rotate your hand backwards without screwing the bolt back in.
---
16.

Sparkplug Pliers
If you've ever grabbed a sparkplug cable boot with a pair of standard pliers, you'll know how easy it is to tear the boot or damage the clip inside. And that's where sparkplug pliers come in. With specially designed and padded jaws, they allow you to get a firm grip on a sparkplug boot without tearing away the boot or damaging the clip.
You probably won't use your sparkplug pliers every day, but the time and effort they will save in replacing sparkplug wiring make them an invaluable piece of your toolkit.
---
17.

Flashlight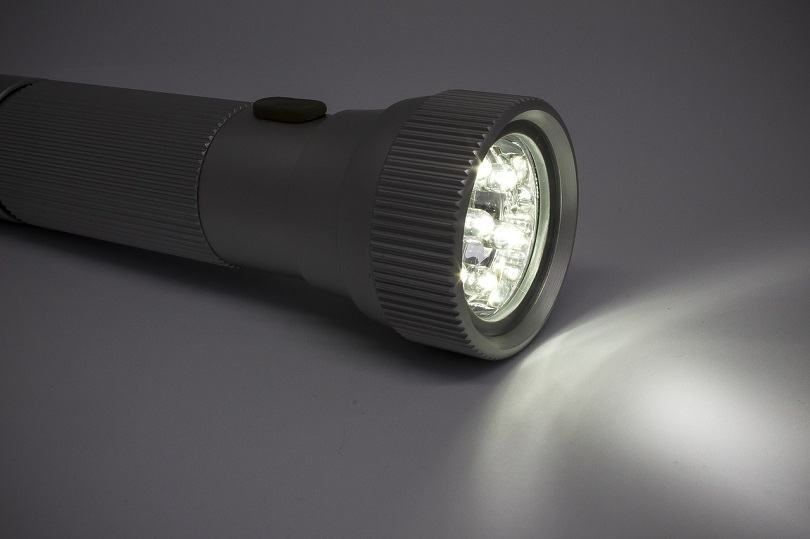 Every mechanic needs a good flashlight and you should have at least one in you kit. Engines and other the mechanical workings of cars are often dark and hard to see into without a small flashlight. We recommend a flashlight that is small enough to fit in your hand, and that gives out a bright white light.
---
18.

Utility Knife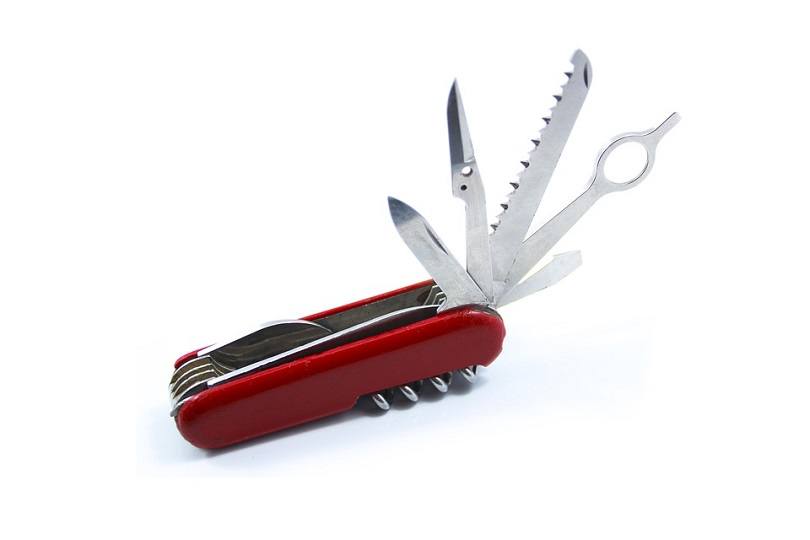 A utility knife is something that will get a considerable use in your workshop. They're useful for a wide range of tasks, from opening boxes to cutting away tape and plastic fastenings and even cutting hoses.
---
19.

Pliers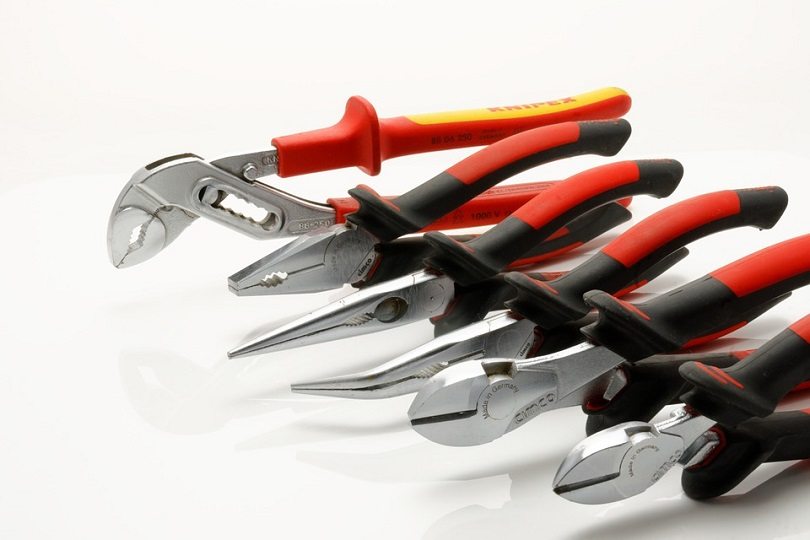 Most mechanical jobs will require the use of pliers, and for this reason, they are another essential tool for you workshop.
Pliers come in a variety of sizes and types, and at the very least you will need a pair of regular pliers, wire cutting pliers and needle-nose pliers. You may also want to consider buying a pair of pliers with an adjustable sized jaw.
---
20.

Vice Grip
Vice grips are pliers that allow you to lock the jaws of the pliers into position. These are particularly useful when working on jobs that require you to keep a solid grip on something, as the jaws can be secured in place and significantly more force applied than would be possible with a pair of regular pliers. You also don't need to worry about apply to much force on the component you are holding as you can set this before the jaws are locked.
---
21.

Hammer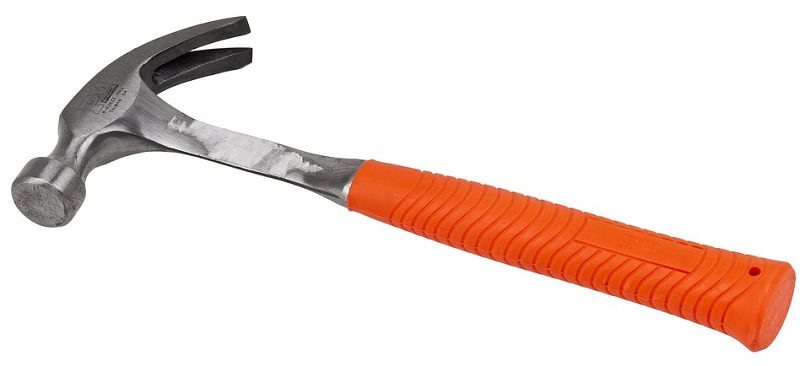 Every mechanic needs a solid hammer in their toolkit. When you're working on cars, things get stuck with grease, dirt and rust and sometimes the best solution to the problem is a good whack with a hammer.
There are a variety of different types of hammers available, and we recommend a ball-peen hammer with a solid handle, although you may also want to get yourself a club hammer.
---
22.

Pry Bar
Pry bars are simple but handy tools that are great for getting the extra leverage you need to remove everything from wheel caps, drive shafts, brake drums, ball joints, and control arms.
You are likely to need two pry bars, one small and one large, and we recommend that you buy the best quality you can afford. These bars are often placed under a lot of pressure and a cheap bar is much more likely to bend or snap.
---
23.

Door Trim Removal Tool
If you need to do any work that involves removing trims or upholstery, a door trim removal tool is essential. They are great for removing plastic clips and interior paneling, and will ensure you can remove trims and panels without breaking them.
---
24.

Multimeter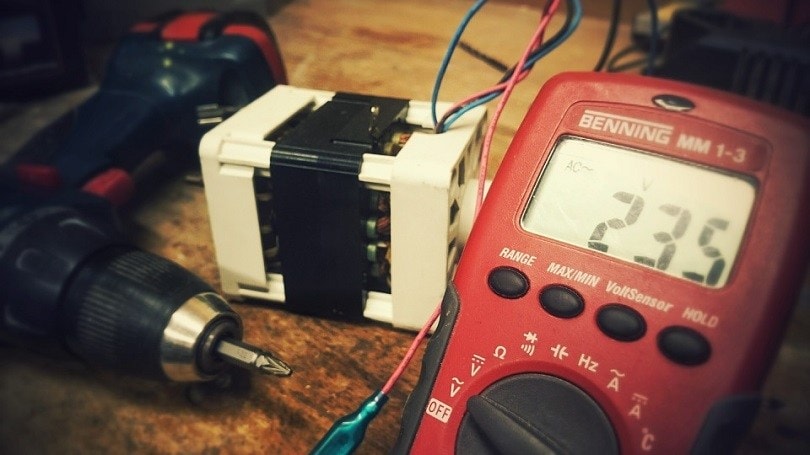 A multimeter is an essential tool for diagnosing electrical problems, and allows you to measure voltage, resistance and amperage. They are extremely useful and will get a lot of use out of your multimeter.
---
25.

Air Compressor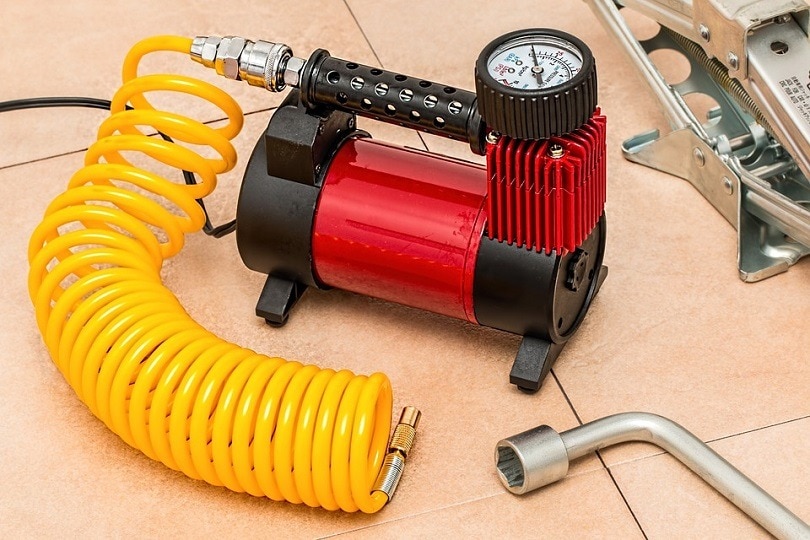 If you are planning on doing heavy-duty mechanical jobs regularly, you will need a good air compressor. All professional mechanics use air-powered tools and having the ability to do so will save you time on almost every job you do.
An air compressor should be considered an investment and is something you only need to purchase once. We recommend that you buy the best compressor you can afford as you're going to have it for a long time.
---
26.

Tire Inflator with Gauge
A tire inflator with gauge is the most basic air tool that you can get and probably the first air-tool that you buy once you have a compressor. Owning one makes checking tire pressures a breeze, and will ensure you always have you tires inflated to the correct pressure.
---
27.

Impact Wrench
As far as air-tools go, the one that you will use the most is an impact wrench. Almost every job in a mechanical workshop involves removing and later replacing nuts and bolts. Tasks such as removing wheel nuts can be back-breaking when done manually, but when you have an impact wrench, you'll get them done in seconds.
You will find an impact wrench to be of great assistance when you're working any job involving a car's suspension, engine or steering.
---
28.

Impact Sockets
Regular sockets are not designed for use with an impact wrench, and as such, you will need to have a set of impact sockets.
While you can buy impact sockets of all sizes, we recommend that you get a set that ranges in size from 10mm to 32mm.
---
29.

Work Light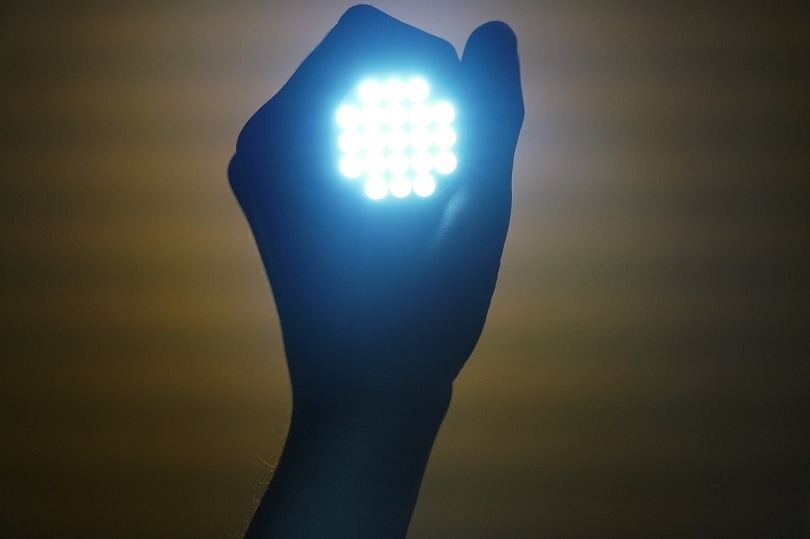 Your pocket-sized flashlight is great, but if you are going to be spending any amount of time working on cars, you will also need a good work light. We recommend you look for a rechargeable LED light bar that is easy to affix or hang under the hood of a car. This type of light is also suitable to be used under a vehicle.
---
30.

Jumper Cables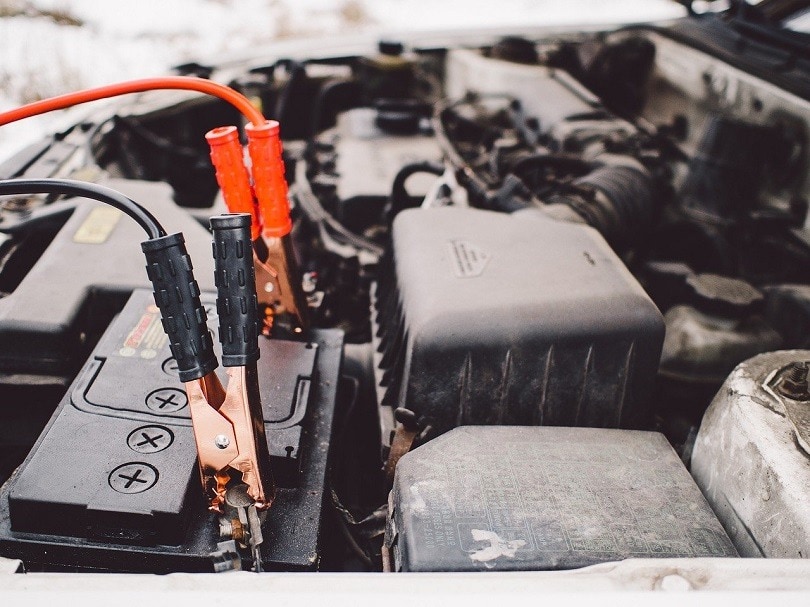 Jumper cables are an essential item for every mechanic. A simple tool that most people are familiar with, they can be of great assistance if you have a vehicle with a flat battery that needs to be moved or brought into your workshop.
---
Featured Image Credit: Mechanic tools by radekkulupa, Pixabay