10 Best Battery-Powered Weed Eaters of 2023 – Top Picks & Reviews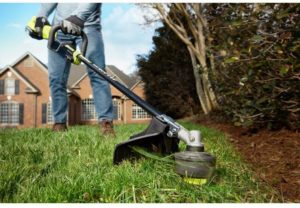 The first weed eater (also known as a string trimmer) revolutionized the clean and defined nature of yard maintenance in a way that's only been rivaled by the lawnmower. Its simple design and versatility allowed the easy access under trees and against cement that the lawnmower just couldn't get to. And as the string trimmer's popularity increased, so have the options for power.
Look past the weight of the gas model, the tangling of cords with electric; the trimmer you want is battery powered. They have the power you want, the versatility you crave, and plenty of cutting area to make short work of any area that needs a good whacking. And if you have the right model with the right battery, you can do an entire yard without stopping.
If you are considering going to a battery-powered weed eater, we have some reviews you absolutely must read. We have put together reviews of 10 fantastic models, plus some information on each to give you an idea of why they are different from their competitors. We hope it helps when choosing yours.
A Quick Comparison of Our Favorites for 2023
Rating
Image
Product
Details

Best Overall

RYOBI 40-Volt Lithium-Ion Cordless Attachment Capable String Trimmer

Huge battery
Quick charging
Large cutting path
CHECK PRICE

Best Value

PowerSmart PS76110A Cordless String Trimmer

Adjustable handle
Long battery life
Auto-feed spool
CHECK PRICE

DEWALT DCST920P1 20V MAX String Trimmer

Large cutting path
Brushless motor
Durable
CHECK PRICE

CRAFTSMAN CMCST960E1 WEEDWACKER

2-speed switch
Large cutting path
Brushless motor
CHECK PRICE

WORX WG163 PowerShare Cordless String Trimmer

2 batteries included
Lightweight
Command Feed spool system
CHECK PRICE
The 10 Best Battery Powered Weed Eaters
1.

RYOBI Cordless Attachment Capable String Trimmer – Best Overall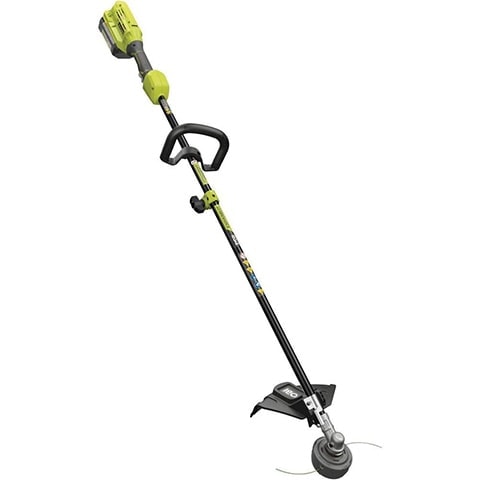 This epic string trimmer has earned its place as our top pick. The RYOBI 40-Volt Lithium-Ion Cordless Attachment Capable String Trimmer is one serious weed whacker. Not only is the battery huge, but its cutting width is also sizable at 15 inches. And has a variable speed control trigger.
To feed the line, just bump the nose, and a blade on the guard will trim it to fit. This model comes with a 90-minute charger, which you most like won't need until the job is already done with the 40V battery powering the unit. Throw in the standard Ryobi 5-year warranty and you are ready to attack.
This model has one issue and that is a lack of ambidextrous features. It is designed specifically for right-handed people on the grip. There are some aftermarket models with a more neutral feel, but the stock version is right only. And, if you do get an aftermarket handle, beware of the plastic wing nut that holds it on. It can shear very easily. Despite this, we think this is the best battery powered weed eater on the market today.
Pros
Huge battery
Quick charging
Large cutting path
5-year warranty
---
2.

PowerSmart Cordless String Trimmer – Best Value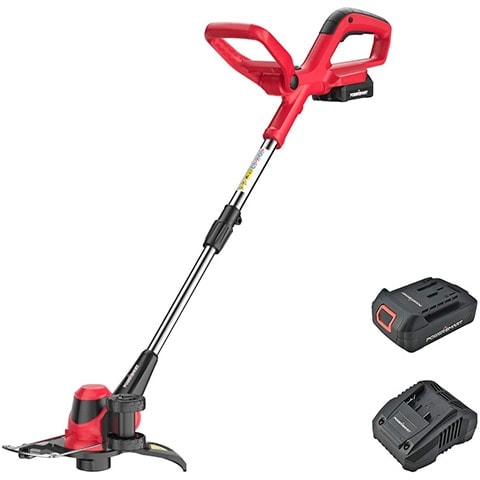 For a string trimmer that is not only light on the overall weight, but also light on the price, take a look at the PowerSmart PS76110A. It is a 2-in-1 trimmer that converts easily to an edger. And the handle is adjustable and ergonomic for comfortable handling throughout the day.
Its long-life battery can charge on the included charging port in less than an hour, limiting your downtime. Get a second battery and never have to stop for longer than the time it takes to switch them out. It also has an automatic feed spool that gives you trimmer line when you need it without bumping or stalling.
It is only logical to think that thicker cutting will not only eat trimmer line but also diminish the battery charge, so factor that in if your battery dies too quickly. There is an issue with the trimmer line, though. Spools for this that already have line do not exist, so if you need a new line, you have to load it by hand, like spooling a fishing reel.
Besides that, we think it's one of the best battery weed eater for the money.
Pros
2-in-1
Adjustable handle
Long battery life
Auto-feed spool
Cons
No pre-spooled replacement line
---
3.

DEWALT 20V MAX String Trimmer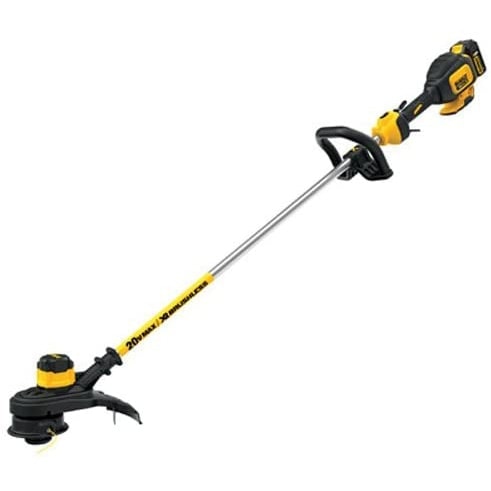 Another of the DeWalt brushless motor tools, the DEWALT DCST920P1 will give you maximum life and greater motor efficiency than most other trimmers, with an added durability that only DeWalt can claim. From the variable speed control trigger to the bump line extender, this is a triumph for the DeWalt name.
If you don't have the time and energy to clear your yard, the 13-inch cutting path will make the job seem much less tedious. And with the DeWalt 20V battery powering its heavy-duty motor, your yard, field, or wherever won't know what hit it. Plus, this model comes with a fast charger.
The issue many consumers seem to have is with the fine print of the warranty that doesn't cover the motor. So, if your motor burns, you are pretty much out of luck. This is kind of a big problem if the motors seize up unexpectedly, and DeWalt, who is aware of the issue, has no recourse to fix it.
Pros
Large cutting path
Brushless motor
Durable
Variable string trimmer
Cons
Motor design flaw
Bad customer support
---
4.

CRAFTSMAN CMCST960E1 WEEDWACKER
Craftsman saw the variable-speed triggers and decided to do it a little differently. The CRAFTSMAN CMCST960E1 instead went with a 2-speed switch. With this feature, it extends the run time, gives longer life to the brushless motor, and provides additional power.
It has a 15-inch cutting swath with the line feed extendable by a bump mechanism. And if you run out of line, the Quickwind Spool System will allow for quick and easy replacement. Toss in the ergonomic handle atop the telescoping pole, which makes this a great tool for users of all heights, and a 4-year warranty and you definitely have a Craftsman product.
The Quickwind line spool seems to have some issues, however. If you turn the mechanism the wrong way, it will disable the spool head entirely, turning your lovely trimmer into a paperweight. And despite the brushless efficiency of the motor, some flaws make it seize without cause or repair options.
Pros
2-speed switch
Large cutting path
Brushless motor
4-year warranty
Cons
Quickwind  system is faulty
Motor issues
---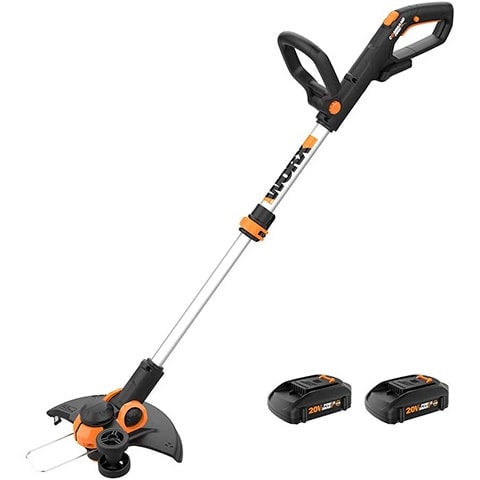 A trimmer and an edger, the WORX WG163 comes standard with two 20V batteries and a charger. This way you can use one, and then switch for a fully loaded battery when that one dies, maximizing efficiency. And the batteries are lightweight, so they won't add to the weight of the unit by too much.
It offers an innovative push-button Command Feed spool system with instant line speeding, another feature to keep you moving and get you done with your lawn maintenance. And the rubberized wheels on the side help guide you along your edging path.
This unit definitely needs the additional battery because the one it comes with seems to only function for about 12-15 minutes under light strain before it just stops. And the string that is recommended for the unit is weak and thin. If you get 15 feet of weeds or grass cut before you run out, that is about average.
Pros
2 batteries included
Lightweight
Command Feed spool system
Cons
Batteries die quickly
Spool line is thin and brittle
Unwieldy design
---
6.

BLACK+DECKER Easy Feed String Trimmer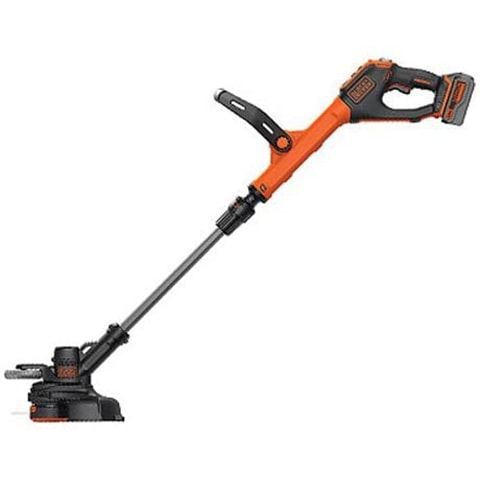 The BLACK+DECKER LSTE525 has a power-drive transmission that increases its torque, taking the fight to your weeds and showing no mercy. And its easy feed line allows you to advance with the push of a button without bumping.
Its 20V battery will give you more than enough power to get the job done. And, it has the quick conversion feature to switch from a trimmer to an edger in no time, with wheels to guide you along your edging path.
Unlike most Black and Decker products, this one seems to have problems with cheap and poor design and craftsmanship. It will run fine, then just die. No cause, no preamble, just dead. This might be a product issue, this might be isolated to a batch, but B&D has no explanation. If this happens, a service center for B&D is your only option.
Pros
Power-drive transmission
Easy line feed
Edger guide wheels
Cons
Faulty design
Cheap parts
Limited repair options
---
7.

Makita XRU02Z Cordless String Trimmer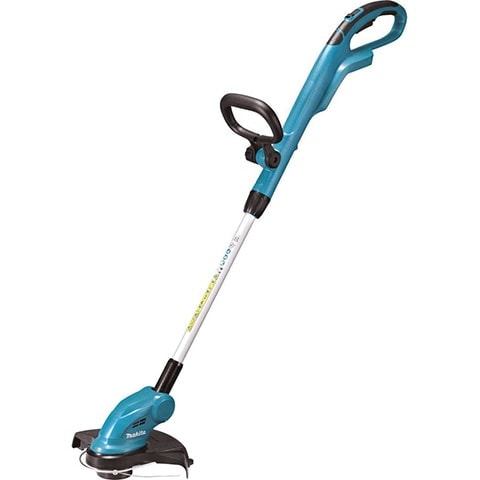 This Makita XRU02Z has a Makita-built motor that will give you 7,800 RPM of cutting speed and performance. It will be easy to wield based on its ergonomic design and superb balance, not to mention is incredibly lightweight, at 6.4 pounds with the battery.
It is smaller than most, perfect for trimming in those tighter areas and for precision edging. Although don't think you have to be of diminutive stature to use it, because it has a telescoping handle which makes it universally useful to all. Find your optimal cutting height with this wonderful trimmer.
This model lacks some cutting power that can make it more of a chore to do basic things. And the blade that cuts the feed line is made of plastic, not steel, and doesn't cut the line, so the guard gets beaten up pretty badly while the spool is too long for the guard area.
Pros
Ultra-light
High performance
7,800 RPM
Cons
Line cutter ineffective
Low cutting power
Battery not included
---
8.

Greenworks Cordless String Trimmer
Another weed eater with a 40V battery, the Greenworks 2101602 has a 12-inch cutting path and a variable speed trigger, giving you control over your speed at all times. And it is ergonomically designed for better handling and balance. Plus, it comes with an auxiliary handle for added comfort.
It is cross-compatible with Greenworks G-Max 40V Lithium-ion battery systems, giving it higher efficiency, longer run time, and greater versatility. This model comes with a battery and charger, and a 4-year tool warranty, plus a 2-year warranty on the battery, all towards protecting your investment.
On this model, sometimes the battery charge indicator is faulty. Not a huge deal, but annoying just the same. The problem lies with customer service. They are pretty much impossible to reach, phone communication is your only option, and it's spotty at best.
Pros
Good design
Auxiliary handle
40V battery
Cons
BCI faulty
Terrible customer care
No email options
---
9.

EGO Power+ Cordless Brushless String Trimmer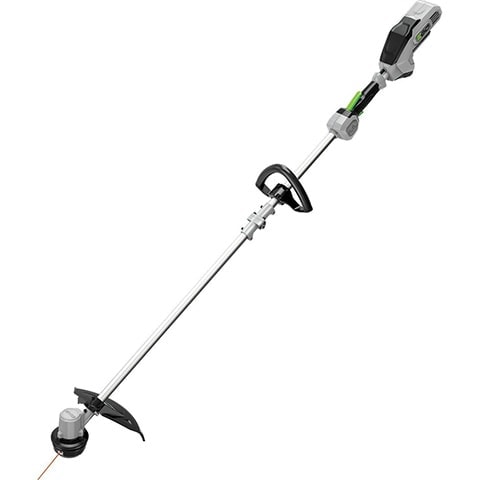 With its high-efficiency brushless motor, the EGO Power+ ST1500-S is all about power and precision. It has a weather-resistant construction for working in damp conditions, and an extended aluminum shaft so you never have to bend over to cut those weeds.
It has a monstrous 56V lithium-ion battery to give its motor the power it craves, and a 15-inch cutting path that will efficiently trim your yard before you know it. Just like all EGO power equipment, it comes with a 5-year warranty, battery packs, and chargers.
This feature is supposed to have an auto-feed option and it doesn't which is an irritation if you are hoping for what it advertises. And the string is weak, easily breakable, and taking apart the head to fix it is a nightmare. If that wasn't bad enough, after one season of constant use, the batteries no longer charge. Not a winner in our books.
Pros
Weather-resistant
Extended shaft
56V Battery
Cons
No auto-feed
Weak string
Hard to work on
Battery only lasts 1 year
---
10.

BLUE RIDGE Cordless Grass Trimmer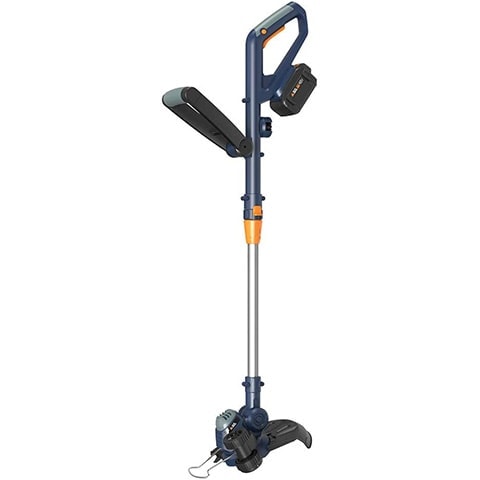 Another with the wonderful 2-in-1  option, the BLUE RIDGE LR8160U quickly converts from trimmer to edger with minimal effort. It has an auto-feed line release and edging wheels for clean lines along with your trickier areas. And the head pivots for those hard to reach areas.
The aluminum shaft that reduces its weight telescopes to adjust to the user's height and this model comes with a battery and charger standard. Something rare, this model has an extra spool holder for an extra spool; a nice feature if you are doing a large area and get away from your extra line.
Despite the aluminum shaft, it is actually pretty heavy at just under 12 pounds. And the telescoping handle still doesn't apply to people over 5'10" at best. Some models are coming with faulty batteries as well.
Cons
Heavy
Doesn't accommodate taller people
Faulty batteries
---
Buyer's Guide – Choosing the Best Battery-Powered Weed Eater
When choosing a battery-powered string trimmer, you are choosing a level of versatility that the other two options cannot provide. Sure, you have to charge a battery, but there is never the need to mix 2-cycles or find a longer extension cord, and if you have two batteries, you are in pretty good shape.
The biggest factors are in the cutting path, battery life, and comfort.
Power
Battery sizes range from 18V to 56V. However, even the most powerful battery will burn out or dissipate quickly if the rest of the machine is not up to snuff. A brushless motor will kill a battery much more slowly than its inverse. A variable speed trigger may last longer than a locked-speed option. Everything is relative.
When picking yours, battery size is important, but look at all of the other features. There might be something there that will be uncomfortable or dangerous, despite a battery that will last for a long time.
Cutting Path Diameter
If you are cutting a large area, a larger cutting swath is obviously the best way to go. It will get the job done faster and that is just simple geometry. But what if you have an auto-feed unit, but only need half the cutting path? Now you have too much line and can't do the small job correctly.
Having an idea of what your need for trimming will be most often is a factor in the feed of your line. A bump feeder won't give you line as long as you don't bump it. These are great for those tight spaces.
Comfort
Most machines are ambidextrous. Some have auxiliary handles. Many these days are rubberized and ergonomic. Trimming takes time. Picking your most comfortable battery powered weed eater is key to ensuring it isn't just a dreary slog through the yard. Find a machine with the features you can see yourself using every week or two and without chagrin.
For taller folk, telescoping handles are your friend. For lefties, some have right-hand only grips, so check ahead. And for anyone with back problems, the longer the handle the better.
Versatility
When picking your trimmer, you should also factor in the terrain. Do you have a lot of low plants, close trees, or do you love a good topiary? Do you live on a steep hill that would be dangerous to mow?
Certain factors can require a change in trimmer size, cutting path diameter, and even the functions of the trimmer altogether. The upside of a lot of trimmers is the ability to twist them to the angles needed, and that most have an edger feature with a guide wheel that can make those trickier places a little easier to deal with.
Trimmer Cutter Options
Most trimmers use a length of heavy-duty nylon wire. Sometimes the wire is solid for the more hardcore landscaping such as cutting thick brush, and sometimes it is hollow, which is fine for everyday uses. But picking the trimmer with the type of wire you need can be simple if the trimmer allows options for wire, or tricky if they only allow just one.
The best choice for trimmer wire for certain uses are:
Light grass and thin weeds: 0.065-0.085 inches
Heavier grass and thicker weeds: 0.085-0.110 inches
For anything else: 0.110 inches
Some trimmers can also allow for hardcore attachments like steel wire wheels and chain sets. These are not relevant to basic landscaping, although if you need to cut down some thick underbrush, they will show it no mercy.
Relevant weed eater pages you may be interested in:

Conclusion
For the top pick, the RYOBI 40-Volt Lithium-Ion Cordless Attachment Capable String Trimmer is our winner. It has all of the best Ryobi can offer in a fantastic unit that will give you no trouble when out and about trimming your wide-open spaces.
For the less expensive but still pretty great option, the PowerSmart PS76110A Cordless String Trimmer is the one to beat. You are guaranteed all of the perks, and none of the buyer's remorse. It is a tremendous machine for epic value.
We hope these reviews helped. Going battery-powered is a decision you won't soon regret. Just remember, get a unit that comes with a battery and charge, and get another battery to cycle while using the trimmer. This is the only way to maximize efficiency in your yard maintenance with a weed eater.