EGO vs Ryobi: Who Makes the Better Lawn Mowers & Tools in 2023?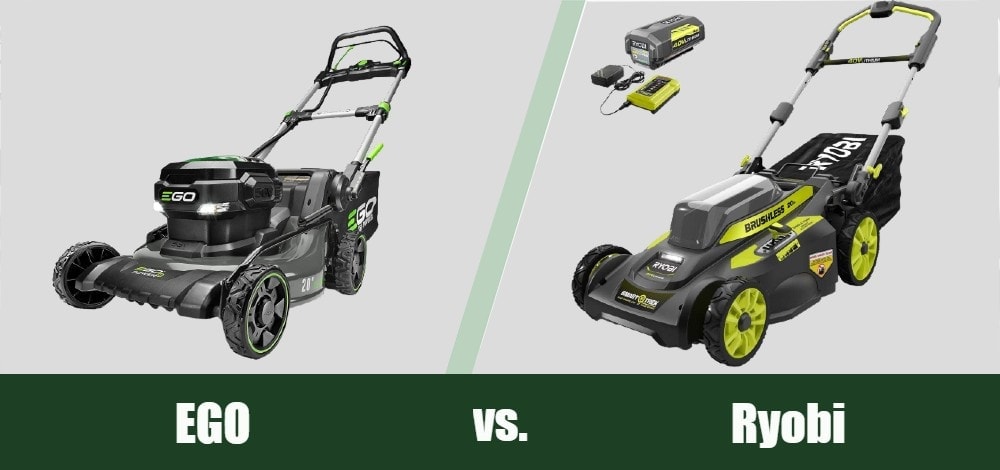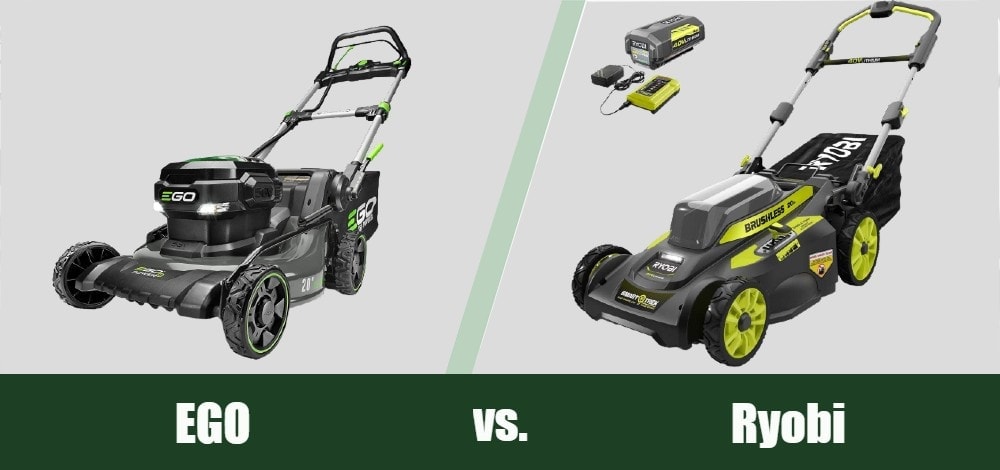 EGO and Ryobi are well known for manufacturing and supplying a range of tools, including their electric and cordless mowers. In fact, both brands have a varied selection of mowers, from budget to premium.
Below, we take a look at the range of tools and mowers that the two brands have to offer. We compare the different products to determine which ones perform better. We look at costs to see whether there is a better choice for those on a budget or those looking for premium high-end models.
We also look at factors that matter when making a purchase of this type of item, considering the standard and available warranties, as well as the reputation that each brand has for its customer service and how responsive they are. Overall, we aim to find out which of these two brands is best and represents the best purchase for you.

A Quick Comparison
Brand name
EGO
Ryobi
Established
1993
1943
Headquarters
Michigan, USA
Hiroshima, Japan
Product lines
Power Tools

Chainsaws

Mowers

Other Garden Tools

Drills

Power Tools

Mowers

Other Outdoor Products

Parent company/ major Subsidiaries
Chervon
Techtronic Industries
Brief History of EGO Power Tools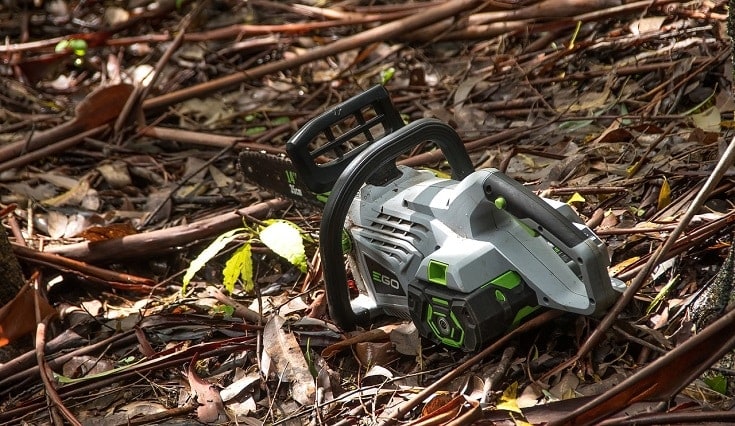 EGO is a relative newcomer to the world of power tools and outdoor power equipment (OPE). Initially part of a manufacturing business that was established in 1993, EGO Power+ officially launched in the US in 2012 and quickly became well-known for its manufacture of battery-powered outdoor equipment. EGO launched in Europe in 2014.
EGO's parent brand, Chervon, is a Chinese manufacturing company that was established in 1993. The company is especially keen on replacing gas engine devices with battery-operated machines. They developed a range of Lithium-Ion batteries that they believe is capable of performing, as well as gas engines, but with the benefit of being more portable and less expensive to run.
Some might argue that they still have a way to go to create a battery power system that is as capable as that of a gas engine, but they have quickly established themselves as a major name in the manufacture and supply of outdoor equipment.
---
Brief History of Ryobi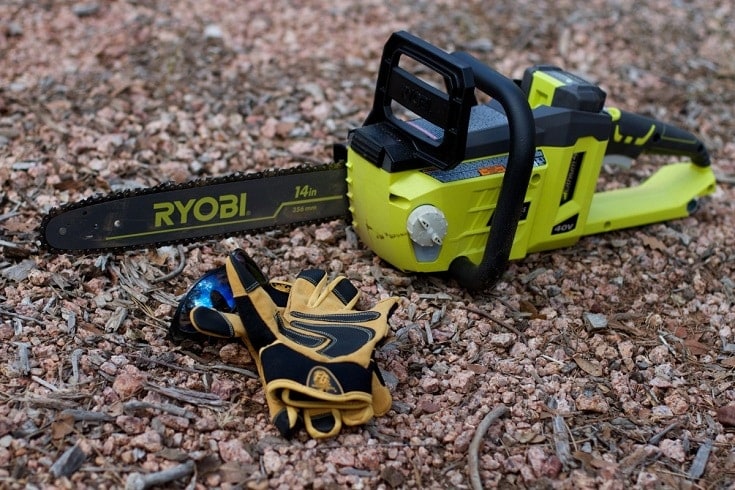 Ryobi has a much longer history than that of Ego, having established in 1943 in Japan. At the time, it was called Ryobi Seisakusho Co and it started out producing die-cast products. In the 1960s, coinciding with the company's floating on the Tokyo Stock Exchange, Ryobi began making offset printing presses. The company started to manufacture power tools in the same decade, in 1968.
In 1973, the company became known simply as Ryobi, which is the name that it retains today. The brand has 12 manufacturing facilities across six countries, including one in Shelbyville, Indiana.
Ryobi is licensed by Techtronic Industries via One World Technologies, a manufacturer of OEM equipment for the likes of Milwaukee and Ryobi, as well as Hoover, Dirt Devil, Vax, and others.
The brand is primarily sold through Home Depot stores, and is also readily available on the Internet. In other countries, Ryobi's product lines are sold in a greater range of stores. In the UK, for example, they can be found in most hardware stores, including small independents, as well as large national chains.

Ego vs Ryobi: Manufacturing
EGO
EGO is considered a global brand and has its headquarters in the US. However, its US offices are used for research and development, marketing, and administrative work. The brand's main factories and manufacturing outlets are located in China, where the company originates.
Ryobi
Ryobi is a Chinese company. They have 12 manufacturing facilities and other buildings in six countries across the world, including one in the US. It is believed that the US plant manufactures some of the accessories that the company sells, but it does not manufacture the main tools here. Like EGO, Ryobi is known to manufacture most of its tools and other products in China, where labor and manufacturing costs are cheaper.
EGO vs Ryobi: Product Line
EGO
EGO is a relatively new company, and it concentrates its manufacturing efforts on the garden and outdoor product lines. This means that they have a good range of items like blowers and outdoor vacuums, as well as a large variety of mowers. They do also sell a multi-tool, but this represents the company's only real foray into the general power tool world. All the outdoor tools are powered by the same 56V Arc Lithium battery, which may sound too powerful for some jobs, but helps ensure that the brand's battery-operated devices are nearly as powerful as alternative gas models. Their products can be broken down into the following ranges:
Power+ Range – designed for small to medium gardens, the Power+ range is for residential users: occasional users that still appreciate good quality and powerful outdoor tools. They are convenient and portable but may not be considered high-end enough for large gardens or professional use.
Professional Range – the Professional range is meant for the professional user. They will operate for longer periods, without having to keep stopping to charge, and they have the additional features and accessories that enable you to do more with less effort. These are also suitable for those with large gardens or lots of ground.
Professional X Range – the Professional X range is the high-end range. They have been designed for long-term use, minimizing vibrations, offering comfortable extensive use, and they have the features and accessories that make even the biggest job a breeze.
---
Ryobi
In contrast to EGO's fairly limited range, Ryobi has a much broader scope. As well as producing outdoor tools like mowers, they also sell a large selection of power tools, accessories, and equipment for use on the job site.
18V One+: The 18V One+ range from Ryobi is the range aimed at home users and the commercial market. Lacking in some of the high-end features of more expensive items, this range nevertheless includes more than 175 different products, all of which will run using the same 18V battery and charger. This means that, with one battery, you can power all of your home tools. As well as power tools, the range also includes some bench top and stationary tools, which would normally require a much more energetic engine.
40V: When it comes to mowers and outdoor equipment, it is Ryobi's 40V platform that is more interesting and relevant. This range includes 50 tools, such as blowers, vacuums, and mowers. They all run from the same 40V battery and charger, which have been designed to offer longer life and greater performance. If you are looking for a mower, it is likely to be in this category.

EGO vs Ryobi: Price
It is difficult to compare the prices of these brands. Both offer similar technology, in that they both specialize in cordless and battery-powered devices. However, the batteries and the battery sizes they offer are very different. Ryobi's tools are either 18V or 40V, while EGO offers a range of 56V outdoor equipment. In general, you should expect to pay more for the EGO products because of the extra bang you get for your buck. If you don't need that extra power, or you are on a tight budget, you are likely to choose Ryobi products.
EGO
EGO has several product ranges, although they all use the same powerful 56V battery. The Power+ Range is one that is aimed at the commercial market, rather than at professionals, so this is the one that tends to cost less. The Professional X range is geared towards the power user and has a host of additional features, typically proving to be the high-end and premium-priced range.
Ryobi
Ryobi, on the other hand, does use different battery technologies for different lines. Ryobi's 18V range is extensive, but tends to be the cheaper of their products, while the 40V range is more powerful and carries a heftier price tag as a result.

EGO vs Ryobi: Warranty
Warranty matters. At the very least, they give you the peace of mind that comes from knowing you are covered if something does go wrong, although ideally, your chosen mower will last for years without problems. Both companies offer good warranty periods.
EGO
All EGO tools offer a 5-year tool warranty and a 3-year warranty for domestic use. The Power+ range includes a 1-year tool warranty and no battery warranty for professional use. The Professional range offers 2-year tool and battery warranties, and the Professional X range offers three-year battery and tool warranties for professional users. They also include a 30-day money-back guarantee.
Ryobi
Ryobi offers a similar warranty period on its tools. The 18V One+ range only gets a 3-year limited warranty, but the 40V products, which are more closely comparable to the EGO products, have a 5-year tool warranty and 3-year battery warranty.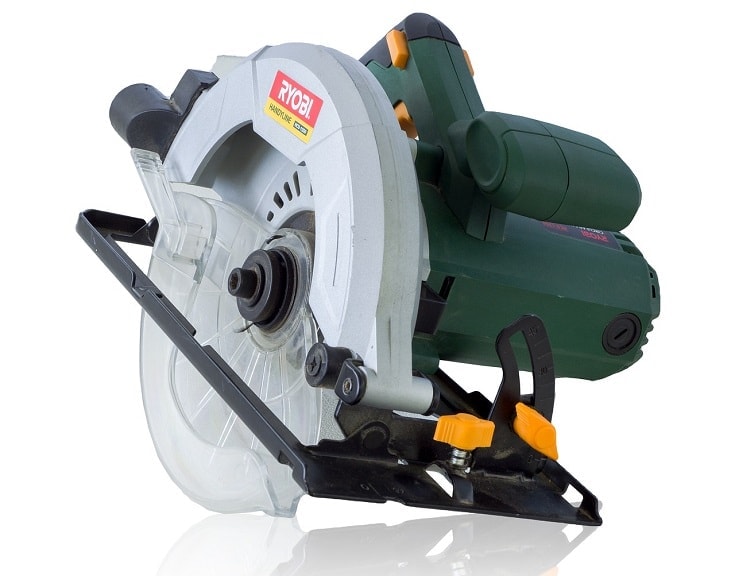 EGO vs Ryobi: Customer Service
Customer service is another area in which the two companies are closely matched, but EGO does seem willing to go the extra mile. Their 30-day money-back guarantee is also in their favor and means that you can buy with even more peace of mind.
EGO
EGO offers a 30-day money-back guarantee, which means that if you're not happy with the product you receive, you can return it to get your money back. They also have excellent warranties and a network of approved dealers and workshops to fix any damaged goods. Customer reviews are very positive about the company's customer service, with many pointing out that they exceed their own customer service promises.
Ryobi
Ryobi also has a good reputation, offers long warranties, and uses a network of engineers to fix parts. While they have a very good reputation, it is EGO that truly excels in this area.

Head-to-Head: Chainsaws
EGO CS1800 56V 18" Vs Ryobi 40V 14"

Although both of these devices are battery-powered chainsaws, which means that they do not need gas to operate, this is really the only way in which they are similar. The EGO is an 18" chainsaw that costs around twice as much as the 14" Ryobi. The EGO has a 56V battery compared to the Ryobi's 40V. The results are as you would expect.
The larger and more powerful EGO is the better option. It is powerful, although you may want to upgrade from the 5Ah battery that is part of the kit. It offers reasonable runtime, but you will get much better from the available 10Ah alternative that is also available. It has auto-tensioning, an LED light, and is a reliable and powerful option for the home user.
In contrast, the 14" Ryobi will cost about half as much and it operates using the 40V battery. You are recommended to get the latest generation battery for the best performance. Although it isn't as powerful as the EGO, it is lighter, which makes it easier to use, and it is also quieter. What's more, because it uses and needs less power, it actually lasts a similar time.
The EGO is better for medium to large jobs, and its power means it takes this competition, but for smaller jobs, the convenience of the Ryobi means that we would probably choose this model.
Our Verdict: EGO CS1800 56V 18"

Head-to-Head: Pole Saw
Ryobi One+ Cordless Vs EGO Power+ PSA1000 10-Inch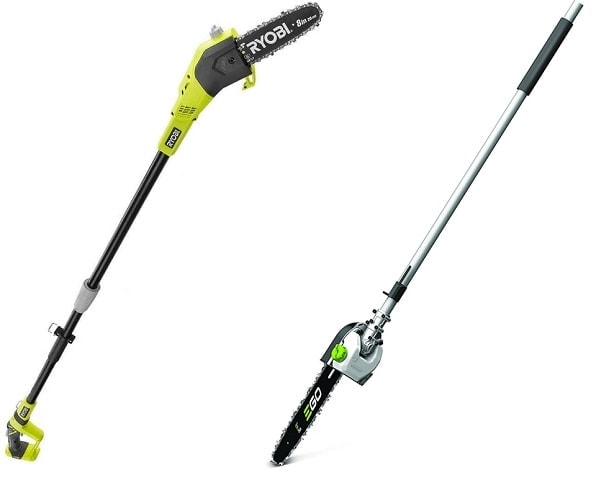 The Ryobi Cordless Pole Saw is a 9.5-foot pole saw, which will be ample for most residential purposes, but may not be long enough for professional use and difficult-to-reach tree branches and heights. It has an 8" bar length and it features an automatic oiler to help prevent the teeth from getting jammed up while you're trimming. The greatest benefit of the Ryobi is that, while it does offer good power and will make short work of most pruning jobs, it has a small form, which means that it can be used to get in and tackle jobs even in tight spaces.
The EGO Power+ PSA1000 10Inch Pole Saw runs on EGO's 56V battery and is almost as powerful as a gas engine. It has a 10-inch bar length, so it will make short work of thicker branches, and it too has an automatic lubrication system to help prevent the teeth and blades from getting jammed.
Unfortunately, the EGO is more expensive than the Ryobi, despite having a shorter length and preventing it from being useful in professional settings.
Our Verdict: Ryobi One+ Cordless Pole Saw
Head-to-Head: Self Propelled Lawn Mower
Ryobi 20" Vs EGO 50CM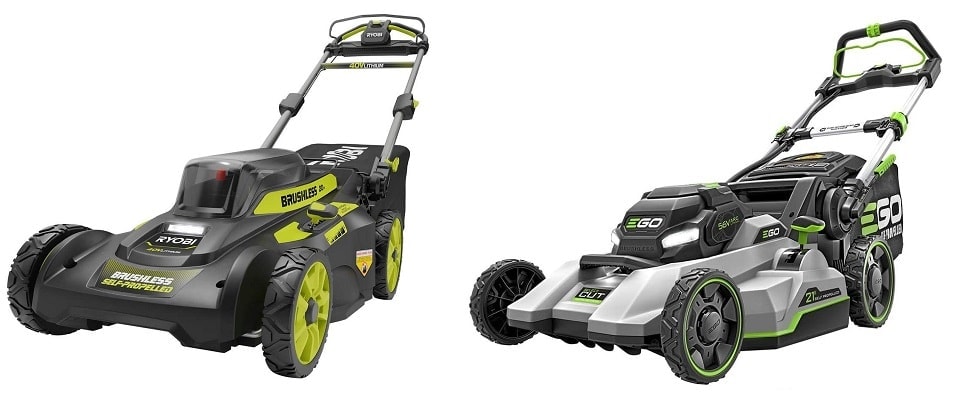 Both of these mowers are self-propelled and have a similar 50 cm or 20" cutting width. This size means that the mower is suitable for use on medium to large lawns, and this is backed up by the self-propelled nature of the mowers because it means less effort on your part as you cut a swathe down your grass.
However, as with other product comparisons, it is difficult to compare the two on a like-for-like basis. The EGO costs twice as much as the Ryobi. The Ryobi self-propelled lawn mower has a 7-position height adjustment and a push-button start. It weighs 60 pounds, although this is not too relevant because of the rear-wheel powered drive. However, the EGO is more powerful and includes the rapid charger. It also has a variable cutting speed that makes it comfortable and convenient for use over rough terrain and any length or quality of the lawn.
The EGO cuts easier and makes lighter work, but it is a lot more expensive. However, as the two models are more likely to be designed for the professional user or the large garden owner, we have to side with the EGO, even though it is considerably more expensive than the Ryobi.
Our Verdict: EGO 50CM Self-Propelled Mower

Overall Brand Reputation
So, while Ryobi and EGO sell similar products, they appear to be marketed to different groups. EGO claim that their batteries rival the power of gas engines, and they clearly mean it with the more powerful battery options and improved performance, but that may be too much for some users.
Performance
Edge: EGO
EGO's power system is a 56V battery, compared to the 18V or 40V of the Ryobi—and this shows. In a lot of cases, EGO tools really do rival those of their gas-powered competitors, although this power really does come at a premium.
---
Price
Edge: Ryobi
Ryobi is the quite clear winner here, with most of their products costing around half the amount of the EGO. Although it is worth noting that, while the products might look similar, the considerable power advantage of the EGO devices means that they are more likely to favor the professional user.
---
Durability
Edge: EGO
As the old adage goes, you get what you pay for. Ryobi are certainly no slouches, and their products are durable and include a 5-year limited warranty on the more powerful range, but EGO products will surely last and are rugged throughout their lives.
---
Design
Edge: EGO
EGO products do cost more, but you do get what you pay for, and many of the products look to be made from better quality materials. Although some of the products are in a light gray and green combination, we like the look of the darker colored tools. Ryobi products look more plastic.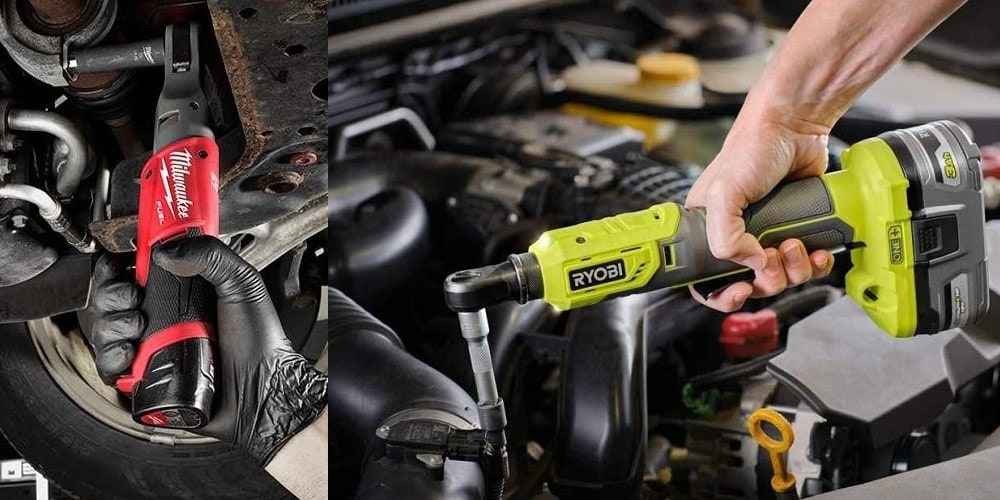 Conclusion
Both EGO and Ryobi are very good, and they both have a good reputation with both residential and professional users. However, they do not necessarily target the same crowds. Ryobi tools are not as powerful and not as expensive as EGO, but they are still decent quality and will get the job done with relative ease. If, however, you want more power and more high-end features, then EGO is the brand for you.