8 Best Blenders for Margaritas in 2023 – Reviews & Guide
Margaritas are refreshing and delicious, and there's nothing quite as summery as a frozen drink. But you don't have to find a bartender to enjoy a frozen margarita. With the right blender, you can quickly and cheaply make one in the comfort of your home. So how do you find a blender that's just right?
Don't worry, shopping for a great model doesn't have to be a time-consuming process. We're here to help you sort through the available blenders and find one that will produce a perfectly blended margarita.
Keep reading for our list of the eight best blenders for margaritas, complete with comprehensive reviews. We've looked specifically at each model's price, design, power, capacity, and warranty. With this guide, we hope you won't have any problem finding a great blender.
A Quick Look at the Winners of 2023
Rating
Image
Product
Details

Best Overall

Hamilton Beach Commercial HBB250R

Easy to use
Strong motor
Blends smoothly
CHECK PRICE

Best Value

Ninja Professional BL610

Lightweight
Large capacity
Effective on ice
CHECK PRICE

Premium Choice

Margaritaville Concoction Maker

High quality
Very automatic
Designed for margaritas
CHECK PRICE

KakuFunny Portable Blender

Low cost
One-button operation
Cordless battery operation
CHECK PRICE

Hamilton Beach 58148A

Durable glass jar
Self-cleaning feature
Dishwasher-safe components
CHECK PRICE
The 8 Best Blenders for Margaritas
1.

Hamilton Beach Rio Blender – Best Overall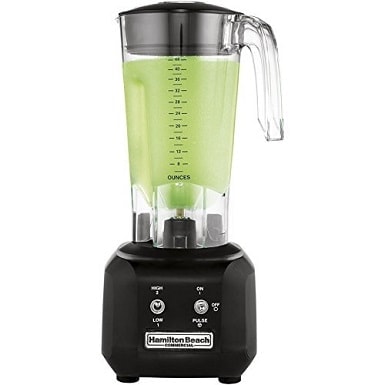 Our top pick is the Hamilton Beach Commercial HBB250R Rio Bar Blender, a powerful, effective model with a moderate price and a compact, lightweight design.
This 7.01-pound blender has a simple switch interface offering high and low speeds and a pulse feature. The 560-watt motor has an integrated cooling fan and attaches to a durable four-tip stainless steel blade assembly. In testing, we found that it quickly produced smooth blends, even when using large ice cubes. The included 44-ounce polycarbonate blending pitcher is conveniently designed to work without a tamper.
It's not the most elegant or quiet model on the market, and the price point is higher than some of the other top models, but this blender works well and is easy to use. Hamilton Beach offers a good two-year warranty that covers parts and labor.
All in all, we think this is the best blender for making margaritas this year.
Pros
Lightweight and compact
Strong motor with durable blades and a cooling fan
Easy to use interface offering two speeds
Blends smoothly without a tamper
Good two-year warranty
Cons
A bit more expensive
Not as elegantly designed and fairly loud
Smaller blending capacity
---
2.

Ninja BL610 Margarita Blender – Best Value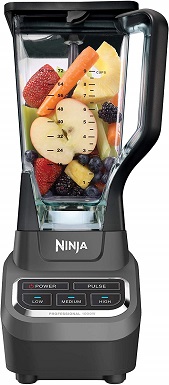 If you'd like to save money, you may be interested in the Ninja Professional BL610 Countertop Blender. The powerful motor, appealing design, and simple interface make this the best margarita blender for the money.
This light seven-pound blender comes at a very reasonable price. It has a strong 1,000-watt motor and a well-designed, streamlined body, with a simple five-button interface that allows you to choose among a range of manual speeds. The 72-ounce plastic blending pitcher is generously sized, and the six-tip stainless blade assembly does a good job even on larger pieces of ice.
In testing, we found that the pitcher isn't as durable as we'd like, and may crack or leak with repeated use. This machine doesn't produce the smoothest blend and needs to be tamped frequently. Ninja offers a basic one-year warranty that doesn't cover the pitcher.
Pros
Lightweight and reasonably-priced
Good-looking, streamlined design
Simple five-button interface with several manual speeds
Large blending capacity
Effective on ice
Basic one-year warranty
Cons
Less durable pitcher
Warranty doesn't cover pitcher
Needs frequent tamping for a smoother blend
---
3.

Margaritaville Margarita Blender – Premium Choice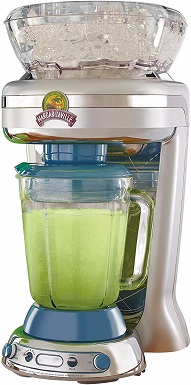 If you have room in your budget, you may prefer the high-end Margaritaville DM1900-000-000 Key West Frozen Concoction Maker. This highly automatic machine is specifically designed to make margaritas. Unlike a blender, it shaves your ice to produce a smoother drink.
This model has a large self-feeding ice hopper that can hold three pitchers of ice. You have a choice of three serving sizes, plus four pre-programmed drink settings and two manual blending and shaving options. At 36 ounces, the blending jar is surprisingly small, but it's also made of thick, high-quality glass.
At 21.3 pounds, this machine is harder to transport and takes up quite a bit of space. The plastic body looks and feels somewhat cheap, and the machine includes plastic components that aren't very durable. We also found that the 450-watt motor wasn't powerful enough for heavy ice shaving. Margaritaville offers a basic one-year warranty with additional shipping fees.
Pros
Specifically designed for margaritas
Shaves ice, producing smoother drinks
Very automatic with a good range of settings
Large self-feeding ice hopper
High-quality glass blending jar
One-year warranty
Cons
More expensive
Less powerful motor
Smaller blending capacity
Shorter warranty doesn't cover shipping fees
Cheaper-feeling body with less durable plastic components
---
4.

KakuFunny Portable Margarita Blender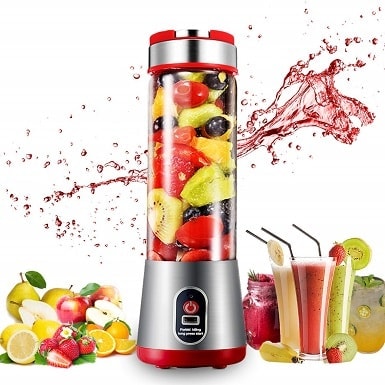 If you'd prefer a travel-friendly blender, you may want to look at the KakuFunny Portable Blender, a tiny, low-cost model that works well on ice but isn't particularly durable.
This 1.98-pound blender is easy to use, with a simple one-button operation. It's battery-operated and includes a USB charging cord. This compact stainless steel and red plastic model comes with a 16-ounce glass blend-in travel cup. The 150-watt motor isn't very powerful but can handle ice and has a convenient auto-off feature. The six-tip stainless steel blades feel durable.
If you occasionally blend small amounts, this model may work well for you. The small capacity means you won't be able to efficiently blend margaritas for a party. In testing, we found that this blender isn't durable enough for frequent use. It's backed by a short 30-day money-back guarantee.
Pros
Low cost and very lightweight
Cordless battery operation with USB charging
Includes blend-in glass travel bottle with lid
Works well on ice
Simple one-button operation
Cons
Small blending capacity
Not very durable
Less powerful motor
Short 30-day money-back guarantee
---
5.

Hamilton Beach 58148A Blender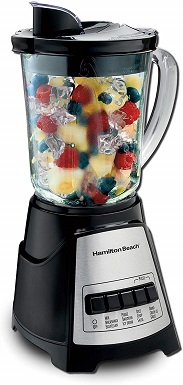 Hamilton Beach's 58148A Power Elite Blender is another lightweight, low-cost option with a wide range of features. Unfortunately, it's not very durable and isn't especially well-designed.
This 5.62-pound blender has a strong 700-watt motor and a functional, though not very appealing, silver and black plastic body. The slightly complicated five-button interface covers 12 possible functions, including ice and cold drink options and a self-cleaning feature. The smaller 40-ounce glass jar is dishwasher-safe, as are the lid and blade assembly, and the lid has a dripless pouring spout and a hinged cap so you can easily add ingredients while blending.
In testing, we found that the blades weren't very well designed, allowing ingredients to get stuck beneath them and fail to blend. This is also a very loud machine, and the plastic collar between the base and the pitcher breaks easily. Hamilton Beach offers a three-year warranty, but it doesn't include shipping and handling fees.
Pros
Lightweight and low cost
12 functions, including ice and cold drink options
Self-cleaning feature and dishwasher-safe components
Strong motor and durable glass blending jar
Three-year warranty
Cons
Poorly designed blades
Very loud
Smaller blending capacity
Less durable plastic collar
Fairly complicated interface
Warranty doesn't include shipping and handling
---
6.

BLACK+DECKER XL Blender Machine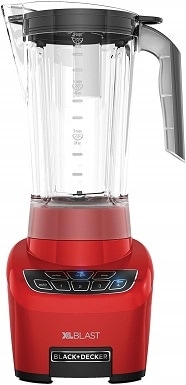 The BL4000R XL Blast Drink Machine from BLACK+DECKER is reasonably-priced and fairly good-looking but is also less durable and has a cheaper feel.
This light 6.5-pound drink machine, which comes in three bright colors, has a fairly strong 650-watt motor. The nicely-designed interface offers six speed options, including four presets for margaritas, daiquiris, shakes, and smoothies. These buttons aren't labeled, though, so you'll have to spend a few minutes with the manual. The 72-ounce blending jar is made of durable Tritan plastic, and the jar, lid, and blades are all conveniently dishwasher-safe.
We liked the included insulated sleeve that fits around the jar to keep your drinks cold. Overall, though, the machine has a cheaper feel and a less durable motor. We also found reports of customers receiving boxes that were missing key components like the lid. BLACK+DECKER offers a good two-year warranty.
Pros
Lightweight and reasonably priced
Choice of three appealing colors
Six speeds including four drink presets
Large, durable blending jar with insulating sleeve
Jar, lid, and blades are dishwasher-safe
Two-year warranty
Cons
Less durable motor
Feels cheaper
Less intuitive interface
Reports of missing components like lid
---
7.

Cuisinart SPB-7CH Bar Blenders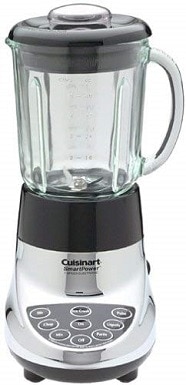 Cuisinart's SPB-7CH SmartPower 40-Ounce 7-Speed Electronic Bar Blender is fairly good-looking with plenty of useful features but isn't powerful or durable enough for regular margarita blending.
This low-cost machine weighs a light 8.4 pounds and has an attractive, though somewhat cheap-feeling, plastic base. Despite its many buttons, the interface is simple to use and offers a choice of seven speeds, including an ice crush feature. The sturdy 40-ounce glass pitcher is dishwasher-safe, stain-resistant, and easy to clean.
This model's 500-watt motor isn't strong enough for frequent ice blending. The blades aren't especially durable, and the machine's plastic gears don't feel like they'll hold up. Cuisinart does offer a three-year warranty and plenty of replacement components if any of yours break.
Pros
Lightweight and well-designed
Reasonably priced
Durable, easy to clean glass pitcher
Seven speed options, including an ice crush preset
Simple interface and fairly good-looking base
Three-year warranty and available replacement parts
Cons
Smaller blending capacity
Less durable blades and plastic gears
Less powerful motor
Somewhat cheap-feeling design
---
8.

Nostalgia FBS400 Blender for Margaritas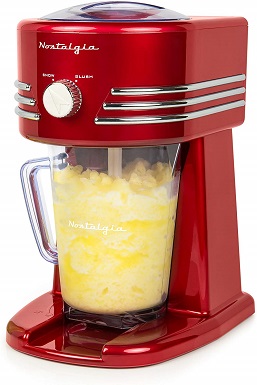 Our least favorite model is the Nostalgia FBS400RETRORED, a compact, good-looking machine that's fairly flimsy and doesn't work especially well.
This four-pound drink machine has a charming retro design and a simple interface with snow and slush settings. You can adjust the coarseness of the ice, but otherwise, the machine is fairly automatic. It's designed to shave ice and stir the 40-ounce plastic pitcher at the same time and works well with standard ice cubes.
The Nostalgia blender is fairly slow and not particularly strong. Though it's a very cute, low-cost machine, it's also not very powerful and doesn't have other functions. Nostalgia offers a one-year warranty.
Pros
Appealing retro design
Lightweight and low-cost
Easy to use, with only two settings
Shaves ice and mixes at the same time
One-year warranty
Cons
Slow operation
Not very strong or durable motor
No functionality outside of ice shaving
Small capacity
---
Buyer's Guide: How to Buy the Best Blender for Making Margaritas
If you're looking for a blender that can handle making frozen margaritas, you'll need a model that can smoothly blend ice, among other features. We've put together this quick guide to the features you'll probably want to pay attention to, so you can make sure you're purchasing a blender that will meet your needs.
Type
Do you want a blender that's specifically designed for margaritas, or do you want a multipurpose model that you can use for other tasks? Dedicated frozen drink machines typically work by shaving ice directly into a drink pitcher. You add ice cubes and fill the pitcher, and the machine shaves the ice and stirs the pitcher. These models produce smooth, pleasantly-textured ice that's perfect for drinking, but they don't have the flexibility to help you with other blending tasks.
If you'd like your model to have capabilities beyond frozen drinks, you may prefer a classic blender. If you go this route, you may also want to keep an eye out for convenient presets like ice crush, smoothie, or milkshake. These programs will optimize your machine's settings to create a smooth, well-blended drink.
Shaved or Blended?
The blender you choose will determine the texture of your drink. You may want to consider what consistency you like your ice to be. Classic blenders will produce fine, snow-like ice, whereas dedicated frozen drink machines will typically produce shaved ice, which has larger granules.
Power
You have a choice when it comes to power sources. The main options are plug-in electric and battery-operated designs. Electric models are typically more powerful, and you won't have to remember to charge them, but they're also less travel-friendly and may be more expensive. Battery-operated models are often rechargeable, using included USB cables, and can work well on camping trips or beach parties. Their motors are generally not as powerful, so they may not blend ice quite as well.
If you're looking to blend ice, you'll need a motor that's strong enough to do a good job, so you'll probably want to look for at least 600 or 700 watts of power. Motors with less power won't be able to blend ice as smoothly, so you may end up with larger chunks in your drink. If you want a really powerful motor that will quickly, though often loudly, cut through ice, you'll want closer to 1,000 watts of power.
Noise
Most blenders are very loud, especially when blending hard ingredients like ice cubes. If noise is a big issue for you, you may want a model with a less powerful motor. You may also want to experiment with smaller ice cubes. Keep in mind that while the blending will be loud, it will generally last for under a minute.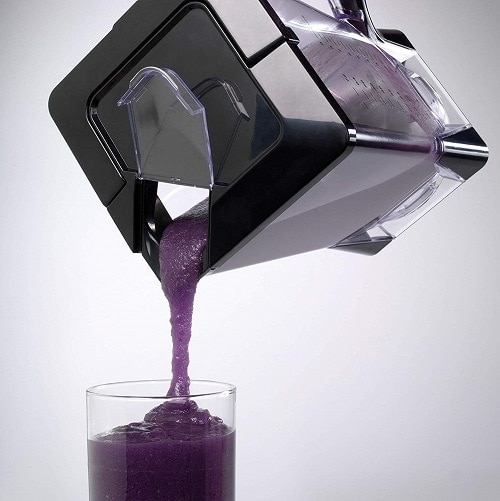 Blending Pitchers
When you're looking at buying a blender, you may want to pay attention to the size and quality of the included blending pitcher. These are typically made of either glass or plastic. Glass pitchers are heavier but more durable and stain-resistant, and can give your appliance a more expensive feel.
Plastic pitchers are lighter and less likely to break if you drop them. They're generally made of a higher-quality plastic called Tritan, which is designed to be more durable and shatter-resistant. Plastic pitchers are more likely to crack or leak, though they're also often less expensive.
You may also want to consider the capacity of your blender's pitcher. If you're blending margaritas for a party, you may need a large blender, up to 72 ounces, so that you won't have to do multiple batches. If you throw smaller parties, you may be fine with a more compact pitcher with around 40 ounces of capacity. And if you prefer to make just one or two margaritas, you may want to look for a small blending cup with a capacity of 16 ounces.
Extra Features
If you're blending an iced beverage, you may want a way to keep it cold. To that end, you may be interested in a feature like an insulating sleeve that will fit around your blending pitcher. This can keep your blended beverage cold before serving or between rounds.
Warranty
Do you want the security of a good warranty? Most of the blenders we reviewed here are backed by at least a one-year warranty. A few offer more generous coverage, up to two or three years. You may also want to pay attention to the details of each warranty, as some cover only the motor or charge shipping fees.
---
Conclusion
Our favorite margarita blender is the Hamilton Beach Commercial HBB250R Rio Bar Blender, a compact and powerful machine that's capable of smooth ice crushing. If you're looking for the best value, we recommend the Ninja Professional BL610 Countertop Blender, which is easy to use, well-designed, and very wallet-friendly. If you're willing to spend more money, you may prefer the Margaritaville DM1900-000-000 Key West Frozen Concoction Maker, a high-end dedicated frozen drink machine with several automatic features.
If you're looking to make a great frozen margarita at home, you'll need a great blender. Finding one doesn't have to be difficult, and we hope this list of the eight best models helps you shop with confidence. With the help of our comprehensive reviews and handy buyer's guide, you'll be sipping a homemade frozen drink in no time.