5 Best Blenders for Acai & Smoothie Bowls in 2023 – Reviews & Guide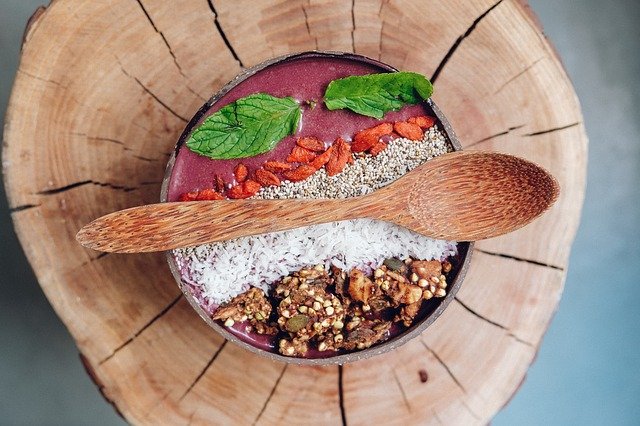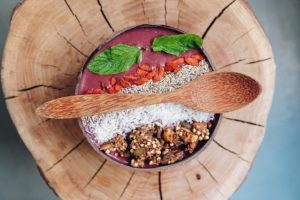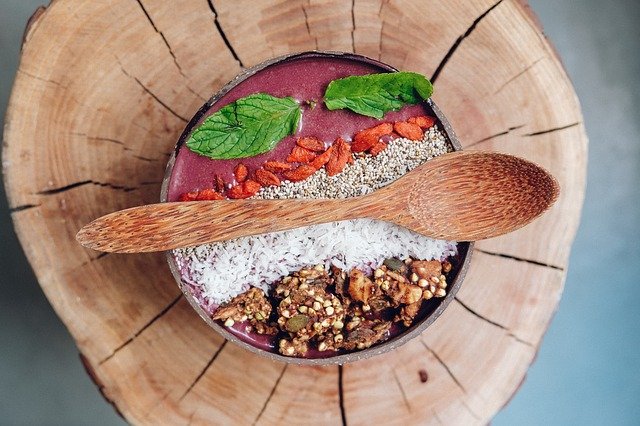 Acai bowls are the next big thing in healthy eating. If you're tired of paying a lot of money for an acai bowl at a trendy chain, you might like the idea of making your own acai bowls at home. Of course, to do that you're going to need a blender.
However, it can be a little intimidating to try and figure out which model meets your needs when there are so many on the market, each with a competing set of features and a marketing team trying to sell it to you. This problem can feel even worse when shopping online.
We want shopping online to feel as good, or better, than shopping in person, and we want it to be an easy process from start to finish. That's why we've assembled these reviews of some of the best blenders for acai bowls of 2021. And if that's not enough, we've also included a buyer's guide designed to provide you with great general information about blenders.
A Quick Glance at our Favorites of 2023
Rating
Image
Product
Details

Best Overall

Vitamix 5200

Large container
Stainless-steel blades
Variable speed control
CHECK PRICE

Blendtec TB-621-20

Powerful
Digital screen
Two containers
CHECK PRICE

Best Value

Hamilton Beach 54220

Multiple speeds
Ice sabre blades
Wave action system
CHECK PRICE

GoWISE USA GW22502

Powerful
Inexpensive
Noise reducing silicone pad
CHECK PRICE

BLACK+DECKER BL6010

Large containers
FusionBlade
Easy blending
CHECK PRICE
The 5 Best Blenders for Acai & Smoothie Bowls
1.

Vitamix 5200 Blender – Best Overall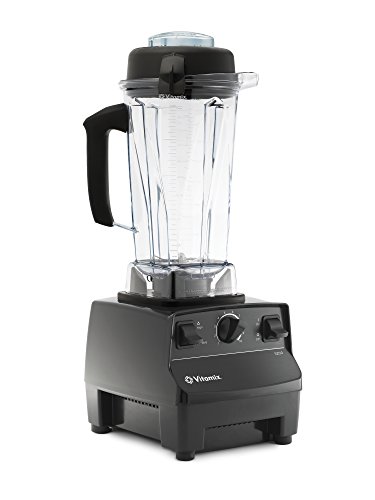 If you're the kind of person who wants to make a fresh acai bowl in the morning, then you're probably also the kind of person that doesn't want to wait around for your blend to get the job down. If that's the case with you, you'll love the Vitamix 5200. This model is a powerful multipurpose blender that will quickly create the acai bowl of your dreams. The 64-ounce container is large enough to make acai bowls for your whole family in a single blending session, which will save you time if you know a lot of people who like to eat healthily.
This blender isn't just limited to acai bowls, though. It has great stainless-steel blades that can be used to create perfect smoothies out of frozen fruit and ice, and the variable speed control means that you can always get the exact texture for which you're looking. Finally, this model is capable of heating soup, which makes it one of the most versatile tools you'll have in your kitchen. It is a bit difficult to clean manually but throw a bit of dish soap and water in there and turn the blender on, and it will clean itself.
All in all, we think this is the best blender for acai bowls this year.
Pros
Variable speed control
Large container
Stainless-steel blades
Can heat soup
---
2.

Blendtec TB-621-20 Blender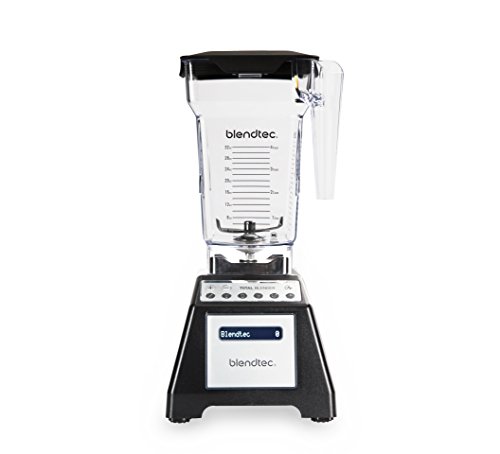 The Blendtec TB0621-20 is a good choice for someone who wants to make a lot of acai bowls but who is also looking for a blender that can make other, more difficult kitchen tasks look easy. It's rare that you find a blender at this price point with more than 1000 watts, but this model comes packing 1560 watts of power, which is what you could expect out of a decent table router out in the shop. Very few things can stand up to that level of power.
However, this model is more than just powerful. It comes with an easy-to-use digital screen and preprogrammed settings that make it easy to make a variety of dishes with just a single touch. It also includes a pair of containers, one of which comes with a 3" blade and one with a 4" blade. Unfortunately, the blades outlast the containers, so you should expect to replace those sooner than you'd probably like. Overall this is a great model for someone who wants a complete kitchen machine that will have no problems whatsoever with acai bowls.
---
3.

Hamilton Beach 54220 Blender – Best Value
The Hamilton Beach 54220 is our choice for best value blender. It comes with ice saber blades, which will make short work of most ingredients, and shouldn't have any trouble at all with your acai, as they're designed to cut through frozen fruit and ice. This model includes a container that is designed to work with Hamilton's Beach's wave action system, which helps funnel the ingredients you're blending back onto the blades without requiring any extra tamping on your part.
This model comes with 14 different speed settings, which means that you'll be able to fine-tune the final texture in a way that you wouldn't be able to with other models. The one downside to this model is that it's a bit underpowered, meaning that you won't have the same maximum kick that you'd get with other models. However, it should be more than enough for most acai bowls, and you can get it for a price that won't break the bank, which makes it a great value buy.
Pros
Ice sabre blades
Wave action system
Multiple speeds
---
4.

GoWISE Acai Bowl Blender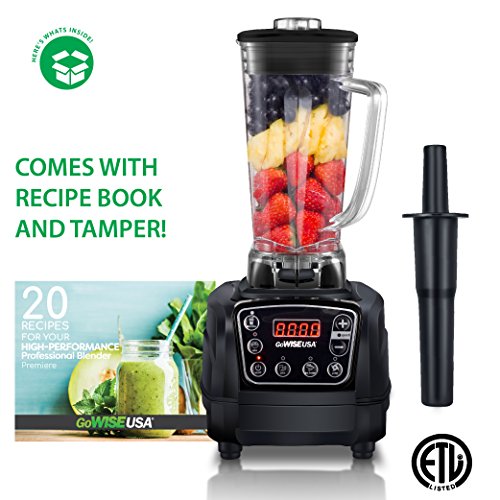 The GoWise USA GW22502 is a great budget model with the heart of a much more expensive blender. It packs more than two horsepower into its base, making it one of the most powerful blenders on the market. And yet, you can get it for the price of a low-to-mid range blender, which makes it a steal no matter what you're planning to blend. You would expect a blender this powerful to be extremely loud, too, but it comes with a noise-dampening silicone pad that sits between the base and the container and cuts down on noise.
What knocks this model down the list is that it isn't dishwasher safe. That's not always a big deal with blenders, but in this instance, it means it creates some trouble since this is a blender that comes with its blade attached to the container. It also features a container that is taller and narrower than other models, which makes it hard to get under the blade when cleaning. Because it's so tall it doesn't fit well under normal countertops. However, if you're willing to deal with these problems, you'll get one of the most powerful blenders at a great price.
Pros
Powerful
Inexpensive
Noise reducing silicone pad
Cons
Not dishwasher safe
Doesn't fit under standard countertops
---
5.

BLACK+DECKER FusionBlade Blender
The BLACK+DECKER FusionBlade BL6010 is a disappointing model. It does come with a large, 64-ounce container and a 20-ounce personal container that could be used for making acai for your whole family or just for yourself. It also comes with a FusionBlade, which is designed to crush ice and make other blending tasks easy.
While this model might blend well, it comes with a host of secondary problems that bump it to the bottom of our list. For instance, the lid for the large container is finicky, and most people find it hard to put on, and then hard to take off at the end. It is also too tall to fit under most standard countertops which makes storing it a pain. Finally, it has serious durability problems. Many models burn out within two years of getting them, but some will only last a few months, especially if you're using them a lot. Overall, you could get a better blender for the same amount of money if you look elsewhere.
Pros
Large and personal containers
FusionBlade
Cons
Finicky lid
Doesn't fit under standard countertops
Durability problems
---
Buyer's Guide: Selecting the Best Blender for Acai & Smoothie Bowls
The blades, container, and power are the most important feature in a blender.
Stainless-steel blades tend to be the best kind, as they hold their edge for the longest and are also generally more resistant to damage than other models. You also want to research how the blade connects to the base. Poor connections can mean that the power transfers from the base to the blade poorly, which reduces the effectiveness of the blender. You'll also want a blade that is easy to clean under if the container is not dishwasher-safe.
Many people think that glass containers are the best, but plastic containers are the better variety, which is why high-end models come with plastic containers. Plastic is far less like to break if dropped and holds up better to the stresses of blending. Thus, plastic containers tend to last longer. The one upside that glass containers have over plastic is that they will never take on a smell if not promptly cleaned.
Power is also an important feature, though possibly not as influential as the blade or container. If your blender comes with less than 350 watts of power, it may be impossible to blend ice or frozen fruit, as your blender won't have the punch needed to get the job done. 500 watts is the threshold at which blenders are consistently able to blend ice. You have diminishing returns with increases in power, though more power typically means that you'll get the job done faster.
If you're looking to get the best value out of your blender, make sure that you know what features you'll need to enjoy your blending experience. Once you know what those are, choose the blender that best matches that list, and purchase that one instead of trying to buy the most expensive or the cheapest model. That way you will get the best value out of your pick, instead of lacking features you need or paying for others that you'll never use.
---
Conclusion:
The Vitamix 5200 is our top blender for making acai bowls, due to its stainless-steel blades, variable speed control, and a large container. The Blendtec TB0621-20 is a powerful model great for general kitchen use, which falls to second on our list due to poor container quality. The Hamilton Beach 54220 is our choice for best value, as you can get its great blade and wave action system for a fraction of the price of other models. The GoWise USA GW22502 blends extremely well but falls to fourth because it's not dishwasher safe and may not fit under your countertop. The BLACK+DECKER FusionBlade BL6010 has a crummy lid, durability problems, and is overall a disappointing model that you should probably avoid.
Hopefully, our reviews and buyer's guide have given you some idea of what makes for a great blender. With that knowledge, you should be able to find the blender that works best for you and your smoothie bowls.
---
Featured image by: Ella Olsson, Pixabay