10 Best Band Saws in 2023 – Reviews & Buying Guide best
There's no purchase in woodworking more intimidating than a stand-up band saw. These monsters can run over $1,000, and that's before factoring in replacement blades, additional parts, and maintenance. If you get the wrong one, you can't exactly take it back to the hardware store the next day.
However, band saws are also one of the most rewarding tools in any workshop. Cutting irregular shapes, sawing plastic and metal, thinning boards into slats, making exceptionally smooth cuts – they can do it all. There's ample reason to make the leap into owning your own.
Read on to learn which band saws beat out the competition, which fall short of the mark, and which you'll want for your own dream project.
Comparison Table (updated in 2023)
Image
Product
Details

Best Overall

JET JWBS-14DXPRO Band Saw

Large capacity
Fast adjustments
Extra storage compartment
CHECK PRICE

Grizzly G0555LX Band Saw

Good cutting capacity
Stable construction
Durable adjustment mechanisms
CHECK PRICE

Best Value

WEN 3962 Band Saw

Perfect calibration
45-degree adjustability
Straight cuts
CHECK PRICE

Rikon 10-305 Band Saw

Easily fits into any shop
Micro-adjustable blade guide
Inexpensive
CHECK PRICE

Shop Fox W1706 Band Saw

Big table
2-year warranty
Quality miter fence
CHECK PRICE
The 10 Best Band Saws:
1.

JET JWBS-14DXPRO Band Saw – Best Overall
Sometimes, a machine's design does just about everything correctly, and the JET JWBS-14DXPRO is one of those machines. Jet's balanced, reliable band saw is our top choice. Its large cutting capacity – 13½ inches wide and 12 inches tall – means you can use it for just about any lumber without the hassle and expense of installing a riser block. Both the blade and safety guard are easy to adjust, and the 15-inch square table with a 55-degree tilt range (10 left, 45 right) adds to the convenience.
The cast-iron frame and closed base make this one of the most stable band saws available. We really like the storage compartment in the base, which can comfortably fit lots of small tools. The 1¼-HP engine is enough to get most cutting speeds you'll need, though you might want to replace the blade.
The only thing we can say against the Jet JWBS-14DXPRO is that it doesn't come with a rip fence. That might have been an intentional choice, as many woodworkers prefer to install their own fences, but it makes this band saw just a little less accessible to beginners.
All in all, we think that this is the best band saw of the year.
Pros
Large capacity
Fast adjustments
Large table
Extra storage compartment
Cons
Rip fence not included
Not ideal for beginners
---
2.

Grizzly G0555LX Band Saw
The Grizzly G0555LX comes with a lot of features that you wouldn't expect on a model at this price point. It has great cutting capacity, stable performance, and best of all, it's easy to use. The fence and a ball-bearing blade guide adjustment is among the top of the class. You'll be assembling it yourself, but if any parts don't fit, Grizzly has an amazingly responsive customer care line.
While it's cheaper and more decked-out with features than the Jet JWBS-14DXPRO, it also has a less powerful engine at 1 HP. We docked it a bit for that and for its weak dust collection. On the whole, though, if you want an economical band saw supported by solid extras that will last you for years, you could do much worse than the Grizzly G0555LX. We think this is one of the best band saws for home shops, though, because of it's qualities.
Pros
Good cutting capacity
Great customer service
Stable construction
Durable adjustment mechanisms
Cons
1 HP isn't that powerful
Poor dust collection
---
3.

WEN 3962 Band Saw – Best Value
The WEN 3962 not only makes great cuts, but it also gives you incredible value for the money. This two-speed, 10-inch band saw features a table that can tilt up to 45 degrees, making it highly adjustable. If you already own a dust collection system, there's a good chance that it's compatible with this machine, which includes a 3-in-1 dust port.
Initial setup can take a long time relative to other units, which is what keeps this model out of the top 2. If you're a band saw novice, you may find the blade change to be harder than on other units. However, once it is set up correctly, it's one of the straightest-cutting and most powerful units on the market.
Like the Grizzly G0555LX, the saw itself holds up well, too – we used it to resaw an 8-foot board without the calibration varying measurably at all. Note that as a primarily bench-top saw with a less powerful motor, it's primarily for hobbyists and DIYers.
We also noticed that when running the saw at the faster speed causes the belt to rub against the motor's mount, which might lead you to have to replace the belt sooner than you'd like.
All in all, we think that this is one of the best band saws for the price.
Pros
Perfect calibration
45-degree ajustability
Good power
Straight cuts
Great value
Cons
Blade changes difficult
Hard initial setup
Poor belt design
---
4.

Rikon 10-305 Band Saw
If you're doing smaller projects, you should check out the Rikon 10-305, another band saw that can get you some extra cutting power on a tight budget. Like the WEN 3962 at #3, it's a smaller bench-top model that can fit easily into your shop without taking up too much space (unlike the 9362, though, it doesn't come with its own stand).
The 10-305 has a large worktable, durable steel construction, and a high level of adjustability in its fence and blade guide. If you don't like the initial factory blade – and we didn't – this model makes it easy to change in a new one.
The main reason this is so far down is the underpowered engine. Horsepower isn't the only factor you should use to pick a band saw (see the buyer's guide for more details), but with the Rikon 10-305's ⅓-HP engine, it's going to take forever to cut most woods.
Pros
Inexpensive
Easily fits into any shop
Blade is simple to swap out
Micro-adjustable blade guide
Cons
Low-powered motor
No stand included
Inferior factory blade
---
5.

Shop Fox W1706 Band Saw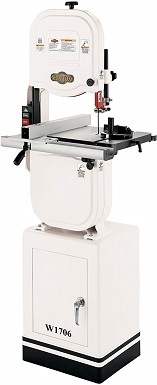 On the higher side of the price spectrum, this freestanding band saw from Shop Fox features a 1 HP motor, cutting at 1725 RPM, a 93½-inch blade, and a 14-inch square table. The only thing here that's really lacking is the 6-inch cutting height, though that can be boosted to 12 inches with an extra extension kit.
The W1706 is great for fitting into small shops, and cuts straight and true through softer woods. Yet, it's hard to overlook that other band saws give you that 12 inches of capacity for free. A few other problems, such as a shaky rip fence and cheap factory blade, put this Shop Fox product firmly in the middling category. The two-year warranty is nice, though.
Pros
Two-year warranty
Big table
Quality miter fence
In-base storage
Cons
Inferior factory blade
Small cutting capacity without riser blocks
Back support bearings sometimes give out
---
6.

WEN 3959 Band Saw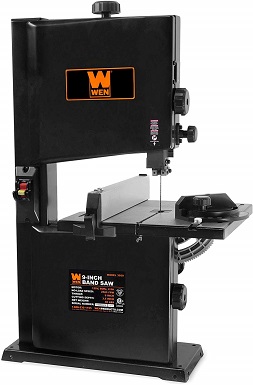 With a 2.5-amp motor capable of 2,500 FPM blade speeds, this compact benchtop band saw from WEN is quite capable, considering its small size and affordable price. Deep cuts to 3.5 inches are possible, and it can also create 45-degree bevel cuts thanks to the tilting table. To top it off, a rip fence and miter gauge are included, and there's a 2.5-inch dust port vacuum attachment built-in.
On paper, everything looks excellent. On wood, the saw tends to drift and did cause several boards to be ruined. This was made worse by the cheap quality rip fence that would not stay put. Also, the table has some warped areas which meant the boards did not slide smoothly and occasionally got hung up while trying to push them through.
Pros
Affordable
45-degree table tilt
Dust port, rip fence, and miter gauge included
Cons
Blade drifts
Rip fence is very poor quality
Tabletop isn't perfectly flat
---
7.

SKIL 3386-01 Band Saw
While many stand-alone band saws will take up a large chunk of your workshop real estate, this smaller tabletop model from SKIL has a considerably smaller footprint. Of course, the small size also comes with some drawbacks. For instance, it has a maximum cutting capacity of 3.5 inches. Great for trim and decorative work, but not great if you need to make large cuts. This model is also not expandable with a riser block.
For the low price, it's surprising how many extra features are included. For starters, there's an LED work light to keep your cut well lit, and there's a dust port with an attachment for a vacuum. Also included are a miter gauge and a rip fence, although the fence was too weak to be useful. So why doesn't this SKIL saw rank higher? Well, to start with, the 2.5-amp motor lacks power. If you want to cut hardwood, you'll need to look at a different model. Also, the blade adjustment doesn't work well, and the blade keeps coming off the wheels. On top of this, the excessive vibration when trying to cut a thick piece prevents this saw from achieving the cleanest cuts.
Pros
Affordably priced
LED work light
Miter gauge and fence
Cons
Small cutting capacity
Lacks power
Blade adjustment is terrible
Too much vibration
---
8.

Delta 28-400 Band Saw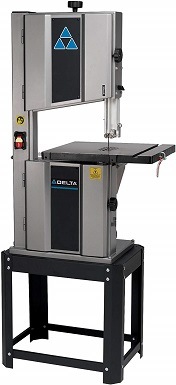 This Delta band saw contains a stout 1-horsepower motor that runs at two speeds, 1,620 FPM and 3,340 FPM, to allow cutting of both wood and metal. That said, changing speeds is a royal pain. The sturdy, oversized table measures 15¾ by 18⅞ inches and tilts 45 degrees to the right. Precision ground nine-spoke wheels make blade tracking adjustments simple. The large 6-inch high cutting capacity is respectable, though no riser block can be added to make it larger.
This model features a glaring drawback which stops it from reaching a higher position on this list. Changing the blade requires using a hex wrench to adjust the set screws in six separate guides in order to get the new blade coplanar. At this high price point, we hoped to see a tool-free adjustment for the blade-guides like on the older Delta models and current models offered by other brands. For the price, it also seems like you're not getting many features. No miter gauge or fence, no light, not even a dust port.
Pros
Two-speed operation
Oversized table tilts 45 degrees
Cons
Changing speeds is a pain
No toolless micro-adjustment
No extra features
---
9.

POWERTEC BS900 Band Saw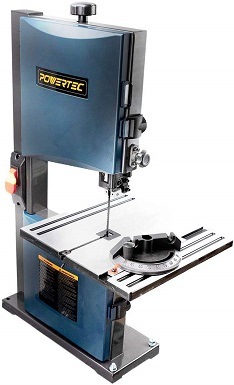 With a low price and a small footprint, this benchtop band saw from POWERTEC may be considered when just getting started in woodworking. For serious wood cutting though, you may want a more powerful saw. The 2.5-amp, 0.5-horsepower motor spins at a respectable 1,725 RPMs, though it seemed to bog down pretty quickly when cutting.
The 11¾-inch square tabletop tilts 45-degrees for angled cuts and can still cut a depth of 2 inches in this position. When flat, this saw has a max depth of 3⅝ inches, though it doesn't have enough power to cut anything that thick. It features a quick-release blade tension lever, but it's cheaply made and could easily break off. The one-year warranty may cover it if so, but only at the company's discretion. It does feature a 2-inch dust port for a vacuum connection, as well as a miter gauge. Despite these extra features, you'd be better off with one of the higher-ranked band saws that has a better track record.
Cons
Underpowered
Blade tensioner feels cheap and may break
Warranty honored at company's discretion
---
10.

ShopSeries RK7453 9" Band Saw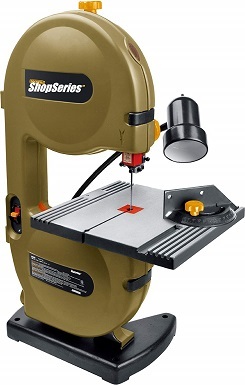 Considering the low price of this ShopSeries band saw, the specs are worth checking out. The 2.5-amp motor allows cutting of up to 3⅛-inch thick wood. The tabletop tilts to 45 degrees for angled cuts and a two-year warranty provides protection against defects. Extra features such as built-in flexible work light and miter gauge add more value to this little benchtop saw.
The knobs don't seem to truly adjust the blade how they're supposed to. This also makes it very difficult to try to get the blade to track properly. As a result, getting a straight cut was very hard, since the blade kept wandering. We discovered that there is only a bearing on one side of the blade, as opposed to all the other saws on this list which have one on each side. Overall, we can't recommend this product as there are better alternatives in the price range.
Pros
Affordable
Two-year warranty
Cons
Bearing on only one side of blade
Adjustment knobs don't function properly
Hard to track
Doesn't cut straight
---
Buyer's Guide: How to Choose the Best Band Saw
The above reviews should give you some insight into finding the best band saw for your needs. Like with all power tool purchases, the most important thing is to understand exactly what you want to do with the bands saw after you buy it.
We don't know what projects you've been dreaming about, but we can give you as much general advice as we can to help you match a band saw to your plans, your skills, and your budget.
Price
Just because a power tool is expensive, doesn't mean that it has great value. While shopping for a band saw or anything else for your workshop, remember that price and quality are only loosely correlated.
By the same token, cheaper doesn't always mean worse. But that also doesn't mean you should just snap up whichever band saw comes first when you sort low-to-high on Amazon.
While price is often the first thing newbies think about, we think it's more of a tiebreaker. We recommend narrowing down your choice of band saws as far as possible before using price to make the final decision. If you're really strapped for cash, check out our guide to the top band saw picks under $500.
Durability
To make cuts, band saws use a single blade under very high tension. This means the entire body of the machine is under stress all the time, sort of like how a guitar is always held a little tense by its strings.
The blade and body of a band saw work together to hold that tension. If either one is made of inferior materials, it won't just start to crack — it'll also put extra stress on the other one.
When you've got your eye on a band saw, get as many reports as possible on how long it lasts. To get a general idea of what makes good construction, look for these materials:
Tables should be made out of cast iron. If it's not, eliminate that particular saw right away.
The best quality frames are also made of cast iron, but rolled steel and aluminum are also acceptable — and might be better if you're looking for a lighter machine. Plastic is the sign of a cheap product that will break down quickly.
Blades are the least important when buying a new band saw, because if you don't like the one the factory-installed, you can always just replace it. The best blades are made from carbide steel or cobalt.
Ease of use
User-friendliness in band saws can come from a lot of places, but the biggest factor is one we alluded to just now: how easy it is to change out the blade. The more you use your band saw, the more you'll need to change the blade, both to cut different materials effectively and to replace it when the teeth wear out.
Some band saws make blade replacement extremely easy, while others…don't do that. Nobody gets into woodworking because they're excited to replace saw blades, so ideally, changing yours will demand as little energy as possible. The best way to figure this out is to talk to people who've used different models and read reviews of each.
You'll also want to research how easy it is to set the blade height, and how easy it is to operate the safety features. After changing the blade, those are the things you'll be doing the most often.
Power
More horsepower is always better, right? Not always. You don't want to be like that guy who drops his kids off for soccer practice in a jacked-up truck that looks like it should be racing Formula One. Sometimes less is plenty.
A 1½-HP motor is enough to handle almost any project. You'll only really start running into problems if you go below 1. Even then, you're more at risk of boredom than disaster — you can still handle most woods, it'll just take longer.
If you're thinking about working with exotic hardwoods, or sawing sheet metal, you might want to go above 1½ HP into the 2½ to 3 range. Beware that motors this powerful need a specialized high-voltage electrical supply.
Base
There are four kinds of band saw bases: floor, open, closed, and panel.
A floor base is a solid piece of metal on the ground, attached to another, narrower piece of metal that supports the band saw and hides the lower wheel. It's one of the more stable bases, capable of absorbing most vibrations.
A closed base is a metal box that supports the rest of the band saw, including the lower wheel. It's empty, but some band saws add a door so you can use it for storage. This base is also very stable.
An open base has four exposed support legs, sometimes connected by bands. Since it has fewer points of contact with the floor, it's not as stable as a closed or floor base. With less material, it doesn't soak up vibrations as well.
A panel base is an open base with metal panels mounted onto the support legs. The panels don't serve any load-bearing purpose, so a panel base has the same flaws as an open base.
Any of these bases can come with wheels attached. If you plan to be moving your band saw back and forth, these can really save you some strain. They can also be added on later if your needs change.
Riser blocks
Thickness capacity is a measure of how thick a material a band saw can cut through. It's equal to the distance between the table and the maximum height of the upper guide assembly or blade guard.
You might find a band saw that's perfect in every way except for its thickness capacity. Luckily, you can work around this problem with a riser block.
A riser block is a part that you can add to the frame between the table and the upper wheel case, adding up to 12 inches to the thickness capacity. They typically cost under $100. To make sure you don't damage your machine with a poor fit, it's best to get a riser block from the same company that made your band saw.
Keep in mind that installing a riser block increases the length of blade that you need for the machine by a factor of two. If your band saw is using a 93½-inch blade, and you add a 6-inch riser block, you'll need a 105-inch blade to make use of that new thickness capacity.
Table tilt
With a tilting table, you can make angled cuts on a band saw. If you're planning a project that'll require a lot of bevels, look for a band saw with table tilt, which can go up to 45 degrees.
Conclusion:
The JET JWBS-14DXPRO was our favorite band saw, due to its massive capacity and table and excellent power. The Grizzly G0555LX was a great band saw overall but lost the first position because of a poorly-designed dust collector. The WEN 3962 is a great band saw for experts, and works great, but isn't the easiest to use. The Rikon 10-305 is great for small projects and working with softwoods but struggles with harder woods and lacks the capacity for large projects. The POWERTEC BS900 has more flaws than upsides and shouldn't be high on your list.
Hopefully, our reviews and our buyer's guide have helped make it clear what you should be looking for when you're shopping for a band saw. It's not always easy to shop online, but we hope that you now know which is the best band saw for your needs.
More band saw related posts: