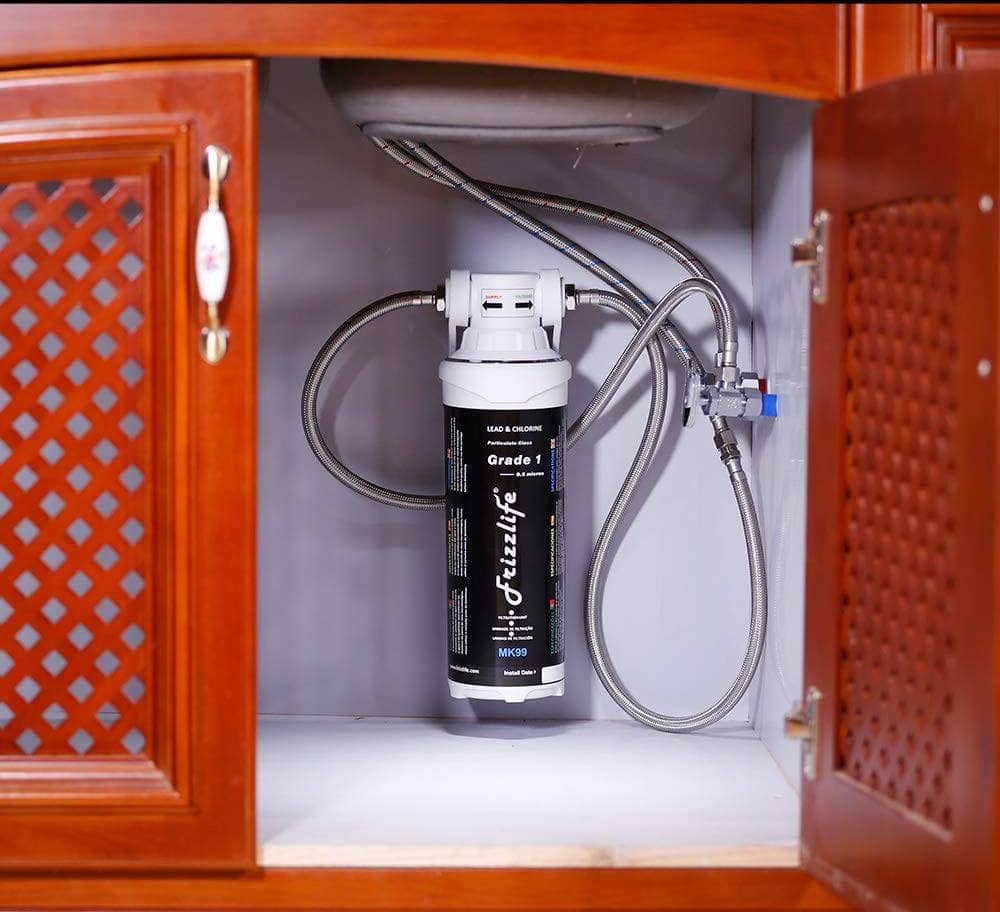 Have you ever moved into a new house and thought the water tasted funny? Tap water can be full of unwanted substances such as chemicals like chlorine, sediment, VOCs, and more. All of these can ruin the taste and smell of your drinking water. So, what's the solution?
Activated carbon water filters are great at removing foul flavors and odors from water. They're a completely natural way to remove lots of unwanted substances from your water without removing the minerals that you want for flavor and health.
We wanted to know which carbon water filters would give us the best drinking experience, which ones were the best value, and which ones aren't worth a try. To that end, we've tested many different carbon filters, taking meticulous notes along the way. We've compiled the information into the following eight reviews so that hopefully, you won't have to try out as many to find the right one for you.
Comparison Table (updated in 2021):
Rating
Image
Product
Details

Best Overall

Frizzlife Under Sink Carbon Water Filter

Quick and easy installation
Built-in shutoff valve
2 GPM flow rate
CHECK PRICE

Best Value

Omnipure Inline Carbon Water Filter

One-year lifespan
Uses 3/8" quick connect fittings
Simple installation
CHECK PRICE

Premium Choice

Aquasana Whole House Carbon Water Filter

High flow rate of 7 GPM
6-year
600
000-gallon lifespan
Very low maintenance
CHECK PRICE

iSpring 3-Stage Carbon Under-Sink Water Filters

3 stages of filtration
6-12-month filter life
Has its own faucet
CHECK PRICE

Camco TastePure RV Carbon Water-Filter

Affordably priced
Easy to install
Hose protector stops kinks
CHECK PRICE
The 8 Best Carbon Water Filters:
1. Frizzlife Under Sink Carbon Water Filter – Best Overall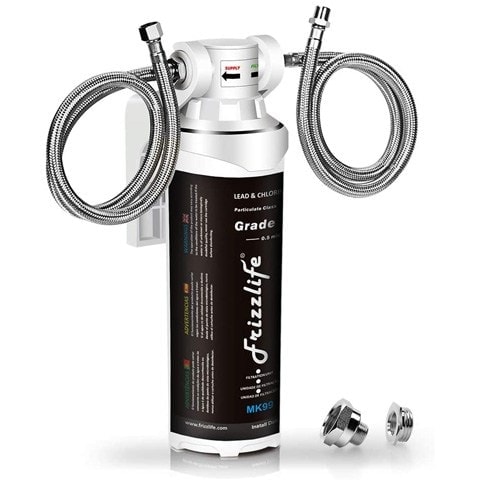 After testing all the different carbon water filters, the Frizzlife MK99 under-sink water filter was our favorite. It's got a two-stage filter system that removes the standard sediment, chlorine, and VOCs, but also eliminates lead, heavy metals, and more. The water that was filtered through the Frizzlife tasted refreshing and pure every time.
One thing we liked about the Frizzlife was that it was easy to connect to our existing sink system. No new faucets were needed, and no countertop space was lost. It took about 15 minutes to install the filter and start using it. There's even a built-in shutoff valve to eliminate the need for turning off the water when you go to replace the filter cartridge after 1,600 gallons.
Though installation was simple and quick, the included plastic wrenches were useless, and we had to use our own. We expected a decrease in water output from the sink this filter was installed on, but with a flow rate of two gallons per minute, we didn't notice any decrease in flow with the Frizzlife.
Pros
Quick and easy installation
Built-in shutoff valve
2 GPM flow rate
Filter life is 1,600 gallons
Cons
Included plastic wrenches are useless
---
2. Omnipure Inline Carbon Water Filter – Best Value

Combining effective carbon filtration with low cost and simple operation, the Omnipure Inline Carbon Water Filter is one of the most affordable ways to have endless filtered water on tap. It's dirt-cheap and dead-simple, but it provides clean water that tastes and smells much better than the water that normally pours from our un-filtered faucets.
This filter connects in-line with 3/8-inch quick connect fittings, making it a quick installation and easy to replace when needed. But all the cold water from your sink will be filtered through the Omnipure, which can be a nuisance since it has a very low flow rate of just 0.5 gallons per minute.
Despite the low price, this filter has a very respectable lifespan of a year or 1,000 gallons. It's easy to see why we think it's the best value. With a low price and replacements only needed annually, it's likely the best carbon water filter for the money.
Pros
Dirt-cheap pricing
One-year lifespan
Uses 3/8" quick connect fittings
Simple installation
---
3. Aquasana Whole House Carbon Water Filter – Premium Choice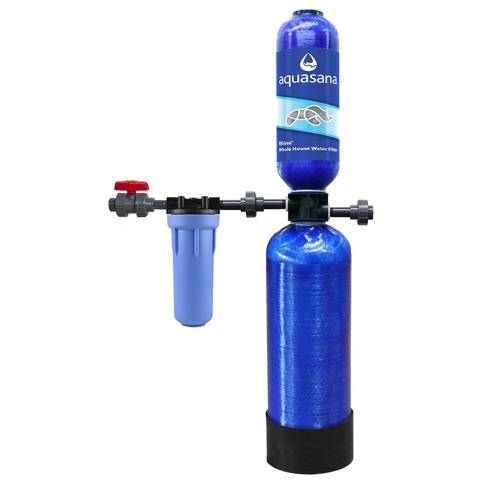 Many people opt for small water filtration systems because of their affordability. But if you want a whole-house solution to provide you with endless filtered water and you want it in a low-maintenance package, the Aquasana EQ-600 is for you. This Whole-house water filter system has a lifespan of six years or 600,000 gallons, making it one of the longest-lasting filters we've ever seen.
While the main filter lasts for six years, the pre and post-filters will still need to be replaced regularly; about every three months to maintain the best flow rate. But aside from replacing these filters, the EQ-600 requires no maintenance.
Since it's meant to supply your whole home with water, the Aquasana filter has a high flow rate of seven gallons per minute. For us, this was plenty. The convenience of having high-quality filtered water from all our faucets was incredible. So is the peace of mind provided by the six-year warranty, something we're always happy to see on such a pricey investment.
Pros
Provides enough filtered water for a whole family
6-year, 600,000-gallon lifespan
Very low maintenance
High flow rate of 7 GPM
6-year warranty
Cons
Extremely expensive
Pre and post-filters still need regular replacing
---
4. iSpring 3-Stage Carbon Under-Sink Water Filters
One issue with many in-line water filters is that they tend to drastically reduce water pressure and flow rates to the faucet they're installed on. The iSpring US31 under-sink water filter fixes this issue by utilizing a dedicated faucet that's just for filtered drinking water. But you'll be sacrificing some under-sink space since this sizeable system has a larger footprint than most in-line filters.
The US31 offers three stages of filtration to remove lead, arsenic, heavy metals, and even control bacteria and parasites. These filters will last for about 6-12 months before you need to replace them, depending on how much water you consume and how bad your water is, to begin with.
We all enjoyed the crisp and clean water produced by the iSpring filter. But you'll be paying a premium for the convenience of that second faucet that provides filtered water on tap. For the money, we think there are better choices, but this is still a great filter overall.
Pros
3 stages of filtration
6-12-month filter life
Has its own faucet
Controls bacteria and parasites
Cons
Takes up a lot of under-sink space
More expensive than other options
---
5. Camco TastePure RV Carbon Water-Filter
It's hard to beat the convenience of having filtered water flowing through your kitchen faucet. The Camco 40043 TastePure filter makes that kind of convenience accessible to everyone at an affordable price. But you're not limited to full-size kitchens and sinks with this filter. You can even use this in your RV or camper, making filtered water possible wherever you are.
One problem with in-line water filters that aren't permanently mounted is that their weight hangs from the waterline. This can cause the line to kink, reducing or even halting water flow. But the Camco TastePure remedies this problem by including a hose protector attachment that prevents kinks from happening, keeping your water flowing at full-blast.
This filter is easy to install and even easier to replace after installing the first one. You'll need to replace it every three months to keep your water fresh. But this filter only removes particles down to 20 microns in size, so it's not the most thorough carbon filter we've seen.
Pros
Affordably priced
Easy to install
Hose protector stops kinks
Cons
Needs to be replaced every three months
Only filters to 20 microns
---
6. iSpring WGB21B Whole House Water Filtration System
If one faucet of filtered water isn't enough for you, then the iSpring WGB21B Whole House Water Filtration System may be more your size. This filter system will provide up to 15 gallons per minute of filtered water to every faucet in your home. For a family of four, the filter cartridges will last for approximately one-year between replacements. That's a filter life of 50,000 gallons.
You'll notice that this is one of the more expensive carbon water filtration systems on our list. It's not surprising since it has the highest flow rates and one of the best filter lifespans too. But we think it's a bit overpriced compared to some of the other viable options available. The cost will go up even more if you must hire a professional to install it, which is very likely with this unit since it's much harder to install than the other carbon filters on our list.
Pros
50,000-gallon filter life
Filters all the water in your home
Up to 15 GPM flow rates
Cons
Expensive
May need a professional to install
---
7. Lake Industries Countertop Water Filter (Carbon)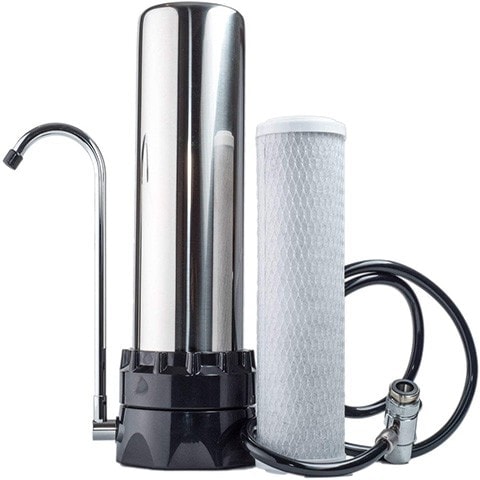 If you like the idea of a dedicated filtered water faucet but you don't want to install a bulky and expensive under-sink filtration system, then a countertop water filter is a great choice to consider. The Lake Industries countertop water filter sits beside your sink and easily attaches to your sink faucet. You can install it in just a few minutes with no skills or experience.
While we love the ease of install this filter provides, it does take up a lot of sink-side counter space. Plus, the way the hose attaches to your faucet isn't very pretty and it can make your faucet much less usable.
The Lake Industries filter is one of the more affordable ways to get unlimited filtered water at your kitchen sink. However, you'll be replacing the filter cartridges more often with this unit than with others. These filters last for just 1,000 gallons. That's not terrible, but it sure doesn't compare to the 600,000-gallon lifespan of the Aquasana in our third position.
Cons
Takes up sink-side counter space
The hose can make your faucet less usable
Filter only lasts for 1,000 gallons
---
8. APEX EXPRT MR-2050 Carbon Countertop Water Filter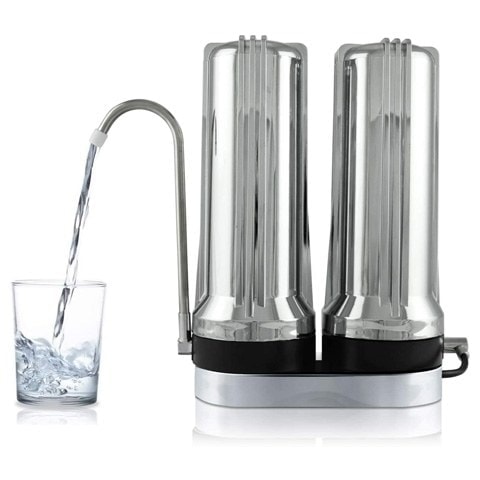 If you like the idea of a countertop water filter, then the APEX EXPRT takes it a step further with extra stages of filtration. Plus, this filter even boosts the alkalinity of your water, providing you with the health benefits of alkaline water. But keep in mind, raising the alkalinity of your water means that it's also raising the total dissolved solids of your water by adding in minerals.
Like all countertop filters, the EXPRT is simple to install. It sits beside your sink and the hose attaches to your faucet. But it's a big eyesore taking up a lot of counter space. The hose is unattractive as well, and it even makes the faucet less usable.
We like alkaline water filters, but the APEX EXPRT is too high-priced for what you get. It's one of the more expensive options we tested, but the water it produced wasn't noticeably better than the water from any of the other filters on this list.
Cons
Raises TDS
Takes up a lot of counter space
The hose is ugly and makes faucet less usable
Very expensive

Buyer's Guide
There are many different types of water filters on the market today. Carbon water filters are a very popular type used in many households. They're affordable and easy to find, but do you know what they're removing from your water? Before buying a carbon water filter, you'll want to make sure it's the best choice for you, which means you must know what it does. Let's take a quick look at what carbon filters do and don't remove so you can decide if they're the right choice for you.
What do Carbon Filters Remove?
Sediment – Most carbon filtration systems have a filtering size of 5-20 microns. Any dirt, sand, pebbles, metal fragments from pipes, or other particles in your water that are that size or larger will be removed from your water completely.
Chlorine – Chlorine is used in water treatment, so it's  in all our tap water. But chlorine leaves behind strong odors and flavors. Luckily, carbon filters can remove 97%-99% of chlorine.
VOCs – Volatile organic compounds are contaminants that are dissolved in our water such as benzene, formaldehyde, and petroleum products. Naturally, you don't want to drink these, which is why we use carbon filters to remove them.
Tastes – Carbon filters are great for removing unpleasant or foul tastes from water such as chlorine, chemical flavors, or others. After being filtered through carbon, water tastes crisp and clean.
Odors – If your water smells bad and you don't want to drink it, carbon filters can help. They do a great job of removing odors from your water and making it smell much better.
Pesticides and Herbicides – Pesticides and herbicides are used heavily in agriculture, so the runoff ends up in our water. Activated carbon is the only effective treatment for removing these unwanted and unhealthy substances that make their way into our drinking water.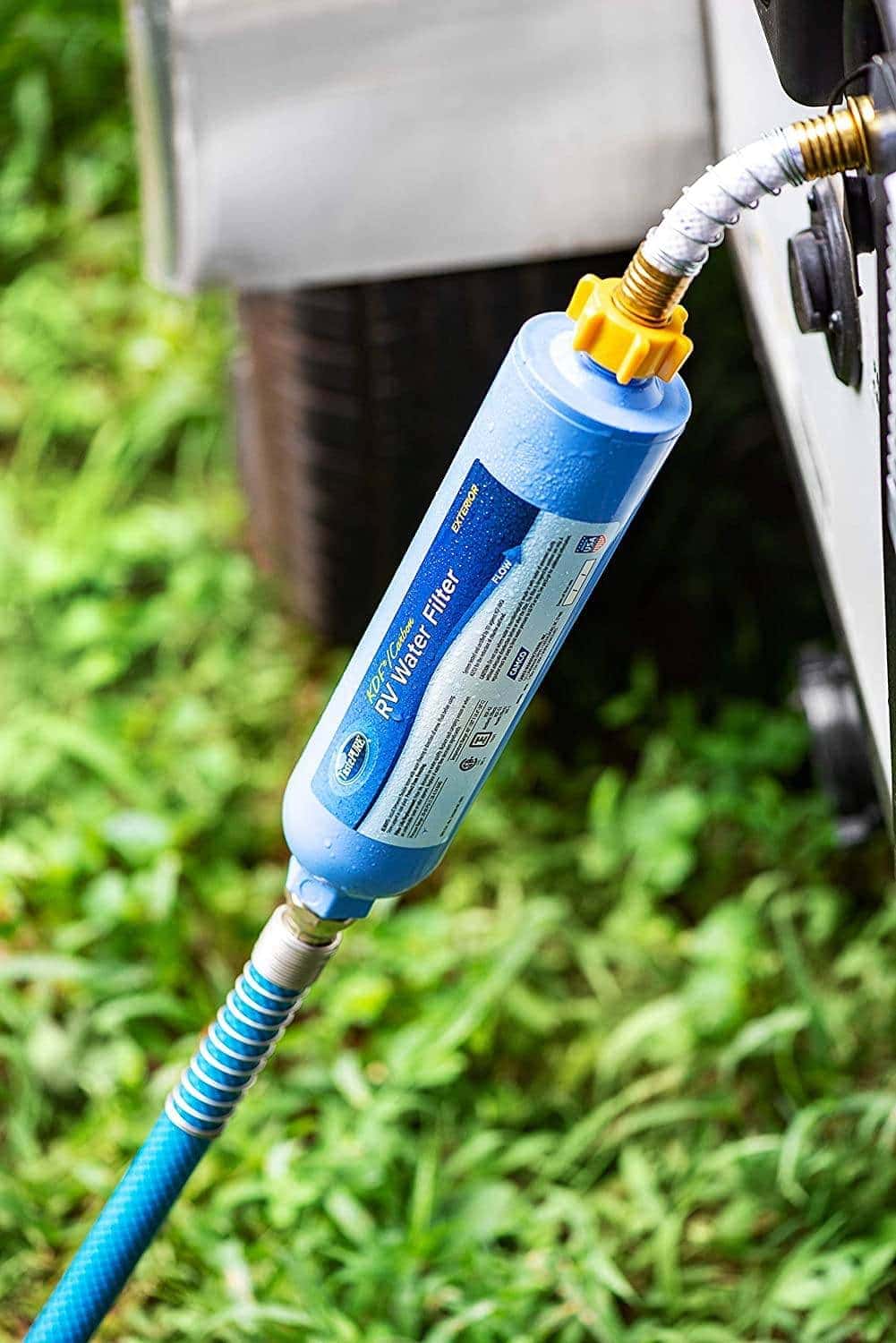 What Don't Carbon Filters Remove?
Bacteria – Some carbon filters may block some bacteria because of how tightly-sized their filter pores are, but overall, carbon isn't an effective filter for living organisms like bacteria, cysts, and protozoa.
Viruses – Few filters remove viruses from your water, and carbon filters aren't one of them. If you want to drink water that may have viruses present, you'll need a specialty filter instead.
Minerals – Carbon is a mineral, and it's not good at removing other minerals from your water. Salt, magnesium, potassium and other minerals will be left behind, even after being filtered through activated carbon.
Fluoride – Few filters remove fluoride from your water. Carbon filters aren't on the shortlist, so you'll need a specialty filter to remove fluoride.
TDS – Since minerals and salts are dissolved solids and add to the total TDS in your water, carbon filters don't effectively reduce total dissolved solids.

Conclusion:
We all want drinking water that smells, looks, tastes, and is clean and safe. Since carbon water filters are one of the best ways to achieve this, we tested as many as we could find and compiled our findings into the eight reviews you've just read. Out of them all, our favorite was the Frizzlife MK99 Under-Sink Water Filter. It was quick and easy to install and even has a built-in shutoff valve for easy filter replacement. We also liked the 2 gallons per minute flow rate and impressive 1,600-gallon filter lifespan.
For a dirt-cheap alternative, we suggest the Omnipure K23330KK Inline Carbon Water Filter. It's simple to hook up with 3/8-inch quick connect fittings and only needs to be replaced once a year. But if you want to provide your entire home with clean drinking water, we recommend the Aquasana EQ-600 Whole House Water Filter System. With a 600,000-gallon lifespan, six-year warranty, and almost no maintenance required, you can practically forget about it once you've installed it.

Pete has been working in the trades since high school, where he first developed a passion for woodworking. Over the years, he has developed a keen interest in a wide variety of DIY projects around the home. Fascinated by all sort of tools, Pete loves reading and writing about all the latest gadgets and accessories that hit the market. His other interests include astronomy, hiking, and fishing.
As the founder of House Grail, David's primary goal is to help consumers make educated decisions about DIY projects at home, in the garage, and in the garden.