8 Best Inline Water Filters of 2023 – Reviews & Top Picks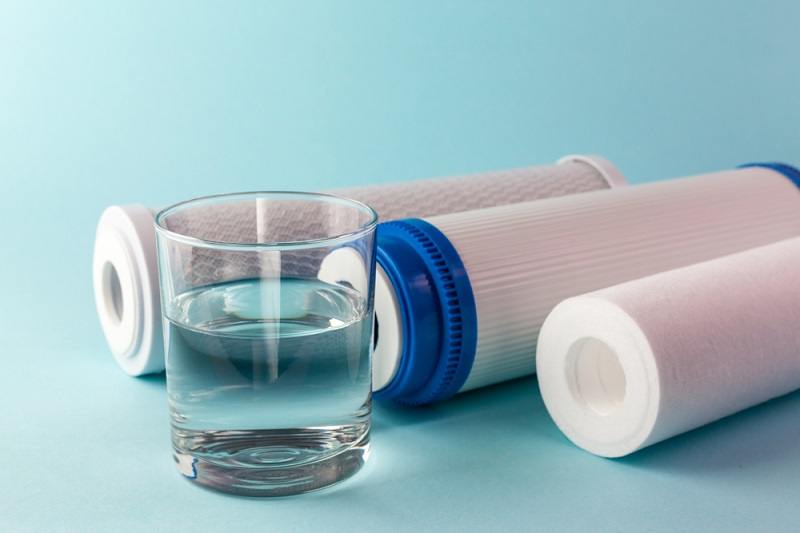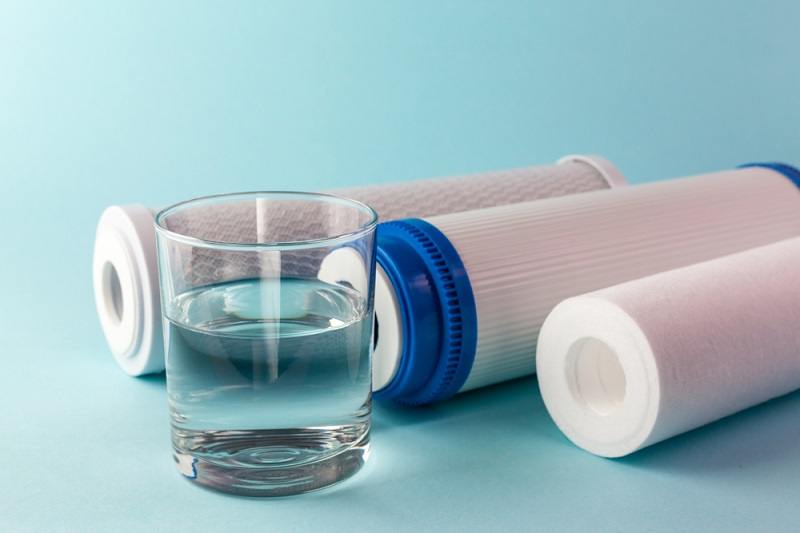 If you've never heard of an inline water filter before, prepare for something a bit different than the Britas and fridge units you might be used to. An inline water filter fits directly into your water pipes and automatically filters all water that passes through a certain pipe. Just install one of these under your sink, and you'll taste the difference in your tap water right away.
The concept of an inline water filter is pretty magical, but once you've gotten over that, you can see that there are good ones and bad ones. Yet with so many on the market, all claiming they'll make your water cleaner, whiten your teeth, and shave ten strokes off your golf game, it can be hard to figure out who's telling the truth.
Our reviews are here to help. We've gathered a list of some inline water filters we love, some we just like, and some we recommend staying away from.
---
A Quick Comparison of Our Favorites in 2023
Rating
Image
Product
Details

Best Overall

Watts 43000140 Inline Water Filter

Easy to install
Affordable
Majorly improves taste of water
CHECK PRICE

Best Value

Omnipure K2533JJ Inline Water Filter

Cheap
Doesn't leak
Cleans water quickly
CHECK PRICE

Premium Choice

PureWater Filters PWF-IFK Inline Water Filter

Extremely strong filtration system
Tackles a wide range of impurities
Great taste
CHECK PRICE

Camco 40045 TastePURE Inline RV Water Filter

Very good deal
Portable
Able to filter all contaminants
CHECK PRICE

Culligan RV-800 Inline Water Filter

Reduces water hardness
Eliminates sulfur and metal tastes
Increases water pressure
CHECK PRICE
The 8 Best Inline Water Filters
1.

Watts 43000140 Inline Water Filter – Best Overall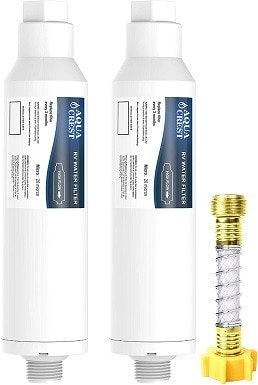 The Watts inline water filter from Premier is our top filter on the market right now. We're impressed by its voracious capacity (it's able to clean 20,000 gallons of water before needing to be replaced), its relatively low price, and its extreme versatility. Install this in your kitchen, bathroom, fridge, RV, ice maker, or even your shower if you want — as long as you've got 1/4-inch pipes, Watts leaves it up to you.
Other than price and flexibility, ease of use is the Watts Premier's biggest selling point. An amateur plumber can install this filter without any professional help, and should only need to inspect it once every six months. The directions are clear and simple.
Then there's the taste. We almost can't believe how good this unit is at cutting down on foul smells and gross tastes in your water and ice. And it does that for a long time: the average homeowner takes more than five years to run 20,000 gallons through one sink.
The only downside is that it doesn't work with pipes that aren't 1/4-inch in diameter. You can get it to fit with certain 3/8-inch pipes, but it's a lot of hassle. All in all, we think this is the best inline water filter on the market right now.
Pros
Easy to install
Affordable
Majorly improves taste of water
Can last more than 5 years
---
2.

Omnipure K2533JJ Inline Water Filter – Best Value

If you want better-tasting water, but your kitchen budget for the year is already low, Omnipure offers the best inline water filter for the money. The K2533 connects to 1/4-inch pipes and can be installed with no tools whatsoever.
Once installed, this filter cleans chlorine and other impurities out of your water, significantly improving the taste. It only takes about a minute of draining for the water to become crystal clear. And its construction is anything but cheap: in our tests, we weren't able to make the K2533 spring a leak no matter how hard we tried.
The capacity is a big disappointment, however. At only 1,500 gallons, the average kitchen sink is likely to wear through it in less than a year. If you can, we suggest paying more upfront for a filter that will last longer — ultimately, you'll save money.
Pros
Cheap
Doesn't leak
Cleans water quickly
A breeze to install
Cons
Very low filter capacity means you'll need to replace it often
---
3.

PureWater Filters PWF-IFK Inline Water Filter – Premium Choice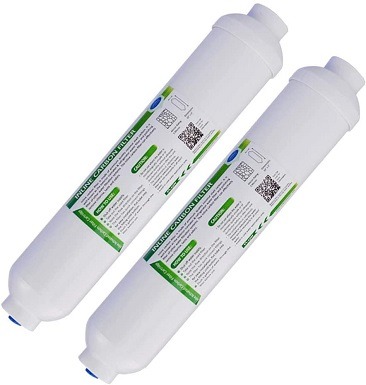 PureWater Filters is a premium-priced inline filter brand that works well enough to earn every extra penny you'll spend. One important thing to keep in mind: an inline water filter has to be pretty expensive before it's less cost-effective than constantly replacing a pitcher filter.
Certified to comply with ANSI/NSF 42, a tough international standard that covers the taste and smell of water, the PureWater Filter fits taps and ice makers. It ships with all the parts you'll need, plus clear instructions.
When we tried it, the aspect most people remarked on was the strength. This filter is like a diligent watchdog for chlorine, metals, and microbes, flushing everything out of your water for a near-natural purity. We even got that result when we tried it on well water and reclaimed rainwater.
Unfortunately, it only filters 1,500 gallons before needing replacement, so it's best installed in a faucet that sees a bit less use. Also, despite the nice manual, setup takes longer than with many of its competitors.
Pros
Extremely strong filtration system
Tackles a wide range of impurities
Great taste
Clear instructions
Cons
Longer, more involved setup
Expensive
Low capacity
---
4.

Camco 40045 TastePURE Inline RV Water Filter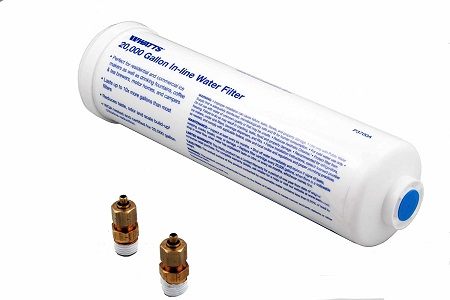 The Camco 40045 inline water filter is an excellent deal. You get two units for the same amount you'd pay for one of most other filters. But does it have anything to offer besides a low price?
It turns out the bargain is because these aren't technically inline water filters. Instead, they screw onto the end of an open faucet, filtering all the water that comes through. It might be more accurate to call them end-of-the-line filters. This design might seem odd to some users, but it works as well as any other filter, flushing contaminants and leaving your water clean.
These filters last a long time, with each individual unit useful for between 3 and 6 months. But the best thing about the Camco 40045 is that it's portable. You can use it in your RV, bring it to public faucets at campgrounds, or just move it between rooms in your house.
With all that said, we've kept it in the rankings at number 4 because it doesn't do much for the taste. Hose water, for example, will be clean and potable, but still noticeably rubbery. They also aren't powerful enough to handle sediment from a major water system failure.
Pros
Very good deal
Portable
Able to filter all contaminants
Cons
Water taste doesn't change much
Relatively short lifespan
Only work on perfectly functioning water systems
---
5.

Culligan RV-800 Inline Water Filter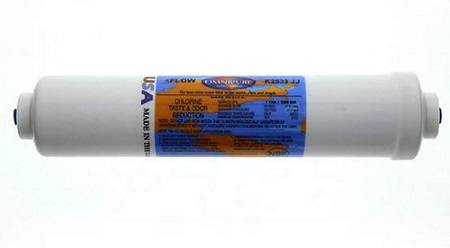 The Culligan RV-800 is another water filter similar to the Camco 40045. Instead of fitting it inside a water pipe, you attach it to the end of a spigot or hose, so that all water from that source passes through the filter before you drink it. It's intended to be used on an RV's water tanks, but also works great for hoses and public faucets.
This filter has another nice perk: for a tiny extra fee, you can get a rubber hose that attaches to the output end, making it a lot easier to fill a bottle or a watering can. The hose isn't included with all purchases, though, something we wish Culligan was a bit more upfront about.
In our tests, we noticed it makes water a lot less hard and does a great job of cutting down on sulfurous and metallic smells. There's also very little loss of water pressure — in fact, it even improves it sometimes.
There's always a downside, so here's the problem with the Culligan RV-800: leaks. We observed both the caps and hoses leaking fairly often. It's portable and filters great, but leaking is enough of an issue to bring it down to our number 5 spot.
Pros
Reduces water hardness
Eliminates sulfur and metal tastes
Increases water pressure
Portable
Cons
Hose and caps leak
Hose isn't included without an extra fee
---
6.

AQUA CREST RV Inline Water Filter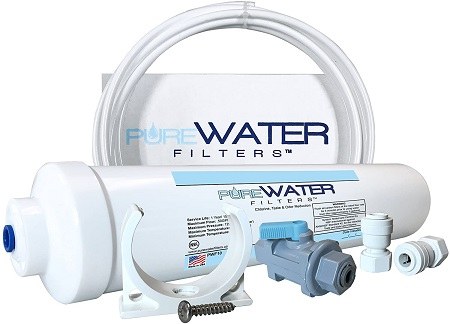 The AQUACREST inline water filter is another external filter, which attaches to an outdoor spigot to provide clean water for gardening, RVs, boats, tent camping, and other activities. It can also be used in your home sinks.
Functionally, there's not a ton of difference between this filter and the other RV filters in spots 4 and 5. However, AQUACREST does boast an impressive internal system. Its multi-step process starts with kinetic filtration to remove all the heavy contaminants, then uses activated carbon to kill bacteria and remove smaller particles.
Having tested the water on both humans and plants, we can confirm that the multi-stage filtration works wonders. What doesn't work is the hose. The longer you use the AQUACREST filter, the more likely it is that the hose will pop clean off and start spraying everywhere.
It's also not nearly as leak-proof as it claims. AQUACREST offers excellent filtration, but we wish its construction quality lived up to that promise.
Pros
Effective, multi-step filtration
Portable and versatile
Water tastes good
Nice for misting plants
Cons
Cheap hose protector
Chance of serious leaks after a few months
---
7.

EZ-FLO Inline Water Filter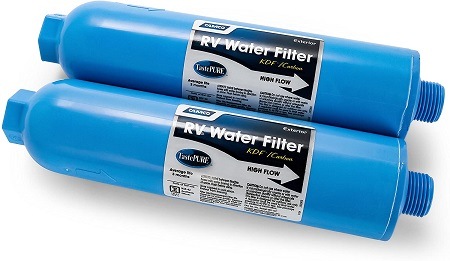 EZ-FLO's inline water filter comes in two designs. "Taste and Odor" removes contaminants that make your water smell and/or taste unpleasant, while "Taste, Odor, and Scale" adds extra filtration to cut down on water hardness.
After several portable hose filters, we're back to inline pipe-fitted filters. The first thing you'll notice about EZ-FLO is that it's one of the cheapest filters of its type on the market, even if you spring for the scale upgrade.
Sadly, there are reasons it's so cheap. Foremost among them: this filter often arrives without critical components. You're likely to have to supply some important fittings yourself. And while it does remove some odors, it actually adds others — we noticed a faint sulfur taste in our test water that wasn't there before.
It's not all bad. This filter lasts a long time, beating out some significantly more expensive models, and it does get rid of a lot of unpleasant tastes. But we can't recommend a product that so often arrives too broken to use.
Pros
Long lifespan
Cheap
Catches most contaminants
Cons
Often arrives without necessary fixtures
Sometimes adds sulfurous taste
---
8.

Membrane Solutions Inline Water Filter
The best thing you can say for this inline water filter from Membrane Solutions is that it's incredibly cheap. You get two filtration units for much lower than the average price of one.
In case you haven't yet figured out that you get what you pay for, Membrane Solutions will prove it to you. We couldn't figure out which direction to install it, so we tried it both ways, and saw a significant amount of leakage both times.
Once we jury-rigged a working fit, we finally got to taste the water. It didn't go well — across the board, we found it tasted worse than it had before we installed the filter. Then, to add insult to injury, a connector blew and leaked water all over the floor.
We don't recommend this inline water filter unless you have no other options.
Cons
Leaks constantly
Unintuitive installation
Adds bad tastes and odors
---
Buyer's Guide – Choosing the Best Inline Water Filter
By now, you've heard a lot about our favorite inline water filters. For some of you, though, that might not be enough. What if you want to go out and find your own favorites?
That's where this buyer's guide comes in. We'll run down some brief but super-useful tips for picking the product that will get you months of pure, delicious water.
Types of Water Filters
The first step is determining what kind of water filter best suits your needs. Use this rundown of filtration designs to make the right decision.
Inline water filter:
A filter installed directly into a pipe, filtering all the water that passes through. Usually filters a single faucet.
Pros
Can filter more water at a faster rate
Cons
More expensive; can't be moved once installed
Faucet filter:
Often called an RV filter, these systems screw onto the end of a faucet to filter the water that comes out.
Pros
Can be carried anywhere and used on multiple faucets; cheaper
Cons
Don't filter as efficiently; will wear out faster
Pitcher filter:
Best known as a Brita. Pitchers with built-in filters store water for later consumption.
Pros
Convenient; keeps water cold
Cons
Need to be repeatedly replaced; only good for drinking and cooking water
Countertop filter:
These water filters are permanent fixtures that you can install on your kitchen or bathroom counter. Water comes out of a tap on the countertop filter, instead of from the sink itself.
Pros
Makes tap water drinkable without a pitcher or plumbing work
Cons
Limited utility otherwise; expensive.
House-wide filter:
With professional help, you can get a water filter installed on the main holding tank for your home's water.
Pros
Great option for remote or off-grid houses
Cons
Needs a professional to install
How to Test an Inline Water Filter
A few important factors determine whether any water filtration system is up to snuff.
Ease of installation: You're going to have to inspect an inline system fairly often, so you should be able to take it out and put it back without a plumber's help. Get one that has clear instructions and ships with a complete set of parts.
Leaks: A filter only works if all the water in the pipe passes through it first. It only takes a few drops of metal-heavy water to ruin a nice glass. Major leaks even risk pouring water onto your floor. Make sure that any filter is leak-proof before you buy it, and follow the installation instructions closely.
Water clarity: If your filter isn't working, the water will look off right away. Check for any colors other than clear, particles floating around, or suspicious-looking foam.
Scent: Smelling water is the next way you can tell whether it's going to be unpleasant to drink. If it smells like sulfur, chlorine, or metal, throw it out — and toss the filter out while you're at it.
Taste: Swirl a bit of the water around on your tongue. If you taste chlorine or anything metallic, the filter isn't working the way that it should.
Capacity: Most water filters measure their lifespans in gallons, not months. Choose what faucet you're going to install the filter on, and think about how many gallons of water you draw from it on an average day. Divide the filter capacity by that number to learn how long it will last.

Conclusion
For these reviews, we put all eight inline water filters through a rigorous series of tests. In the end, the Watts Premier earned the top spot. It can be installed by a total newbie, it cuts foul odors down to nothing, and it lasts for years longer than the competition — which, over time, also makes it the most cost-effective inline filter you can buy.
That's not to say our runner-up, the Omnipure K2533, came in far behind. It comes at a great price, drains exceptionally fast, and is also very forgiving to new plumbers. If only it lasted longer, we'd have had a much harder time choosing our winner.
We hope we've been able to help you sort out the complex world of inline water filters. Remember that your best bet is always to diligently read third-party reviews, and never put too much trust in ad copy. Good luck, and enjoy your great-tasting water!
---
Featured Image Credit: Serhii Moiseiev, Shutterstock