6 Best Carving Axes 2023 – Reviews & Buying Guide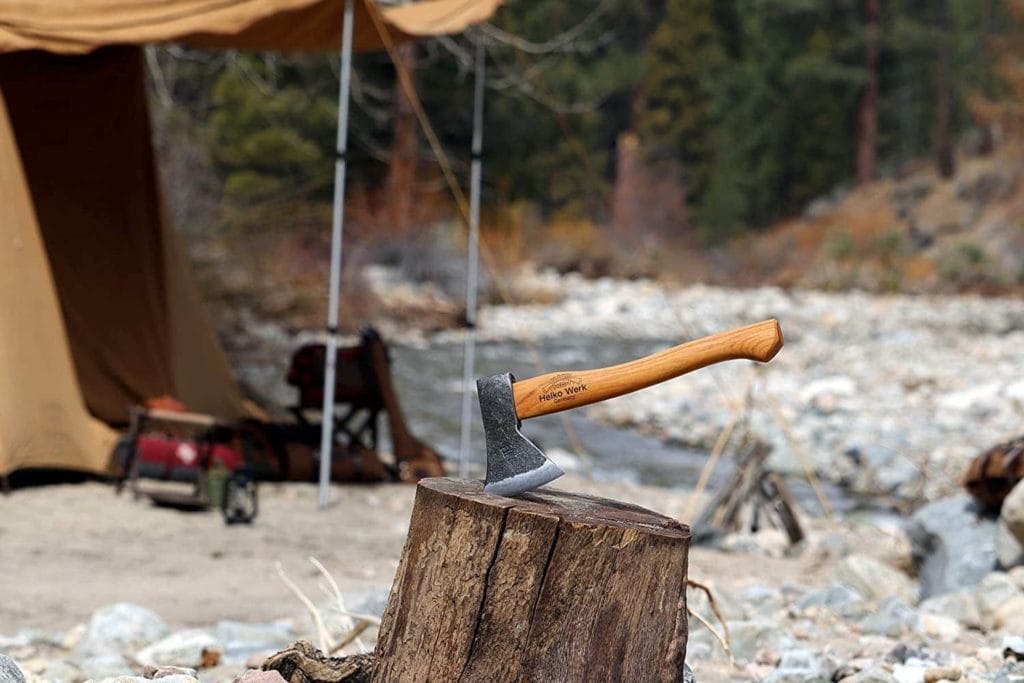 The right carving axe can make all the difference in the world when it comes to your wood-shaping efforts. Shaping applications require a variety of characteristics from an axe, ranging from blade shape and material to quality of the handle. With loads of axes on the market, it's tempting to want to try each one out before you buy it, so you can know for certain it does what you want it to.
Unfortunately, that's not always possible. That's why we've put together this list of reviews of the six best carving axes of the year. With these in hand, you'll be able to hack through all the extraneous information and focus on what's important to you: finding the best carving axe to fit your needs.
---
A Quick Comparison of Our Favorites in 2023
Rating
Image
Product
Details

Best Overall

CRKT 2746 Freyr Axe

Tennessee hickory handle
Well-proportioned
1055 carbon steel head
CHECK PRICE

Best Value

Condor Tool & Knife 61400 Scout Hatchet

1045 steel blade
Small
Hickory handle
CHECK PRICE

Premium Choice

Gransfors Bruks 415 Wildlife Hatchet

Lightweight
Comfortable grip
Durable construction
CHECK PRICE

Husqvarna 596270901 Wooden Handle Hatchet

Sharp
Long handle
Heavy head
CHECK PRICE

1844 Helko Werk Germany Rheinland Carving Hatchet

Hickory handle
Hand-forged
Sheath included
CHECK PRICE
The 6 Best Carving Axes – Reviews
1.

CRKT 2746 Freyr Axe – Best Overall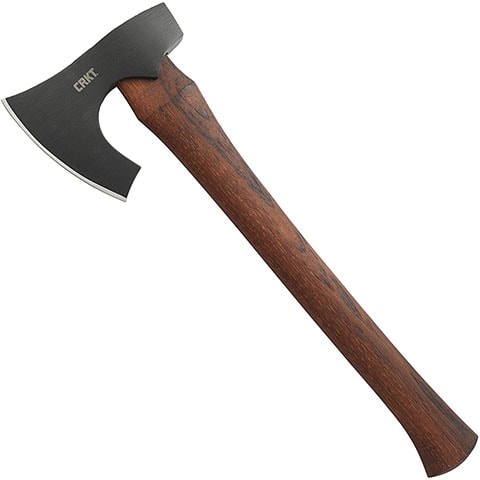 The Freyr axe is a utilitarian tool with a Viking style. Built of rugged materials to withstand the punishment you'll put it through, it makes the top of our list for dependability. The unique, long-bearded design also gives it a wide range of applications beyond simple chopping, making it a versatile tool as well.
The 4.528-inch blade is forged from 1055 carbon steel and shaped with a long beard. This gives it superior durability. It also keeps an edge better than other materials, which is critical when the tool is under prolonged use. The bearded shape of the blade gives it versatility of use from simple chops to precision cuts. It also provides additional balance to the tool, making it easier to use.
The overall dimensions and weight of the axe are designed for greater control and ease of use. At 16.125 inches, the axe is an excellent length for one-handed control. It also weighs 1.79 pounds, which offers some force behind your cuts.
The handle is made from Tennessee hickory. This hard wood will help your axe last through heavy utilization.
While the Freyr axe is masterfully designed, it comes with some flaws out of the box. The first that needs to be addressed is the fact that it's not sharp. So, be prepared to hone the blade when it arrives. The second is that the head can arrive misaligned with the handle, making it wobble. This needs to be reinforced before heavy use. Finally, it doesn't ship with a sheath. Instead, you'll have to order that separately.
Pros
Head designed for multiple functions
Tennessee hickory handle
1055 carbon steel head
Well-proportioned
Good balance
Cons
Arrives dull
Wobbly head
Sheath not included
---
2.

Condor Tool & Knife Scout Hatchet – Best Value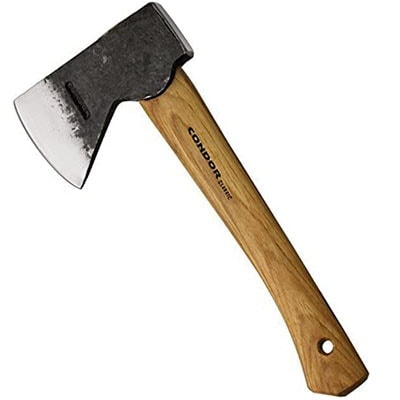 Condor Tool and Knife has produced one of the best carving axes for the money in their Scout Hatchet. It's a simple tool designed for simple tasks and built of durable materials for heavy use. On top of its durable, solid design, the price is right. It also comes with a high-quality leather sheathe.
This is a smaller tool than the Freyr, making it excellent for portability. The total length of the hatchet is 10.25 inches. This makes it easy to carry and easy to control when in use. The total weight is 1.75 pounds, which puts it in the average weight range for carving axes.
This hatchet is also built of extremely durable materials, so it will get you through your carving tasks for many years to come. The blade is 1045 high carbon steel. The handle is carved from hickory.
While this is a durable, reliable, inexpensive tool, it does come with some flaws. There are a few issues with the handle. The first is that the finish is a little rough out of the box. In order to resolve this, you'll have to sand it once it arrives in order to get it to a suitable finish level for comfort in the hand. Alternately, you could wear gloves while using it. Secondly, some of the handles come with the grain running across the grip, rather than along it. This will result in handle failure under heavy use, so be observant when the hatchet arrives. Finally, the head doesn't come sharpened, so be prepared to do so for yourself.
Pros
Inexpensive
1045 steel blade
Small
Hickory handle
Cons
Rough handle finish
Occasional weak handles due to crossed grain
Head comes dull
---
3.

Gransfors Bruks 415 Wildlife Hatchet – Premium Choice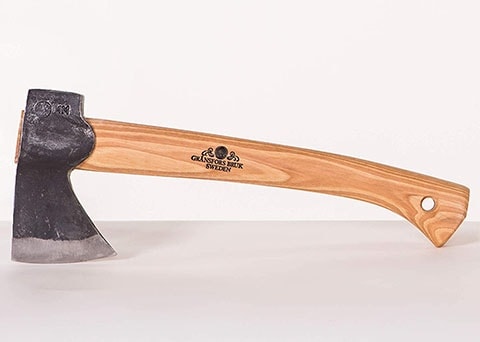 A high-quality carving axe choice comes to us from Sweden. The Gransfors Bruks 415 Wildlife Hatchet offers skilled craftsmanship in the form of a lightweight, durable axe. It's a portable, well-made, traditional style hatchet that will come in handy for multiple purposes.
This hatchet comes with a longer-than-average handle. The total length of the hatchet is 13.5 inches. Landing between the previous two entries in length, the size of this tool should allow you to put plenty of power behind your swings. It weighs in at 1.3 pounds, which makes it lighter than many axes on this list.
The handle is made of stout hickory. This provides additional durability for the tool overall. The smooth finish and handle shape also provide a comfortable grip, allowing for hours of steady work without too much wear and tear on the hands and arms.
There is one caveat with this particular axe. It occasionally arrives with the axe head installed off-center. This makes it more difficult to use, and potentially creates a safety issue if the head loosens during use.
Pros
Lightweight
Comfortable grip
Durable construction
Medium length; balanced between power and control
Cons
Can arrive with a crooked head
---
4.

Husqvarna Wooden Handle Hatchet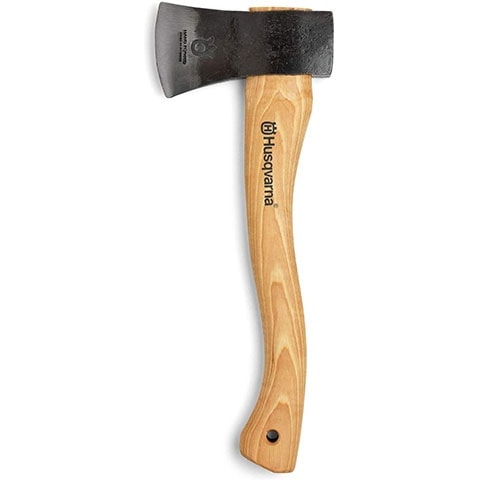 Husqvarna produces a hand-forged hatchet that has a lot to offer. With a long handle and heavier-than-average weight, it's possible to put a lot of force behind your swings. On the other hand, a razor-sharp head provides the precision you crave.
The head of the axe is made of Swedish steel and weighs 1.32 pounds. That's just over half the weight of the axe as a whole (2.24 pounds). This added heft means you'll get a solid bite out of every swing.
The length of the handle also contributes to a solid swing. It's thirteen inches long, which contributes greater leverage while you're working. It's also made of hickory. The combination of strength and flexibility in this particular hard wood makes it a common choice for tool handles. The flexibility means it will bend instead of break, while the strength of the wood means it will take a beating year after year.
Some downfalls for this axe include an uneven grind on the blade and poor balance for the tool overall. The grind is off-center on the axe head, so it will take some additional work your part to get it straight. Additionally, the heavy head puts it a little out of balance, which can make it feel clumsy to use.
Pros
Sharp
Long handle
Heavy head
Hickory handle
Leather cover included
Cons
Uneven grind on the blade
Poor balance
---
5.

1844 Helko Werk Germany Rheinland Carving Hatchet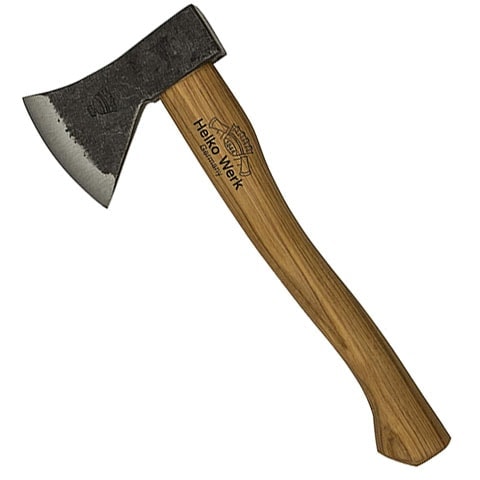 Helko Werk has been making tools for 176 years. It shows in the craftsmanship. This axe features a drop-forged head and sanded American hickory handle.
The axe head is forged from C50 high-grade carbon steel and hardened to 53-56 HRC. This makes for a tough, durable axe head that will keep its edge and stand up to heavy work. The head weighs 1.25 pounds, giving it plenty of force on the down swing.
The handle is made from Grade A American hickory, a classic for tool handling. It is 14 inches long, which puts it at the top end for length in this category. The advantage is that the additional length allows for a solid swing, making quick work of your carving and chopping needs. For comfort, the handle is sanded to 150 grit and finished with boiled linseed oil.
While this axe has a lot of positive features, there are a number of drawbacks as well. The head isn't as sharp as desired when it arrives. This will require additional work on your part to resolve. This particular problem isn't all that uncommon, and it's a good idea to have the tools to maintain the blade in the future in any case. The 150-grit handle is also rough and will need sanding. Overall, it's a well-made tool, but the finish isn't what you'd expect from an axe in this price range.
Pros
High grade carbon steel head
Long handle
Hickory handle
Hand-forged
Sheath included
Cons
Dull head on arrival
Rough handle
---
6.

Hults Bruk Jonaker Hatchet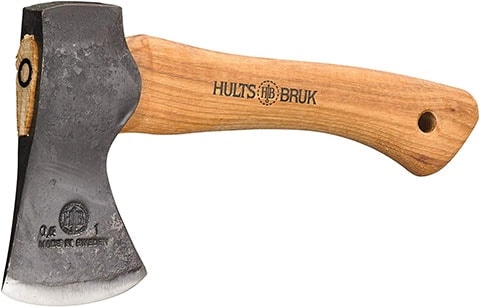 This little axe is the smallest on this list. It's designed more for controlled strokes than any kind of heavy chopping. The short handle and lightweight make it most suitable for detail work.
At 9.4 inches, the hickory handle of this hatchet is the shortest on this list. This has both advantages and disadvantages. The chief advantage is good balance and a lot of control of your swing. Your hand is always closer to the blade, which gives you better coordination. The disadvantage is that the axe sacrifices power for that much control, which means it may take a few more swings to get through a given project than it might with other axes.
Like the handle, the weight of the head makes this axe best suited for detail work. At only 1 pound, the head is extremely lightweight, so won't have the bite of some other models. These features make this axe the most specialized tool on this list.
This turns out to be the biggest downfall for this hatchet. It's a well-made tool, but it lacks the versatility of some of the other axes on this list.
Pros
Good control
Well-made
Hickory handle
Comes with cover
---
Buyer's Guide – Choosing the Best Carving Axe
Axes appear at first glance to be fairly simple tools. However, there are many features to be aware of when making an axe purchase. From hardness and material used in the head to handle grain, the savvy buyer should take careful stock of each of the following features.
Weight
The overall weight of the tool is an important factor when purchasing a carving hatchet. As a tool that involves repetitive motion, usually using a single hand, especially heavy axes should be avoided. This will help decrease discomfort during prolonged use.
On the other hand, the weight of the tool helps to determine the strength of the bite, so very light axes may not be what the doctor ordered either. In the end, it depends on what you're buying the axe for. If you're strictly looking to do detail work, a very light axe may be exactly the right purchase. If you're looking for more versatility, you'll want to look somewhere in the middle range in terms of weight. A heavier axe will be helpful with chopping and splitting tasks.
The axes on this list range from 1 pound (very light) to 2.24 pounds (on the heavy side). The one-pound axe winds up being very specialized to light duty, detail-oriented tasks, while the heavier models are well-suited to heavier tasks but may not be the ideal tool for detail work. Aim for a weight between 1.5 to 2 pounds for maximum versatility. For tree felling, brush clearing, and splitting, it's a good idea to go heavier. For an axe you're using only for carving, you may do well with a lighter model.
Length
Like weight, length is a critical factor when making a buying decision. A longer handle allows more power to be exerted behind each swing, which makes longer handles the better choice for clearing and chopping applications. A shorter handle allows for greater control of the swing, which makes it the better choice for detail-oriented tasks like carving.
For the greatest versatility, a longer handle is the better choice. This gives you the option of greater leverage when holding the handle at its furthest extent. It also offers the option of choking up on the handle for detail work.
If you're purchasing an axe exclusively for carving, you may want to consider a tool with a short handle. This puts it firmly in the realm of high control, refined work.
Head Material and Hardness
Whether you're carving, chopping, clearing brush, or splitted logs, the head of the axe is the part of the tool that makes contact with the medium. As a result, it needs to be strong, resilient, and must hold a good edge for an extended period of time. This is where material and hardness comes into play.
A good axe head should be made of high-quality carbon steel. The steel should be hardened to at least 53 HRC on the Rockwell scale. In general, the higher the hardness rating (58-59 is ideal), the better. Be sure you know how much the steel has been hardened before purchasing any axe.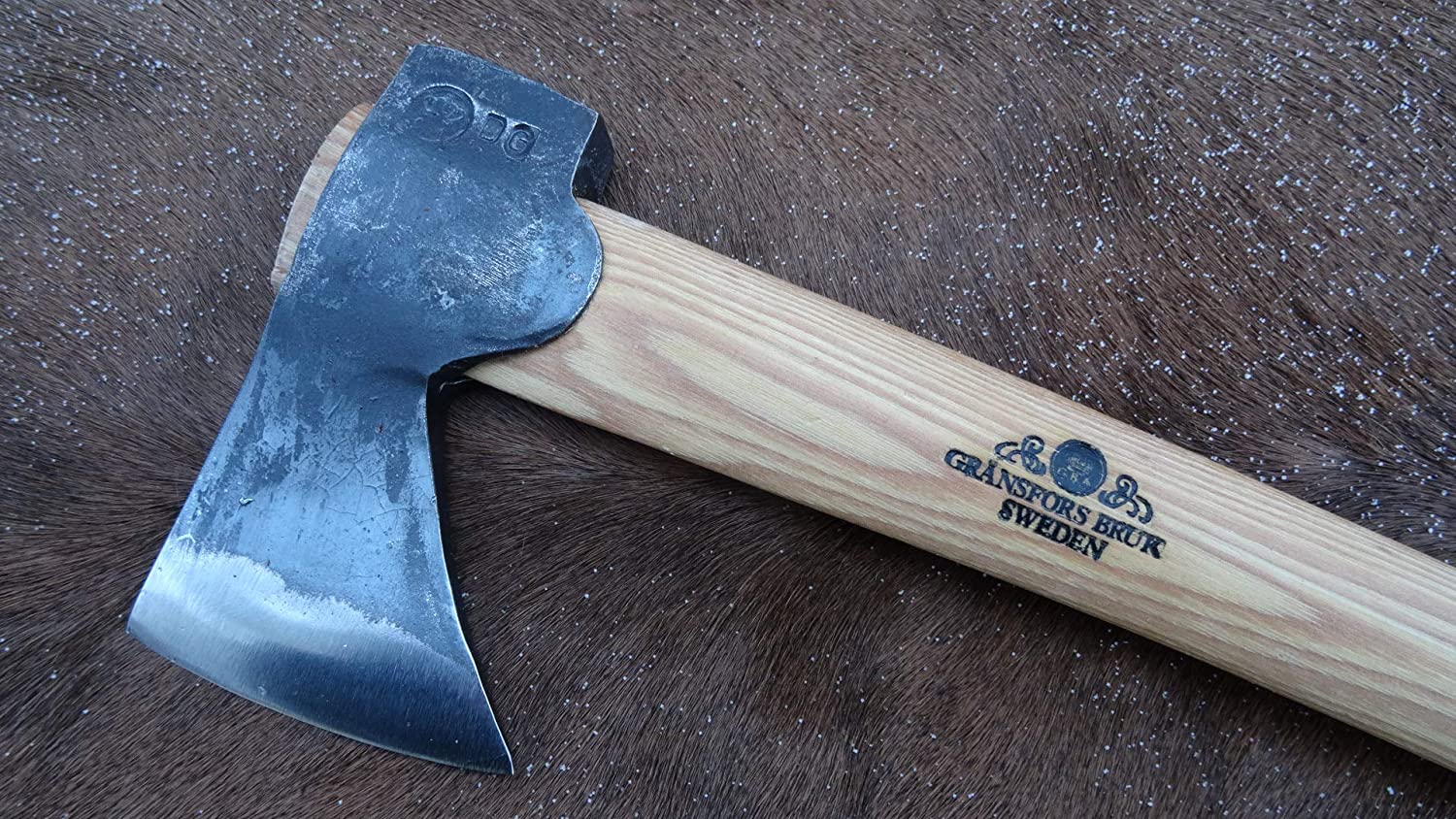 Handle Characteristics
Other than length, handles have a few characteristics that should be considered when purchasing an axe. These include grain direction, material, and finish.
Grain direction only matters when discussing wooden-handled axes. Ideally the grain runs parallel to the length of the handle. This provides the greatest handle strength and prevents breaking. When the grain runs at an angle or across the handle, it creates weak points where the wood can split and break under heavy use, which not only eliminates the tool's usefulness, but creates a potential safety hazard.
Handles are generally made of one of two materials: metal and wood. The most common is wood, especially hickory. Hickory makes quality handles due to its combination of strength and flexibility. The wood helps to soften the blows, decreasing the shock delivered to your arm during striking. The disadvantage of a wood handle is that it requires a joint to be attached to the metal axe head. When this joint is made incorrectly, it creates a danger of the head flying off during use.
The other common type of handle is the full-tine metal handle. This means that the head and handle are made of a single piece of metal. This eliminates the danger of detachment. However, metal handles create more vibration and less shock absorption which can cause fatigue and pain during extended use.
The finish of the handle is also important, especially when purchasing a high dollar hatchet. Ideally, wooden handles are sanded smooth and sealed with natural oils. The sanding increases comfort during use, while the sealant preserves the handle and prevents rot.
RELATED READS: Gerber vs Fiskars Axe: Which Axe is Better?

Conclusion
We hope these reviews have helped to cut through the brush when it comes to carving axe selection. At the top of our list is the CRKT 2746 Freyr Axe. With a long handle and deep beard, this axe offers versatility of use in a mid-weight package. It's a well-balanced, well-crafted example of what a carving axe should be.
Bringing in second place is the Condor Tool & Knife 61400 Scout Hatchet. It offers the best value among this selection, at a lower price than many carving hatchets, but with plenty of excellent features. It's in the middle of the range in terms of weight, and while it has a shorter handle than some other axes, it should serve well as a carving tool.
The tips and reviews above should have you well on your way to your carving axe purchase. Use the buyer's guide to discern the best quality for the price, or simply take our advice and go with one of the axes listed above. Happy carving!
We recently compared the Hults Bruk vs the Gränsfors Bruk Axe to each other. You can see our findings here.
Related Reads: