Hults Bruk vs Gränsfors Bruk Axe: Which is Better?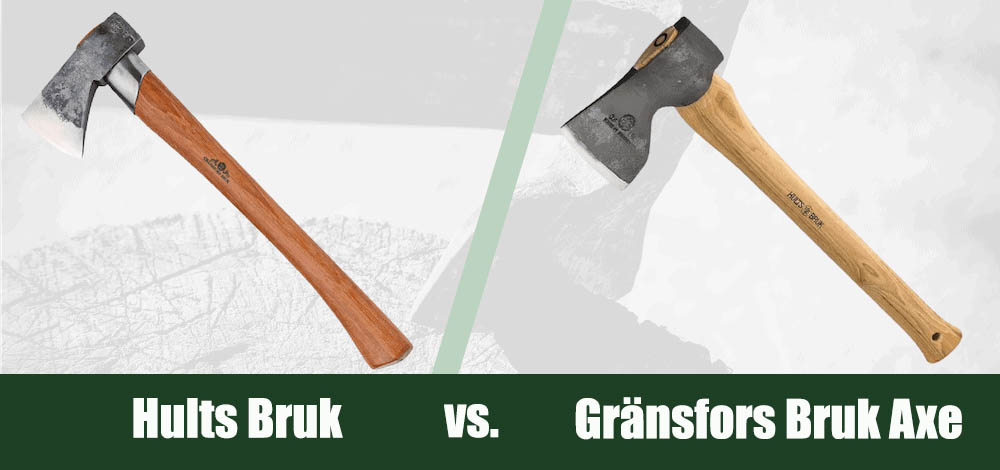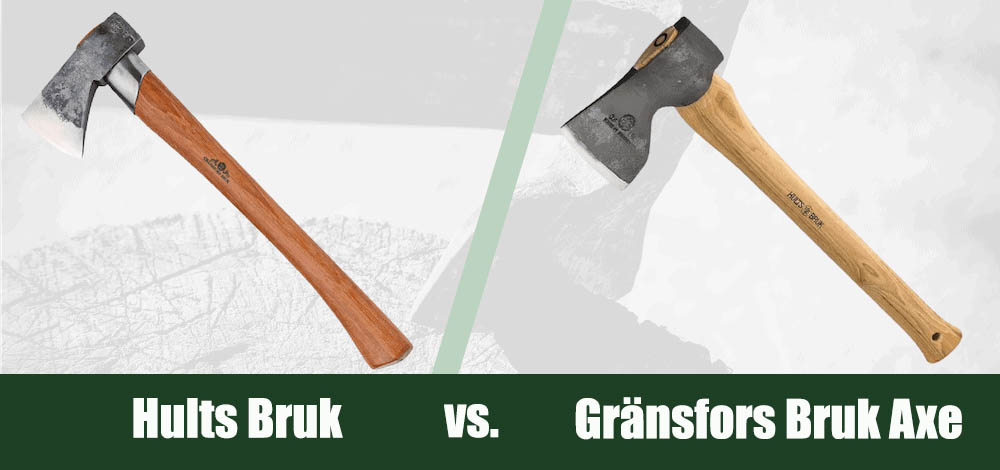 Axes are the quintessential heirloom. Unfortunately, most axes today cannot go a few years without breaking. As such, if you want an axe that will serve you dutifully, consider going for the premium variety.
Premium axes are typically made by hand, which makes each piece unique. Their heads feature either a high carbon steel or 5160 alloy steel construction for a sharper edge and are built to last. Additionally, their handles are made from American Hickory, which has excellent grain orientation and density. The handles are conditioned through hand sanding and oiling to ensure they remain in perfect condition for the longest time. Finally, they come with a leather sheath to ensure that the head stays in good condition while not in use.

The Top Ax Manufacturers in the World
When it comes to premium axe construction, you will be hard-pressed to find companies that do it better than Hults Bruk and Gransfors Bruk. Products from these Swedish axe makers are highly sought-after around the globe by professionals and laypersons alike. However, this begs the question: which brand is superior to the other? This is a detailed guide.
Hults Bruk Axes: Overview

A Brief History
Also known as Hultafors, Hults Bruk was founded in 1697, making it the oldest forge in Sweden. For centuries, however, the forge's primary focus was in the production of nails and iron bars. It would not be until the 1870s when the company would start manufacturing axes.
The decision to make axes came by during the great Swedish forestry boom. The boom saw logging operations skyrocket in the vast northern forests. At its peak, more than 400,000 people were employed as loggers, meaning that they all needed axes. For Hults Bruk, making the transition to axe manufacturing was a no-brainer.
How Hults Bruk Axes Are Made
At Hults Bruk forges, blacksmiths work in pairs to mold raw steel into perfect heads. Everything is done by hand. The head is struck severally to enhance its density to ensure maximum durability. Additionally, the steel is tempered to give it an extremely sharp cutting edge that can go for extended periods without requiring sharpening. Thanks to its enhanced density, the blade of a Hults Bruk's axe can be sharpened regularly without experiencing a dip in quality.
About the Handle
All of their axes are attached to a premium American Hickory handle. Each handle is crafted to suit the specific needs the axe is designed to allow you better leverage and grip. When complete, the handle is hand fitted to its head.
Premium vs Standard
Hults Bruk axes come in two categories: premium and standard. While the standard axes might not be built from the same materials as the premium ones, they still feature an excellent build and are affordable. The premium line is ideal for professionals.

Gransfors Bruk Axes: Overview
A Brief History
Founded in 1868 by Johan Petterson, the Gransfors Bruk forge initially manufactured scythes. The axe company was officially founded in 1902 by Johan's brother – Anders Pettersson.
The company quickly made a name for itself. By the 1960s, they were manufacturing more than 200,000 axes per year. Unfortunately, their prosperity would be short-lived, as the company had to file for bankruptcy in 1985. This resulted from a host of factors, including the emergence of new technologies (chainsaws), poor corporate management, and increasing competition.
How Gransfors Bruk Axes Are Made
Following its bankruptcy, Svedbro Smide purchased the company. Under new management, Gransfors Bruk went through a strategic shift. They started prioritizing quality over quantity. They went from mass-production to pairing traditional craftsmanship with modern improvements in design. By doing so, Gransfors Bruk carved out a niche on the market for premium axes.
Today, Gransfors Bruk is arguably the most well-known axe brand and a favorite for professionals.
---
Hults Bruk vs. Gransfors Bruk: Product Comparisons
Compact Hatchets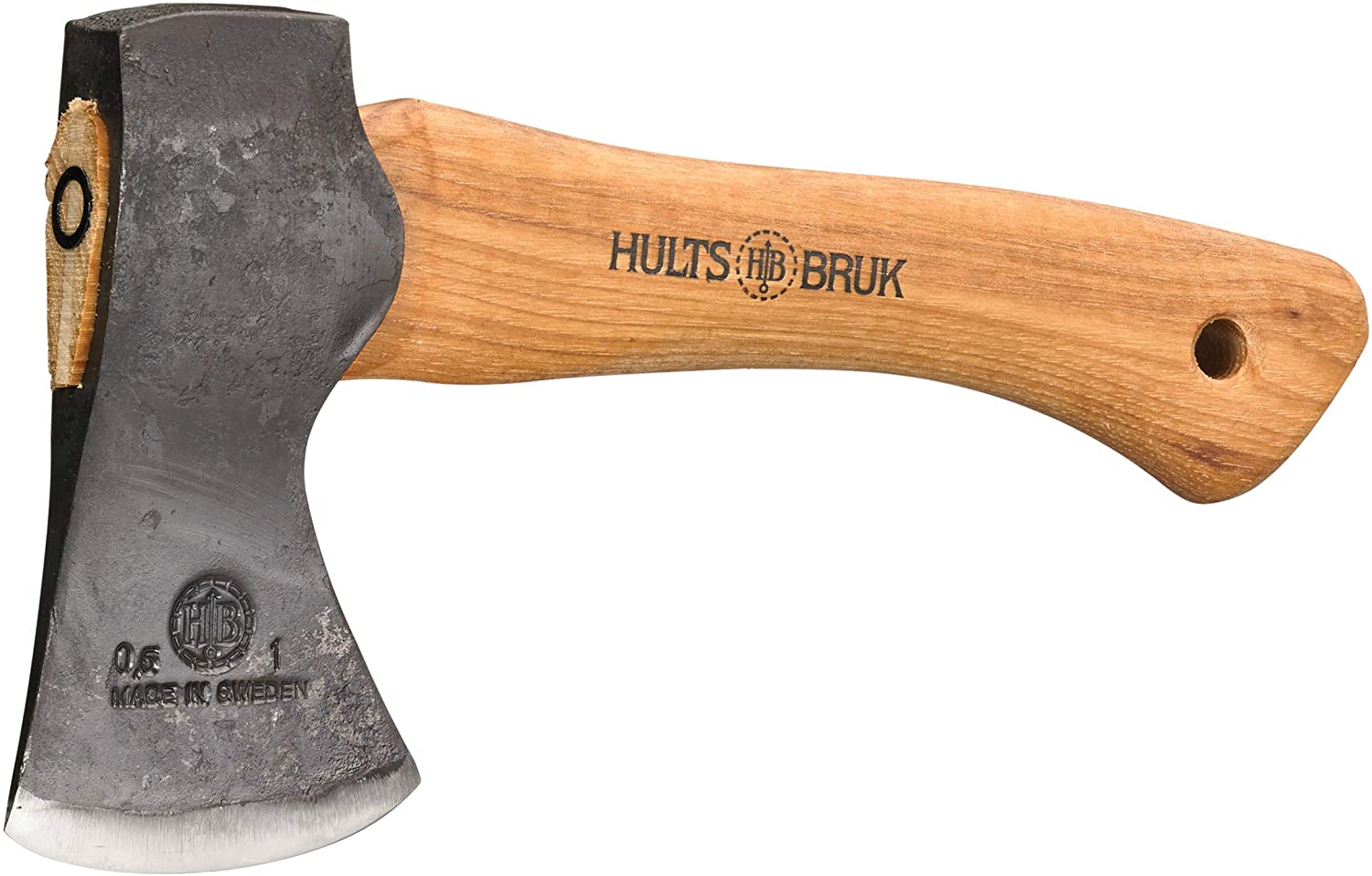 Compact hatchets are some of the smallest types of axes out there. These tools are designed to delimb, carve, or split small pieces of wood for kindling. Thanks to their lightweight nature and compact design, you can also use them in food preparation, such as chopping up meat and vegetables. Compact hatchets, however, are not ideal for anything else.
Hults Bruk has the Jonaker while Gransfors Bruk has the hand hatchet. Other than the hand hatchet having a slightly longer cutting edge, these products are virtually identical.
Larger Hatchets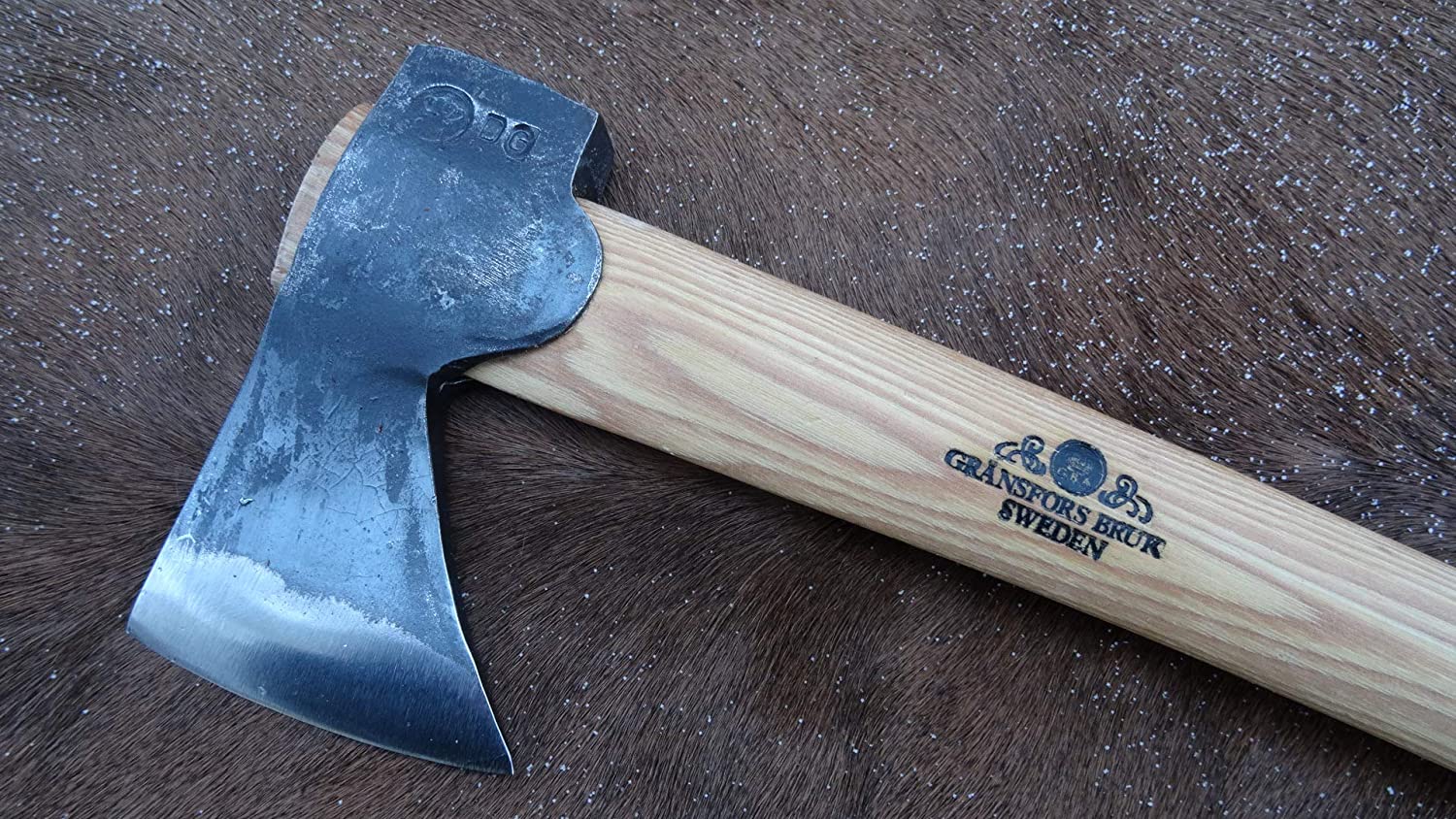 Both Hults Bruk and Gransfors have larger hatchets. However, Gransfors offer you three models vs. Hults Bruk's two.
The Gransfors hatchets come in lengths of 13.5, 14.5, and 18.5 inches. They come with a steel collar that protects the handle to allow you to apply more force without worrying about damaging it.
Hults Bruk has the 16-inch Almike and the 15-inch Tarnaby. Apart from their lack of a steel collar, they are both quite similar to the 14.5-inch Gransfors Bruk Outdoor Axe. Nonetheless, the latter does appear to be superior.
Gransfors has the biggest axe in this category with their 18.5-inch Hunter's Axe. The axe head weighs 1.5 lbs. and comes with a soft, rounded poll for dressing game, making it a true hunter's axe. Despite being put in the hatchet category, the Gransfors Hunter's Axe can chop down small trees and split larger pieces of wood without a lot of hassle. Its length allows you to use it with either one hand or both hands, which enhances its versatility tremendously.
Backpacking Axes
When you are in the backcountry, you might need something that packs more punch than a hatchet. This is because you might have to remove large tree limbs, chop down small trees for shelter, or split firewood, which are things that you cannot do efficiently with a hand hatchet.
Hults Bruk and Gransfors have a number of axes for this category.
Gransfors Bruk offers you the Small Forest axe. It is 19.25 inches long and comes with a 1.5-pound axe head with a 3.25-inch cutting edge. When it comes to handling and performance, the Small Forest axe is a real piece of work. It is perfectly aligned to allow for effortless swings.
Hults Bruk has a variety of products in this category. There is the 20-inch Aneby that comes with a 1.75-pound axe head with a 3.5-inch cutting length. Next, there is the Akka, whose head is similar to that of the Forest Axe but with a 24-inch handle. Finally, there is the Salen, whose proportions are almost identical to that of the Small Forest axe, with the only difference being its head that is 0.25 pounds heavier.
Special Considerations
When it comes down to it, the Small Forest axe by Gransfors is the most well-rounded axe in this category. However, if you want a little more pop in your strikes, you should consider the Hults Bruk Akka, whose extra length gives you more felling power. When it comes to splitting wood, however, the Hults Bruk Salen is the most well-equipped axe in this category thanks to its heftier axe head.
Felling Axes
Swedish tree-felling axes fall into two categories: the large and heavy axes for American hardwoods and the smaller and lighter axes for Scandinavian softwoods.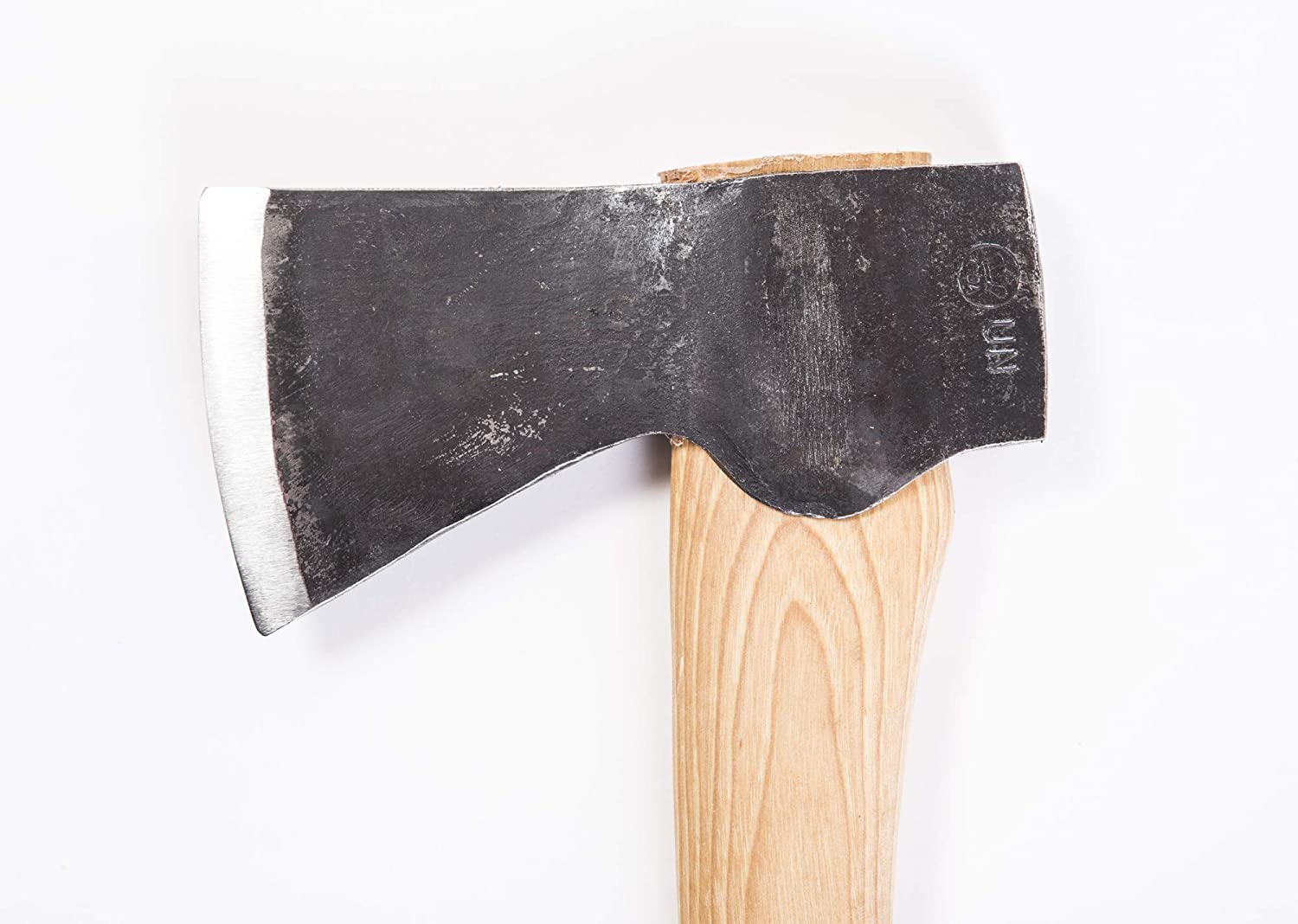 In this category, Gransfors has the 25-inch Scandinavian Forest axe. It comes with a 2-pound head with a 3.5-inch cutting edge to allow you to dig into the Scandinavian softwoods with ease.
Hults Bruk has three different products in this category: the Kalix, Kisa, and Torneo. The Kalix is the heftiest of the three. It is 28 inches long and comes with a 2.25-pound axe head with a 3.75-inch cutting edge.
American Felling Axes
Axes designed for felling American hardwoods have heavier axe heads and longer handles to allow them to generate the brute force necessary for handling such trees.
Gransfors has one axe in this category while Hults Bruk. Both have a 32-inch American Felling axe, with the Hults Bruk's axe head being slightly heavier and longer.
Splitting Axes
Splitting axes are superb at splitting logs but cannot do much else. Their wide profiles and blunt edges make them unideal for felling trees. They split wood through blunt force rather than surgical precision, which prevents them from getting stuck.
Gransfors has two axes in this category. Both come with a 3.5-pound axe head, but with one measuring 31 inches and the other one 20. They both come with a steel collar guard for protecting the handle against overstrikes.
Hults Bruk also has two axes in this category – the Bjork and the Gran. The Bjork is the larger of the two. It measures 30 inches and features a 3.5-pound axe head. The Gran, on the other hand, measures 20 inches and comes with a 2-pound axe head.
---
Side-by-Side Comparison
Let's compare Hults Bruk's Premium Felling Axe and the Gränsfors Bruk American Felling Axe side-by-side to see the differences.
Hults Bruk Premium Felling Axe
Weighs: Five pounds
Head weight: 3.5 pounds
32-inch American hickory handle
Hand-forged Swedish steel
Leather sheath
Price in low $100s
Gränsfors Bruk American Felling Axe
Weighs 5.3 pounds
Head weight: 3.3 pounds
35-inch American hickory handle
Hand-forged Swedish high carbon steel
Leather sheath
Leather sheath

Conclusion
As mentioned, both Hults Bruk and Gransfors Bruk are renowned for their premium quality axes. However, in our comparisons, we found Gransfors' offerings to be slightly better in quality. It does not come as a surprise, therefore, that Gransfors' axes tend to be costlier.
Both axe brands would suit most professionals. However, if you are only interested in the best, we recommend the Gransfors Bruk line.
More Axe Articles:
---