6 Best Small & Lightweight Chainsaws – Top Picks & Reviews 2023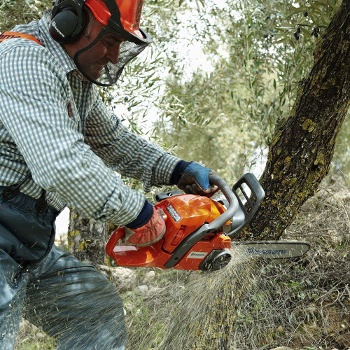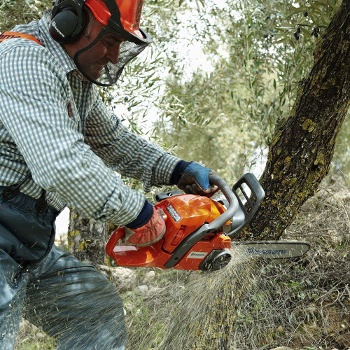 With chainsaws, heavier is not always better.
Sure, it is sometimes. If you're a lumberjack clear-cutting a dense spruce stand. Or you're an artist who needs to carve a two-story block of ice before it melts. Or your obnoxious neighbor just got a chainsaw and you need to show him up.
For the bulk of us who aren't in any of those positions, there are a ton of advantages to a lighter chainsaw. Lightweight chainsaws are safer, more portable, more versatile, quieter, less expensive, and make a better entry point into brush-clearing than their overpowered cousins.
We've done our part to break the stigma around lightweight chainsaws by putting together reviews of six of our favorites. Each of these models is an ideal choice for first-time homeowners, brush-clearers with mobility issues, or anyone who wants to prune some tree limbs without pulling any muscles.
---
A Quick Comparison of Our Favorites in 2023
Rating
Image
Product
Details

Best Overall

BLACK+DECKER LCS1020 Lightweight Chainsaw

Nearly silent
Very lightweight
Comfortable to hold
CHECK PRICE

Best Small Gas Chainsaw

Husqvarna 440E

Anti-vibration feature
Tool-free tensioning
Long bar
CHECK PRICE

Best Value

WORX WG305 Small Chainsaw

Very light Capable
14-inch bar and chain
Great for smaller jobs
CHECK PRICE

Oregon CS1500 Lightweight Chainsaw

Self-sharpening
Long bar
Good cutting power
CHECK PRICE

Poulan Pro PR4016 40cc Small Chainsaw

Low noise and exhaust
Cuts through limbs and trunks
Durable construction
CHECK PRICE
The 6 Best Lightweight Chainsaws
1.

BLACK+DECKER LCS1020 Lightweight Chainsaw – Best Overall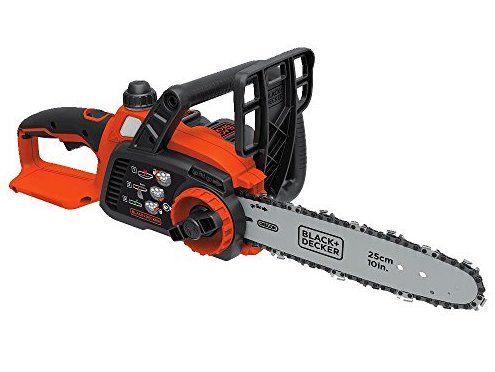 The Black+Decker LCS1020 is the finest backyard chainsaw we've tested this year. Featuring a 10-inch bar and powered by a 20-volt lithium-ion battery, yet weighing only 7.2 pounds, this cordless chainsaw is a pleasure to use anywhere around your home or garden.
The fact that the battery easily lasts for a whole workday would be enough to get Black+Decker into the top three all by itself. Yet there are other features we love almost as much. The oiling system is user-friendly, with a window for monitoring the fluid level, and the tool-free chain tensioner worked fine every time we tried it.
The battery is compatible with many of B+D's other cordless power tools, so you might have a spare lying around already. And did we mention the ergonomic handle? You might not even feel it after dicing up a limb with the LCS1020.
One catch, if you can call it that, is that you've got to pay extra for the battery and charger. The only other thing we can complain about is that the oiler is not automatic, which can lead to a lot of confusion — it's not broken, you just have to push the button a lot.
All in all, we think that this is the best lightweight chainsaw of the year.
Pros
Nearly silent
Very lightweight
Comfortable to hold
Affordable
Battery lasts all day
Easy tool-free tensioning
Cons
Battery pack costs extra
Oiler isn't automatic
---
2.

Husqvarna 440E – Best Small Gas Chainsaw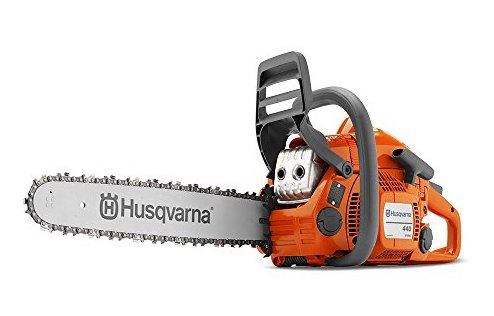 The Husqvarna 440E is our favorite gas-powered lightweight chainsaw. That's right– not all lightweight chainsaws are electric. If you've always thought the benefits of gas (portability, power, easier to carry replacement fuel) outweigh the drawbacks (loud, smelly, require more maintenance), the 440E is your go-to power saw.
It's got a 16-inch bar and an engine that idles at 2900 RPM, giving it the cutting power of a much larger chainsaw. However, you can still carry it deep into the woods without straining your back, get it around tight corners, and control it more easily for your own safety.
This is a true best-of-both-worlds chainsaw. Husqvarna even sweetens the pot with tool-free tensioning and an anti-vibration feature that actually works. Cutting with this saw is downright comfy.
Unfortunately, there are also some downsides. We won't complain about a gas chainsaw acting like a gas chainsaw, but we will complain that the engine is far too easy to flood, sometimes resulting in the 440E needing repairs the first time you use it. It's also distinctly more expensive than other chainsaws of a similar weight and quality.
Pros
Anti-vibration feature
Tool-free tensioning
Long bar
Great cutting power
Easy to carry
Cons
Engine is easy to flood
Expensive
---
3.

WORX WG305 Small Chainsaw – Best Value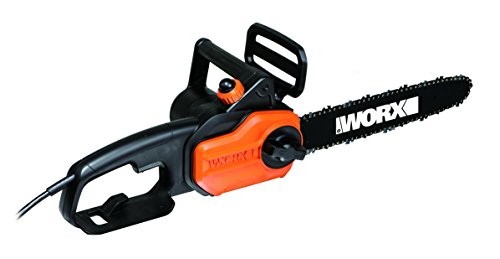 A lot of our readers are drawn toward lightweight chainsaws because they're more affordable as a rule. If that's the case for you, we present the WORX WG305 14-inch chainsaw, the best lightweight chainsaw for the money.
The WG305 is compact and light, weighing only 6.6 pounds, yet its 14-inch bar competes easily with the biggest dogs in the lightweight category. It's got most of the things we look for — decent raw cutting power, tool-free tensioning, and a comfortable rubber handle.
At 8 amps, the motor achieves an excellent balance of strength and silence. We were able to cut through several small and medium limbs in record time with no fuss. The WORX WG05 is so quiet that your family in the house might not even notice you're using it.
The trade-off with this saw is obvious from a single look: it's corded. This means no battery to charge and no gas to mix, but also means you'll never be able to go very far from an outlet. This is a backyard saw, pure and simple, and it'll delight you as long as you don't expect it to be something it's not.
Pros
Budget-friendly
Very light
Capable 14-inch bar and chain
Great for smaller jobs
Cons
Limited by cord length
Not powerful enough for largest limbs
Have to adjust chain tension frequently
---
4.

Oregon CS1500 Lightweight Chainsaw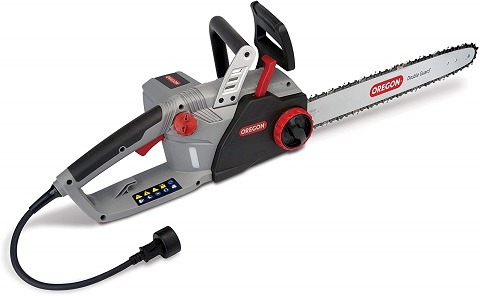 Oregon CS1500 Self-Sharpening Electric ChainsawWith its 18-inch bar and 15-amp motor, the Oregon CS1500 is one of the more powerful corded electric chainsaws on the market. Its main claim to fame is its self-sharpening system, a built-in feature that can sharpen the blade in a few seconds (it works).
While using the CS1500, we got the strong sense that it's an electric chainsaw that wishes it was a gas chainsaw. Sadly, this often means it has the flaws of both types. It's as heavy as a gas saw, weighing 12.6 pounds, but as a corded electric saw, its mobility is limited.
That said, it's also a great solution if you're sick of mixing fuel but don't want to give up the power you get from a gas saw. While it's not very portable, the CS1500 is an absolute tank, cutting swiftly through branches way above its weight class. It's quiet, low-maintenance, and way more environmentally friendly.
Other than the weight, our principal concern about the Oregon CS1500 is that using it wrong can cause the chain to fall off. If you forget to tension it regularly, or if the oiler stops working and you don't notice, the chain will expand and come loose.
Pros
Self-sharpening
Long bar
Good cutting power
No batteries or fuel
Cons
Debatable whether it counts as lightweight
Has to be plugged in
Using it wrong causes chain to fall off
---
5.

Poulan Pro PR4016 40cc Small Chainsaw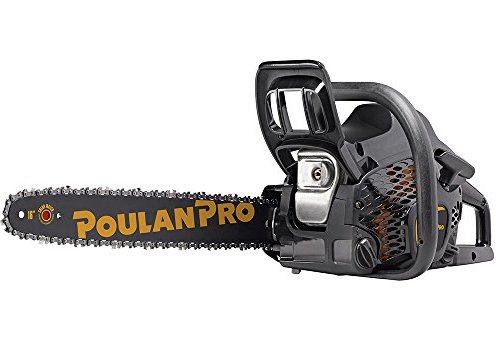 The Poulan Pro is another of our favorite gas-powered lightweight chainsaws. Poulan is a subsidiary of Husqvarna, and follows in its parent company's footsteps with chainsaws that aim to be both strong and light.
The Poulan Pro PR4016 gets close to that mark in some ways and flies wide in others. The biggest downside is that it's a nightmare to start: even people who like it otherwise report that it takes a lot of yanking to get it going, and that it frequently dies. The engine also overheats easily, forcing you to wait for it to cool down if you fail to start it too many times in a row.
If you can keep the PR4016 going, though, you're rewarded with a powerful backyard saw built with sturdy materials. It's a major improvement on a lot of gas saws, with less noise and exhaust on average, and it performs consistently for years on end.
One other warning: at 13 pounds, this is almost not worthy of inclusion on a list of lightweight chainsaws. It's light relative to other gas saws, but heavy compared to everything else
Pros
Low noise and exhaust
Cuts through limbs and trunks
Durable construction
Portable
Cons
Heaviest saw on the list
Hard to start
Overheats easily
---
6.

Greenworks 16" 40V Cordless Chainsaw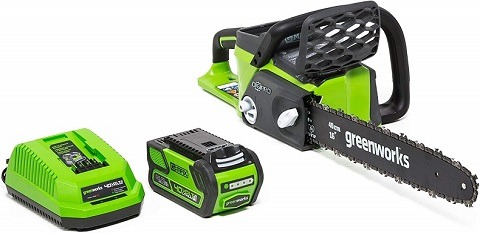 Greenworks's 16-inch cordless chainsaw, which runs on a 40-volt rechargeable battery, is one of the more expensive options on our list. It's up to you whether it's worth its premium price — we'll do our best to help you decide.
This chainsaw is completely free of gas fumes, and runs quietly. It weighs 10.6 pounds, far from the heaviest on our list, a weight you can use all day without aching too much by the end. Getting a 16-inch bar to weigh that little is a great selling point, but making it this powerful is a true achievement. We took it on the trail and had no trouble turning oak into firewood.
Now for the bad. Other than the price, the bar oil leaks constantly, to the point where you can't store the chainsaw with any oil in the tank. You've got to put it in right before you use it, which is a major pain.
Great battery life and a portable weight are worth a lot of money, but for this price, we expect to see known defects fixed. Instead, Greenworks has adopted a troubling "what are you gonna do" attitude about oil leaks.
Pros
Cuts hard lumber easily
Long battery life
Lightweight but powerful
Cons
Oil leaks frequently
Lax customer service
High price
---
Buyer's Guide: How to Choose the Best Small Chainsaw
In this section, we'll try to answer as many questions as possible about when and how to buy a lightweight chainsaw. If you think we've missed one, let us know in the comments!
When Should You Buy A Chainsaw?
The first true chainsaw was patented in 1905, and was intended to be used for cutting down giant redwoods. You've probably got your eye on a slightly smaller task, but is it so small you don't even need a chainsaw?
If you're not sure, reference this handy table to see if you've got a chainsaw-worthy task on your hands.
Chainsaws aren't precision instruments, and they aren't especially versatile. They do one thing – making lots of quick cuts on logs and trees in the field – and do it well. Bottom line, if you don't own trees, you don't need a chainsaw.
Lightweight vs. Heavy Chainsaws
If you've thought about it and decided a chainsaw really is the right tool for your job, the next step is to determine whether you want a lighter or heavier model. Light chainsaws usually weigh in the range of 8 to 13 pounds, while heavy chainsaws can reach 22 pounds.
Lightweight Chainsaw Pros
Easier to carry around
Easier to control
Usually cheaper
Usually quieter
Can be carried into awkward spots
Friendlier and safer for beginners
Lightweight Chainsaw Cons
Less powerful
Often have shorter bars, which limits the trees you can cut
The takeaway: if the trees or limbs you want to cut are small, if you're on a budget, if you have neighbors close by, and/or if this will be your first chainsaw, you want a lightweight option.
Light Chainsaws: What to Look For
When venturing out on your own to buy a lightweight chainsaw for the first time, these are the most important factors to evaluate.
Image credit: WhisperToMe, Wikipedia

Fuel source. You've got three choices here: corded electric, battery-powered, and gas-powered. One isn't necessarily better than the others; instead, it's down to your needs and wants.

Corded electric chainsaws never need to be refueled, BUT you can't take them far from an outlet.
Battery-powered chainsaws are quiet and fully portable, BUT they're useless when the battery runs out of charge.
Gas-powered chainsaws are portable, powerful, and can run for as long as you have properly mixed fuel, BUT they give off fumes and the engines need a lot more work.
Noise pollution. Louder chainsaws are perceived as more powerful, but they also require ear protection and increase the likelihood of passive-aggressive notes from the homeowners' association. Fortunately, recent advances in chainsaw technology mean you don't have to settle for an obnoxiously loud motor in exchange for a fast, clean cut. The best way to find out about a chainsaw's noise level is to test it out, or if you're buying online, talk to other people who have bought it.
Chain tensioning. A chainsaw blade needs to be regularly re-tightened, or it'll start to slip off. Most lightweight chainsaws now come with tool-free tensioning, letting you tighten the chain by means of a simple dial. If you don't know how to tighten a chainsaw blade with tools, get one that has this feature.
Chain oiler. Chains also need to be regularly lubricated, or they'll heat up, expand, and fall off the guide bar. Many lightweight chainsaws will do this automatically if you keep the tank full of oil, but some still don't come with an automatic oil feature. Make sure you know whether or not you need to press a button to keep oil on the blade.
Price and quality of chainsaws are only loosely correlated. Expensive no longer means better, and cheap no longer means bad. Check all the other factors before you start factoring in price — we always say you should only use it as a tiebreaker.
Bar length. The bar is the long stationary bit that the chain winds around. Its length determines the width of cuts you'll be able to make. Lightweight chainsaw most commonly have bars between 10 and 16 inches in length.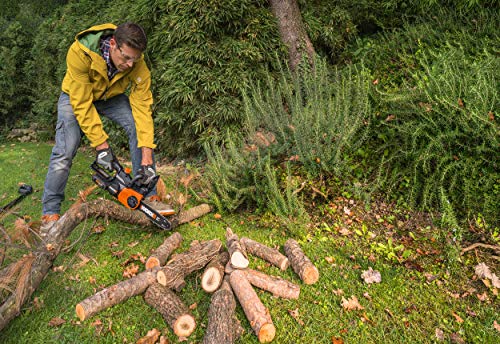 Left-handed?
Sorry, you're out of luck! There are scissors for lefties, but all chainsaws are made to be operated by righties. Although all you southpaws are likely used to navigating a world designed for right-handed people, it does raise additional safety concerns when a chainsaw is involved.
How To Use A Lightweight Chainsaw Safely
Understand that just because it's light, doesn't mean you cannot be seriously injured.
Always follow the instructions in the manual to the letter.
Never operate a chainsaw while intoxicated, distracted, or sleepy.
Under no circumstances should you put your hand anywhere near the chainsaw's blade while your other hand remains on the handle. Set it all the way down first.
Conclusion
We try to have something good to say about every saw in our reviews, but with the Black+Decker LCS1020, we had the opposite problem: how to find something to criticize so it didn't look too much like we were on their payroll. Outside of the hassle of manually oiling the blade, their saw is nearly impossible to dislike.
Our pick as the best mini chainsaw for the money is the WORX WG305. We guarantee you'll be amazed at how much it can do with only 6.6 pounds of machinery. The fair price is a great bonus.
Lightweight chainsaws can be a vague and even contradictory product category, so we hope we've been able to help you find the best small chainsaw for your needs.
Now it's time to cut through something else: all those logs in your backyard. Good luck, and happy sawing!