6 Best Chainsaw Bars of 2023 – Top Picks, Reviews & Guide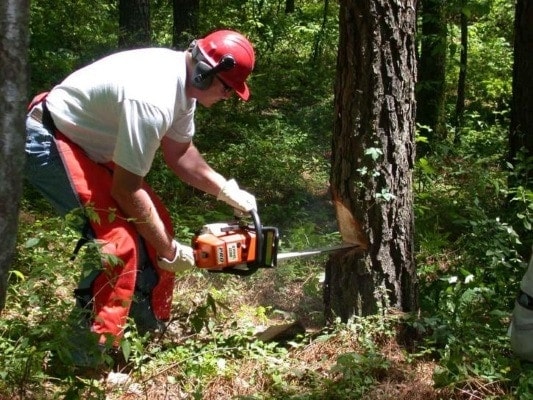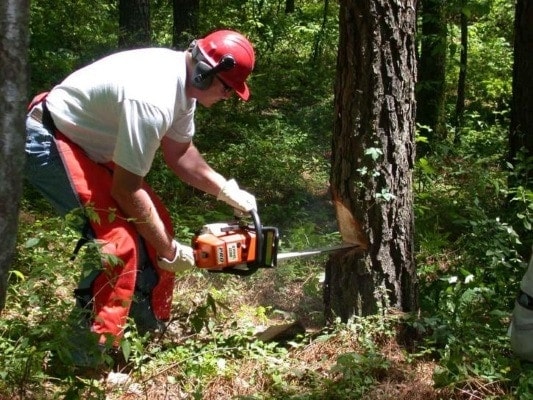 Even seasoned land-management pros sometimes don't think of replacing their chainsaw bars. We've had variations on this conversation so many times:
Worker: "My chainsaw runs great, but it keeps getting bogged down halfway through the cut/the bar always feels like it's about to snap/the chain keeps coming loose!"
Us: "Sounds frustrating. Have you considered swapping out the bar for an aftermarket model that works better?"
Them: "Wait, that's a thing?"
It is indeed a thing. Spare chainsaw bars aren't just there to replace your pre-installed bar when it breaks; they can be swapped to boost your chainsaw's performance. Many bars and bar-chain combos on the market are just the ticket for coaxing more power and utility out of a chainsaw that's just "pretty good" on its own.
Whether this concept is new to you or you're familiar with aftermarket bars but stymied by the vast array of options, these reviews are for you. We'll tell you everything you need to know to take your chainsaw to the next level.
---
A Quick Summary of our Favorite Picks:
Rating
Image
Product
Details

Best Overall

Husqvarna 20-Inch Chainsaw Bar

Portable
High-performance
low-vibration chain
Easy to adjust
CHECK PRICE

STIHL Rollomatic 20-Inch Chainsaw Bar

Three-part laminated guide bar
High-grade steel construction
Slip-resistant sprockets
CHECK PRICE

Husqvarna 18-Inch Pixel Chainsaw Bar

Low vibration
No grease port
Rust-resistant
CHECK PRICE

Oregon 20-Inch Chainsaw Bar & Chain for Stihl

Lubritec oiling system
Intenz tensioning
Fits several Stihl models
CHECK PRICE

Oregon 20-Inch Replacement Bar

Durable
Sharp/fast cutting
CHECK PRICE
The 6 Best Chainsaw Bars
1.

Husqvarna 20 Inch Chainsaw Bar – Best Overall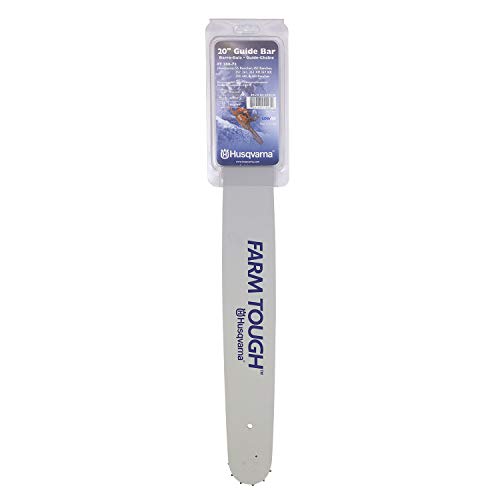 The Husqvarna 20-Inch Chain Saw Bar is built with heavy-duty, professional materials. It's easy to install on many Husqvarna chainsaws and is short enough to be portable. It has a high-performance, low-vibration chain that can be adjusted easily. If you ever have to replace the chain, you need to be aware that only Husqvarna chains can be used on Husqvarna bars.
All in all, we think that it's the best overall chainsaw bar (if you have a Husqvarna chainsaw).
Pros
Heavy-duty construction
Easy to install
Portable
High-performance, low-vibration chain
Easy to adjust
Cons
Husqvarna bars must have Husqvarna chains
---
2.

STIHL Rollomatic 20 Inch Chainsaw Bar
The STIHL Rollomatic E Chain Saw Bar is a three-part guide bar made of high-grade steel with slip-resistant sprockets. It's easy to install and suitable for all users, from the novice to the professional. The bar burrs faster than most other bars, and it is laminated, which can reduce the strength of the bar.
Pros
Three-part laminated guide bar
High-grade steel construction
Slip-resistant sprockets
Easy to install
Good for all users
Cons
Burrs faster than most bars
Lamination lessens bar strength
---
3.

Husqvarna 18-Inch Pixel Chainsaw Bar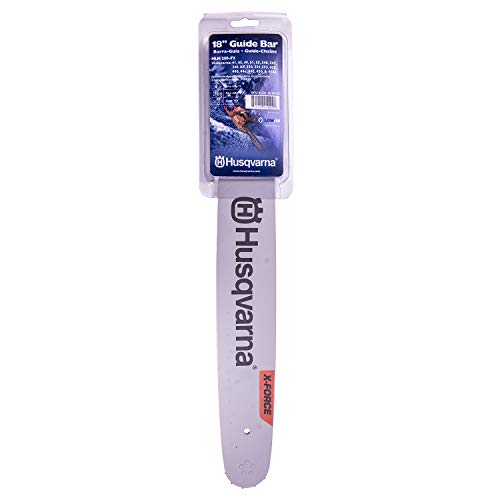 The Husqvarna 18-Inch Pixel Chain Saw Bar is a lightweight, low-vibration bar with no grease ports for you to deal with. That is good, for the most part, but you can't grease the sprocket, so it jams up quickly.
It's small enough that it's compatible with most Husqvarna chainsaws, and it has a rust-resistant coating to give the blade a longer shelf life. It can bog down when cutting some hardwoods due to the smaller size of the bar.
Pros
Lightweight
Low vibration
No grease port
Rust-resistant
Cons
Sprocket not greaseable
Bogs down with some hardwoods
---
4.

Oregon 20 Inch Chainsaw Bar & Chain for Stihl
The Oregon 20-Inch Replacement Chainsaw Bar & Chain Combo has a Lubritec self-oiling system to keep the chain running smoothly. It also has an Intenz tensioning system that enables you to effortlessly make any adjustments that may be needed on the chain.
Oregon makes a durable bar that's easy to install on many Stihl models. However, we noticed that the bar didn't fit one of the chainsaws that Oregon says it will fit. There's no absolute guarantee it will fit all models of chainsaws that Oregon claims it will, and there's no information on the type of chain included in the combo, but they are good quality bars that are worth a try.
We had an issue with our first delivery of this Oregon bar and chain combo. There was no bar in the box, only a chain. We returned it, and the second one was fine, but when investigating, we found that this seems to be a recurring issue.
Pros
Lubritec oiling system
Intenz tensioning
Durable construction
Easy installation
Fits several Stihl models
Cons
Doesn't fit all chainsaws it says it will
No information about type of chain
No bar in some boxes
---
5.

Oregon 20 Inch Replacement Bar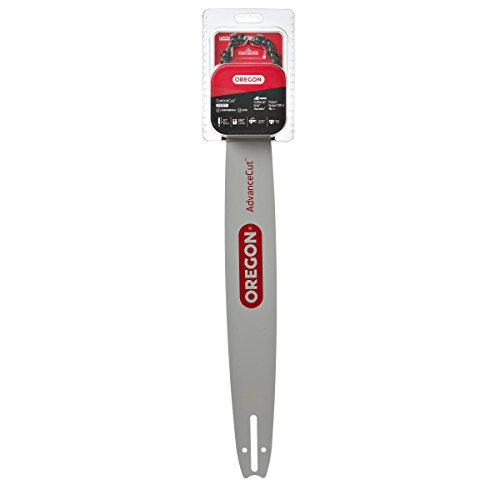 At this point on the list, if you don't use either a Stihl or a Husqvarna chainsaw, you're probably getting pretty impatient. Well, it's finally your turn: this 20-inch replacement chainsaw bar fits with Poulan, McCulloch, Craftsman, and Echo saws, as well as several other brands.
It doesn't come with a chain but includes a nose sprocket that provides excellent support. Also, it's symmetrical and designed to be reversed regularly, potentially doubling its lifespan. We tried it in a few older chainsaws, and it resurrected the cutting power of each one.
Be warned that the list of models it fits is rapidly changing. It's safest just to call Oregon and ask about your specific model rather than trying to reference the list. Also, beware that if not properly tensioned, the chain on this bar has a higher-than-average risk of coming loose.
Pros
Durable
Sharp/fast cutting
Cons
Bar needs to be greased
Bends easily
Dulls quickly
---
6.

Forester 20″ Chainsaw Bar & Chain for Stihl Chainsaws
The Forester Bar & Chain Combo 20″ for Stihl Chainsaws is a well-built, durable chainsaw bar with a sharp and fast-cutting chain. The bar doesn't have an automatic oiling system. It requires the bar to be greased by hand.
The bar is pretty thin and can bend easily if you're not extra careful when using it. We also found that the chain dulls quickly, so you'll need to know how to sharpen it or be prepared to replace it, but the Forester chainsaw bars are still a good option.
Pros
Durable
Sharp/fast cutting
Cons
Bar needs to be greased
Bends easily
Dulls quickly
---
Buyer's Guide – How to Purchase the Best Aftermarket Chainsaw Bars
This guide will take you through the process of replacing your chainsaw's bar, from deciding whether you need a replacement to choosing the right one. Once we're done here, you can confidently replace a bar guide on any chainsaw.
Step 1: Decide if you need to replace the bar
All chainsaw bars suffer wear and tear. No matter how well you take care of it, following the manufacturer's suggestions and oiling it regularly, there will come a point when it's taken too much. Here's how to tell if your chainsaw needs a new bar.
Check the bar's rails. These are the edge surfaces that the chain circles around, like the rails of a train track. They're often the first place you'll see wear, especially near the nose (stubby end of the bar). The constant, rapid motion of the chain erodes the rails, creating worn flat areas. When you start to see the rails ground down, think about getting a replacement bar.
Check the heel area, where the bar connects to the engine casing, to see if the metal has worn away. The heel of a bar reaching the end of its lifespan will be narrower than the heel of a new bar as the chain strips away small amounts of metal over time.
Check the depth of the grooves in the rails. A bar's grooves get shallower as it ages, much like the treads on car tires. If you see any scratches or marks on the bottom of any of the grooves, the chainsaw is no longer safe to use; the rails can't hold the chain in place any longer, creating a serious safety hazard.
Test the inside of the grooves. Grasp the chain between your thumb and forefinger and try to wiggle it back and forth. If you can't move it, your bar is still good. If there's a lot of play, it means the inside of the bar is worn down. This kind of wear doesn't always occur at the same time as visible exterior erosion, so you should check it even if every other point on the bar looks good.
If you're more of a visual learner, check out this YouTube video to find out how to test your bar:
Step 2: Figure out what bars will fit
Not every bar is compatible with every chainsaw. They're interchangeable to a certain degree, but some chainsaws and guide bars don't match. Read these rules before you mistakenly spend money on a bar you can't fit your saw.
As a rule of thumb, bars made by one manufacturer will not be compatible with those of another manufacturer. Everybody follows different best practices, and the sad fact is that a brand can't make a profit by ensuring you can buy some other brand's replacement parts.
There are some exceptions. Some chainsaw bars are universal and will fit on any brand of chainsaw.
Another rule is that specific trumps general. If you talk to several people who all managed to fit a certain Stihl bar guide into a certain Husqvarna chainsaw, don't assume they're mistaken just because of the rule above.
Each chainsaw only works with bars of the right length. The engine has enough power to get the chain up to cutting speed. Trying to run a chain around a 24-inch bar with a 32cc engine is like trying to power your car with the engine from a riding lawnmower. It might move, but it won't move very fast.
When figuring out how much bar length your chainsaw's engine can run, your owner's manual is the first place to look.
Be aware that the length of a chainsaw bar is measured from the outer tip to the point where it meets the saw (the heel). Uninstalled bars will look longer.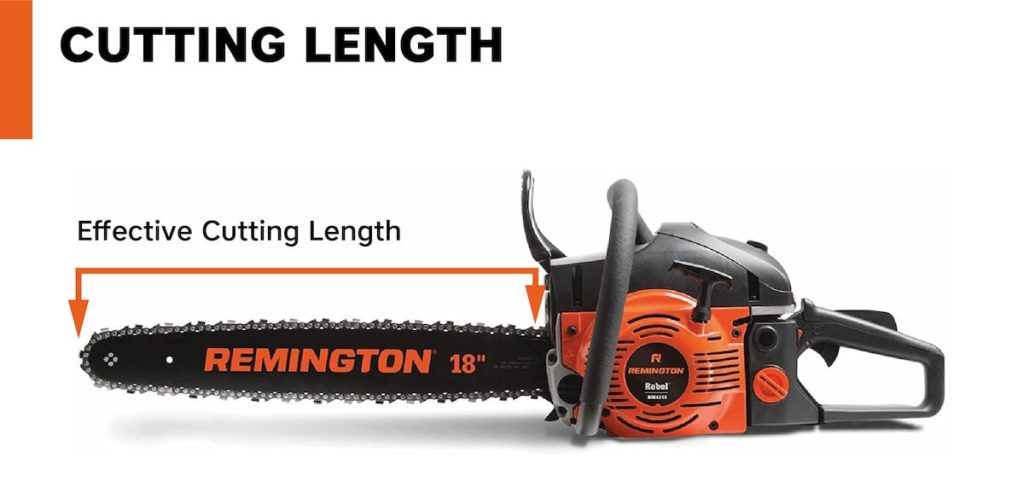 Owner's manuals sometimes name ranges too wide to be useful, so look at the following table for a second opinion. Remember that these are general estimates, not guaranteed to work in every situation (specific always trumps general).
Chainsaw Bar Length Reference Chart
| Chainsaw Type | Engine Power | Ideal Bar Length (inches) |
| --- | --- | --- |
| Battery Electric | 18-30 volts | 10-12 |
| Battery Electric | 31-50 volts | 12-16 |
| Battery Electric | 51-80 volts | 16-18 |
| Corded Electric | 8-12 amps | 10-14 |
| Corded Electric | 13-15 amps | 14-18 |
| Gas | 20-35 cc | 12-16 |
| Gas | 35-50 cc | 16-20 |
| Gas | 51-65 cc | 20-24 |
Step 3: Decide if you need to replace anything else
When replacing your chainsaw bar, there are two other items you might need to replace along with it: the chain and the sprocket.
If the new bar you plan to install is a different length than your old one, you will need a new chain. Get one that matches the length of your new bar.
A sprocket is a wheel built into the nose of some chainsaw bars that turns along with the chain, cutting down on harmful friction. You only need a new sprocket if (A) you replace the chain and (B) if the new chain has a different pitch (distance between two links) or gauge (width of each individual link).
If you buy a chain-bar combo, you can skip this entire step.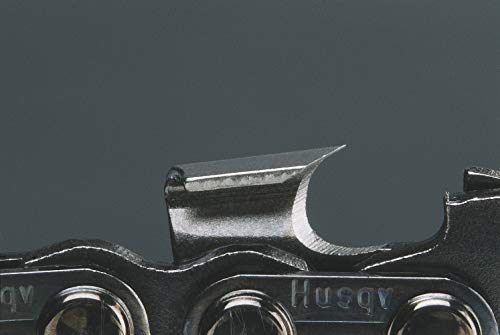 Step 4: Choose the best bar
These are the most important traits by which to judge a replacement chainsaw bar.
Almost all chainsaw bars today are made of either steel, aluminum, or chrome-moly (an alloy of chromium and molybdenum). Aluminum bars are lighter and recommended for beginners or smaller jobs. Chrome-moly bars have greater tensile strength, making them better for more heavy-duty work. Steel is a good middle ground.
The kerf is the width of the bar from one face to the other (not from top to bottom or end to end). It used to be that thicker-kerf bars were stronger, while thinner-kerf bars were lighter and more maneuverable. With modern advances in metallurgy, thin-kerf blades have strengthened a lot and are now almost always the better choice.
Sprocket nose. Choose whether you want a sprocket-nosed bar and how many teeth you'd like it to have. Sprocket noses help chains last longer, so we advise getting one unless you're working with material that's likely to clog a sprocket.
Conclusion
We like to write all these reviews with the saws we're talking about close at hand. Having used every bar on this list, we can confidently say that the Husqvarna 20-inch chainsaw bar is the cream of the crop. However, it's only accessible to Husqvarna users. If you're faithful to Stihl instead, we suggest the 20-inch Rollomatic. It's a bit more expensive, but since you can replace the sprocket instead of the entire bar, you might save money.
Whether you choose Stihl, Husqvarna, or another brand, you're now prepared to buy replacement chainsaw bars with authority. Thanks for reading!