6 Best Chainsaws for Milling Lumber – Top Picks & Reviews 2023
While a milling attachment will fit on most chainsaws, not every saw is suited for the intense work of milling. It's not so hard for the operator, but milling puts a chainsaw through its paces. To make a good chainsaw for milling, a saw must have gobs of power and a long bar that can reach through any tree you want to mill.
When our last chainsaw started giving us fits after years of faithful service, we knew it was time to find a new workhorse. But since we wanted this saw to mill the trees it brings down, we knew it had to be a serious piece of equipment. So, we set out to find the best chainsaw for milling, willing to test as many tools as it takes to find the winner.
After milling enough boards to finish our next dozen projects, we've finally narrowed down the field to our favorites. To help you decide without going through the same headache, we've written the following six reviews to compare each of these awesome chainsaws.
---
A Quick Comparison of Our Favorites in 2023
Rating
Image
Product
Details

Best Overall

Husqvarna 460 Rancher

Long 24-inch bar
LowVib anti-vibration system
60cc and 3.62 HP
CHECK PRICE

Best Chainsaw for Alaskan Mills

Echo CS-590-20

Translucent fuel tank
59.8cc 2-stroke motor
5-year consumer warranty
CHECK PRICE

Best Value

COOCHEER 20-Inch Gas Chainsaw

Very affordably priced
62CC motor with 3.5 HP
Suitable for all-day use
CHECK PRICE

Husqvarna 455 2-Cycle Gas Milling Chain Saw

More affordable
Great features
CHECK PRICE

XtremepowerUS 22-Inch Gas Chainsaw

Very affordable
EPA-approved
Starts easily
CHECK PRICE
The 6 Best Chainsaws for Milling
1.

Husqvarna 460 Rancher – Best Overall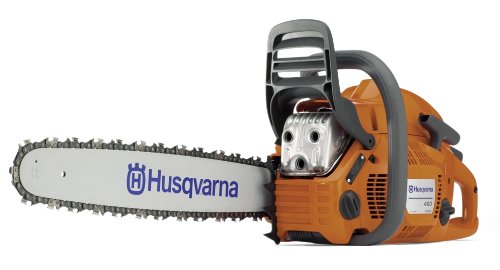 If you're looking for the best chainsaw for ripping logs, it's Husky's 460 Rancher. When you're using a chainsaw for milling lumber, you're going to want the saw with the most reach and power. That means the longest bar you can find and a hefty engine turning the chain. The Husqvarna 460 Rancher was a winner in both of these vital categories, out-powering and outreaching the competition.
The long 24-inch bar that's available on this chainsaw provides extra reach for milling large trees, making it possible for you to mill much larger lumber. But that reach wouldn't be much good without extra power for those taxing rip cuts. To help with those, the powerful 60cc motor produces a pack leading 3.62 horsepower, keeping this chain spinning through all conditions.
Big motors create more vibration, which is why this saw has the LowVib anti-vibration system. It's easy to handle and won't shake your arms to oblivion thanks to the impressive vibration dampening. And the X-torq motor makes it possible to lay all that power down without wasting fuel. We just with the two-year warranty was extended to match the leading competitors. All in all, we think this is the best chainsaw for milling on the market this year.
Pros
Long 24-inch bar
LowVib anti-vibration system
X-Torq motor provides tons of power without wasting fuel
60cc and 3.62 HP
Cons
Two-year warranty isn't as good as other brands
---
2.

Echo CS-590-20 – Best Chainsaw for Alaskan Mills
The Alaskan Mill makes it easy to mill planks, beams, and slabs from fallen trees. But it still takes a pretty beefy chainsaw to power through that thick wood. After trying many different saws with the Alaskan mill, we think the best is the Echo CS-590-20.
You're going to need a lot of power with an Alaskan mill, and the Echo definitely delivers in that department with a 59.8cc two-stroke motor that made it through the logs we milled with ease. And with 20 inches of bar to work with, you'll be able to mill some sizable lumber from rather large trees.
The translucent fuel tank was a nice touch that made it easy to tell where your fuel level was at any given time. But we'd like to see an anti-vibration system implemented like the Husqvarna has. All the power from this saw gets transferred through your forearms, vibrating your arms to premature exhaustion. But the impressive five-year warranty is something we wish other manufacturers would copy.
Pros
Translucent fuel tank
59.8cc 2-stroke motor
Five-year consumer warranty
Cons
No vibration reduction system
---
3.

COOCHEER 20-Inch Gas Chainsaw – Best Value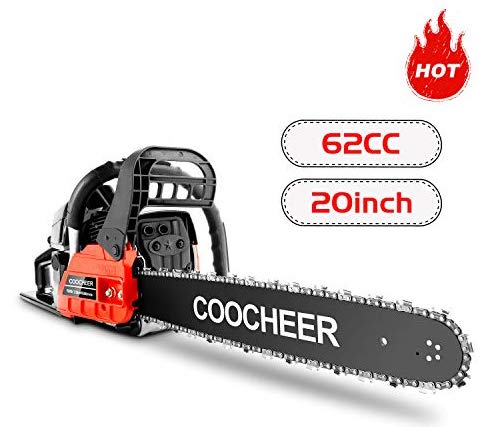 Power tools like high-end chainsaws can be quite expensive, especially ones that can handle the hard work of milling lumber. But if you're looking for a more affordable option that can still handle the job, then we think we've found the best chainsaw for milling lumber for the money. It's the COOCHEER 20-Inch Gas Chainsaw.
This saw offers some impressive numbers. You get a 62cc motor that's pushing 3.5 horsepower, putting it right in the same realm as the Husqvarna and Echo saws that cost three times as much. It's even suitable for all-day use, despite the low price.
If you pick this saw up after another chainsaw, you're likely to notice that it's pretty stout. For the price, we can't complain, but it's definitely a few pounds heavier than the saws that outranked it. Still, the COOCHEER 20-Inch Gas Chainsaw provides an awful lot of saw for the price.
Pros
Very affordably priced
62CC motor with 3.5 HP
Suitable for all-day use
Cons
Heavier than other similar chainsaws
---
4.

Husqvarna 455 2-Cycle Gas Milling Chain Saw
The Husqvarna's 455 Rancher Gas Chainsaw is a beast of a saw that has tons of power for effortlessly cutting through any wood. It's a great chainsaw overall and can be used effectively for milling, but it's not the best choice for milling specifically. This saw's big brother, the Husqvarna 460 Rancher, is a better choice for milling because it's available with a four-inch longer bar.
Still, the 455 has some great qualities. For instance, it's got plenty of power behind the trigger thanks to the 55.5 cc motor that creates a stout 3.5 horsepower. This saw never bogged down while we used it, powering through every cut without issue. It even starts up easily every time, a rare feat for a gas-powered chainsaw.
Like other Husqvarna tools, this one is covered by a lackluster two-year warranty. It's better than nothing, but it's certainly not as nice as the five-year warranty that accompanies the Echo chainsaw in our second position. In the end, we'd recommend the Echo or the Husqvarna 460 Rancher instead of the 455, though this one is still a great saw altogether.
Pros
More affordable
Great features
---
5.

XtremepowerUS 22-Inch Gas Chainsaw
XtremepowerUS 22″ inch 2.4HP 45cc  offers an affordable alternative to the expensive Husqvarna and Echo saws. Granted, it's not nearly as powerful, but it's got some great features that make it useful nonetheless. Our favorite thing about this saw is the 22-inch bar, two inches longer than most similar saws. This allows you to get more reach to mill larger lumber.
We were pleasantly surprised at how easily this saw starts. It never gave us a fit like most gas-powered chainsaws like to do. But it's only a 45cc motor pushing just 2.4 horsepower. That's not too bad for regular chainsaw duties, but milling pushes a chainsaw to its limits, and the lower power of this saw is a limiting factor.
Despite being less powerful than other saws, the XtremepowerUS saw manages to be heavier by several pounds. It's one of the heaviest saws we tested, causing our arms to tire out earlier. But for those users who are environmentally-conscious, this saw is EPA-approved so it's making less of an impact on the planet.
Pros
Very affordable
Starts easily
The 22-inch bar has more reach than competitors
EPA-approved
Cons
45cc motor only makes 2.4 HP
Heavier than other chainsaws we tested
---
6.

Poulan Pro PR5020 Lumber Milling Chainsaw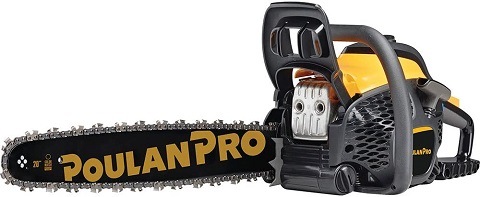 Poulan Pro is a well-known name in chainsaws. They've been producing saws for a long time, and we've had luck with their products in the past. Poulan's PR5020, however, is not a tool that we were fond of. It had far too many problems that we just couldn't get past.
Gas chainsaws are notorious for being difficult to start, but many modern saws have found ways to overcome this problem. The Poulan Pro is like a throwback to the past though, giving us fits every time we tried to get it started. Even when warmed up, if you turned it off, it didn't want to start right back up again as most warm saws will do.
Once you got it running, the power was underwhelming. It's got a 50cc motor with OxyPower technology that's supposed to make a more powerful engine. But this saw got bogged down several times, making it difficult to get all the way through a log. We were hoping to see more power, but as it is, the Poulan Pro PR5020 isn't a chainsaw we'd recommend for milling.
Cons
The bar is a bit too flexible
Difficult to start
Power was underwhelming
---
Buyer's Guide – Finding the Best Chainsaws for Milling Lumber
When milling lumber with a chainsaw, you're really talking about a complete rig. The saw is one component and the mill is the other. Buying a chainsaw to mill lumber isn't just about making sure you get the most powerful tool to do the job.
Design Compatibility
Make sure your chainsaw is compatible with your mill attachment. You can buy a mill for less than $200, which is inexpensive compared to a dedicated milling saw, but not so low-priced that you want more than one.
Power
Milling requires that you cut lengths of wood, not cross-sections of it. That's going to require sustained power, and potentially a lot of it. If you have your milling rig and need to pair it with a chainsaw, there might be power parameters it's designed to work within. If that's the case, follow those. If there aren't, looking for a chainsaw that delivers a lot of power is smart. 50cc is a common choice.
Bar Length
Most mills come with parameters for the bar, which is the tongue-looking thing that sticks out from the engine and around which the saw blade moves. Twenty inches is a pretty standard minimum length. Keep in mind that the length of the bar will also establish the maximum width for the lumber you cut. If you have really big trees and want to mill wide boards, you might need to look at combinations capable of wider cuts.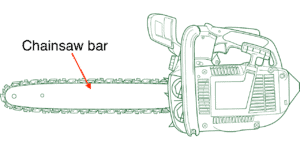 Gas vs Electric
The choice in power source involves a tradeoff: heft or quiet consistency. Electric chainsaws are generally not as powerful as gas-powered ones. You can use them, but you'll want to be careful to not overtax them. However, they are quieter, and if you have a lot of cutting to do they have another advantage. You can run them off wall power and have power all the time. You don't have to worry about shutting one down to fill a gas tank, and because there's no engine, they're also lighter. You can read more about this here.
Weight
For normal use, chainsaws can wear down and fatigue a human user. When connected to a milling rig, the fatigue they can cause involves the frame. Most of them are made out of pretty tough materials, but going light isn't a terrible idea if you can do it. You can see our top five lightweight chainsaw picks here.
Price
If you've got two nearly identical chainsaws that are compatible with your milling rig, go with the one that will save you a few dollars. Just remember that price is more than what you pay for the saw. Consider how much it'll cost to run in terms of fuel, maintenance, and repairs, too.

Conclusion
Milling lumber requires big saws with lots of power, so suffice to say, we had a lot of fun testing these saws and writing these reviews! After all was said and done, we had a lot of firewood and three clear winners to recommend to you.
Our pick for the best chainsaws for milling lumber overall was the Husqvarna 460 Rancher Gas Chainsaw. You can get it with the longest blade we've seen at 24 inches. Plus, it's got a pack-leading 3.62 horsepower with LowVib anti-vibration technology that makes it comfortable to use.
For using an Alaskan mill, we recommend the Echo CS-590-20. It's got a translucent fuel tank that makes it easy to tell when the powerful 59.8cc two-stroke motor is low on fuel. Plus, it's covered by an impressive five-year warranty.
If you're looking to spend a bit less and still get the best chainsaw for milling lumber, we suggest checking out the COOCHEER 20-Inch Gas Chainsaw. It costs a fraction of what you'll pay for the other saws we loved, but it still provides 3.5 horsepower to mill lumber all day.