Best 50cc Chainsaws – Reviews, Top Picks & Buyer's Guide 2023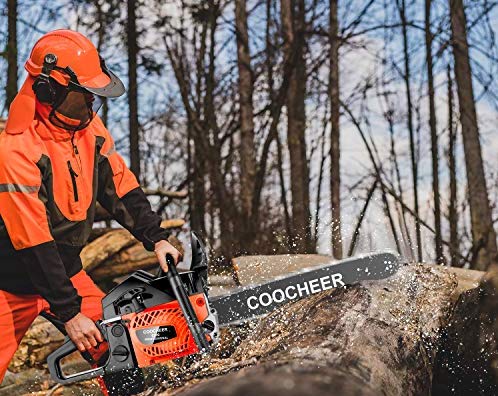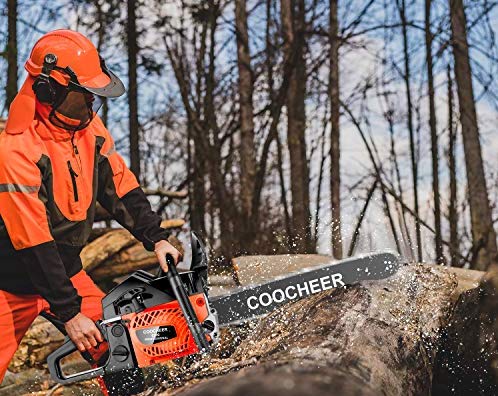 In terms of cutting power and weight, 50cc chainsaw sits squarely between professional and homeowner models. Fifty cc's are not quite robust enough to fell old-growth timber, but almost a bit of overkill on small branches of young trees. If you are in the market for a new 50cc chainsaw, there are a few things to consider before you make a purchase. There are a number of different manufacturers and a lot of models available. It can be challenging to dig through all the models available to find the best one.
We've chosen eight different brands to review so you can see the variation among the choices. We will go over the pros and cons of each as well as any extra features that they provide. We've also included a short buyer's guide where we take a look at how the chainsaw works and what is important for a good chain saw to include.
Join us while we take an in-depth look at the 50cc chainsaw and discuss RPM, bar size, automatic oiling systems, carrying cases, and more to help you make an informed decision.
---
A Quick Comparison of Our Favorites in 2023
Rating
Image
Product
Details

Best Overall

Husqvarna 450 Rancher II 20″ Chainsaw

Low fuel consumption
Reduced emissions
Centrifugal air cleaning system
CHECK PRICE

Makita EA5000PREG 18″ 50cc Chainsaw

Good performance
Great for cold weather work
Starts easily
CHECK PRICE

Best Value

Garwinner 5820 18″ Chainsaw

Anti-vibration handle
Low kickback safety feature
Automatic oiling system
CHECK PRICE

Husqvarna 18″ 445e II Gas Chainsaw

Automatic oiling system
Quick chain adjustments
Quick-release air filter
CHECK PRICE

Tanaka TCS51EAP 50.1CC 20″ Chainsaw

Professional-grade
Affordable
Efficient
CHECK PRICE
The 8 Best 50cc Chainsaws – Reviews
1.

Husqvarna 450 Rancher II 20″ Chainsaw – Best Overall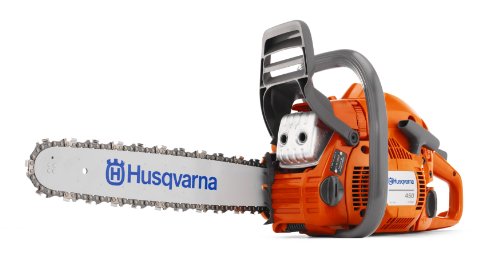 The Husqvarna 450 Rancher II is our pick for the best overall 50cc chainsaw. This model features reduced fuel consumption and reduced emissions without sacrificing cutting power. A centrifugal air cleaning system helps remove larger particles before they reach the filter, which results in fewer filter changes. The cylinder-cover features a snap-lock system that's easy to access and change the spark plug. It also features a smart-start system that reduces string-pulling.
We enjoyed using this model, and it cut through small and medium-sized trees with ease. The only downside we experienced was with the automatic oiling system. Like many models with automatic oilers, they tend to leak when the unit is not in use, and it will require special storage considerations. Overall, this is the best 50cc chainsaw available this year
Pros
Low fuel consumption
Reduced emissions
Centrifugal air cleaning system
Smart start
Snap-lock cylinder cover
---
2.

Makita EA5000PREG 18″ 50cc Chainsaw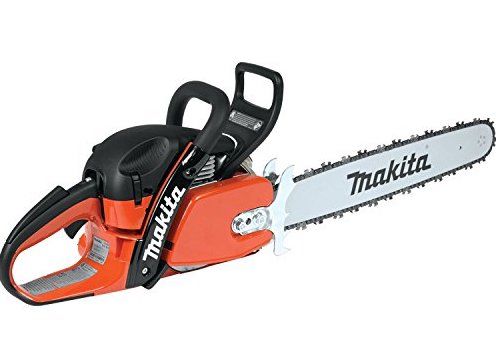 If you're looking for a chainsaw to cut firewood in winter, consider the Makita EA5000PREG 18″ 50 cc Chainsaw. It has side baffles to help it work more efficiently in cold weather. It also runs well and is powerful enough to cut just about any wood you have. One thing that might make you like it more than the Husky 450 is that it's easy to start and starts just about every time.
It's also noticeably more expensive. Sometimes there are two models of tools, and one costs a few bucks more than the other. In this case, it's a bit more than a few bucks. It's also not CARB-compliant, which means it's not suitable for use in places with serious air quality rules. Even if you live someplace with no standards, that means it's not efficient in using fuel and kicks out a lot of exhaust.
Pros
Good performance
Great for cold weather work
Starts easily
Cons
Expensive
Not CARB-compliant
---
3.

Garwinner 5820 18″ Chainsaw – Best Value
The Garwinner 5820 18″ chainsaw is our pet as the best 50cc chainsaw for the money. This model features front and back anti-vibration handles that help reduce hand fatigue and help extend your work session. It also features an automatic oiling system that helps keep your blade lubricated while you're making cuts, and a low kickback safety feature protects you from jams. An 18-inch bar provides plenty of reach, and the chain is easy to adjust. The 50cc motor produces around 8500 RPM, which is plenty of cutting power for most jobs around the home.
The only problem we experienced while using the Garwinner was the gas cap is located on the side and often leaks after filling.
Pros
Anti-vibration handle
Low kickback safety feature
Automatic oiling system
18-inch bar
Easy chain adjustment
8500 RPM
Cons
Gas leaks from the side-mounted tank
---
4.

Husqvarna 18″ 445e II Gas Chainsaw
The Husqvarna 18″ 445e II Gas Chainsaw features an 18-inch bar that's large enough for most small to medium size jobs, and it includes the bar cover to protect it while in storage. An inertia activated chain brake locks the chain in the event of a kickback protecting you from danger. You can make chain adjustments easily on the side of the unit, and it also features a quick-release air filter to reduce maintenance time. The automatic chain oiler keeps the chain lubricated and cool while making cuts.
We would have liked to rank the 445e II higher, but we can only get it started about half the time.
Pros
18-inch bar
Inertia activated chain brake
Automatic oiling system
Quick chain adjustments
Quick-release air filter
Includes bar cover
---
5.

Tanaka TCS51EAP 50.1CC 20″ Chainsaw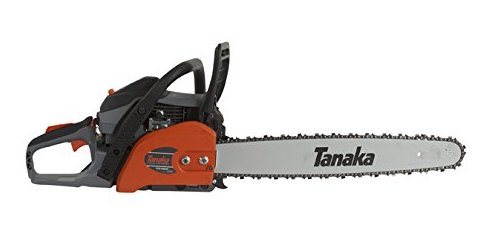 The Tanaka TCS51EAP 20″ Rear Handle Chainsaw features a cleaner motor that requires less fuel and produces fewer emissions. A built-in decompression valve, primer bulb, and auto return choke help make starting easier and require less string pulls. The automatic chain oil is adjustable to minimize oil leaks while in storage. The 20-inch bar is long enough for even some large jobs and built in bumper spikes, and sprocket nose bar helps you handle the saw better, providing more accurate cuts. This saw also comes with a case that protects the chainsaw from damage when not in use.
While we did enjoy using the Tanaka TCS51EAP, we had a lot of small problems due to poor construction. The return line from the carburetor was continuously popping off as we were working, and the linkage that adjusts the speed also became loose very quickly, making it hard to control the saw speed.
Pros
Professional-grade
Affordable
Efficient
Easy to start
Cons
Return line pops out
Carburetor to throttle linkage falls off
---
6.

Poulan Pro PR5020 20″ Chainsaw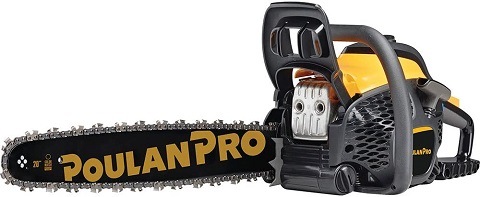 It's not that we dislike Poulan's PR5020. It's a great value chainsaw that is efficient in operation and easy to use. It's just that compared to the top five chainsaws we looked at, it wasn't as good. The PR5020 has an efficient motor that produces 70% fewer emissions while using 20% less fuel. Its easy-start mechanism is helped by a purge bulb that delivers gas to the carburetor to get the engine running.
If you need a chainsaw for regular yard maintenance like cutting down split limbs, cutting up fallen branches, and removing small and softwood trees, it's a great choice. Most of all, it's a great chainsaw for the price. If you don't have thick hardwood cutting to do, don't pay for it. This one will do it.
If you have thick hardwood cutting to do, however, this one won't do it. The engine did not idle smooth either once it had been running a few minutes, and many of the bolts would frequently loosen and require tightening. Even though it has a 50cc engine, it's just not designed the way some better models are to tackle thicker trees. If that's what you've got, you're going to need to pay a little more.
Pros
Efficient
Affordable
Easy to use
Cons
Not good for heavy-duty use
Hard to start once warmed up
Bolts loosen and frequently need tightening
Doesn't idle smooth
---
7.

COOCHEER 20″ Gas Chainsaw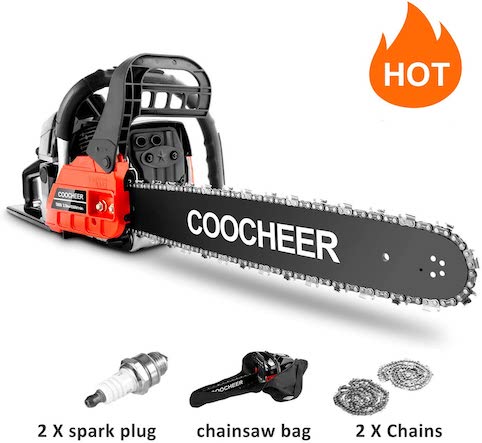 The COOCHEER Chainsaw 20″ Gas Chainsaw is another saw on this list that boasts an engine with reduced fuel consumption. This model claims to use 20% less fuel than other brands, while still being able to reach up to 8500 RPM. It features a large rope wheel that gives you more leverage while starting and makes string pulls easier. This model also comes with a chainsaw bag for storage and protection from the environment, plus a pair of extra chains and spark plugs.
The downside to the COOCHEER 20-inch is that It creates a lot of exhaust due to its 25-1 gas to oil ratio. Our model also styled quite frequently while cutting, and the chain wore down and became dull very quickly.
Pros
Reduced fuel consumption
Large rope wheel
8500 RPM
Includes chainsaw bag
Cons
Almost overpowered for the chassis
Stalls
Emits a lot of exhaust
Chain wore down quickly
---
8.

Salem Master 5820G 16″ 2-Cycle Chainsaw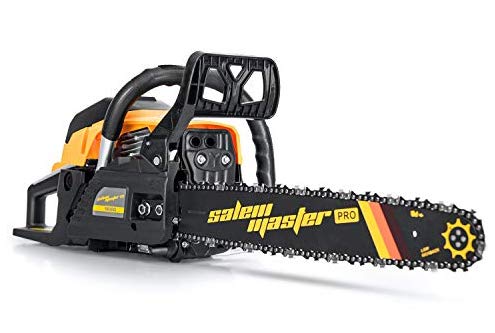 The Salem Master 5820G 16″ 2-Cycle Chainsaw Is the last model of 50cc chainsaw on our list to review, and it's also one of the smallest. This model features a 16-inch bar with a low kickback chain to reduce jams while cutting. It features a comfortable non-slip shock-absorbing handle the reduces hand fatigue and will allow you to work longer. If the saw does jam or you finish cutting, the quick stop chain mechanism will quickly stop the blade to prevent injury. We found the engine to run smoothly and capable of reaching speeds up to 8500 RPM.
The downside of the Salem Master 5820G is the 16-inch bar, which significantly reduces the cutting range and size of tree you can cut. The saw also feels very flimsy and lightweight, and we found it extremely difficult to find replacement chains after ours became dull.
Pros
Big performance in small frame
---
Buyer's Guide – How to Purchase the Best 50cc Chainsaw
Let's look at some of the most important things to consider before you purchase at 50cc chainsaw.
Safety Equipment
The gasoline-powered chainsaw is one of the most powerful and dangerous tools available, and it's essential to take the proper safety precautions before using them. In this section, we'll take a look at some of the safety equipment we highly recommend you use.
Chainsaw Helmet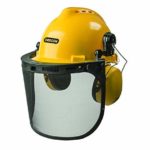 A hard hat is not very expensive, and it can go a long way towards protecting you while you were using a chainsaw. There are plenty of helmets designed specifically for chainsaw users that can have other safety tools built-in like safety goggles and earmuffs, but you can also purchase them as a standalone unit. We recommend a
chainsaw helmet
that's rated for professional use and sits comfortably and securely on your head.
Chainsaw Chaps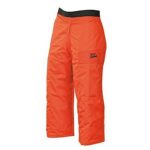 Heavy-duty chainsaws are dangerous. To protect yourself, you need a sturdy pair of
chainsaw chaps
. If you're not ready to invest in a pair of chaps, we still recommend that you use heavy leg guards while making cuts. In many cases, wood can kick out and cause injury to your legs while you're working.
Chainsaw Gloves

Heavy-duty gloves
are also required to protect your knuckles and hands from injury while cutting. These gloves should use thick leather or other durable material that can stand up to abuse. Gloves will improve your grip on the handle and trigger while protecting your hands from flying debris and other hazards.
Technical Factors
RPM (Revolutions per minute)
RPM in our reviews refer to the RPM of the engine, not the speed of the chain. An engine with higher RPM can deliver more speed as well as torque. Because all of our chainsaws have 50cc engines, the number of RPM they can reach can be quite telling, and in most cases, the saw with higher RPM will be better.  However, there are other factors to look consider.
Bar Size
The bar is the part of the chainsaw that holds the chain. A larger bar will allow you to cut a larger tree, and it will allow you to make cuts further from your body. Larger bars cut more wood at once, so they tend to bog down easier. If you have a lot of larger trees in your yard, you'll need a larger bar.

A smaller bar will be much less susceptible to bogging down or kickback, but it will also reduce the size of tree you can cut. If you have a lot of smaller trees in your yard, the smaller bar size is the better solution.
Starting
Another critical aspect of the 50cc chainsaw that you want to look out for is the starting mechanism. Getting a gasoline-powered chainsaw started, especially in cold water, can be a challenging task. We recommend that you look for a model that features enhancements to make starting easier. Large string spools and spring assistance are two popular ways manufacturers make starting your chainsaw easier.
Weight
Weight is often not considered important but is a critical concern when using the chainsaw for an extended work session. These tools can often become very heavy quite quickly, so you will want to make sure you put some time inter considering what weight is comfortable for you.
Chain
The chain that comes with your chainsaw will eventually wear out No matter what type it is. In most cases, finding replacement chains is easy, but we have seen quite a few models that use unique chains that are not easy to replace.
We recommend looking for replacement chains, as well as other parts like spark plugs, and engine oil before you purchase to be sure you can find the parts.
Durability
Unfortunately, it's much more common to see power tools made of flimsy materials today than it has ever been before. Because of the declining quality, we must recommend looking at your tools before purchasing to make sure they use quality materials.

Conclusion
When choosing a 50cc chainsaw for yourself, we recommend A brand that's a comfortable weight with a large enough bar to do the work you need to do around your home. The Husqvarna 450 Rancher II  Is our top choice, and it has all the features you need in a long-lasting, durable, chainsaw. It has a long bar with an efficient engine and reduced emissions. It also features an easy-start mechanism, and it's easy to maintain. The Garwinner 5820 18″ chainsaw Is there a pick for the best value and is the perfect model for the budget-minded it has plenty of safety features a high RPM engine and an anti-vibration handle to help you work longer.
We hope that you have enjoyed reading over our reviews, and they have helped you get closer to making a decision. If our buyer's guide has shown you what you want in a chainsaw, please share this short guide to the best 50CC chainsaws on Facebook and Twitter.