10 Best Clover Killers of 2023 – Reviews & Top Picks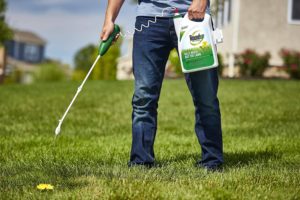 Instead of fresh green grass, your lawn is a tangle of weeds, dominated by one of the kings of all weeds: clover. Unfortunately, there are hundreds of products to choose from, each with its own claims to effectiveness for getting rid of your weedy pests. There are also a million questions that go along with your selection. Will it kill the grass as well? Is it safe for kids and pets? How often do I have to apply it? It makes it almost impossible to choose which one to buy to meet your specific needs.
That's where we come in. Here, we've assembled a list of greatest hits for your clover killing needs, ranked from best to worst. You don't have to waste any more time wading through reviews and product specs because we've collected all the information right here. We know the clover is taking over as we speak, so let's get to the list!
---
A Quick Comparison of Our Favorites in 2023
Rating
Image
Product
Details

Best Overall

Ortho Weed B Gon Chickweed, Clover & Oxalis Killer

Easy to use
ready to spray
Effective on multiple types of weeds
Won't harm the lawn when used as directed
CHECK PRICE

Best Value

Green Gobbler Vinegar Weed & Grass Killer

Starts working in a single day
Works on a wide range of plants
Money-back guarantee
CHECK PRICE

Premium Choice

Spectracide Weed Stop For Lawns + Crabgrass Killer

Easy to use
Good coverage
Rainfast 3 hours after application
CHECK PRICE

PBI/Gordon 652400 Speed Zone Lawn Weed Killer

Great coverage for the price
Works in a matter of hours
Treats a wide variety of weeds
CHECK PRICE

ECO Garden PRO Organic Vinegar Weed Killer

Useful for a wide range of weeds
Environmentally friendly
Pet and kid friendly
CHECK PRICE
The 10 Best Clover Killers 
1.

Ortho Weed B Gon Chickweed, Clover & Oxalis Killer – Best Overall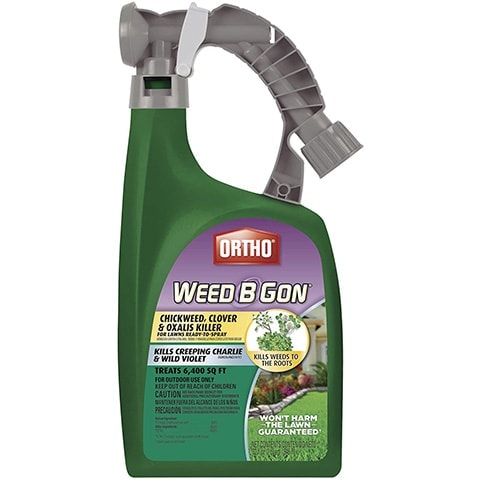 At the top of the heap is Ortho Weed B Gon. It works through the leaves of the clover, so you don't have to saturate your lawn. As a result, a single bottle covers 6,400 square feet.
The specially formulated weed killer not only takes out clover, but a hit list of other weedy offenders. Some of the biggest menaces it tackles are Creeping Charlie, chickweed, and wild violet. Because this product tackles a wide range of weeds, it reduces the number of treatments you have to apply to your lawn.
It also begins working in just 24 hours. It's one of the quickest-acting products on the market, which is one of the reasons it scores at the top of our list.
Ortho Weed B Gon Chickweed, Clover & Oxalis Killer comes in two varieties: Ready to spray or concentrate. The clear advantage of the ready to spray variety is that it simply attaches to your hose, and you're ready to go.
This product is easy to use, effective, and has good coverage, bumping to the top of our list as the best clover killer available this year.
Pros
Easy to use, ready to spray
Won't harm the lawn when used as directed
Effective on multiple types of weeds
Great coverage (6,400 sq ft)
Starts working within 24 hours
Rain-proof just 6 hours after application
Cons
Hazardous to pets and humans when wet
Not for use on Bahia, Bermuda, Centipede, or St. Augustine lawns
Not safe for flowers or vegetables
---
2.

Green Gobbler Vinegar Weed & Grass Killer – Best Value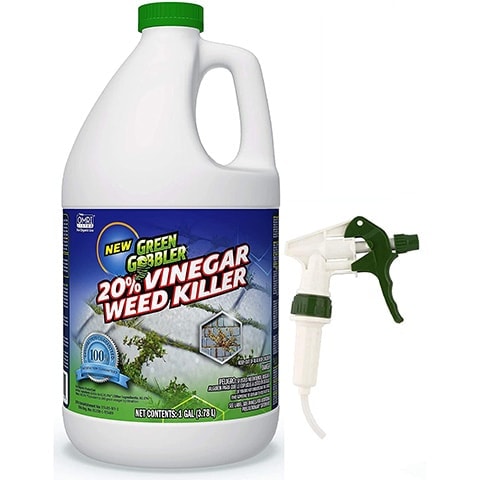 The best clover killer for the money is Green Gobbler Vinegar Weed and Grass Killer. Given its efficiency, it offers a great bang for your buck. The company also offers a 30-day money-back guarantee, which makes it even better for your pocket book.
That said, you won't need it. Green Gobbler gets to work in just 24 hours, and is effective on most weeds. It's a non-selective herbicide that will eat through just about any plant it touches, so it's not recommended to contact healthy plants or lawns. It's better used to prepare flower beds or other fresh planting sites.
The active ingredient is acetic acid, so it's a natural alternative to chemical herbicides. It dilutes in water, so doesn't pose the kind of danger to water reserves that some herbicides do. That said, it's very corrosive, so take care when handling and applying the solution. It may even be possible to dilute it even further and still register results.
Pros
Natural ingredients
Bargain price
Starts working in a single day
Works on a wide range of plants
Money-back guarantee
Neutralized with rain
Cons
Corrosive
Non-selective – shouldn't be applied to desirable plants
You need to purchase a separate sprayer
---
3.

Spectracide Weed Stop For Lawns + Crabgrass Killer – Premium Choice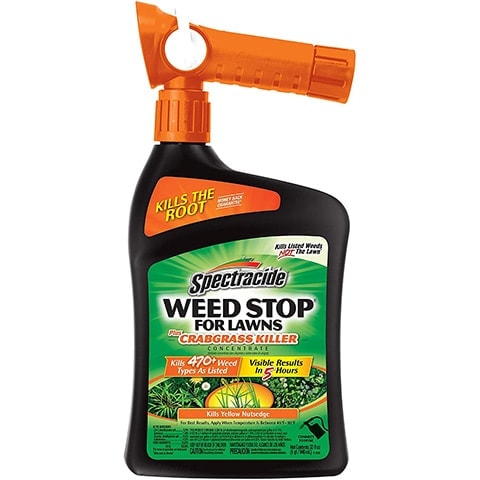 Spectracide Weed Stop for Lawns is high impact, but expensive. It gets to work in just 8 hours, and kills over 250 different types of weeds, including clover. Its broad range of applications and rapid results make it one of the best herbicides on the market.
It comes in an easy to use applicator that attaches to a garden hose. It covers 5,000 square feet of space which is a solid range for a little bottle. As a selective herbicide, it can be sprayed directly on the lawn without fear of damaging the following types of grass: Kentucky bluegrass, perennial ryegrass, fescue, zoysiagrass, Bermuda grass, and buffalo grass.
The primary drawback is potency for certain weeds. Especially stubborn or established plants may require multiple applications. It also shouldn't be applied to flowering plants or vegetables.
Pros
Starts working in as little as 8 hours
Works on more than 250 different types of weeds
Safe for your lawn when used as directed
Easy to use
Good coverage
Rainfast 3 hours after application
Cons
Unsafe for certain types of grass
Not safe for flowering plants and vegetables
Expensive for the quantity
---
4.

PBI/Gordon Speed Zone Lawn Weed Killer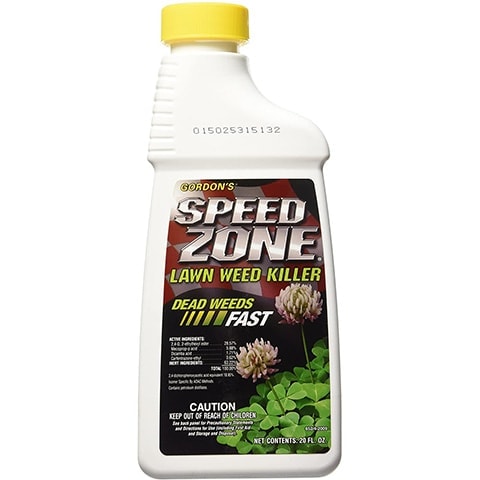 In fourth place, we have Speed Zone Lawn Weed Killer. Its biggest advantage is coverage. A single 20-ounce bottle covers up to 18,000 square feet, which makes it a great herbicide for larger properties.
This product packs a punch, sometimes showing results in a matter of hours. In addition to clover, it treats Creeping Charlie and dandelions, among other common pests. Tougher weeds will require multiple uses, and it's most effective in cooler weather. It can burn grass when applied at temperatures above 80 degrees.
It should also be noted that it shouldn't be applied to St. Augustine grass, bentgrass, carpetgrass, dichondra, legumes, ornamental plants, or vegetables. It could result in injury to the plants in each of these cases.
It comes as a concentrate, so it's necessary for you to dilute it yourself and use your own sprayer. It's not a time-saver in terms of application.
Pros
Great coverage for the price
Works in a matter of hours
Treats a wide variety of weeds
Safe for most lawns if used as directed
Cons
Can burn grass if used in hot weather
Can be dangerous for desirable plants
Concentrate requires additional steps when preparing for lawn treatment
---
5.

ECO Garden PRO Organic Vinegar Weed Killer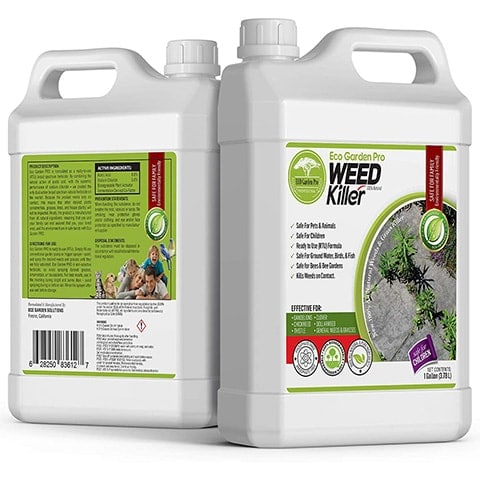 Another ecologically friendly option is ECO Garden Pro Organic Vinegar Weed Killer. Like Green Gobbler, it's a vinegar-based product, but this one is diluted to 8% rather than 20%. Perhaps as a result of the decreased concentration, its effectiveness can be spotty.
This product works on a wide range of plants. It is not selective, so don't spray anything you don't want to kill, including your lawn. It's best used to prepare areas for planting, prior to actually putting any desirable plants in. In many cases, multiple applications will be required.
Its chief benefit is that it's environmentally safe and pet friendly. Unlike with chemical weed killers, you don't have to worry about the dog or children going out into the yard after application. This may be a solid trade for a slightly less effective product.
Pros
Useful for a wide range of weeds
Environmentally friendly
Pet and kid friendly
Comes in sprayer-ready concentration
Cons
Non-selective – don't spray it on anything you don't want to damage
Requires multiple treatments to be effective
---
6.

Compare-N-Save Amine Broadleaf Weed Killer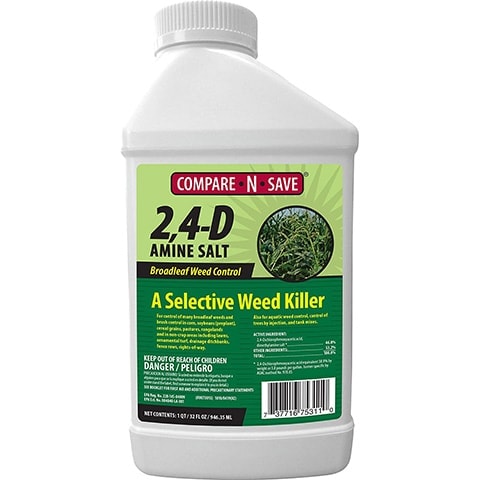 This is an excellent broadleaf weed killer, so if you're looking for something to take out your clover problem, this may be for you. It should be noted, however, that it doesn't seem to be nearly as effective on non-broadleaf nuisances. If you also have a crabgrass problem, you may want to take a look at another option.
Another great feature of this herbicide is that it can be used on corn, soybeans, and small grains. That often isn't the case for chemical weed killers. If you have crop land in addition to your lawn, this weed killer offers you the versatility to deal with your whole property.  It should be noted that it is not suitable for other crops, fruits or vegetables, and may cause damage if applied.
The label instructions offer ratios for very large applications, so if you're just doing a lawn, it's 3 tablespoons per gallon. That means a little goes a long way, and you're getting a great deal for the price.
Pros
Can be used on certain crops
Low product-to-water ratios mean good value
Safe for most grasses
Rainfast in 6-8 hours
Cons
Requires mixing
Doesn't tackle non-broadleaf weeds
---
7.

VPG Fertilome 32Oz Weed-Free Zone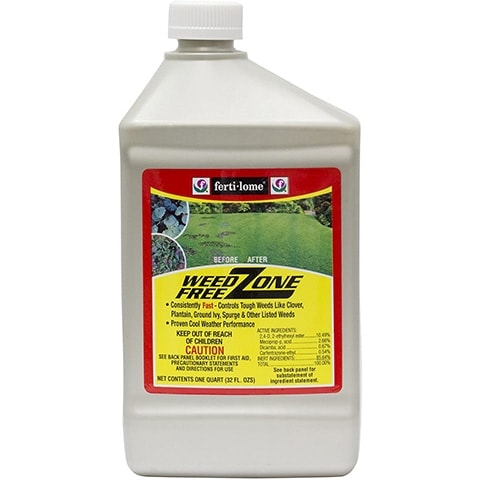 Weed-Free Zone is a mixed bag. On the positive side, it's safe for a wider variety of grasses than other chemical weed killers. Among them are such fragile selections as Bermuda grass, zoysia, and St. Augustine.
On the other hand, there is a range of weeds it doesn't cover. It will take care of your clover problem, but doesn't effectively handle many other weeds. In addition, the effect wears off in as little as two weeks, which means frequent reapplication. Unfortunately, the fact that it's safe on so many types of grass seems to coincide with its ineffectiveness on various weeds.
Pros
Can be used on a wide range of lawns
Offers a ready-to-spray applicator option
Cons
Not effective on certain weeds
---
8.

Bonide Chickweed, Clover and Oxalis Weed Killer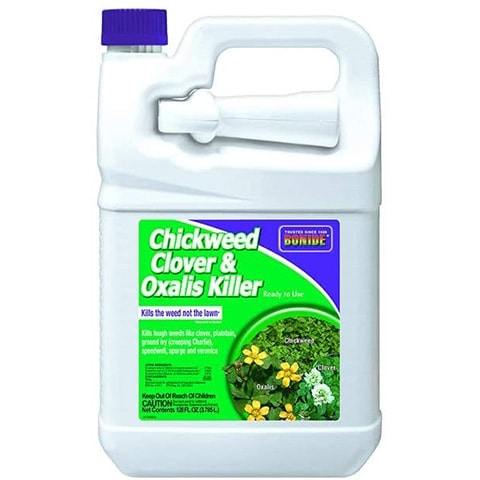 Bonide
claims to kill over 100 types of weeds, as listed. While this is technically true, it should be used with a few caveats. First, it's necessary to fully saturate the clover in question in order for the full effect to take hold. This means you go through a lot of the solution before it begins to take effect. In addition, it can take several applications to have a noticeable effect.
On the plus side, it can be applied directly to the lawn without killing the grass. Like many other products we've reviewed, it's not safe for St. Augustine or centipede grass lawns.
Pros
Easy application with ready-to-use solution
Cons
Requires deep saturation
Multiple treatments are necessary
Not for use on certain lawns
---
9.

Roundup for Lawns All-in-One Weed Killer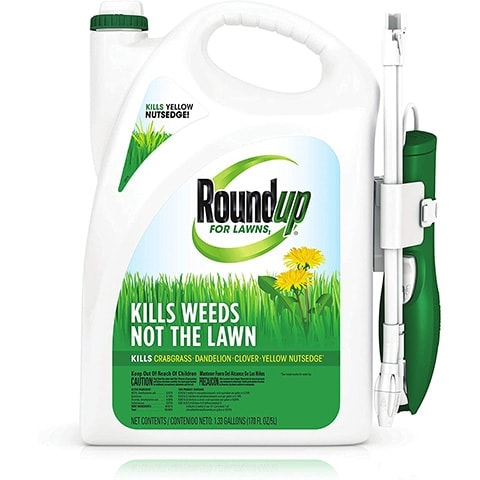 The biggest takeaway for Roundup is that it comes in two formulations. One is designed for northern lawns, the other for southern lawns. Mixing up the two can result in disastrous effects for the grass if sprayed directly, so it's important to be sure which version you're buying.
Other than the confusion regarding packaging, Roundup worked with mixed results. It required multiple applications to knock out the clover, not working at all in some cases. Some weeds simply turned brown but continued to actively grow.
In addition, the applicator is battery operated. Be sure to have fresh batteries on hand when the product arrives, as the ones shipped with the applicator may be low or dead.
Pros
Works well with multiple applications
Cons
Two different formulas that are hard to tell apart. Read carefully!
Requires multiple applications to be effective
Battery-operated applicator
Entirely ineffective in some cases
---
10.

Scotts WeedEx Southern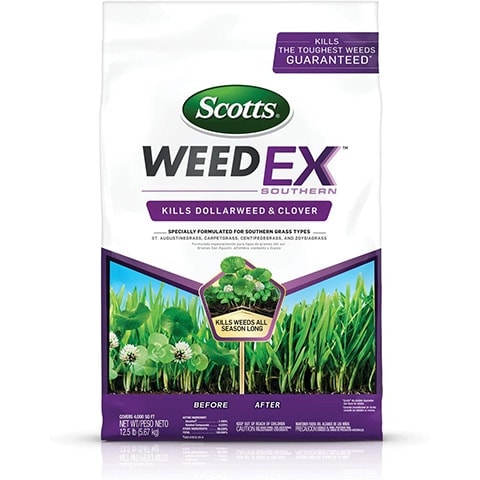 The biggest advantage of Scott's Weedex is that it works as a preventative measure to keep future clover from growing. However, in terms of killing present plants, it's proven less than effective.
Like Round-up, Weedex comes in two different formulas, one for northern and one for southern lawns. It's important to differentiate between the two because using the wrong formula could result in damage to your grass.
It's also important to note that this product is a solid, so you'll need a spreader to apply it. If you don't already have one, this creates an extra step in the process of making your lawn clover-free. It's also important to follow the instructions precisely when you apply, otherwise you won't get the complete 4,000 square-foot coverage the packaging claims.
Pros
Works as to prevent future clover growth
Cons
Requires a broadcast spreader for application
Less effective at killing present weeds
Comes in two formulas, which can be confusing
Application has to be precise to get complete coverage
---
Buyer's Guide – Choosing the Best Clover Killer
Looking for the best clover killer can result in a tangle of information that's difficult to weed through. With hundreds of products on the market, there is a wealth of claims out there that can make product selection difficult. Here are a few things to keep in mind.
What to Look for in a Clover Killer?
First, a good clover killer has a few key properties. Most importantly, it needs to actually do the job. Many products require multiple applications or extensive saturation in order to work properly. The ideal product works rapidly in a single application.
Ease of Use
It's also important to look for a solution that doesn't require a lot of extra equipment. Pay careful attention to labels to see what's required to apply the substance to your lawn. Because many products come in ready-to-use packaging, you can avoid extra expense by avoiding clover killers that require the use of an auxiliary sprayer or spreader, unless you already have one.
Price
While overall price is going to be a motivator for a lot of people, it's important to compare the price with the amount of coverage offered by the product. Divide the price by the listed square footage to discover the price per square foot for the product's application. This will help make the most effective determination in regard to value.
Preventing Future Growth
Ideally, a good herbicide works to prevent future growth in addition to killing the weeds that already exist in the yard. Generally, this quality will be listed on the package. Another good way to tell is how frequently it's recommended that you treat your lawn with a given product.
Non-Selective vs Selective
There are also a number of products out there that are non-selective. Be sure to purchase one that's right for your application. If you need something that will work on an existing lawn, it's important to purchase a product that won't kill the grass.
On the other hand, if you're working in a pre-planting situation, a non-selective product will knock out everything in its path, and create a blank slate for your gardening project.
Know Your Lawn
Many products are dangerous for certain types of lawns. Before you go to purchase an herbicide, know what type of grass you have in your lawn, then compare it to the package instructions to be sure it's a good fit. If you don't pay close attention to this fact, the result could be disastrous for your lawn, as well as the weeds.
It's also likely that if you have a clover problem, you've got other weeds in your yard. Rather than purchasing multiple products to deal with each of your problems, shoot for a single product that addresses a wide range of pests. This will prevent a lot of extra effort on your part when it comes to application and lawn maintenance.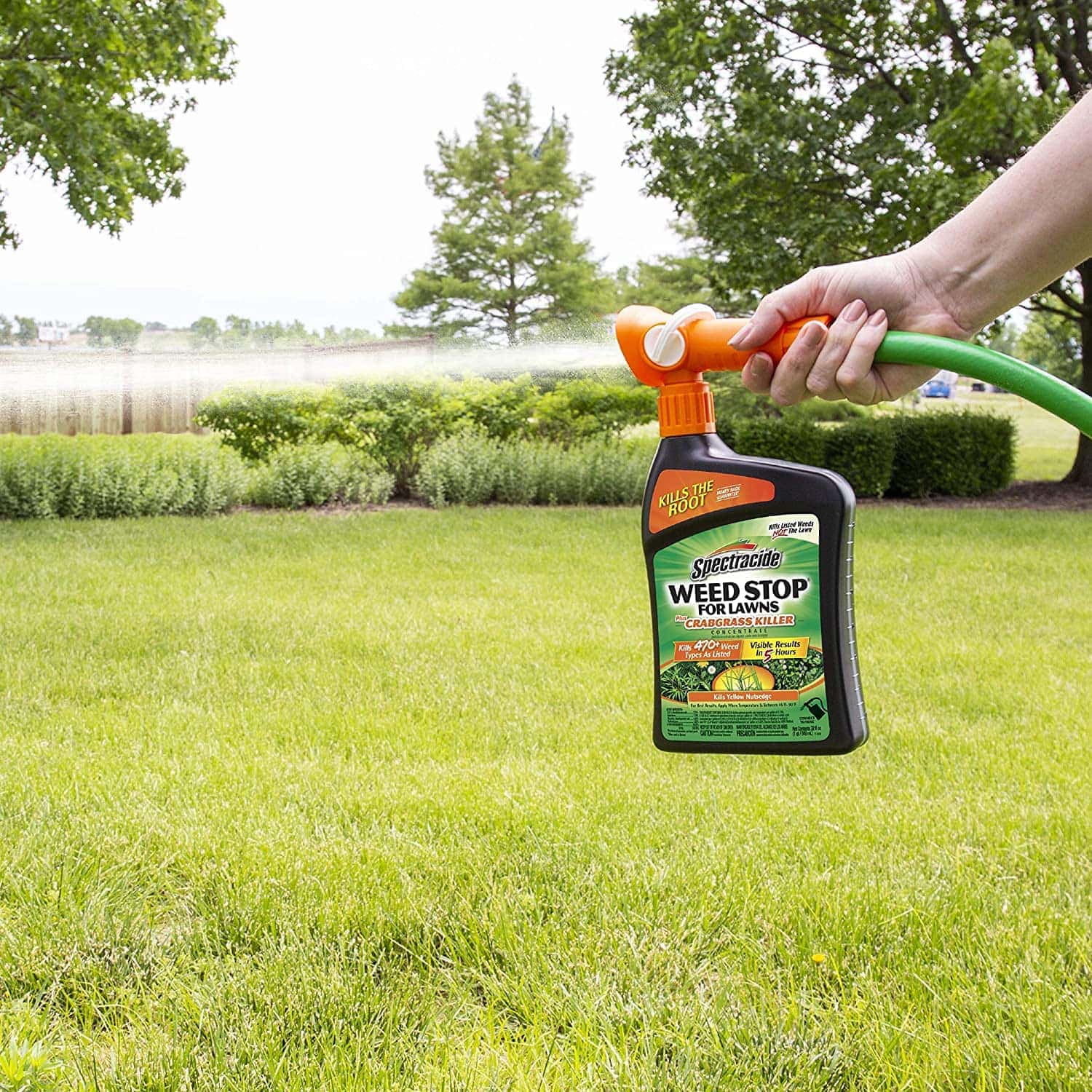 Explore Your Options: Liquid vs Solid
There are a number of different options available when it comes to clover killers. The first is whether it's a solid or a liquid. Solids require a spreader to apply, which can be a pain if that's not a piece of equipment you already have.
Within the liquid category, products can come as a ready-to-use solution or a concentrate. Concentrates require mixing before use, which adds an extra step when it comes time to apply. However, if the product is effective, a concentrate may be the best option for you.
Method of Application
The final big difference between products is the mode of application. Many come in a ready-to-spray bottle that you can attach to your hose and use immediately. Others require another sprayer to apply. Sprayers come in a variety of forms, from backpack sprayers to simple pump handle garden sprayers.
The sprayer you select depends on your budget and the amount of work you're willing to put into your lawn. One selection above has a battery-operated sprayer that comes with the bottle. While these can work well, they're not as reliable as something you can attach to your hose or an auxiliary sprayer you can fill and go to work.

Conclusion
With these reviews and the buyer's guide, you should now be well-armed to tackle your clover problem. Of all the options available, Ortho Weed B Gon Chickweed, Clover & Oxalis Killer takes first place in terms of ease of application and effectiveness. With relatively few drawbacks and lots of benefits, we can stand behind our recommendation of this product.
If you're looking for a budget solution and you're not planning to apply directly to your lawn, your best bet is Green Gobbler Vinegar Weed and Grass Killer. It will eat through anything in its path, and leave you with a clean slate to start your spring planting.
We hope you've found these reviews useful in navigating the sea of options when it comes to clover killers. Good luck, and happy landscaping!
Related Reads: