10 Best Portable Propane Generators of 2023 – Reviews & Top Picks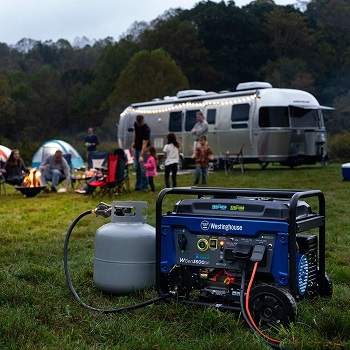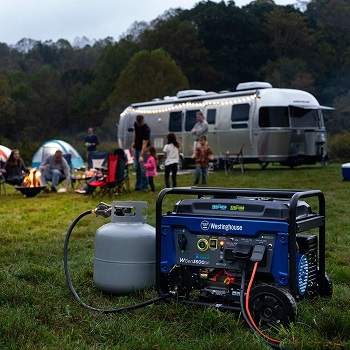 A propane generator can be the difference between life and death. Ideally, the product will keep your family in lights, heating, and cooling even if you lose power. Unfortunately, though, not all generators can be counted on to work consistently.
The products in our guide have all been vetted to ensure that they work in a variety of different situations. We have also made a point of choosing products that will be suitable regardless of your budget.
You deserve something that can keep your family safe, at the campsite or in the eye of the storm. In the guide that follows, we hope to help you find it. Read on for some propane generator reviews!
---
A Quick Comparison of Our Favorites in 2023
Rating
Image
Product
Details

Best Overall

Westinghouse WGen3600DF

Easy start
Portable
Durable
CHECK PRICE

Best Value

Green-Power America GN1750D

Very affordable
Eco-friendly
Durable
CHECK PRICE

Premium Choice

DuroMax XP12000EH

Dual power source
8-gallon tank
Produces up to 12000 watts
CHECK PRICE

Champion Power Equipment 76533

Moderate price
Easy start
3 year warranty
CHECK PRICE

Sportsman GEN4000LP

Affordable
Automatic shutoff
CHECK PRICE
The 10 Best Portable Propane Generators
1.

Westinghouse Portable Generator – Best Overall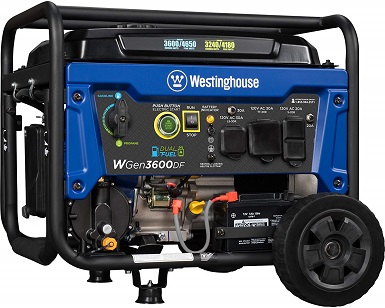 The Westinghouse WGen3600DF is a dual-source power generator. That means you can fuel it using gas or propane. It is also designed to be extremely durable, featuring a cast iron exterior that will protect it from wear and tear.
And do you plan on taking this generator camping or on a job site? If so, you will appreciate the wheel and pulley system that makes it easy to move around.
We were also partial to how easy the product was to start. It can be activated either by the quick-start button or from afar via a wireless remote fab.
Just keep in mind that high-end features come at a cost. This is one of the most expensive generators on our list and won't be suitable for people on a limited budget.
Pros
Easy start
Multiple fueling options
Portable
Durable
---
2.

Green-Power America Dual Fuel Generator – Best Value
The Green-Power America is the best portable propane generator for the money. It includes many of the features we saw on our top choice, but for a fraction of the price.
It is a dual-source unit, but instead of propane and gas, it blends propane and electricity. Because of this, it can be easier and more affordable to power. It also features a durable stainless steel frame to protect against wear and tear and an easy start button that will help you avoid headaches.
However, remember that it is subject to natural limitations. This is a light-duty generator that is better for keeping the lights on than for running appliances. Still, for the buyer with a more modest range of needs, this will be an enticing option to consider.
Pros
Very affordable
Eco-friendly
Durable
Easy start
Cons
Limited in what it can power
---
3.

DuroMax Portable Generator – Premium Choice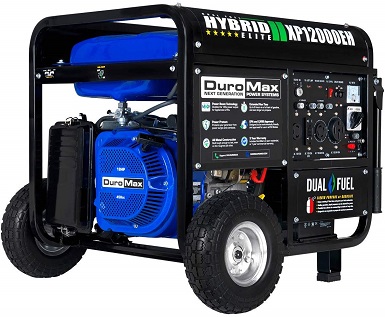 Up next, we have a heavy-duty product that will suit the needs of the buyer that doesn't mind paying a high price for a great piece of equipment. The eight-gallon tank ensures that the generator will run for eight hours or more, while the impressive power threshold (it can output 12,000 watts of electricity) will ensure that it can power anything from lights to appliances.
It is also extremely flexible, thanks to a dual power source component. Like our top choice, it can be powered by both propane and gasoline. It also boasts a durable all-metal construction and onboard wheels that make it easy to maneuver with.
It costs a true arm and a leg but if you need high-end features, this will be the generator for you.
Pros
Dual power source
8-gallon tank
Produces up to 12,000 watts of electricity
Portable
---
4.

Champion 3800-Watt Dual Fuel Portable Generator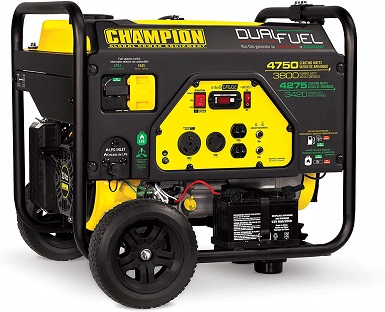 The Champion is a lighter-duty piece of equipment that will be best suited to power lights, fans, and perhaps even the television sets of an RV. But despite its limited power levels, it has many of the great features we appreciate in a generator.
The Champion features an electric start button that gets the motor running quickly, wheels for maximum portability, and a three-year warranty that will keep you covered in the event of an unexpected incident.
It is worth mentioning that this is a very noisy piece of equipment. However, if you want a reliable generator at a good price, this will be worth your attention.
Pros
Moderate price
Easy start
Portable
3-year warranty
Cons
imited range of features
Very noisy
---
5.

Sportsman Portable Propane Generator
The Sportsman is a moderately powerful piece of equipment that generates around 3,500 watts of electricity. The unit is able to generate power for up to 10 hours at a time and features an automatic shutoff component that will deactivate the generator if is a problem.
All this culminates in an affordable piece of equipment that can be counted on to power lights, fans, and small appliances. We did notice that the housing is not nearly as sturdy as some of the other generators we saw. It also tends to be noisy.
All that said, it is a dependable tool for the person that has a limited range of power needs.
Pros
Affordable
Automatic shutoff
Cons
Limited application
Not extremely sturdy
---
6.

Pulsar Non-CARB Portable Generator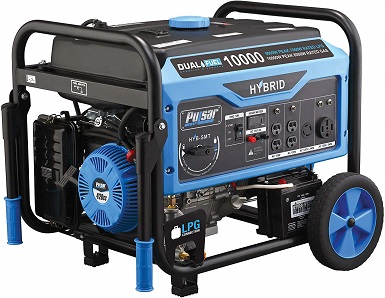 The Pulsar Non-CARB is a powerful and portable generator that can produce an impressive 10,000 watts of energy. This means it will be able to accommodate lights, fans, and even major appliances.
With a 6.6 gallon tank, it will run for up to 12 hours at a time. Last but not least, this is also another dual power source generator fueled both by gasoline and propane.
There are just a couple of cons that you will want to consider. For one thing, it is fairly challenging to start. This is a recoil-driven unit, which means you need to pull a string to activate the generator. It is also very noisy.
This is certainly a good heavy-duty generator but it has some limitations relative to the other similar products on our list.
Pros
Very powerful
12-hour run time
Dual power source
Cons
Noisy
Inconvenient to start
---
7.

Firman Dual Fuel Portable Generator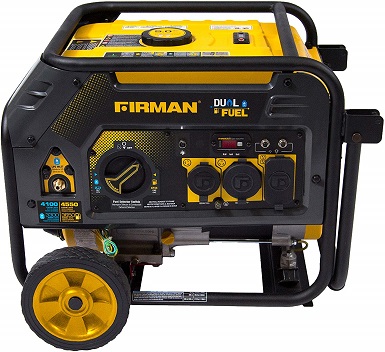 The Firman is a 3,250-watt portable propane generator that will be good for powering lights and fans. Like most of the options on our list, it can be powered either by gas or propane and features onboard wheels that make it very easy to transport.
However, it is also subject to some limitations that keep it towards the bottom of our list. For one thing, it is very difficult to start. It is activated via a drawstring, which means that turning the generator on can be labor intensive. It is also one of the loudest generators featured on our list today.
Pros
Dual power source
Very portable
---
8.

WEN Dual Fuel Portable Generator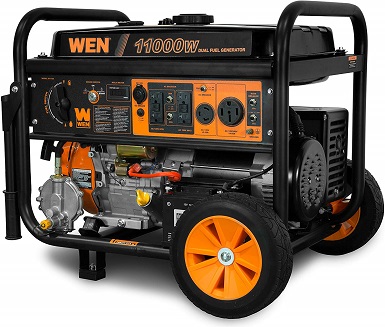 The Wen is a dual power generator that can generate up to 12,000 watts of electricity at a time. This means it will be good for powering pretty much anything, including appliances. It features an electric start component that makes it pretty easy to activate and the power output can be adjusted via a dial to customize your user experience.
Unfortunately, the runtime is just 8.5 hours. This isn't a huge deal but it can be disappointing when you consider the price. This is one of the most expensive generators on our list and as such, some may expect a little bit more out of it.
It's also worth noting that this is a very noisy piece of equipment.
Pros
Dual power
Very powerful
Electric start
Cons
Tank size is limited
Noisy
Pricey
---
9.

Etq TG32P31 Portable Generator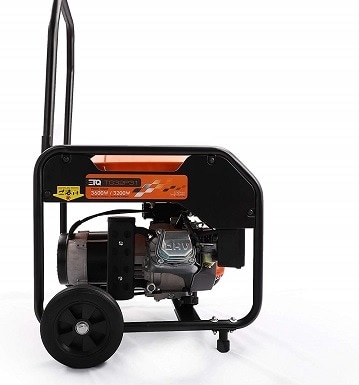 The ETQ is a moderately priced generator that can generate 3,600 watts of electricity. It features an automatic shut-off feature, wheels that make it easy to move around, and a three-gallon tank.
The company advertises that it will be able to run for 11 hours at a time, but that is a substantial over-estimation. While it may function this way when being used lightly, any major activity at all will radically impact the run time.
It is also very noisy, and it can be difficult to start.
Cons
Noisy
Limited run time
Hard to start
---
10.

Powermate 6958 Dual Fuel Portable Generator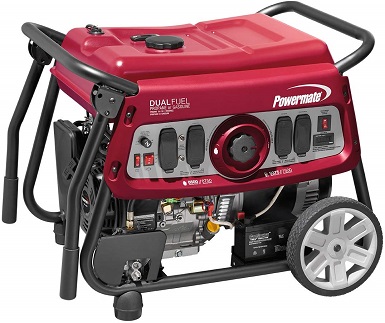 The Powermate is able to produce 7,500 watts of energy that allow it to power lights, and even some smaller appliances. It can be powered via propane or gasoline.
While these features sound nice, they are undermined by a range of cons. This is a very pricey generator that can be difficult to start. It actually does feature an easy start button, but it is unreliable and we have heard from many users that claimed they were never able to make theirs work at all.
It is also very noisy. For the money you spend here, you can easily find a much better generator.
Cons
Pricey
Hard to start
Noisy
---
Buyers Guide – Finding the Best Portable Propane Generator
And now, here are some buying considerations that will hopefully help you pick the right product.
Easy Start
Portable propane generators can be challenging to start—especially when the weather is cold. For this reason, some units include easy start features that only require you to push a bottom to get the unit going. Granted, this may not sound like much. An easy start is the very least they can do, right? But it will have a big impact on your ultimate user experience.
Tank Size
The tank size of generator matters, though perhaps not as much as it may first seem. On the one hand, the size of the tank determines how long your generator will run. The bigger the tank, the more hours of operation you get.
However, large tanks also generally hike the price of the unit. Factor in that it only takes a few minutes to refill your tank with fresh fuel and you may want to think twice before you shell out the big bucks.
However, there are situations in which a big tank is needed. If you need a tank that you can use overnight, it will be to your advantage to get a runtime that will last for at least as long as you are sleeping.
Noise Levels
Generators are loud and propane generators are particularly noisy. This can be frustrating both for you and for your neighbors. For this reason, many manufacturers now do everything they can to make their generators run quieter.
You can actually get an idea of how loudly the generator runs without ever turning it on. Many products will list their decibel levels on the packaging.
Portability
Much of the time, people take their generators on the road with them. If you are using this product for camping or construction purposes, portability is a really important feature. And while propane generators do tend to be pretty big they can come with features like wheels, pulley systems, and handles that make them user-friendlier.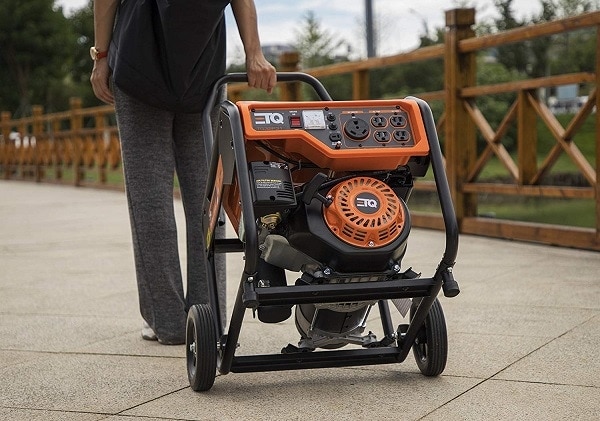 What are you trying to accomplish?
Every portable propane generator has a maximum threshold of power that it is able to produce. Some will be good for running lights and fans, while others will be powerful enough to power appliance and air conditioning.
It all comes down to your ultimate objective. However, if you are investing in a generator for emergency purposes, you will probably want to get something that can run your AC or central heating. Bigger generators are usually fairly pricey, but they can literally be life-saving.
Housing
There are many sensitive components on your portable propane generator. You don't want those elements of the tool getting bumped around. To help prevent that some units include additional housing that protects the motor from wear and tear. For example, our top choice features a cast iron housing that will do an excellent job of protecting the unit if it were to get knocked around a little bit.
Solid fortification is an investment in the future of your generator. You want something that is suited to last for as long as possible so you can get your money's worth, right?
Price
Generators tend to be very pricey. You can definitely get high performing options that are available at a fair price (our best for the money pick is a good example of that) but in any case, you will be shelling out a few hundred dollars.
In any case, this may be a piece of equipment that you want to consider spending more than you usually would on. Given the fact that generators are often part of a broader emergency protection strategy, it is worthwhile to get something dependable.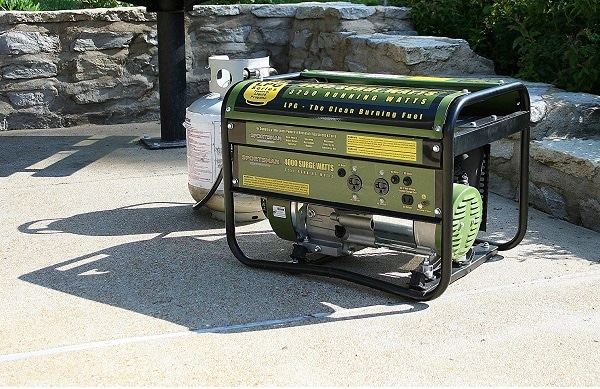 Warranty
Portable propane generators are a heavy-duty piece of equipment and as such, they experience quite a bit of wear and tear. For this reason, you will want to get something that has a solid warranty. Best-case scenario, you may get something that has at least limited protection throughout the life of the generator.
Power Source
Obviously, the point of this guide is to help identify propane-powered generators. But while propane is great it may be to your benefit to find something that provides more than one method of fueling your generator. For example, our top choice can be powered by either gas or propane.
Others might feature a hybrid electric component. The more ways you have to power your generator, the more flexible it will ultimately be.
Remote Start
Here is a handy feature: some portable propane generators feature a remote start component that allows you to activate or deactivate the tool from afar. With the click of a button, you can start up your generator from the comfort of your couch. Necessary? No. But certainly very handy.
Maintenance
Propane generators do require maintenance. However, the less maintenance you can get the better of you will be. For example, some units will automatically shut off the moment it goes below a certain level of oil. This will help prevent major damage that could be costly to fix.

Conclusion
Has one of our portable propane generator reviews helped you pick the unit for you? While that is always the goal, we also understand that choosing can be hard. That being the case it might be worthwhile to focus your attention towards two standout options.
Buyers that have some money to spend may appreciate the high-end features and uncompromising reliability of the Westinghouse WGen3600DF Portable Generator.
That said, the interests of the budget buyer are also represented on this list. If you are trying to watch what you spend, you might consider our best portable propane generators for the money choice, the Green-Power America GN1750D Dual Fuel Generator.
Related Reads: