WEN 4210 Drill Press Review 2023 – Pros, Cons, & Verdict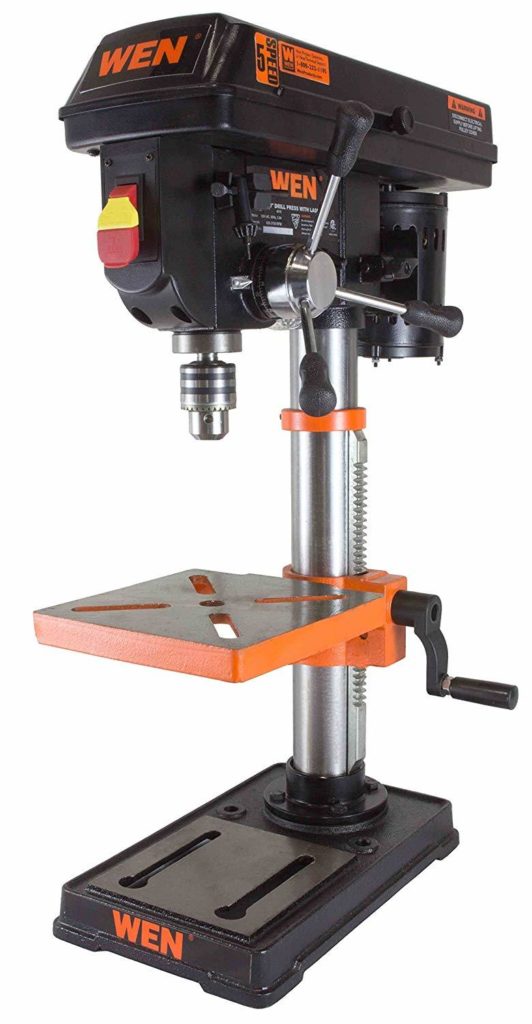 We give the WEN 4210 Drill Press a rating of 4.2 out of 5 stars. 
Build Quality: 4.4/5
Power: 4.1/5
Features: 4/5
Price: 4.3/5
Review Summary
The WEN 4210 10" drill press sits in the second position among the company's four benchtop drill press offerings. This drill press offers the same robust construction as the entry-level 4208 and adds a few nice features for users looking for more capacity and capability from their drill press. These added features include a rack and pinion system for raising and lowering the work table, a laser targeting crosshair, the ability to handle wider stock, and a slightly deeper hole depth capability.
This tool is a good choice for more experienced homeowners and DIYers, but it is not up to professional-level work that requires a high level of precision, the ability to handle larger stock, or drilling deeper holes. Those users should look at the more capable drill presses in the WEN lineup.

WEN 4210 Drill Press – a Quick Look
Pros
Rack and pinion worktable adjustment
Laser crosshair feature for accurate stock positioning
Cons
Capacity inadequate for commercial/professional needs
Specifications
Brand name: WEN

Model: 4210

Motor details: 120VAC, 3.2A, induction, ball bearings

Horsepower: 1/3

Speeds (number, RPM): 5 (570, 900, 1390, 2050, 3050)

Laser: Yes

Chuck capacity: 1/2" – largest size drill bit shank it can accept

Drilling capacity: 2 1/4" – maximum drilling depth

Swing: 10" – allows users to drill centerline holes in 20" wide stock

Table size: 7-5/8" x 7-5/8"

Table tilt: Yes, 45o L/R

Height: 28 1/4"

Shipping dimensions: 22" x 16" x 10-1/2"

Shipping weight: 58 pounds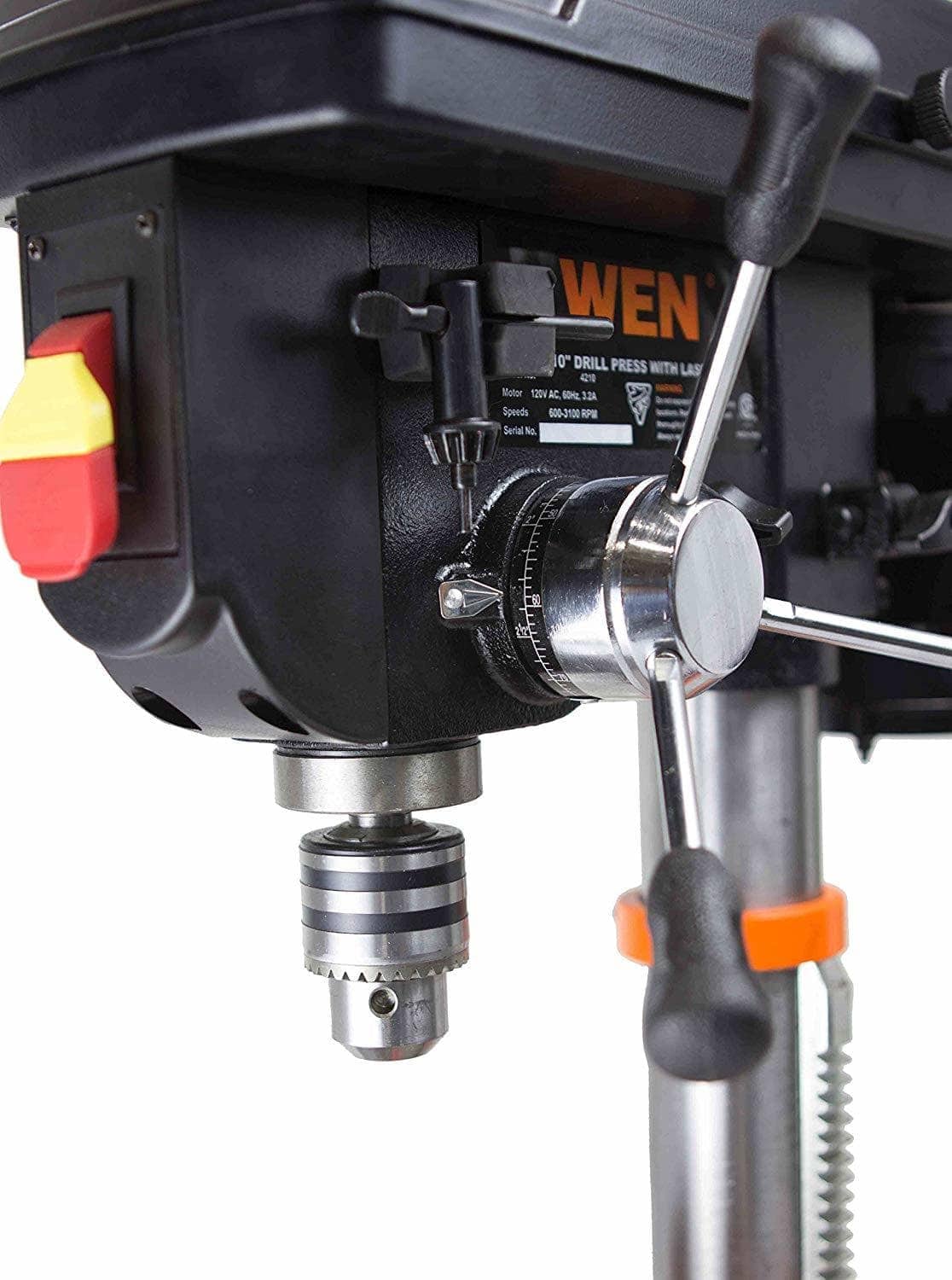 Laser targeting feature
Laser guides are commonplace in many tools these days. WEN brings that capability to the 4210. The laser projects a crosshair onto the piece of stock being worked to aid the user in positioning it accurately under the tip of the drill bit. The laser helps avoid wasting stock due to inaccurate hole placement.
More capacity for larger projects
The 4210 is a step up from the entry-level 4208 models. It can handle larger pieces of stock (up to 20" wide) and can drill slightly deeper holes.
Cast iron construction
WEN uses cast iron for the most critical parts of its drill presses. The head, work table, and base are all made from cast iron. Cast iron adds weight, but when it comes to drill presses, weight equals stability. It also reduces felt vibration, which makes using the tool easier and improves accuracy.
FAQ
What is the best size of drill press for me to buy?

That decision is based on what you need to do with the tool. Buying the least expensive or smallest drill press might be a good idea if you are starting out or if you have limited space. The danger in this approach is outgrowing its capabilities. Always try to buy a more capable tool if your budget allows.

How thick a piece of stock can I drill with this drill press?

The thickness of the stock you can drill is a function of the length of the drill bit you are using. For example, spade bits are much longer than traditional twist bits. The longer the bit, the thinner the stock you can drill. You can rotate the table out of the way to accommodate larger stock.

Can the 4210 drill a 1-3/8" hole through 2" hardwood?

You are asking too much of a 1/3 HP motor; it just doesn't have the power for this particular task. For a job like this, you will need at least a 1/2 HP motor. If you think you will need to do this regularly, buy a drill press with a more powerful motor.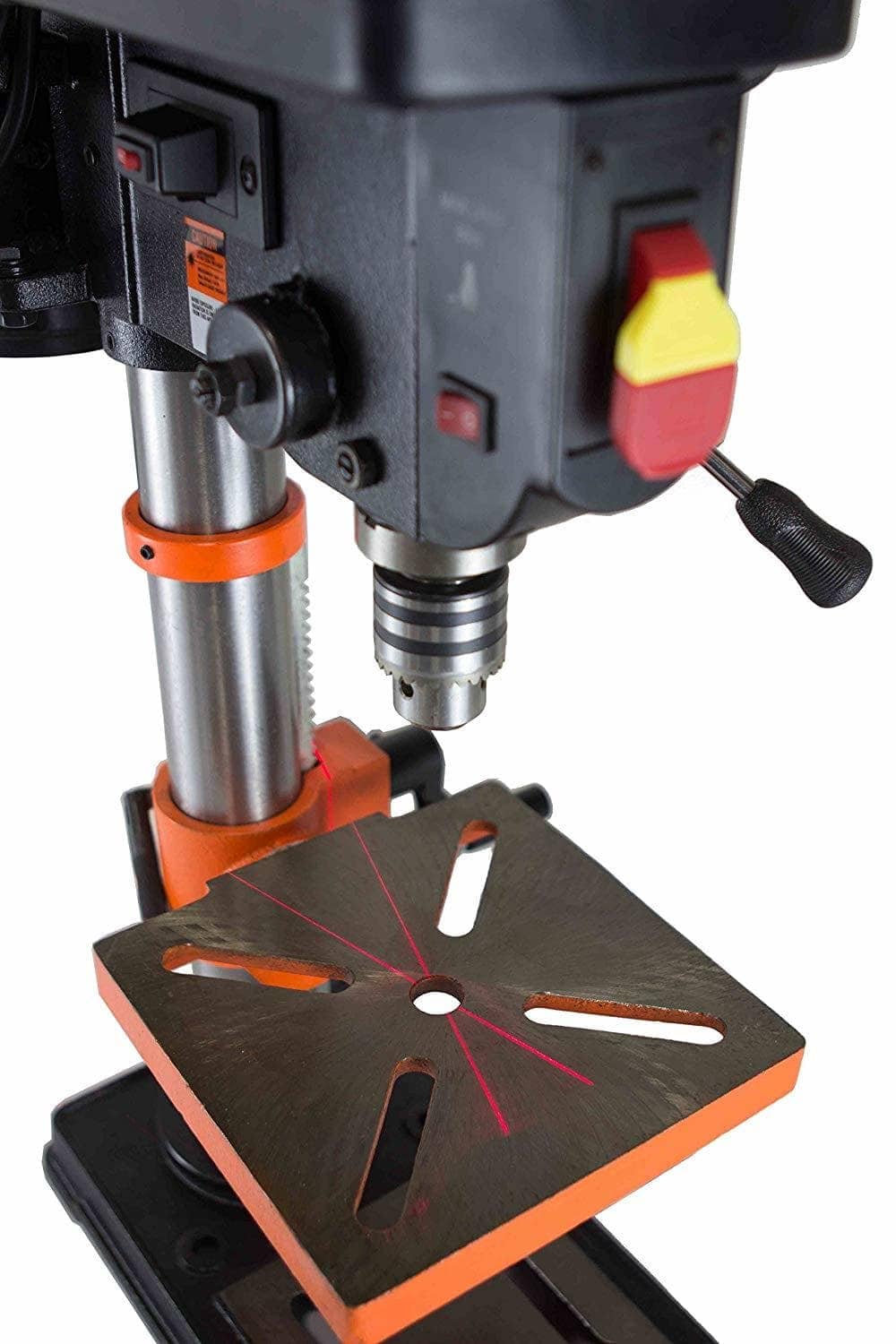 What the Users Say
Our research shows that buyers of the WEN 4210 drill press are quite satisfied with the tool and how it performs. Naturally, some are dissatisfied, and we present the opinions of both sides in our review.

People are very happy with the power of the 4210 and its quiet operation. Users report being able to drill in every imaginable type of stock, including wood, aluminum, and hardened steel. The 4210 is also quiet relative to other drill presses users have tried, and quiet is always a welcome tool attribute in the shop.

Next on the list was the precision of the drill press. The measure of precision is simple: are the holes drilled in the right place and at the proper diameter? Inaccuracy can be a problem with lower-priced drill presses. The 4210 performs quite well with a measured run out as low as .0035" when one is careful with assembly.

Where did the 4210 disappoint users? Many users found it underpowered for their needs, with the drill press bogging down even in softer stock. Some reported the motor being balky, stalling, or not turning at all. Given the overall positives for the 4210, these sound like manufacturing issues.

Poor quality is the second most common issue users report, with castings arriving broken or warped or failing through breakage after a few uses. Damage incurred at the plant is also reported when users opened an undamaged shipping box to find damage to the unit. Fortunately, WEN customer service is very responsive, according to all reports.

Last on the list is the laser. It can be out of adjustment from the factory. One user reported that it was out of focus, something a user cannot correct.

Conclusion
This drill press is an excellent choice for people with the need for larger capacity but who still have limited shop space. For the price, the feature set and quality of construction are hard to beat. Owners of the 4210 praise it for power and accuracy and the ability to do the jobs they have to complete. It still falls short of providing a professional level of accuracy and capacity, meaning users with those needs will find this tool lacking.

Related Reads: