5 Best Commercial Leaf Vacuums of 2023 – Reviews & Buyer's Guide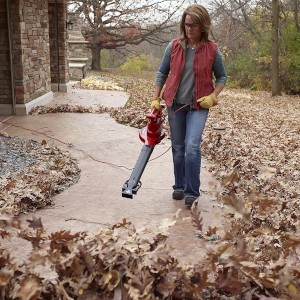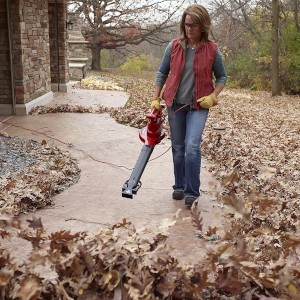 There are a lot of leaf vacuums out there, and when you're shopping online, it can be hard to be sure that you're getting a model that doesn't suck. Or does suck, in this case.
Mislead product descriptions and ad copy masquerading as useful information about products can make the buying process more difficult than it needs to be. We want to demystify the shopping experience and help you find the model that's right for you. Our reviews cover the positives and the negatives on each model so that you're always walking away with a tool that you understand, and which doesn't have any nasty surprises lying in wait.
We also included a buyer's guide, which walks you through everything you need to know about these tools, so you can make a great decision, even if you've never owned a commercial leaf blower before.
---
Our Comparison (updated in 2023)
Rating
Image
Product
Details

Top Pick

Greenworks 24322

Variable speed
Brushless motor
Greenworks battery line
CHECK PRICE

The Runner-Up

Toro 51621

Very high speed
Shred-all shredder
Oscillating nozzle kit
CHECK PRICE

Best for the Money

BLACK+DECKER BV6000

Great price
Great power
Includes metal mulcher
CHECK PRICE

Toro 51619

Superior suction
Good with wet leaves
Quick blower/vacuum transitions
CHECK PRICE

Worx WG510

Three-year warranty
Dual-stage metal impeller
Reduce leaves by 24 times factor
CHECK PRICE
The 5 Best Commercial Leaf Vacuums
1.

Greenworks 40V 185 MPH Leaf Vacuum – Best Overall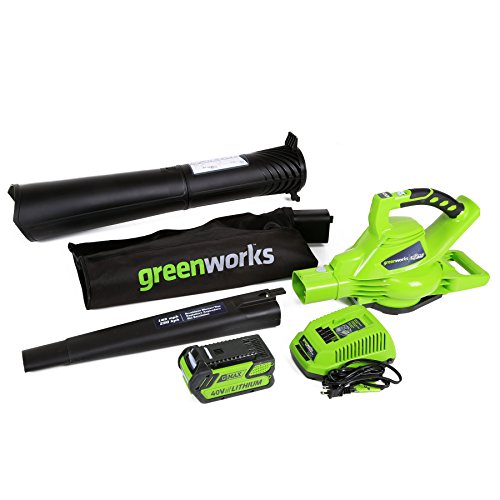 The Greenworks 40V 185 MPH 24322 is the best overall portable leaf vacuum on the market today. It comes with a brushless motor, which has a ton of advantages over previous electric motors. It provides higher efficiency, lower operating temperatures, meaning that it ultimately weighs less and uses less power than brushed motors with equivalent power. Plus, this model makes use of Greenworks' battery line, so batteries can be swapped around to power multiple tools on the job site or used in sequence to extend run time.
This model also comes with variable speed and can blow up to 185 mph, allowing you to move or suck up heavy, wet, or otherwise recalcitrant leaves. It also weighs just over 11 pounds when the bag is attached, making it far lighter than many models with similar power, reducing the strain on your arms and back throughout the day. The only quibble we have with this model is that the battery lasts for far less time when vacuuming as opposed to blowing, dropping from 40 to 50 minutes to around 20. If the efficiency were improved, we would like this model even more, but as is, it's still a great buy and the best leaf vacuum we have reviewed.
Pros
Brushless motor
Variable speed
Greenworks battery line
Lightweight
Cons
Battery life varies based on task
---
2.

Toro 51621 UltraPlus Leaf Blower Vacuum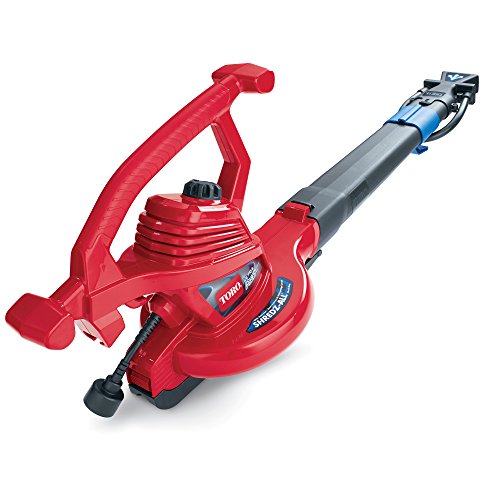 The Toro 51621 UltraPlus Leaf Blower Vacuum is the model you'll want to get if you're looking for a powerful corded electric model that can get the job done. Since this model is wired, you won't have to worry about keeping a spare battery around, though you'll want to get an extra-long extension cord for most jobs. This model can blow at up to 250 mph, giving you the power you need to move just about any kind of leaf. Plus, this model comes with an oscillating nozzle kit, which moves back and forth without you having to move your wrist, allowing you to cover more area with less effort.
This model also comes with a shred-all shredder blade, which makes short work of any kind of leaf that comes its way. While you can use it as a pure vacuum, that great blade makes this machine a good choice for those who were going to mulch their leaves anyway. The one downside to this vacuum is that its nozzle shape makes it hard to blow small leaves in tall grass, though it doesn't seem to have a similar problem with vacuuming them. Overall, this is the best corded model.
Pros
Wired electric
Very high speed
Shred-all shredder
Oscillating nozzle kit
Cons
Struggles with small leaves
---
3.

BLACK+DECKER BV6000 Leaf Vacuum – Best Value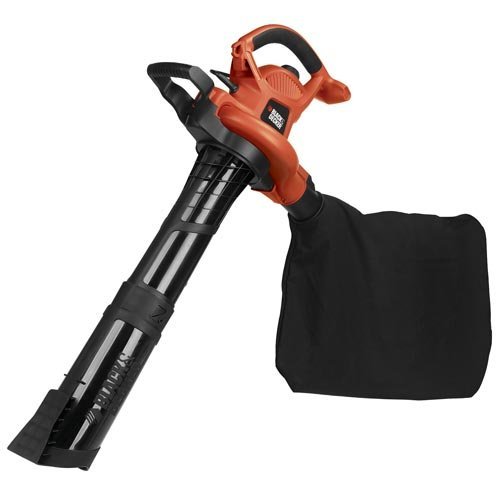 The BLACK+DECKER BV6000 High Performance is another great corded electric model. It also comes with the ability to blow air at up to 250 miles per hour, so it's able to make short work of just about any leaf type. It also comes with a metal-bladed mulcher. If you're going to be shredding a lot of leaves, or working in an area with a lot of acorns, or other hard natural debris, you'll love that this model can make short work of them without slowing down. Plus, it weighs under fifteen pounds with the bag attached, making it one of the lightest choices you're going to have in this product category.
This model also costs far less than the top two models on our list. As you can see, that lower price doesn't correlate with lower value. In fact, the value provided by this model at this price is so good that it earns the title of best overall value for the money on our list. Our only complaint is that it occasionally jams, especially when exposed to mud or small sticks. It's an easy fix, but we'd like it more if it were more jam-resistant.
Pros
Great power
Includes metal mulcher
Lightweight
Great price
---
4.

Toro 51619 Ultra Electric Blower Vac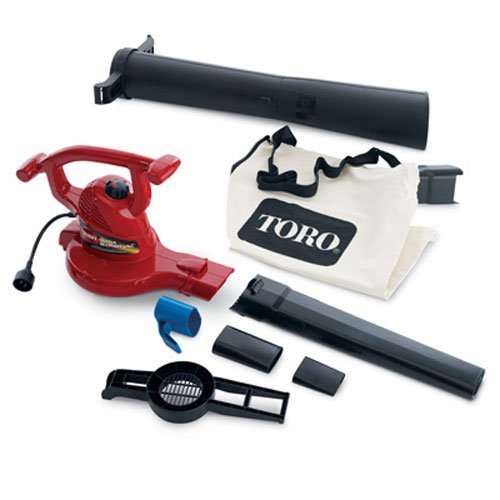 The Toro 51619 Ultra Electric Blower Vac may have the best suction power on our list. Unlike most models, it's actually stronger as a vacuum than as a blower and provides up to 410 cfm when in that mode. That gives it the power needed to pick up just about anything, and to do it quickly. That also means that you can pick up wet leaves with this machine, something you can't always do with other models. This model also comes with quick transitions between blower and vacuum mode, which can be completed in just a few seconds each time, maximizing the amount of time you spend working.
However, this model has some problems that can't go unaddressed. It has a poor collection bag that breaks down relatively quickly. That's a part that's inconvenient to replace, and the value would increase dramatically with a better bag. It also tends to seize up when pine needles come into play, which is a common problem with leaf vacuums. If those problems could be ironed out, we could rank this model a position or two higher on our list, though it will still provide decent value to people with no pine needles.
Pros
Superior suction
Quick blower/vacuum transitions
Good with wet leaves
Cons
Crummy collection bag
Struggles with pine needles
---
5.

Worx WG510 Leaf Vacuum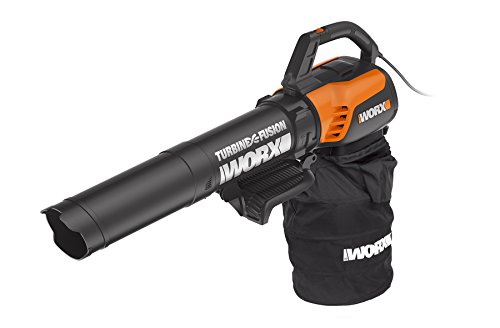 The Worx WG510 is another model with some potential as a commercial leaf blower. Its highlight feature is its dual-stage metal impeller. Running leaves through two cutting stages greatly reduces their size. While many other leaf vacuums reduce leaves by a factor of around eight times, this model ups that to 24 times. That means you can use about a third as many bags to collect the same amount of leaves, which can be a real space and money saver. Plus, this model comes with a three-year warranty, so if something were to break in it, you know that the manufacturer has you covered.
Unfortunately, this model comes with some downsides that make it unsuitable for commercial work. It only has two speeds, which limits your options when working with different leaf types. It also has a reputation for being underpowered, which isn't a trait you want in commercial equipment. It also produces more dust than the average leaf vacuum, which may be related to the two-stage impeller. Overall, this model might be good for use around the house, but it doesn't hold up well as a commercial model, and you can get a better-performing vacuum for the same price.
Pros
Dual-stage metal impeller
Three-year warranty
Cons
Only two speeds
Underwhelming power
High dust production
---
Buyer's Guide – Choosing the Best Commercial Leaf Vacuum
When it comes to shopping for the best leaf vacuum, there are three things that you have to keep in mind in order to get a great deal.
The first is power. If you're going to be clearing a large area with a leaf vacuum, you're going to want a model that can get the job done as quickly as possible. Consequently, more power is almost always better with these tools. The most accurate measurement of how much suction a model has is best represented by its cfm or cubic feet per minute, but not all manufacturers list this number with their tools.
The second is impeller quality. Home-grade leaf vacuums are made with plastic impellers, which don't have the durability and longevity needed to be effective in commercial use in the long run. Commercial leaf vacuums make use of metal impellers, which are both more effective, and last far longer. If you're looking to save money in refuse bags, dual-stage impellers use two blades to reduce leaf sizes even more, allowing for the storage of far more shredded leaves in a single bag.
The third is its power type. Battery-powered models have the plus of being freed from inconvenient extension cords. However, you'll need a lot of batteries to use in sequence if you're going to be using the leaf vacuum for multiple hours in a day. Wired models tend to be a bit lighter, and also have, on average, better power for the price.
Other posts you may be interested in reading:
–> Which is our favorite budget backpack leaf BLOWER option?
Conclusion:
The Greenworks 40V 185 MPH 24322 is the best overall model due to its brushless motor, variable speed, and lightweight. The Toro 51621 UltraPlus Leaf Blower Vacuum comes with a very high speed, an oscillating nozzle kit, and a shred-all shredder, though its problems with small leaves keep it out of first place. The BLACK+DECKER BV6000 High-Performance model comes with great power, a metal mulcher, and a lightweight, plus it's available for a low price, making it the best value for the money on our list. The Toro 51619 Ultra Electric Blower Vac has great suction, quick transitions between blower and vacuum modes, and is good with wet leaves, but its poor-quality collection bag and problems with pine needles drop it to fourth place. In last is the Worx WG510 which comes with a dual-stage metal impeller but has problems with power and dust which hurt its value.
We hope that our reviews and buyer's guide have helped you find the model of commercial leaf blower that is right for you at a price that will keep your business in the green.